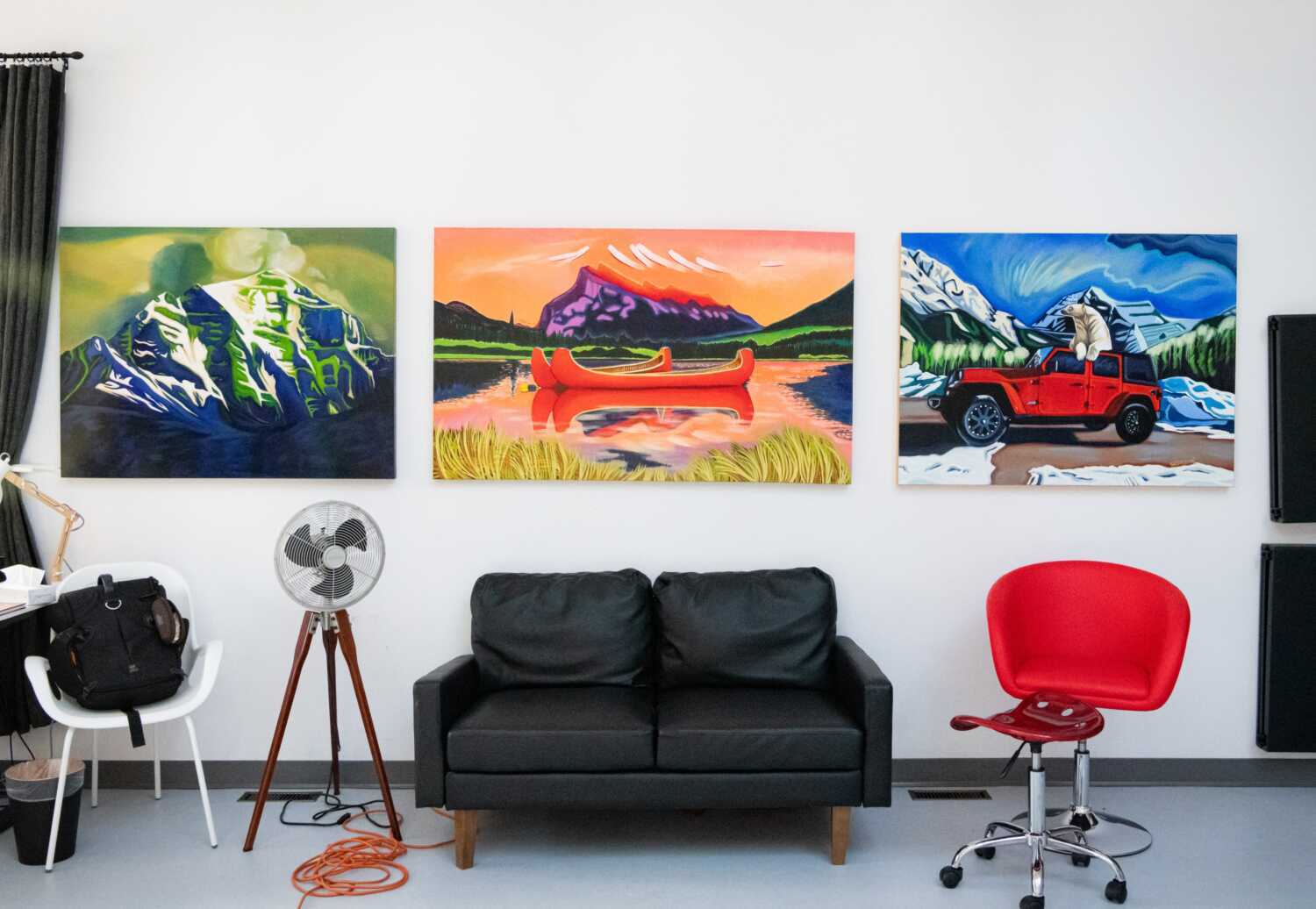 Paintings Inspired by Beautiful Banff, Canada.
Have you ever visited Banff? It is a remarkable place nestled in the Rocky Mountains of the province of Alberta, Canada. It is a place made for lovers of winter and mountains, which is why there are so many Banff paintings that are created every year by artists who visit and live in this magical locale.
Members of The Group of Seven spent time painting in this area, notably Lawren Harris and A.Y Jackson. The BBC published an article about artists who have gained inspiration from this place, from painters to photographers, writers and musicians alike, it a place bursting with creative energy. The BBC referred to Banff as, "The Place That Inspired A Thousand Paintings: The Canadian Rockies" – there is a magical creative energy in this place and it can't help by make your mind wander and dream. Banff has the kind of peace required to go inward while your eyes are entertained by what is seen outward.
I first visited Banff during a drive through the area on my way to my art show in Edmonton. Driving through these giants of the Rocky Mountain range fills ones with feelings of being very small in the word. The light and shadows passing over the mountains from dawn to dusk creates moving shapes on the mountains.
Indigenous peoples have been hunting and living in the Canadian Rockies for thousands of years, it is no wonder why these mountains inspired many works of art, stories, ceremony and legend. In Banff we acknowledge that this territory is home to the Shuswap Nations, Ktunaxa Nations, and Métis Nation of Alberta, Region. Among these First Nations peoples is the Stoney Nakoda – or "Mountain People" – who view the Rockies (particularly the province of Alberta) as a deeply sacred place. When I spend a day in these mountains, with the dance of light and shadow, the mountains themselves write stories of the day and years with their receding glaciers.
I embark on a new journey soon to this place called Banff, to a painting residency at the Leighton Studios, Banff Centre of Arts and Creativity, on the side of Sacred Buffalo Guardian Mountain. I am looking to let the air, sounds, smells and vistas lead when it comes to what I create in this place. Perhaps I will encounter some new characters on my journey that will end up in my canvasses and my visual stories.
Banff is Beautiful, it is a place for Artists and Outdoors Lovers.
It was November, the snow had just started falling and our drive from Vancouver Island to the Banff Centre for Arts & Creativity was a picturesque adventure. With two weeks as artist-in-residence at Banff Centre, I was ready for real Winter inspiration. My studio in the Leighton Studios area of the campus was secluded and buried into the centre of a ring of studio cabins built by various architects over the years. I arrived ready to paint mountains, as that is what surrounds you in Banff, and on every side at the Banff Centre. I talked about my entire experience here on my blog.
I painted one very large diptych as part of my residency. Returning home to Vancouver Island to paint numerous paintings inspired by the landscapes of Banff. You can find some of my paintings inspired by Banff, Canada at Willock and Sax gallery on Bear Street in downtown Banff.
See more of my visual stories here.