Testimonials: the Art of Brandy Saturley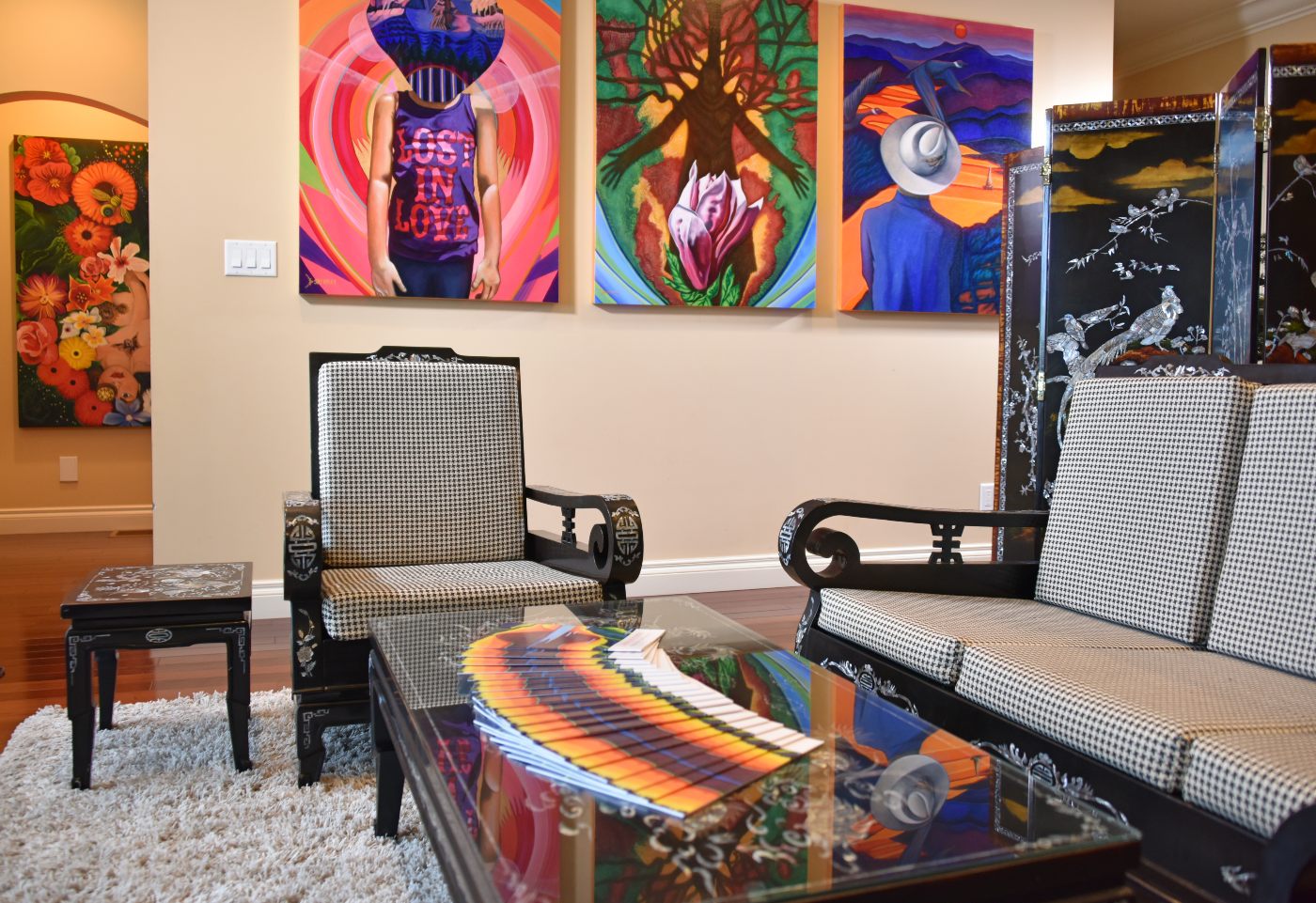 Testimonials from private and corporate art collectors and associates of Canadian artist Brandy Saturley.
Commissioned Artwork "I have been a collector of the artwork of Canadian artist Brandy Saturley, for over a decade. I am delighted to have numerous paintings from Ms. Saturley in both my homes in Canada and the USA. I have also purchased works for my daughter's homes in Alberta, Canada.
Recently, my wife and I commissioned Ms. Saturley to paint a landscape piece for our home in BC, and are thrilled with the result. We described what it was we were looking for, on a large wall space, in our entertaining area with a view of the Olympic Mountains and Juan de Fuca Strait. This is a large piece covering seven feet of wall space adjacent to our spectacular view. We wanted to freeze a moment in time inspired by our view, with the colours of sunset and sailboats. MS. Saturley found a way to incorporate all our requests from sailboats to a martini glass on the horizon. We love that the final work changes with the light of the day and that we can always find something new within the piece that we had not seen before. We love Ms. Saturley's work for this very reason, within the details there is always something new to discover, a new piece of the story to uncover, which makes her paintings not only vividly striking, but conversation pieces for our guests to also discover. That is what great art is supposed to do; provoke, entertain, enlighten and provide an alternate view of life and lifelong discovery. The art adds allure to our homes and excitement around every corner, we love finding something new in the piece every day and we are not done collecting her work. Ms Saturley provides a professional service from initial consultations to final sale, delivery and hanging. We highly recommend collecting her fabulous and skilled paintings, you will not be disappointed, with attention to detail from the artwork, to the collecting and purchasing process. First class service, with attention to detail all the way around. We are proud to own and recommend, the artworks of Brandy Saturley." ~ Bruce & Joyce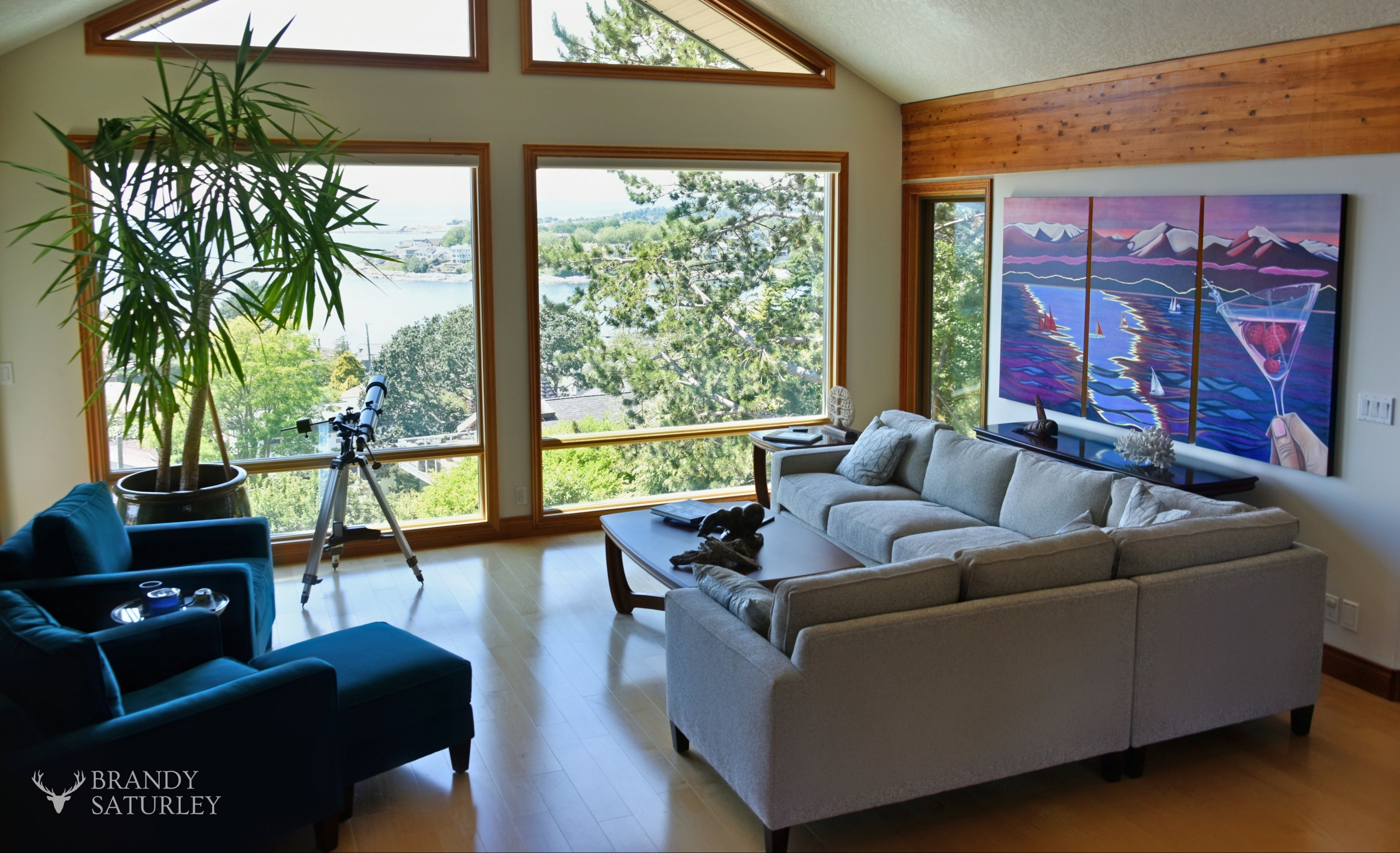 Art Collector: Price's Alarms is "proud to recommend Brandy Saturley Gallery. As art collectors for many years, the Price family has worked together with artists, galleries and even art agents that go out and find us the art we are looking for. We've never had a better experience than working together with Brandy Saturley. Not only does she create remarkable art, which we have purchased for our personal collection, but she also represents herself with outstanding integrity and professionalism. Brandy hand delivered and hung her artwork on our walls and it is apparent that her art has been cared for and treated with respect – something we cannot say for all artists or galleries. Our greatest reward in dealing with Brandy has been the feedback from our employees and visitors to our head office in Victoria BC. After buying and renovating our new office, we entered into agreement with Brandy to hang her artwork on our walls throughout our office under a rental program.  Our employees were the first to notice the change saying that it changed the workspace and brought the area to life.  The Art of Brandy Saturley gave our walls life with colour and vibrancy that makes everyone take notice. It changed the image of our office from serious security to upbeat, enthusiastic, proud Canadians with local roots which ties together well with our long local history. We highly recommend working together with Brandy Saturley. She is serious but very creative, an artist but highly responsible and reliable. You'll be proud to say you know and work together with Brandy Saturley". – B. Price, President – Price's Alarms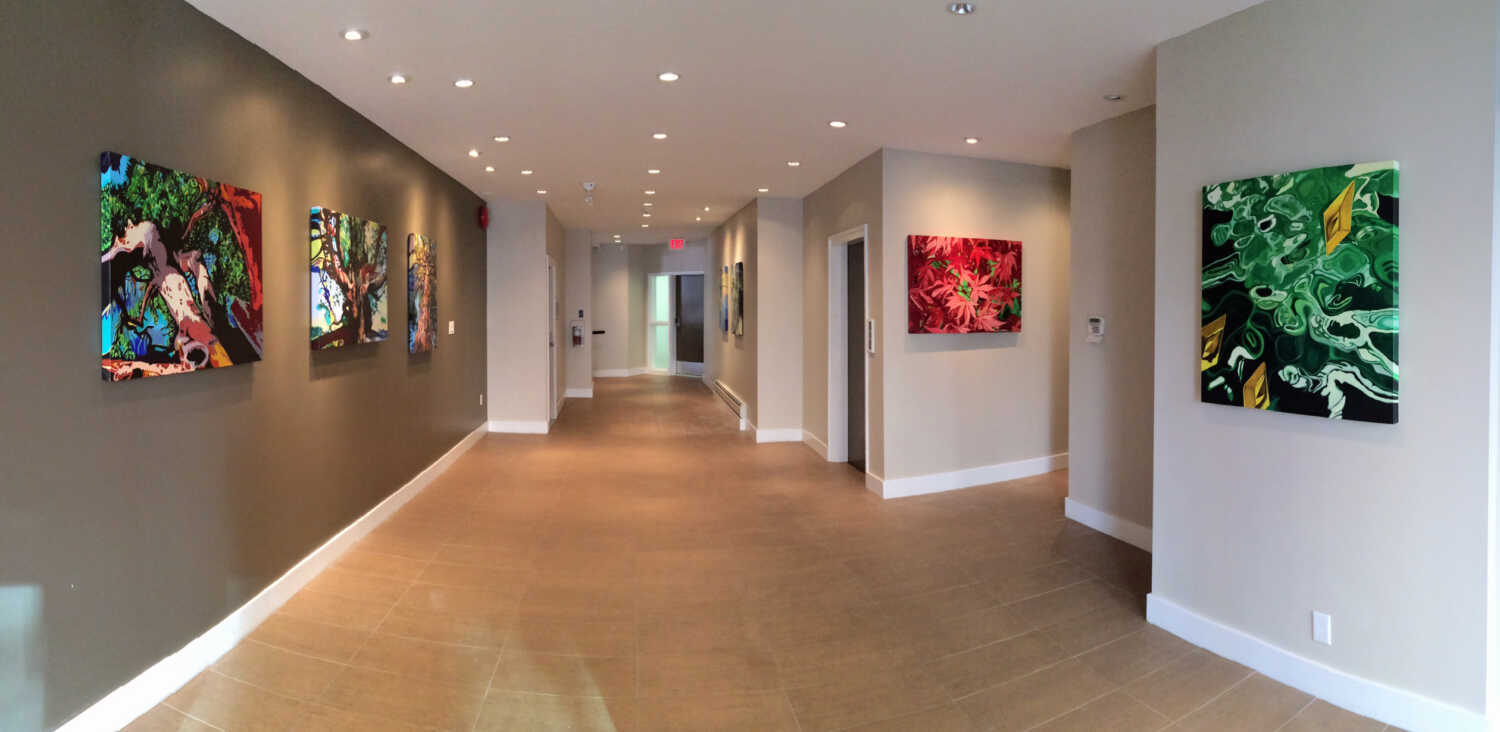 Artist in Residence & Art Commission: Canada's Sports Hall of Fame "pleased and honoured to be able to work with Canadian artist, Brandy Saturley on our 2013 National Induction Celebrations. We found Brandy to be excellent to work with and demonstrated great passion and understanding for what we needed. We also appreciated her collaborative style of working with us, her attention to our needs to meet our strategic goals was greatly appreciated. We also welcomed Brandy into our Resident Artist program where she painted an artwork on site at the museum, engaging with the public. We highly recommend Brandy Saturley and would welcome the opportunity to work with her again on a future project." – Mario Siciliano – President & CEO, Canada's Sports Hall of Fame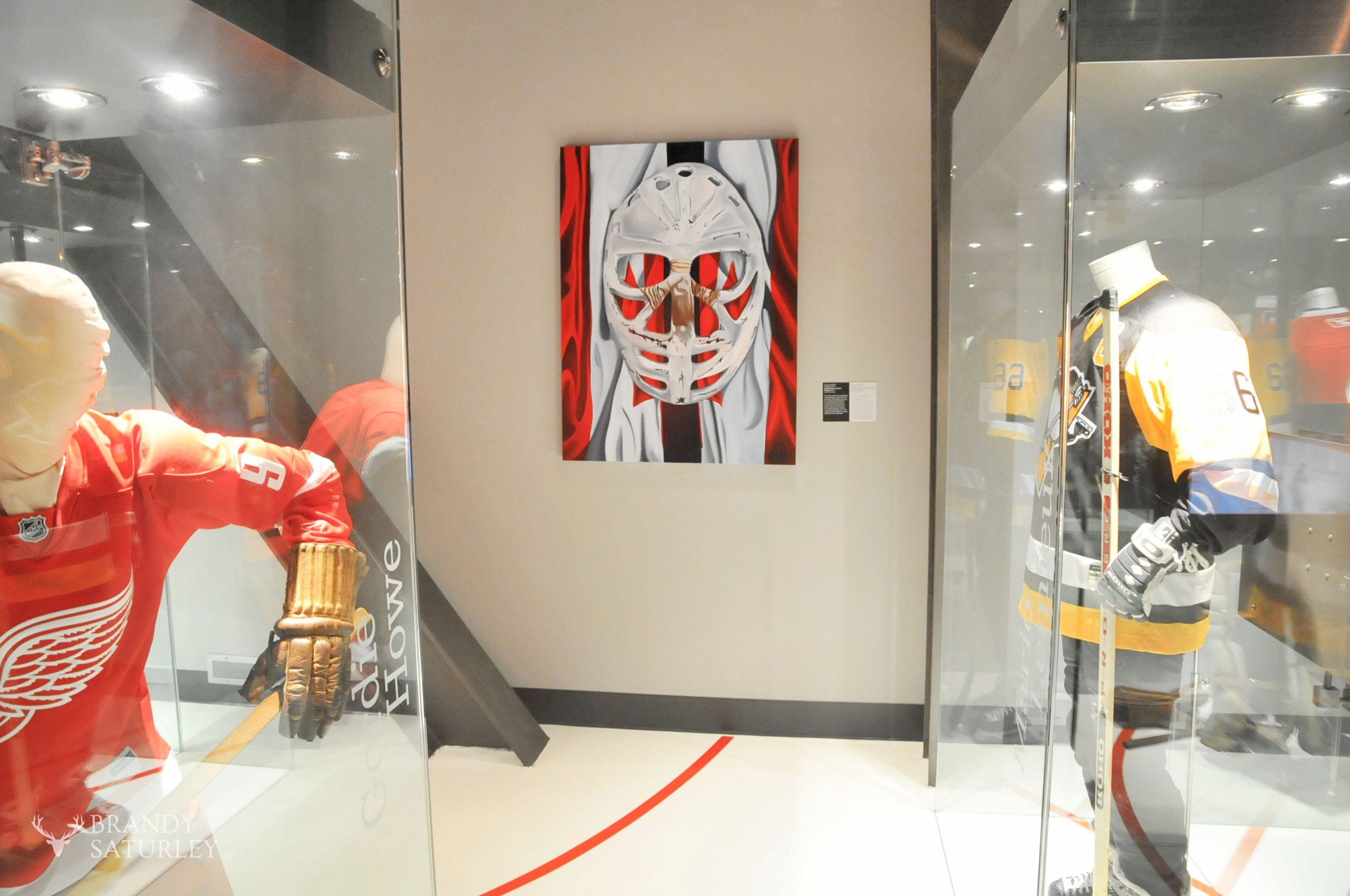 Art Consulting: "Brandy is a solid Art Business professional. The quality of work that Brandy produces far exceeded my expectations." – Lynda Baxter – Principal & Director, Art In Canada Inc.
Art Leasing Client: "As a die hard Montreal Canadiens fan since birth, I have always had a fascination with the fabled history of the Montreal Canadiens and what hockey means to our great country.  I have always had and interest in art both as a collector and an amateur artist and decided to add one of kind memories on canvas to my collection. I had the great fortune of coming across The Art of Brandy Saturley online one day and have been hooked on her work ever since. Her connection with hockey and Canadiana evokes much emotion as her works speak to what I feel for the game, and this country. The process was seamless, from my first contact with Brandy, to arranging purchase through Art Lease Canada, which made it possible for me to purchase a large piece and pay conveniently.  Seeing Brandy's studio and spending even a few moments with her, you feel at home and a real connection with her and her art. I look forward to adding more from her in the future. She is an exceptional talent and a good soul." G. Koehn ( Hockey Nut and Art Lover)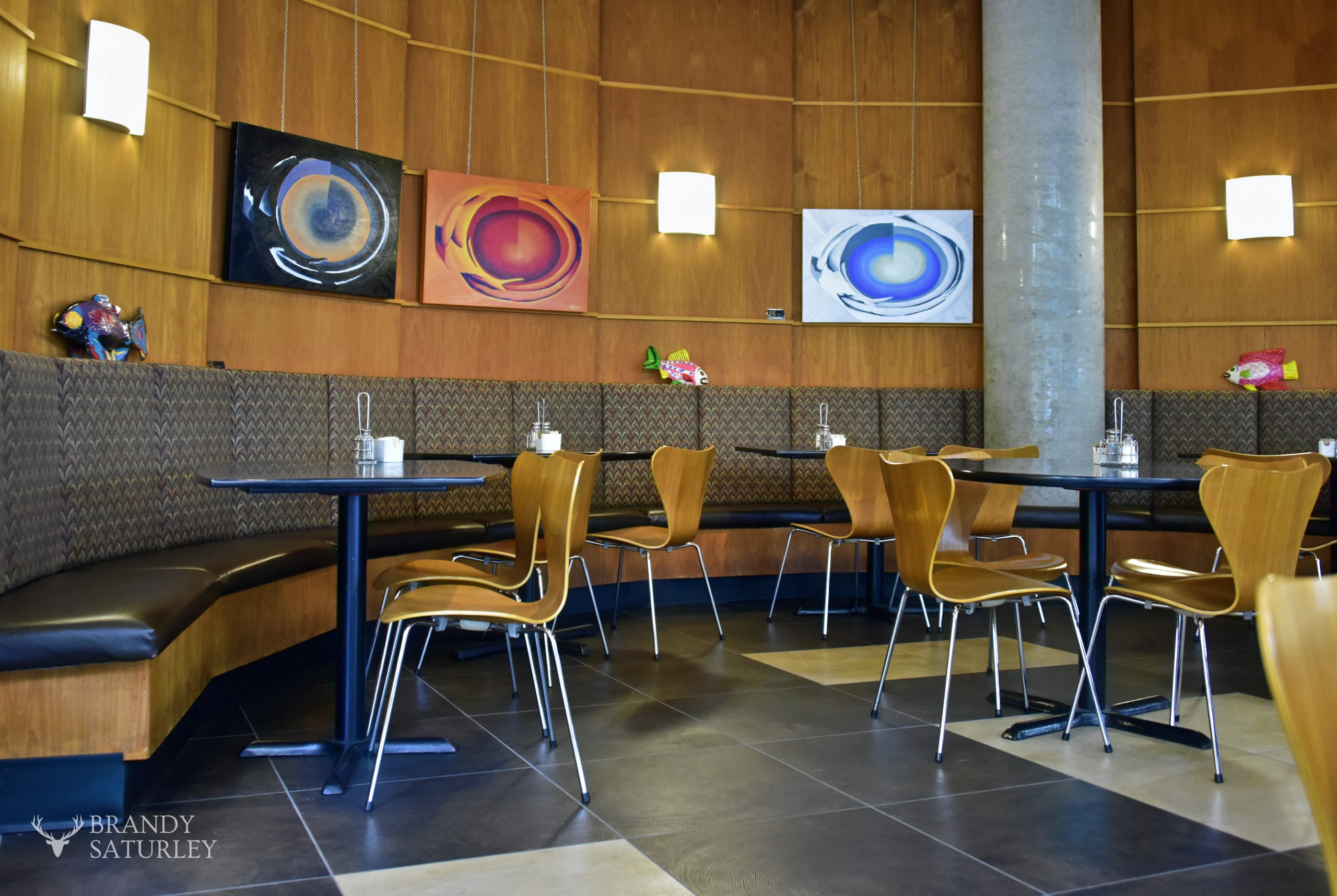 Long Time Fan & Collector:  "I have been a fan of the artworks created by Canadian artist Brandy Saturley for more than two decades. I am the proud owner of several paintings. The last two I purchased, I was able to pay for on a leasing program through Art Lease Canada. This is a perfect way for my business to have beautiful art on the walls at a reasonable monthly expense. This makes perfect sense for us at Sol Fine Foods – Cafe/Deli/Catering"

Arts Business, Advocacy & Education: As the executive director for a professional arts advocacy organization CARFAC Alberta I have known Brandy Saturley for over a decade, first as a member of our organization and then as artist, writer and innovator. I first became aware of her artistic work in group exhibitions held at various conventional and non–traditional venues for art. I started following Brandy Saturley on social media and began reading her blog posts. I was impressed with her unique knowledge she employs to build her career as a professional artist. I have hired Brandy Saturley to teach a professional development workshop on the role of artist as entrepreneur. I consider Brandy Saturley an expert in the development of new practices for establishing and growing a professional art practice. Her understanding of art and audience is outstanding, and she has the ability to articulate these principles both verbally and in writing. Over the past five years, Brandy Saturley has concentrated on developing art that focuses on "Canadianisms." This focus on Canadianisms extends beyond her artwork to her postings on social media, her mode of dressing, and her life. With Brandy Saturley, we have the complete package for an artist. I admire how Brandy Saturley developed a successful art practice. ~ Chris W. Carson ~ Executive Director CARFAC Alberta
Artist Residency: Brandy Saturley is a professional artist whose work lands in the territory of Contemporary Pop with a definite Canadian flavour. She is an artist who is committed to her practice in a most impressive way. She has expressed that her interest in immersing herself in a studio residency is to challenge herself to alter her studio habits for the duration, and see what results. I admire her grasping that this could be of great benefit to her, even though she doesn't know what will come of it. I am happy to offer my highest recommendation on Brandy's behalf. ~ Chris Cran, RCA