Buy Contemporary Canadian Art Online by Brandy Saturley
Discover and buy contemporary Canadian Art by Brandy Saturley, a leading Canadian artist, from the comfort of your home. Whether you seek to enhance your living space, find inspiration, or expand your art collection, our online gallery offers an effortless browsing and purchasing experience. Many Canadians, both at home and abroad, prioritize supporting contemporary Canadian artists. Some view art as an investment for the future, while others seek unique gifts for their loved ones and esteemed clients. For philanthropists, original art serves as a wonderful donation to institutions or cherished offerings to valued recipients. Whatever your motive, we are here to provide expert guidance throughout your journey.
Choose from Original Paintings, Commissions, or Image Licenses
Whether you desire an original painting, a customized masterpiece, or an image license, Brandy Saturley is delighted to discuss your artistic preferences, needs, and aspirations. As a self-representing contemporary artist, Brandy maintains a direct connection with her supporters, offering additional benefits beyond the artwork itself. Gone are the days when artists solely relied on gallery representation for their art to be seen. With the advent of the internet, social media, and personal websites, artists now have the opportunity to showcase and sell their work directly. Embracing this paradigm shift, Brandy Saturley has honed her skills not only as a painter but also as a professional self-representing artist. Over the past 20 years, Brandy and her husband Robert have worked tirelessly to establish meaningful relationships with collectors. By purchasing directly from the artist, you ensure that your support goes directly to Brandy Saturley, bypassing intermediaries such as employees, commercial locations, art agents, art dealers, and art galleries, who often claim a significant portion—up to 90%—of the income before the artist receives a share.
Brandy's studio is situated in Victoria, the capital of British Columbia, specifically North Saanich on Vancouver Island. Located minutes away from the Victoria International Airport, BC Ferries, and Washington State Ferries, the studio offers a perfect opportunity for viewing the art in person. However, even through online photos, a profound connection with the artwork can be established. We strive to present the artwork in various settings and are thrilled to schedule Zoom or FaceTime meetings with collectors, providing real-time video views to enhance the appreciation of the pieces. Additionally, we gladly collaborate with you by offering mockups that showcase how the art will adorn your walls, facilitating the selection process. We cherish the opportunity to earn your business and enrich your perspective for years to come!
Buy Contemporary Canadian Art – Exclusive Gallery Representation
In addition to presenting the art directly, Brandy Saturley has selectively chosen one gallery, to exhibit her work exclusively. Willock and Sax Gallery in Banff, Alberta, serves as her trusted Canadian art dealer to encounter and acquire her exceptional creations. Whether you purchase through Willock & Sax or directly from Brandy Saturley, rest assured that you are acquiring only original art meticulously crafted by Brandy herself. The artist, along with Willock and Sax Gallery, facilitates worldwide shipping for your convenience.
Buy Art: Price Range for Contemporary Canadian Paintings
The pricing of Brandy Saturley's paintings, which exemplify contemporary Canadian artistry, is based on the size and complexity of each artwork. Currently, the median value for her pieces falls within the range of $5,500 to $7,500. Small works start at $900, while high-value artworks are priced upwards of $15,000. Notably, the ICONIC collection, which has garnered repeated media attention and awards recognition, commands a premium price. All artworks displayed on this website reflect their current pricing.
Immerse yourself in the vibrant world of contemporary Canadian art by Brandy Saturley and acquire an exquisite piece that resonates with your artistic sensibilities. Begin your exploration today!
The Details: Shipping, Financing, Licensing, and Commissions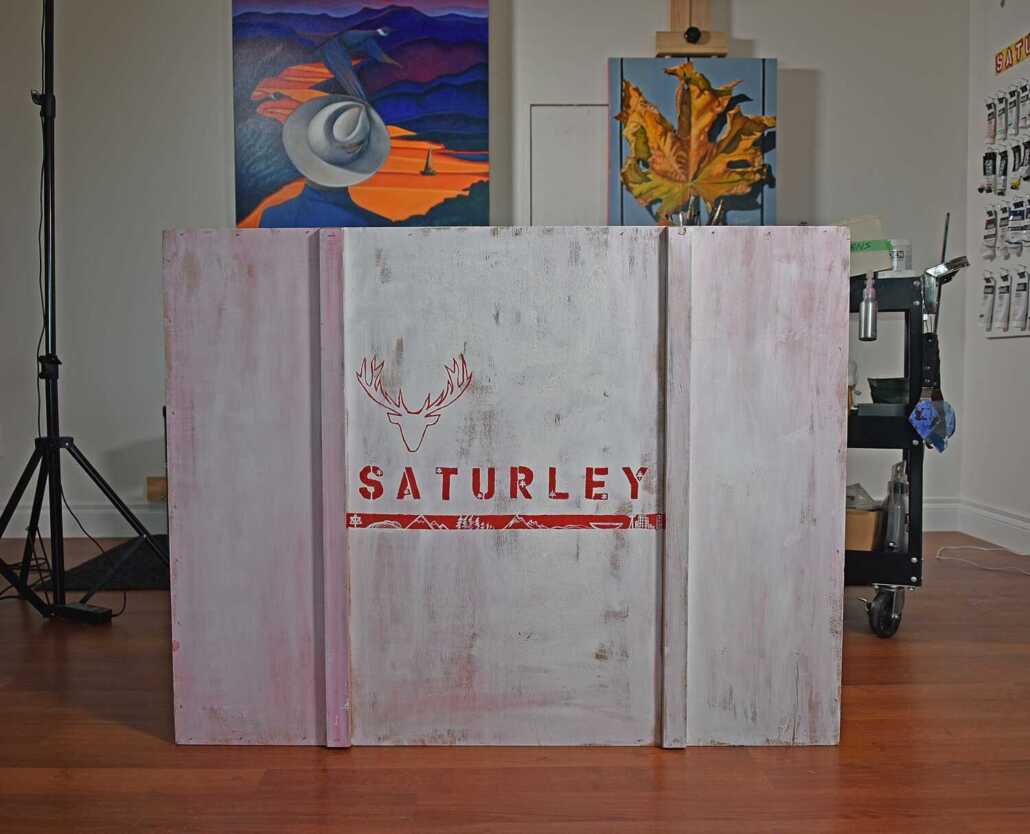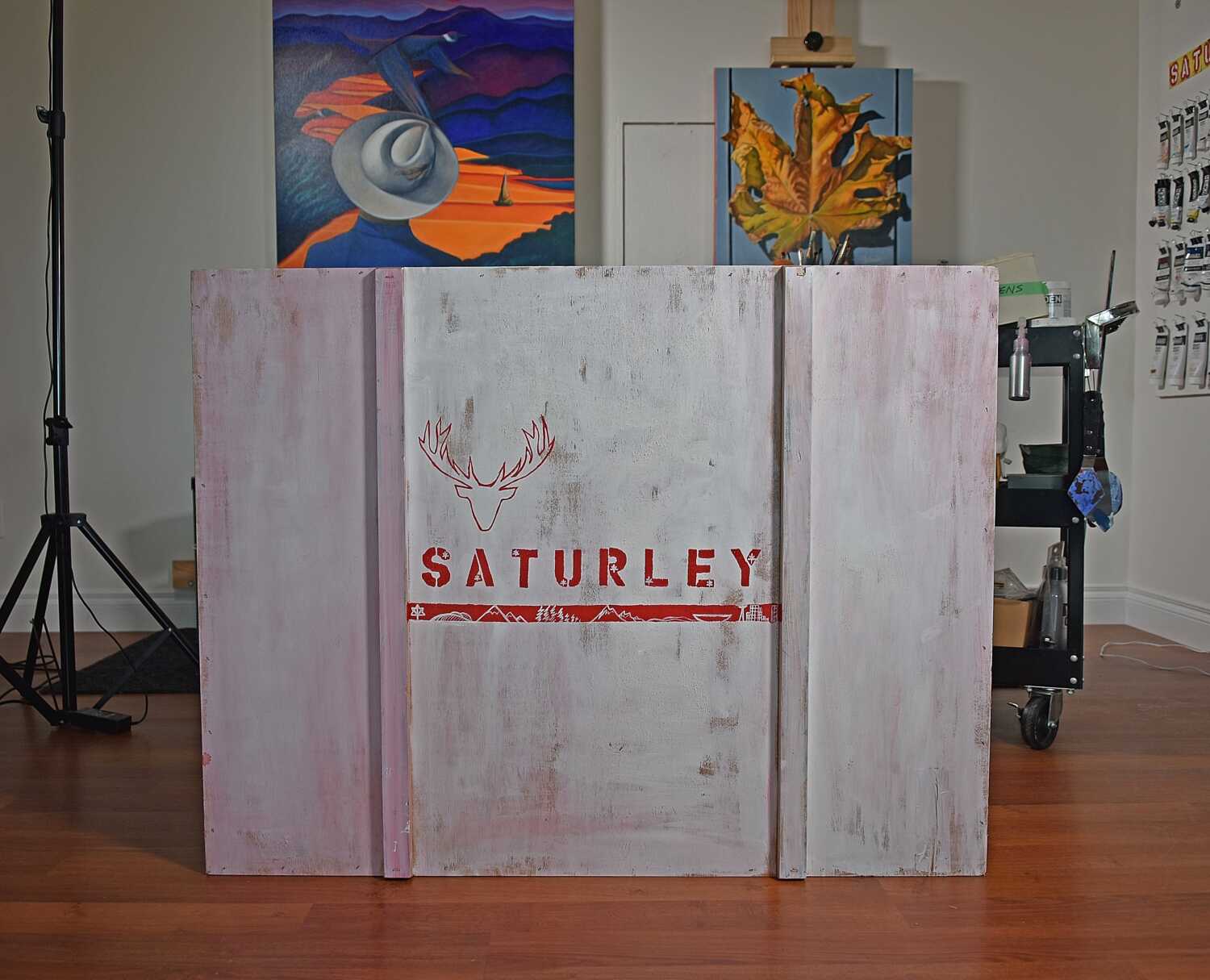 Art Shipping: Our contemporary Canadian artwork is carefully shipped using custom-made art crates built to order by VEVEX crates in Vancouver, Canada. Each crate is fully enclosed, foam lined, and certified, ensuring safe transportation to any destination worldwide. Additionally, to save shipping costs oversees, we can remove the art from the stretcher bars and ship paintings rolled. In this case the client need only take the painting to a gallery or framer and have them re-stretch the painting. Smaller works do not require wooden crates and we are happy to ship in protective heavy-duty cardboard boxes.
Fine Art Financing: Collectors can take advantage of Art Lease Canada, offering low-interest financing on fine art purchases with flexible 1 to 5 year term programs. These financing options are designed to help you build high-quality art collections while making the acquisition of fine art more accessible through manageable monthly payments. Additionally, Canadian art purchases can be claimed as business expenses.
Tax Deductions for Corporate Art Purchases: Did you know that purchasing original art in Canada is tax deductible? The Canadian government recognizes the significance of supporting the purchase of original Canadian art. Investing in the Canadian art market and its creators offers numerous benefits to businesses of all sizes. The government has implemented tax incentives to promote Canadian artwork acquisitions and encourage donations to museums and public institutions. Buying Canadian artwork qualifies as a tax deduction, provided certain criteria are met. Business owners can fully purchase and write off original Canadian art, which is included in the Capital Cost Allowance for all Canadian businesses. To ensure the most up-to-date information on art acquisitions and tax benefits, please consult your accountant.
Corporate Commissions: Contact us for a personalized quote on corporate commissions. We offer tailored artistic projects after a thorough consultation with Brandy Saturley.
Image Licensing: We provide image licensing on a case-by-case basis. Brandy Saturley has licensed her work to various corporations, non-profits, publishers, and luxury retailers, including METColors, ThinOptics Inc., Vancouver Symphony, Music In The Morning Vancouver, BC Children's Hospital, Island Art Publishers, Blossom Spice Fine Chocolatiers, Lethbridge Symphony, the University of New Brunswick, Canadian Tire, Blue Ant Media, and Reader's Digest. Our licensed artwork has been featured on fine chocolate, magazine covers, t-shirt designs, brochures, programs, menu covers, greeting cards, and calendars. Other products and collaborations of interest include billboards, large-format art mural installations, fine liquors, wine, Canadian luxury products, Canadian designers, and unique items and venues worldwide.
Why Buy Original Canadian Art? Because You Love It.
At its core, the reason to buy original Canadian art by Brandy Saturley is simple: because you love it. While there are many other compelling reasons to invest in original Canadian art, the primary motivation should always be a personal connection and appreciation for the artwork. An original piece of art is a passionate creation that reflects the artist's soul and resonates with your own. It can inspire, provide escape, exude beauty, and spark conversations. By purchasing original art directly from the artist, you initiate a unique and personal relationship that will endure for a lifetime. This investment allows you to enjoy the visual splendor of owning a one-of-a-kind artwork while also preserving our artistic heritage and ensuring its continued evolution and inspiration for future generations. Unlike prints in today's digital world, the value of an original piece of Canadian art continues to grow, with the artist's signature often becoming more valuable than the print itself.