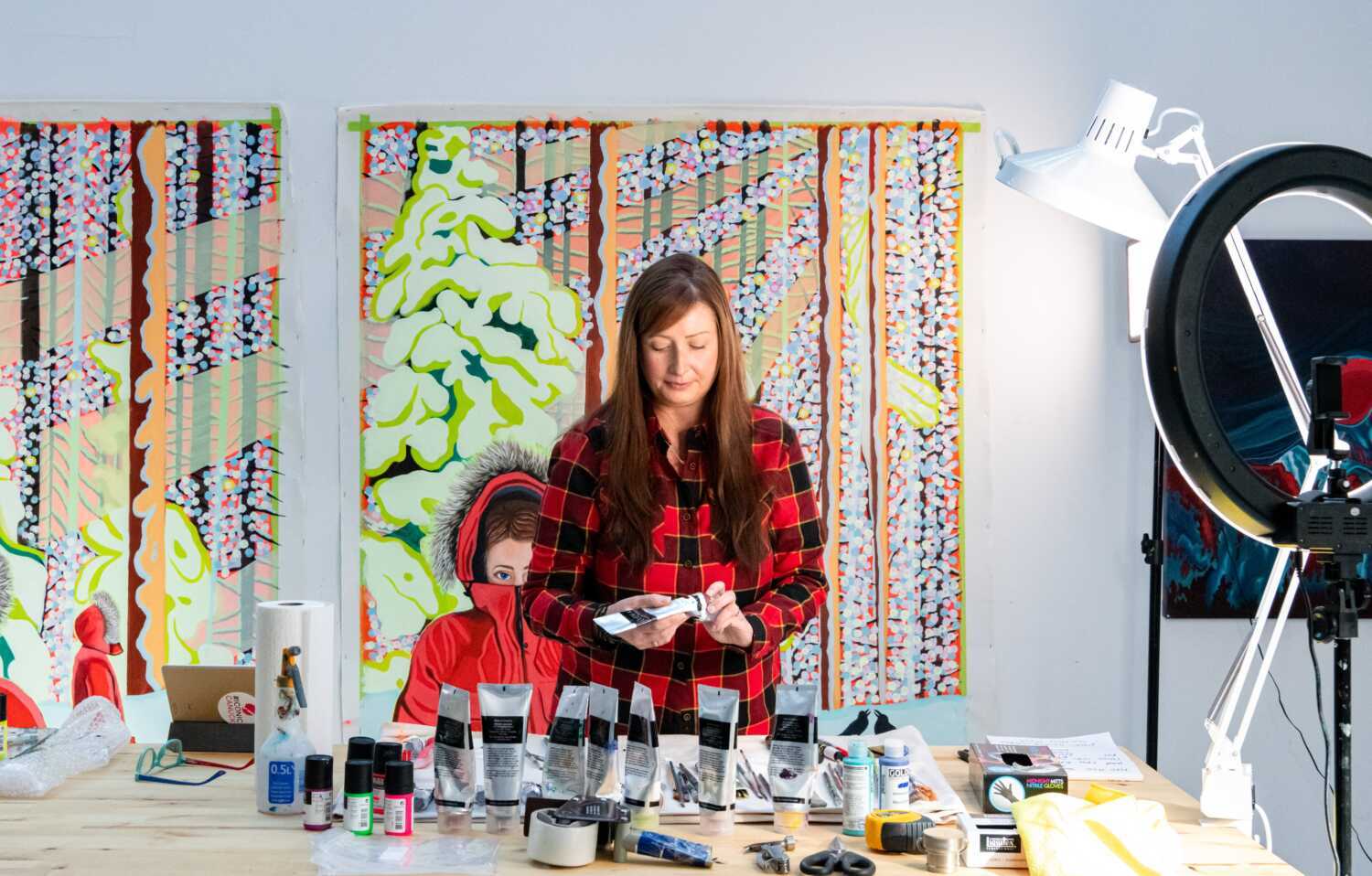 Interview: Talking with Banff Centre for Arts & Creativity
In November 2022, Victoria, BC artist Brandy Saturley spent 12 days making art in a Leighton Studios residency (recipient of the Paul D. Fleck Fellowships in the Arts Endowment) at Banff Centre for Arts and Creativity. In an interview with the Banff Centre Social Media Marketing Officer she spoke about about her project and artist process.
Why did you join us for this residency? In my practice I find that it is important to leave your usual routine and studio behind and seek out new locations to create work in new environments and in new ways. This type of residency keeps the work fresh and challenges my ability to be flexible as an artist. I also had the Banff Centre on my list of places I hoped to do a residency and I am thrilled it finally came together.
What do you love about your art form? I love painting because it is such a fluid and immediate medium. My goal for this residency was to paint a very large piece and make full use of the ceiling height, light and expanse of the wall in my studio. My way of making art begins with capturing the experience of a place through the mediums of photography, video, and writing. I then take all these things and lay out the blueprint for the painting. Aided by music, I find the mood of the piece and being laying down paint on the canvas. All influenced by my time in a place and my journey of getting to the place. My paintings are about the journey and the things I see, hear, feel, taste and touch along the way and in the place where I am making the art. In this case I arrived on a very snowy day, walking through a white out sky and forest to my studio. I could hear squirrels, birds and captured stag and deer resting outside my door. On the second day of my residency the light broke through and the skylights began to clear of snow. The light began to filter through the trees and my windows. This all informed the work that was created while on campus.
What should people know about your artistic medium that may not be common knowledge? My medium of paint and specifically acrylic paint is that it is the most versatile painting medium on the planet. Acrylic paint of today can be applied and reapplied, it can be layered and blended like oils and can be fluid, feathered and stain the canvas like watercolours. It can be laid out to dry on my glass palette and left to dry, and then peeled off like plastic wrap and then adhered to the canvas. I mix my acrylics with retarder if I am looking for it to dry more slowly like an oil, but I like that the medium dries more quickly than oil which allows me to move on at a pace that suits my personality.
What has your time with your Banff Centre residency been like, and/or, what specifically did you focus on during your time? In short, invigorating, uplifting and prolific. It was a regenerative experience that was welcomed after the past two years under COVID. I focused on creating in place, letting the experience direct the work. I like to challenge myself with every new painting, sometimes that means going in without a concrete plan, which is what I did in this case. It can be scary to arrive in a new place, and create purely on site, but thankfully I am experienced and prepared and brought everything I would need to rely on my daily schedule and practice, so that I could put all my faith in the experience of the place. I focused on creating a very large diptych on canvas. I also focused on gathering imagery and information to fuel an entire series of paintings based on my time at the Banff Centre. I will also produce a timelapse video of the creation of the painting, as well as a video of the entire experience of my journey. Another goal of my time in Banff was to access local art community and have signed on with Willock and Sax gallery because of my time at Banff Centre. Perhaps a future showing of the entire body of work and films with the Walter Phillips Gallery or Whyte Museum, that is the next goal.
What's next for you on your artistic journey after this program? Continued development and work on this series I have begun at Banff Centre. I have work in a group show at Adele Campbell Fine Art in Whistler in December, I have four paintings on view with Willock and Sax in Banff, I have a large portrait commission I have been working on for a client from Calgary, and I am looking for the next location to do a residency. Perhaps the east coast of Canada this time, time will tell.
Since doing this interview Brandy Saturley has been awarded a residency on the East Coast of Canada, in Newfoundland, through the Pouch Cove Foundation. The Canadian artist will be dedicating the month of October 2023 to this east coast residency.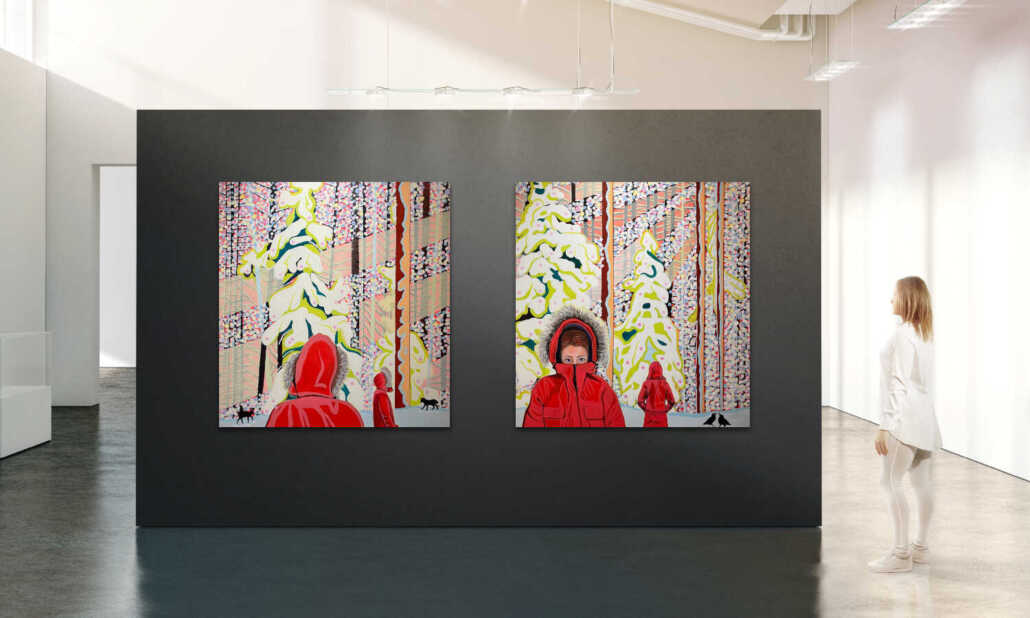 https://www.brandysaturley.com/wp-content/uploads/2022/12/DSC_8572.jpg
958
1500
Brandy Saturley
https://www.brandysaturley.com/wp-content/uploads/2020/10/brandysaturley_logo.png
Brandy Saturley
2022-12-09 10:04:56
2023-03-07 10:08:43
Interview – Banff Centre