Group Exhibition in Banff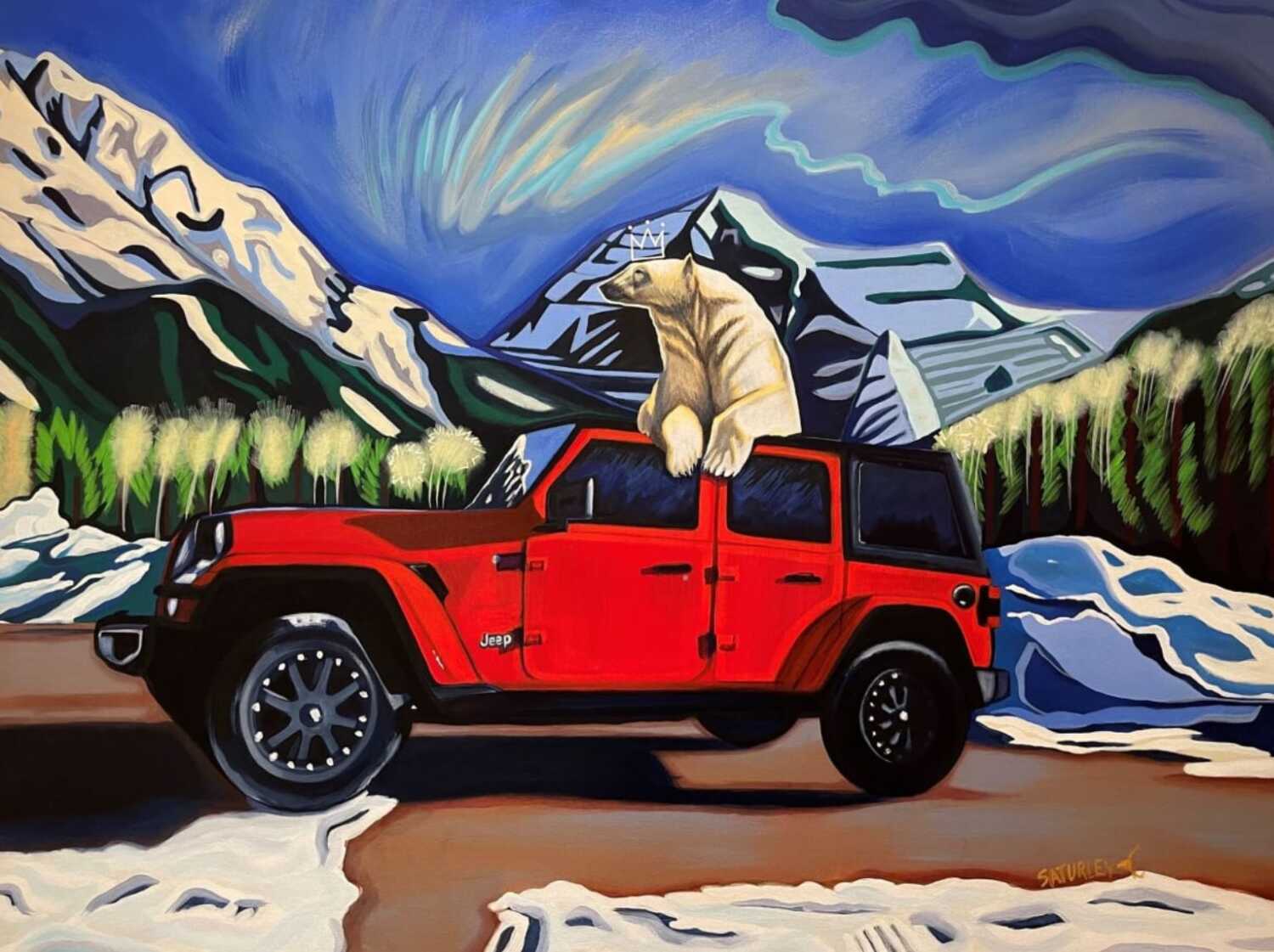 Filled With Snow – Group Exhibition in Banff, Alberta
For Snow Days in Banff, Willock & Sax Gallery is presenting a group art exhibition by their gallery artists, "Filled With Snow". This group art exhibition in downtown Banff, Alberta features paintings by Brandy Saturley, Mitchell Fenton, George Weber, Margaret Shelton, Linda Craddock, Murray Hay and Martha Houston, to name a few. There is also fine art photography by Tom Willock on view and available for collecting. Running from January 18 – 31, 2023.
King of The Polar Bears | Acrylic On Canvas – 36 x 48 x 1.5 in – (91.44 x 121.92 x 3.81 cm) – Brandy Saturley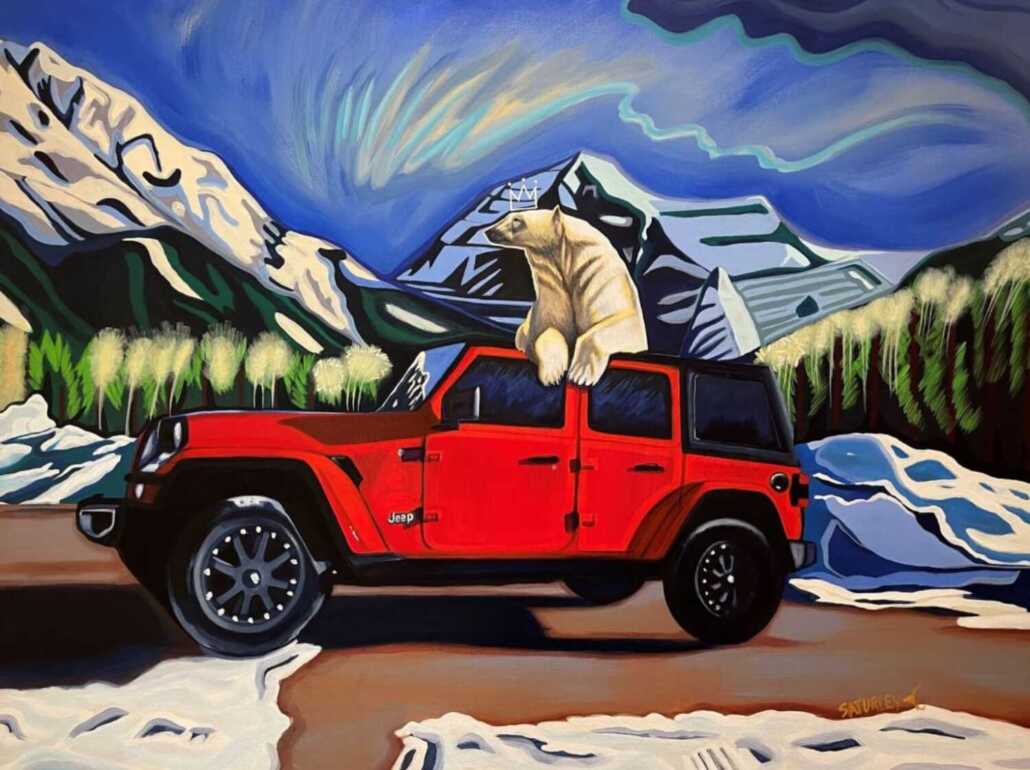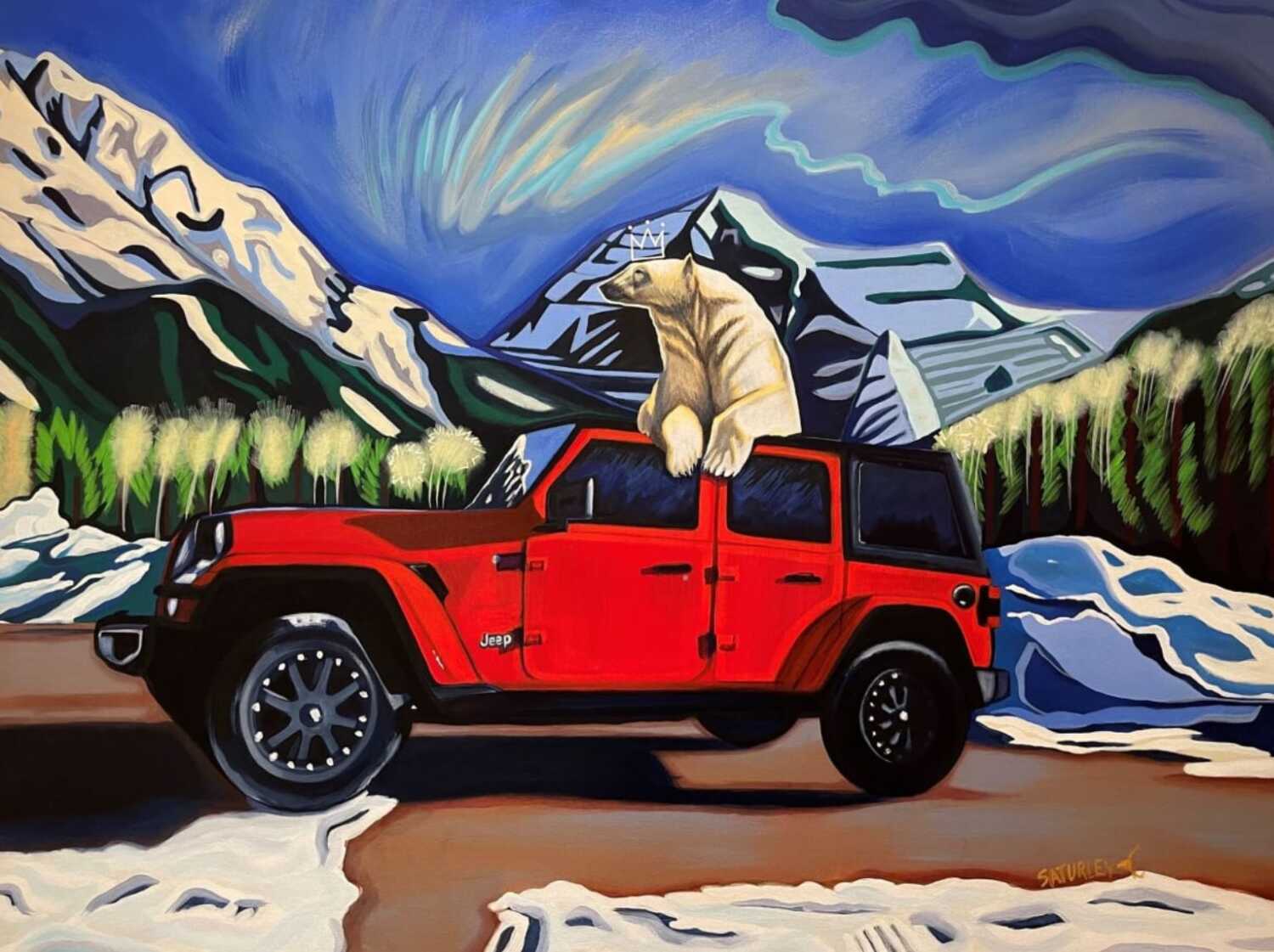 King of the Polar Bears rides on the roof of a scarlet red JEEP wrangler, snow capped Mt. Robson in the background. Taking a road trip through the rocky mountains of Canada. Adapting to the changing climate, he is out for fun and adventure. Discovering new sights, sounds and experiences.
In recent years, as wildfires ignite across the globe and ocean levels rise, artists have been faced with expressing their feelings in paint about the crisis of our times. We are seeing more Art and paintings confronting the global warming crisis, more than ever. We can feel the urgency in our bones to address social and political issues as we are vessels of society who soak it all in and pour it out onto the canvas. For me, I have felt the call and seen these issues subtly and subconsciously spill into in my art over the years. It is impossible to ignore, when you feel the heat and see the floods. Art can be a beacon of hope, lighting the way and compelling us to act. It most certainly compels me to paint, offering a beautiful and visual way to express my thoughts on the global conversation.
Polar Bears are magical creatures, loved by many. They are some of my favourite polar bear paintings. If you are in Canada, Manitoba is the place to go to see this largest land mammal, in the northern city of Churchill. Polar Bear symbolism and meaning varies amongst tribes. The Polar Bear teaches endurance and resourcefulness, a powerful and wise spirit animal. These white beauties often stir deep emotions in humans, especially now as their habitats are disappearing due to global warming. The Polar Bear is seen as a guiding spirit when facing dramatic life transitions, especially at the onset of a new path or major change in life. Seems timely as we are just coming through a challenging two years under the Covid pandemic and life as we know it is new again.
Churchill Manitoba is a place I plan to explore in the coming years. I want to study the polar bears and their behaviors up close, coming home to my studio to create new work informed by my time in Churchill. The next artist residency for a Canadian Artist painting themes of Canada.
https://www.brandysaturley.com/wp-content/uploads/2022/04/polarbear_4.jpg
1121
1500
Brandy Saturley
https://www.brandysaturley.com/wp-content/uploads/2020/10/brandysaturley_logo.png
Brandy Saturley
2023-01-16 09:58:52
2023-01-19 14:47:05
Group Exhibition in Banff