Outdoor Ice Skating Paintings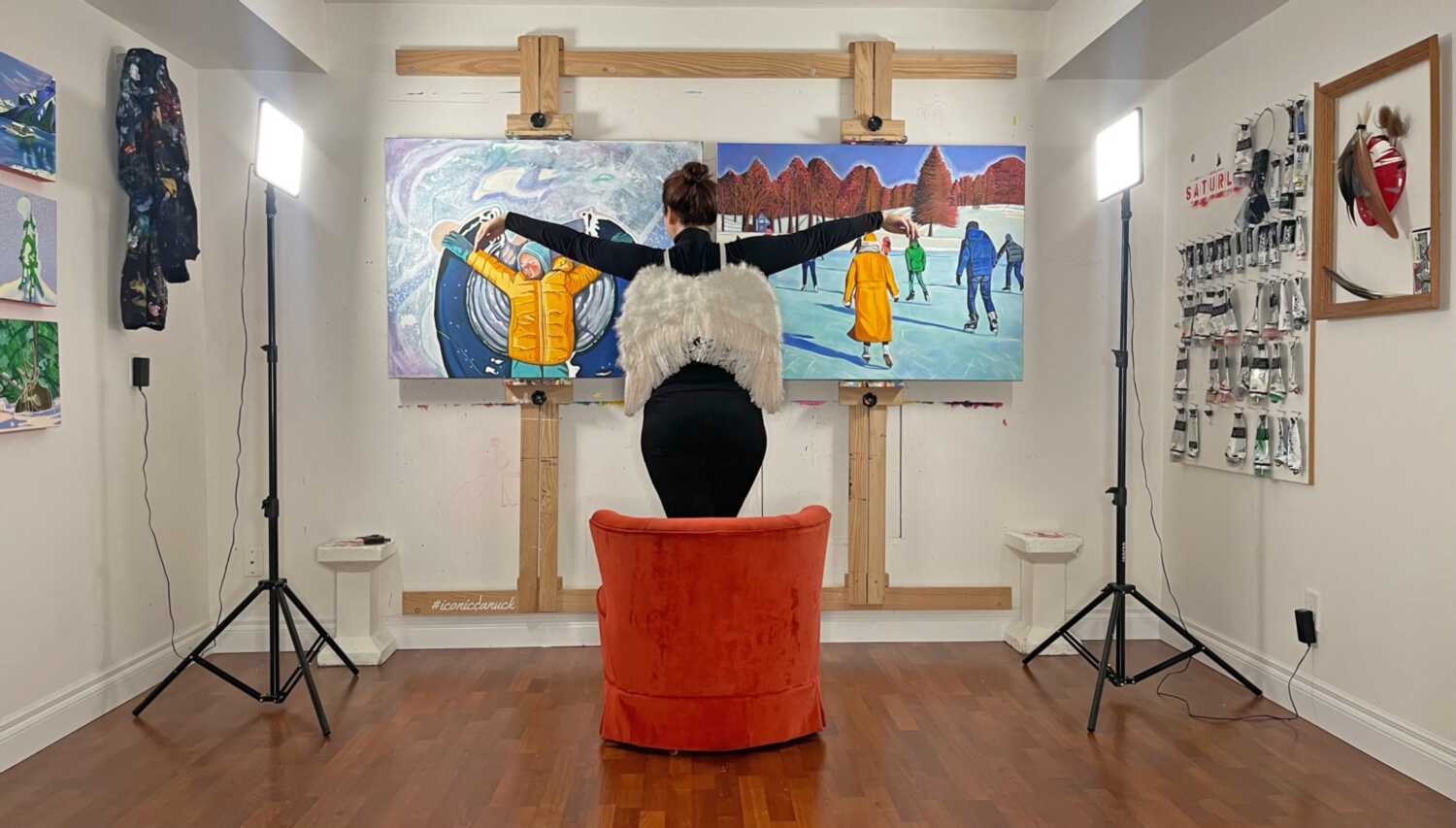 The Romance of Ice and Snow – Outdoor Ice Skating Paintings
Across Canada winter is a time for lacing up your skates and heading out onto the ice. Naturally this would lead me down a path of exploring outdoor ice skating paintings on canvas. For some it may be a frozen lake in the Rocky Mountains, for some it may be a farmer's field or park that is flooded with water during the freeze. For some it may be skating down the Rideau Canal in Ottawa or in a park in Quebec. If you grew up in Canada, you know how most the of the country celebrates winter, on ice.
Early in 2021, I painted two pieces about playing hockey outdoors on fields frozen over and lakes at the base of the rocky mountains. These paintings were telling visual stories about the discovery of winter pastimes on skates in Canada. Expressing the love for skating outdoors in the Winter. Shortly after these pieces were completed I moved on to paintings of figure skaters on a frozen Lake Louise in Banff National Park. There is something romantic about these rocky mountain locations in Winter, with frozen glacial hues of teal and undertones of Payne's Grey, the ice crystals reflecting a myriad of pastel colours from magenta to yellow. Winter is magical in Canada and romantic as we bundle in our Hudson's Bay blankets and parkas and sit by outdoor fires. The whole landscape is aglow, day and night.
To begin 2023, I again find myself romanced by icy landscapes and skating outdoors, this time the skaters are like most of us, enjoying a skate around a lake or playing on the ice. These new paintings tell stories that celebrate Winter.
Angel of Snow & Ice – Skating on an outdoor pond, a young girl in a yellow parka is found making a snow angel on the ice. A textured piece, a portrait on an abstract background.
Glide Away – A group of people skating on a frozen pond, snowy hills and treelined in the distance. Their shadows seem to be gliding away from them as the afternoon sun goes down.
https://www.brandysaturley.com/wp-content/uploads/2023/01/IMG_2766.jpg
853
1500
Brandy Saturley
https://www.brandysaturley.com/wp-content/uploads/2020/10/brandysaturley_logo.png
Brandy Saturley
2023-01-19 14:40:23
2023-01-19 14:41:49
Outdoor Ice Skating Paintings