Recent Paintings from Brandy Saturley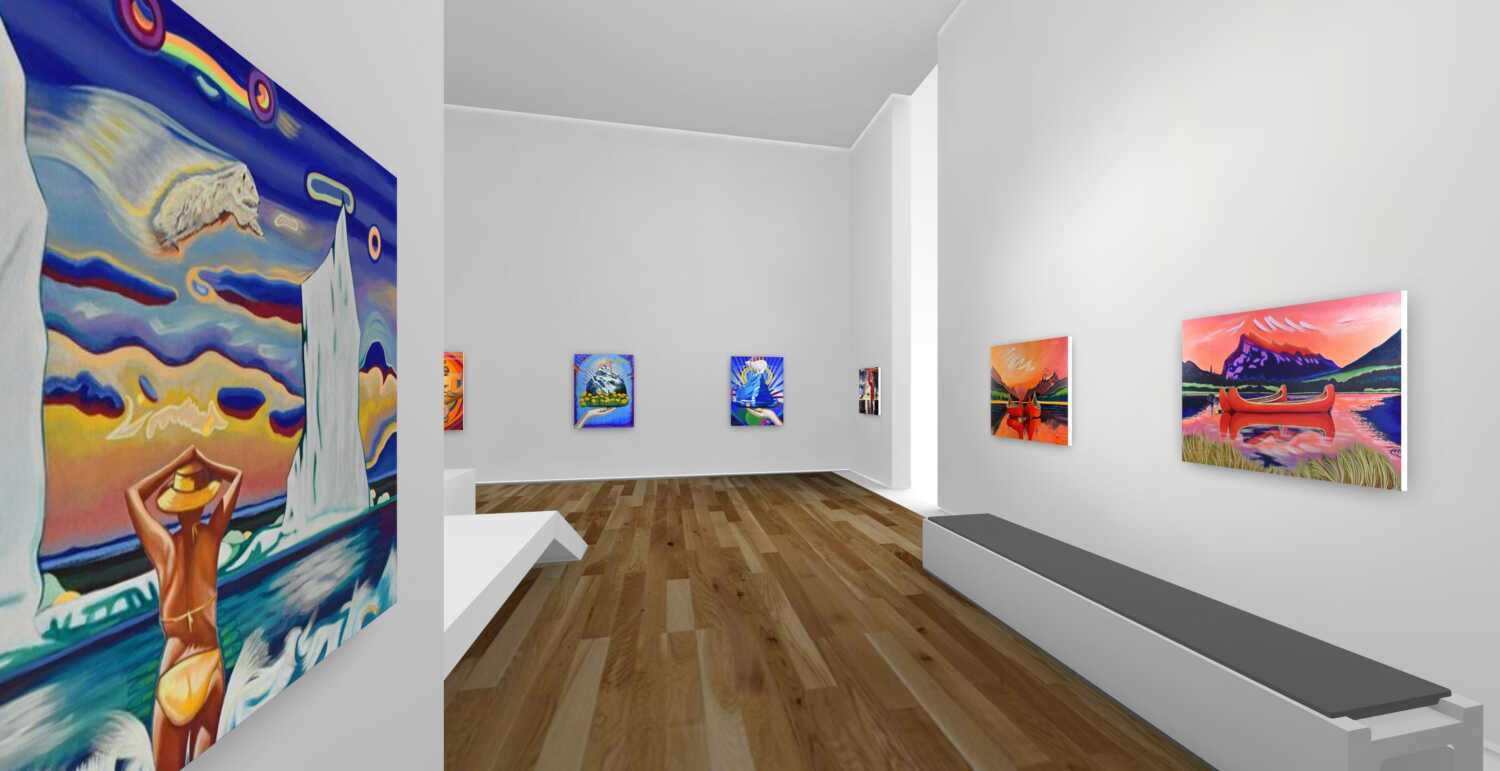 These recent paintings offer visual stories taken from the artist's everyday experiences, travels, and imagination. These new paintings cover the period of 2020 to current day.  Here you will find paintings with iconic Canadian imagery; set against vivid and playful backgrounds that are sometimes otherworldly. These original acrylic paintings collage together landscapes, people, nature, wildlife, shapes and vivid colours. Weaving new visual stories on canvas that have a distinctly Canadian pop art style, the vision of a Canadian artist known as the 'Iconic Canuck'.
Paintings that were created in a new era of humanity, during the COVID-19 pandemic years. With limited travel during this period of time these paintings reflect inner stories and returning to the joy of being with people and in nature. These new paintings follow the story of a polar bear looking for a new home, celebrate outdoor pastimes of pond hockey, canoeing, surfing and swimming. Featuring people, famous and iconic, and everyday humans bonded by the journey of life. These artworks comment on the war in Ukraine and our solidarity with Ukranians, the passing of Queen Elizabeth or our intent in finding healing, reconciliation and Peace with Indigenous peoples. Icebergs, protection, climate change, and just pure celebration of life can be found in these visual stories on canvas.
To view more paintings by Brandy Saturley, visit the 'Paintings' gallery here.



Capturing the spirit of the landscape, transcendental, and other worldly. A distinct signature of the painter, Saturley's landscapes are rendered using a combination of acrylics, gouache and oils. The paintings are vivid contemporary works that are anchored in traditional painting techniques, but also incorporate modern and simplified elements and forms. The 'pop art style' outlines move the work from realism to surrealism. "I have been drawn to the works of Lawren Harris from his Group of Seven period, but also love how he evolved his work into more abstract realms with the Transcendental Painting Group. When I decide on what I am painting, I begin with a central character. Whether that character is a mountain, a moose, or a human matters not, I'm looking for a starting point to my visual story on canvas. These days I rely heavily on intuition to guide me, and even I discover things within my work years down the road, that I did not see when I was creating the piece. I think this is what makes great art, the ability to see new things in the work for years to come."