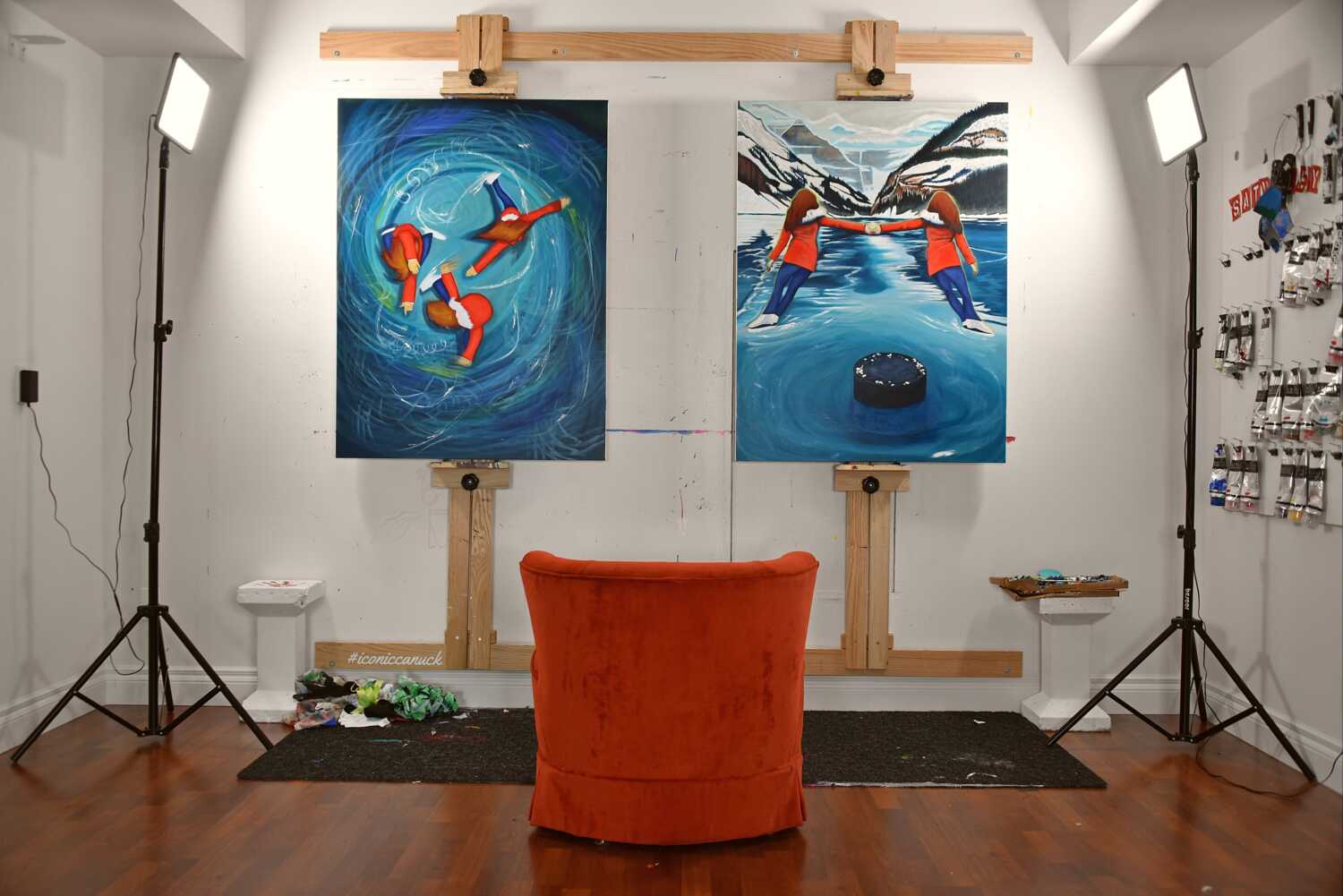 Exhilarating ice skating paintings exude feelings of freedom and joy!
Continuing on with a year exploring outdoor sports and pastimes of winter, these active paintings celebrate ice skating on glacial lakes. Beginning in January this year, the celebration kicked off with two new paintings exploring the playful discovery of hockey outdoors. These pond hockey paintings created in the first month of 2021, feature glacial hues and the joy of play, bursting with colour and enthusiasm. Moving through this new body of work, my attention turned to figure skates and the romance, energy, and grace of figure skaters on outdoor ice.
Even though I am tucked away in a basement studio with augmented lighting, I was able to escape to the outdoor skating rinks provided by glacial lakes of the Canadian Rockies, and Lake Louise in particular. It is a place I have visited a few times, both in Winter and Summer, and it continues to command my attention. Perhaps some of the reasons we are continually drawn to this beautiful location, from places all over the globe, are the beautiful color palette, the crisp mountain air, the sounds of nature and the lake. But could we also be drawn to this place for another reason? Recently I did some digging and discovered some very deep ideas about the energy found in this place. There is an energetic geometry found at Lake Louise, which to anyone with a camera, a brush, or a sense of symmetry, you will see immediately. Lake Louise is one of many 'energy vortex' locations on Earth which acts as a swirling center of energy, containing more earthly energy than most places. Many believe that energy vortexes exist at the intersections of ley lines or the random lines of natural energy that make up the Earth's electromagnetic field.
Some other well known energy vortex locations on Earth include Stonehenge, Sedona Cathedral Rock, Haleakala Volcano, Great Pyramid of Giza, Mayan Ruins at Tulum and the Bermuda Triangle. Many vortexes continue to be reported to bring feelings of peace, harmony, balance, and tranquility; while others are believed to promote personal reflection, deep insight, and a clear mind. Others still act as powerful centers of physical or emotional rejuvenation. Some even say they may be the healthiest spots on Earth. It is no wonder that droves of tourists are attracted to Lake Louise annually.
Here are the third and fourth paintings of 2021; filled with scenery, energy, escape and joyful hues. Celebrating ice skating outdoors.
TWIRL: a figure skater twirls and jumps as her blades sketch stories into the glacial lake ice. Aerial views offering a unique abstract perspective.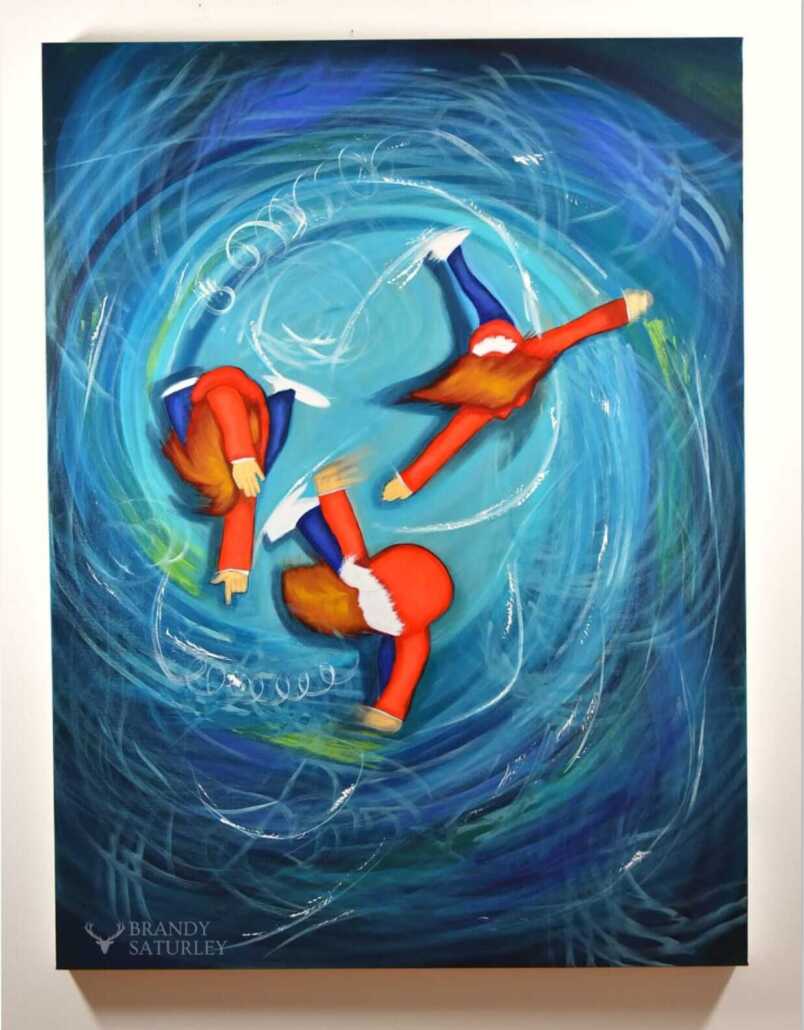 VORTEX: twin skaters with long auburn hair and a lone hockey puck. Dreamy in Canada.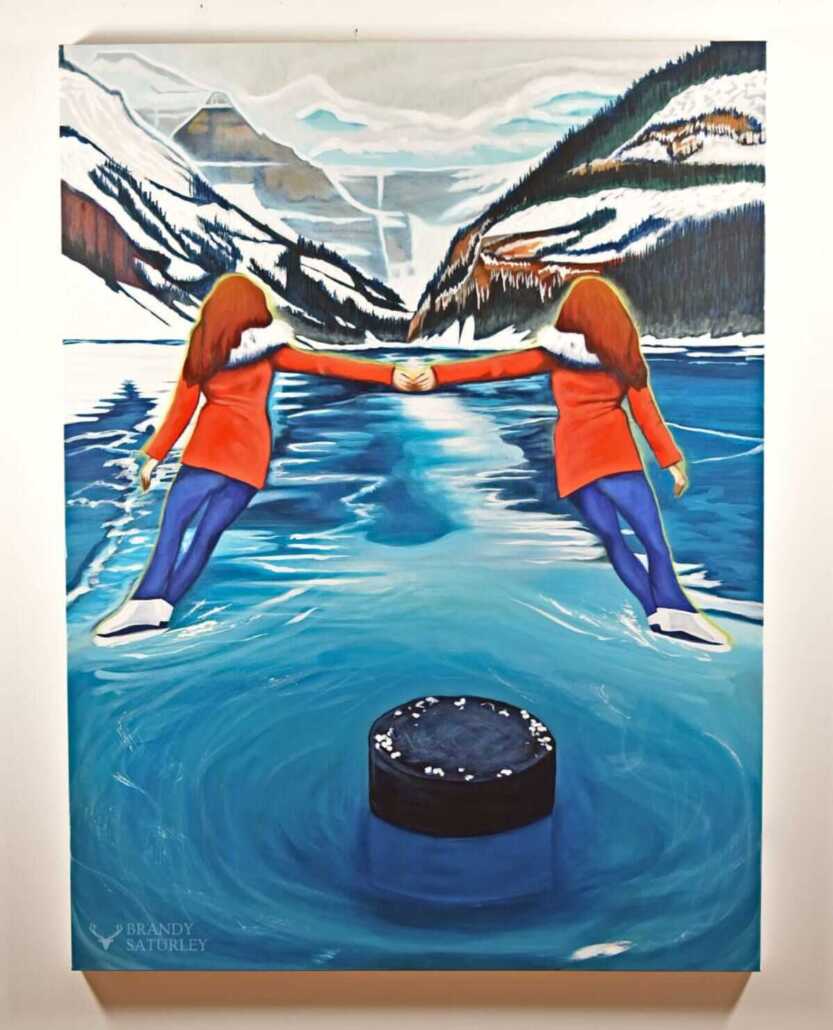 These paintings celebrating outdoor ice skating are alive with vivid colours of teal, lime, violet, red and orange against a range of blues. With the palette of each my goal was to capture the electricity and energy of skating outdoors in Winter and specifically the energy found at Lake Louise. To create my signature smoothness and texture, I utilized a myriad of painting techniques I have developed over the last twenty years as an artist. These pieces were created using my handmade Rosemary paintbrushes from England, my gloved hands blending with fingers on canvas, as well as random household bristle brushes to produce the snow and ice effects.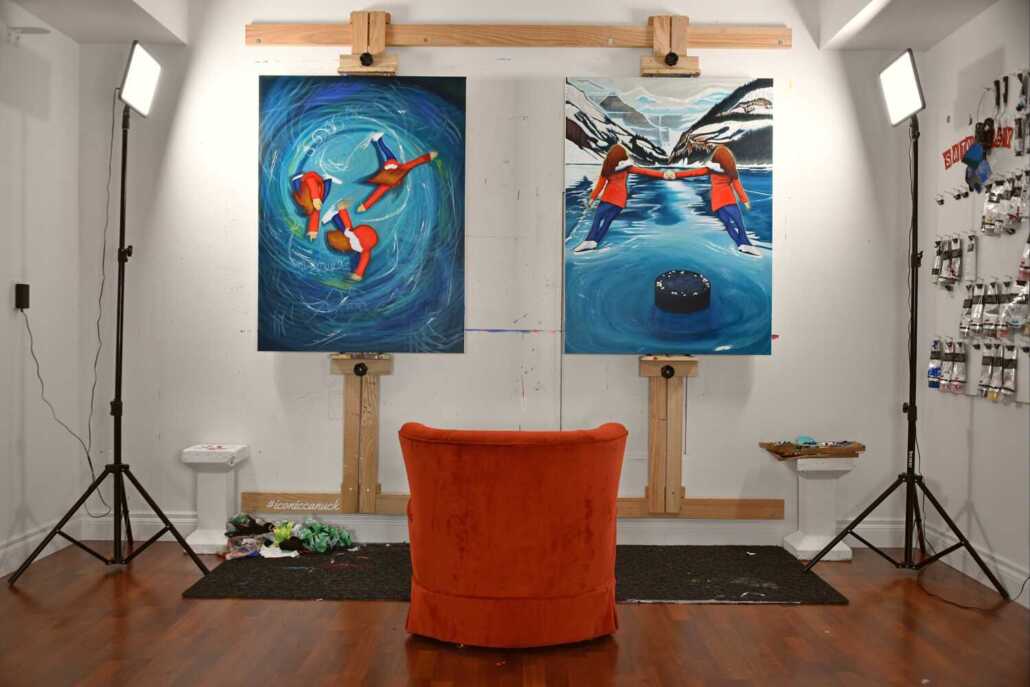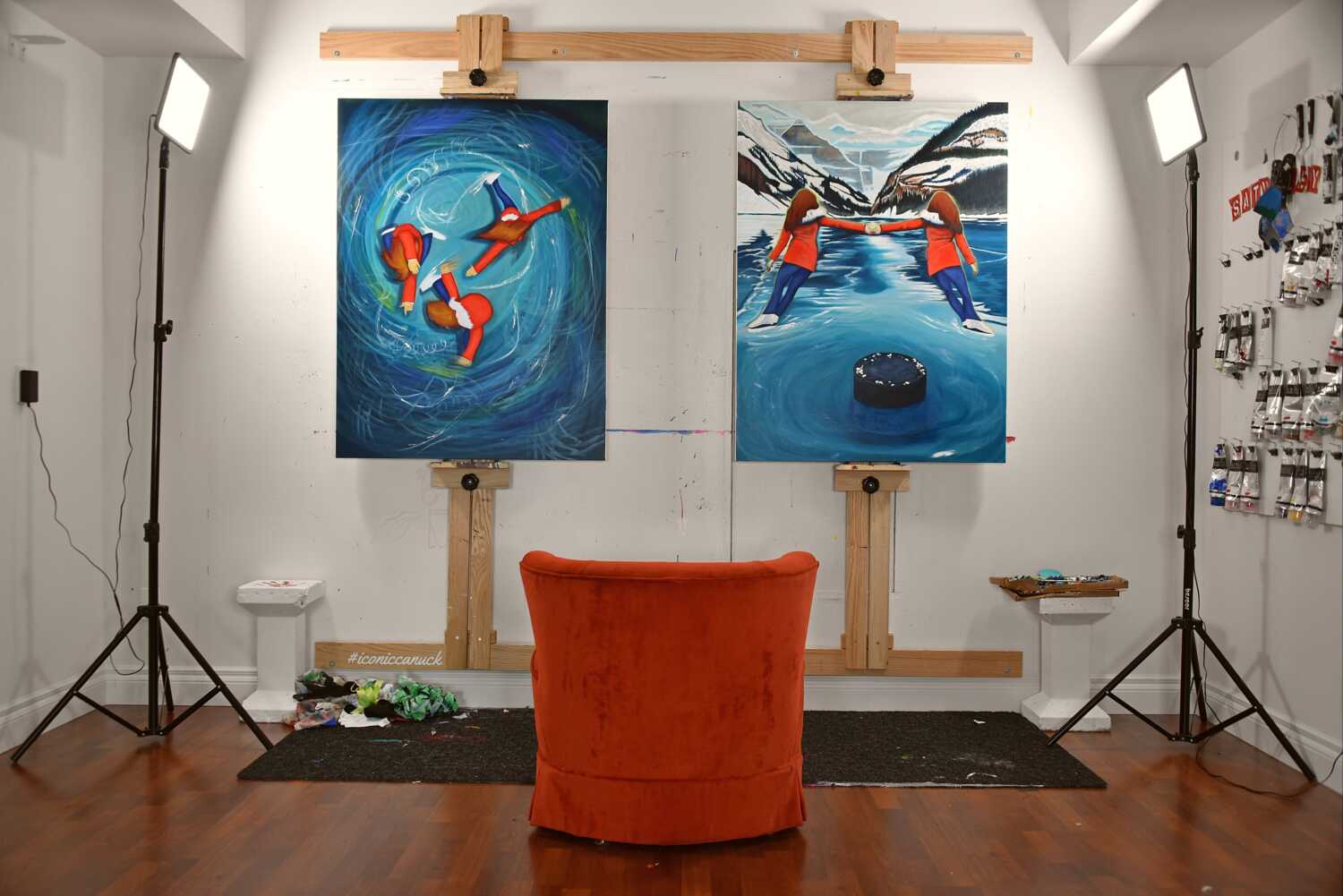 All over the planet humans know how to celebrate long Winters, through making the outdoors our indoors. I hope these paintings transport you to these locations, much like they did during my process of painting them on canvas. These paintings are for sale; add them to your art collection today.
Sincerely Yours,
Brandy Saturley (a.k.a #iconiccanuck )
https://www.brandysaturley.com/wp-content/uploads/2021/03/brandysaturleystudio.jpg
1001
1500
Brandy Saturley
https://www.brandysaturley.com/wp-content/uploads/2020/10/brandysaturley_logo.png
Brandy Saturley
2021-03-03 11:34:41
2022-10-17 09:45:36
Ice Skating Paintings