ART AND THE CITY: Vancouver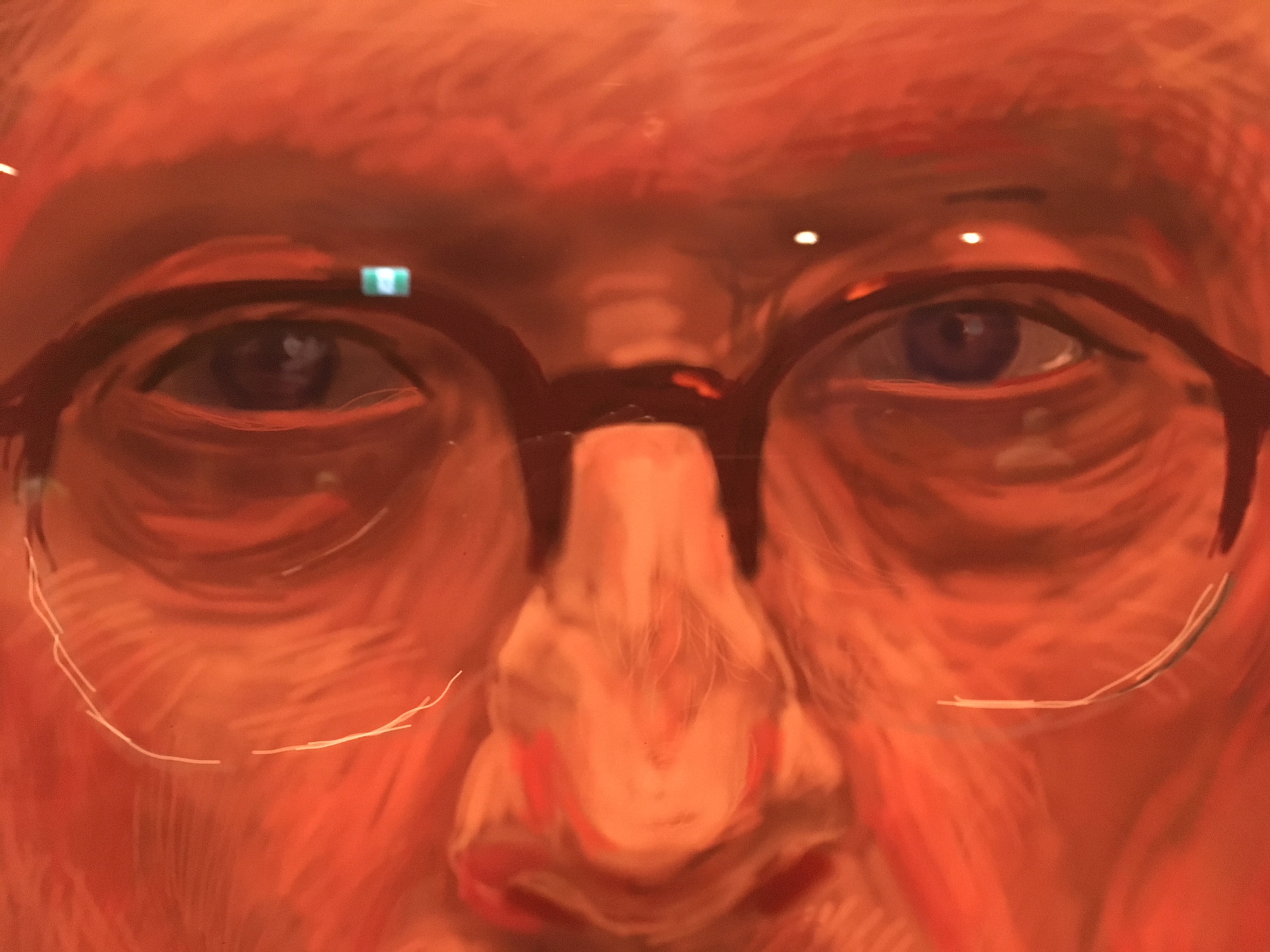 ART AND THE CITY Vancouver: Autumn Art Shows & Openings
I'm back on the road and in beautiful Vancouver, BC! The trees are dressed in full regalia of vivid Autumn colors and it was a balmy 14 degrees and sunny today. On Granville Island I popped into Kroma acrylics, where they have been grinding their own pigments and creating supersaturated acrylic resins for over 40 years. My walk today took me to English Bay where the ocean meets Stanley Park and the vibe is active. I finally got to experience A-maze-ing Laughter a Sculpture by Yue Minjun, 2009 – part of the Vancouver Biennale public art walk. These multiple bronze men cast laughter and engage viewers of all ages. Public art I think we all can agree upon. Tomorrow I have two openings to keep me busy, until tomorrow! This is ART AND THE CITY: Vancouver.
Day two in Vancouver began with an impromptu interview on the street with a local film crew shooting a pilot for a web series, you know you're in Hollywood North when this happens on your way to work. Today's exhibit destinations started at the Fairmont Pacific Rim with the #fightforbeauty exhibit featuring a mixture of high fashion, architecture, visual art and design. With iconic dresses from Alexander McQueen, Yves St. Laurent and Versace, and a commissioned Fazioli grand piano from Italy, this exhibition is as educational as it is beautiful. If you are a fashion, design or architectural fan, this exhibit will delight you. My afternoon was spent in English Bay photographing architecture and beach art in the form of numerous stacks of rocks or Inukshuk along the shore. Right now I am supposed to be at the Fall members opening at the Vancouver Art gallery, but my adventurous photo taking landed me nursing a severely sprained and swollen ankle. So I will finish this with and evening toast of wine and frozen bag of peas on ankle. Here's to feeling better for tomorrow's events!
Today I took my sprained ankle and wounded deer limp across town on the Skytrain, day 3 was all about the opening of the new Emily Carr University of Art & Design – opening a brand new, state-of-the-art campus and headquarters in Mount Pleasant. The new home for the university welcomed guests this weekend, and it was an interactive opening. Highlights included the learning commons, the sculpture studios and the featured exhibition. 88 Artists from 88 Years an alumni exhibition to celebrate Emily Carr University's move to their new campus at Great Northern Way. The exhibition includes works by graduates spanning the years 1929 to 2017. Favorites included; Ken Sakurai, Atilla Richard Lukacs, Lawrence Paul Yuxweluptun, and Laura Piasta. The new campus and its amenities include all sexes washrooms and so much more. It's nice to see the school looking like a serious University, on the level with any other major arts institution in Canada. Well done ECUAD! Afterwards I hit the Equinox and Monte Clark galleries across the lane and also popped into the colorful space at Winsor gallery. An art filled day, time to ice the ankle, catch up with you tomorrow.
With my sprained ankle is on the fast track, I can wiggle my toes without yelping today! On my final day in Vancouver my destination was the Vancouver Art Gallery for the Fall exhibitions. Portraits of Artists, a show from the collection of the Royal Gallery in London, Queen Elizabeth II private portrait collection. From the 1700's onward an immense show of some of the most detailed and highly skilled classical mezzotints, etchings and paintings, an ode to the old fashioned 'selfie'. I also enjoyed the Contemporary painting show and the Gordon Smith show, 'Paint it Black' – a show of work from his 'black period' all the canvasses with a black and brooding ground with hints of color and form. The work made me think of Monet water Lillies only the dark side. I finished the day with an Emily Carr retrospective on the top floor of the gallery, with several of her oil paintings on paper, I love the loose and pastel tones in these studies, the lighter side of Carr. A day well spent, anxious to return home and get back to painting. It's been a good five days of stimulating the senses and enjoying the art and Fall colours in the city, back to my quiet seaside studio on the island.  ~ Artfully Yours, Brandy Saturley
https://www.brandysaturley.com/wp-content/uploads/2017/11/hockneyselfportrait.jpg
1512
2016
am-330
https://www.brandysaturley.com/wp-content/uploads/2020/10/brandysaturley_logo.png
am-330
2017-11-03 19:49:15
2023-09-27 11:48:14
ART AND THE CITY: Vancouver