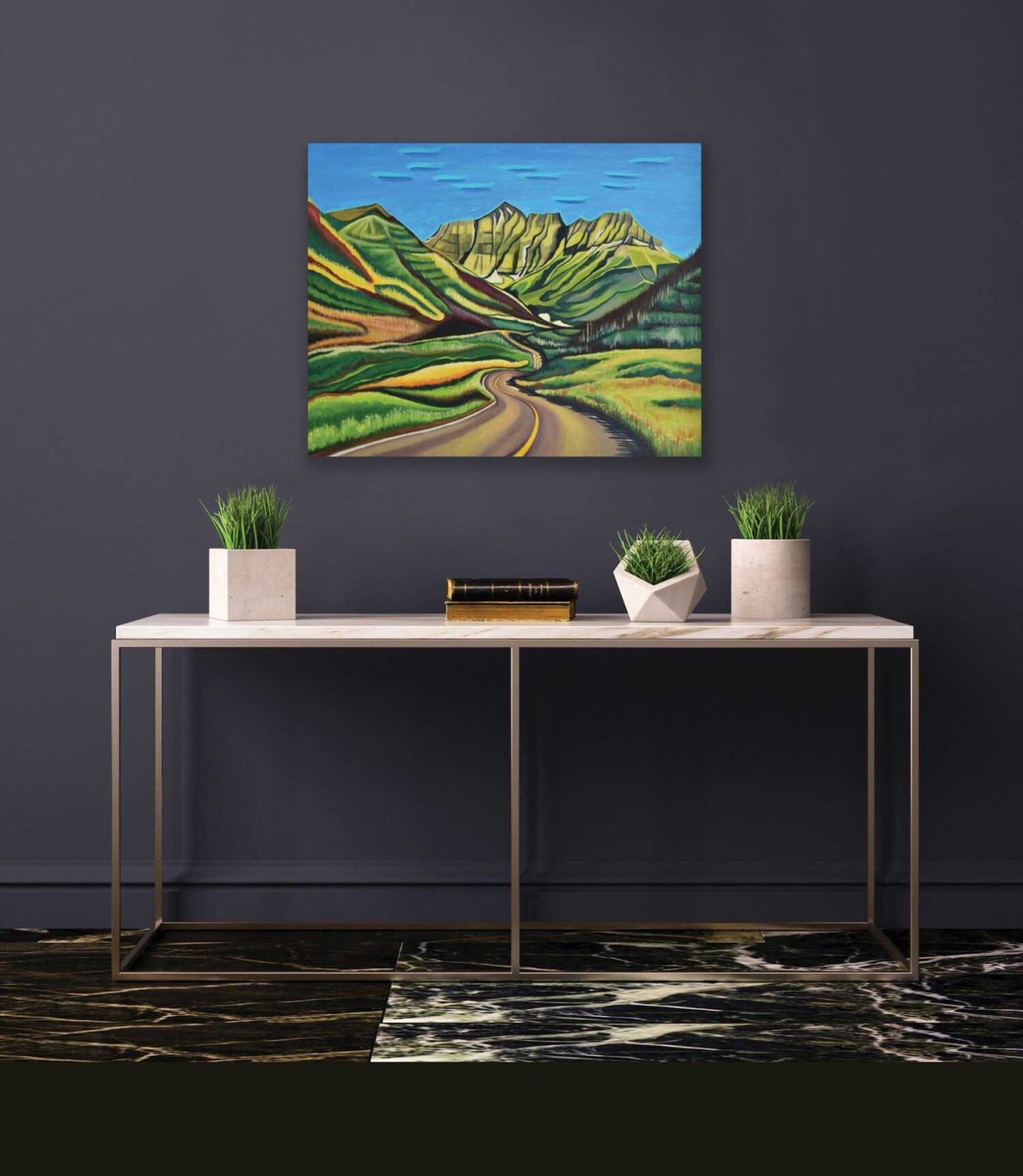 Art Benefits: spring home issue YAM Magazine
The March/April issue of YAM Magazine includes a feature about the benefits of art, and how a well chosen original piece of Art enriches your home. The selected artworks come from a number of Vancouver Island and local Victoria fine artists; painters, sculptors, wood and glass artists. I'm delighted to say the feature includes one of my landscape paintings, created in Summer 2020. A painting of the road to Red Rocks in Waterton Lakes National Park, Alberta. In the feature I talk about my distinct style of Canadian Pop Art painting, what art adds to a home and how I feel about seeing my work on the wall of a collectors beautiful home. You can read more including what I think about matching art to the couch, online here.
If you are in the greater Victoria area, you can pick up a copy of the current issue at the following locations.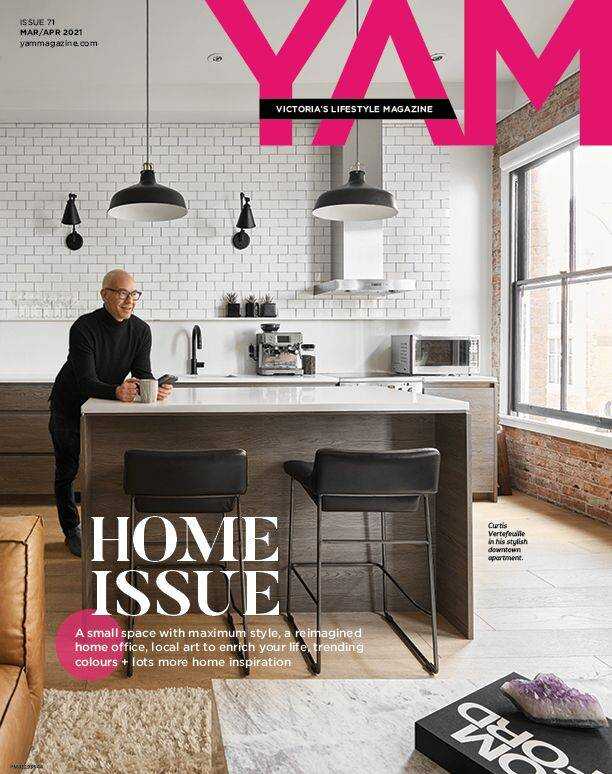 See more detailed images of the featured painting, 'A Long and Winding Road' here.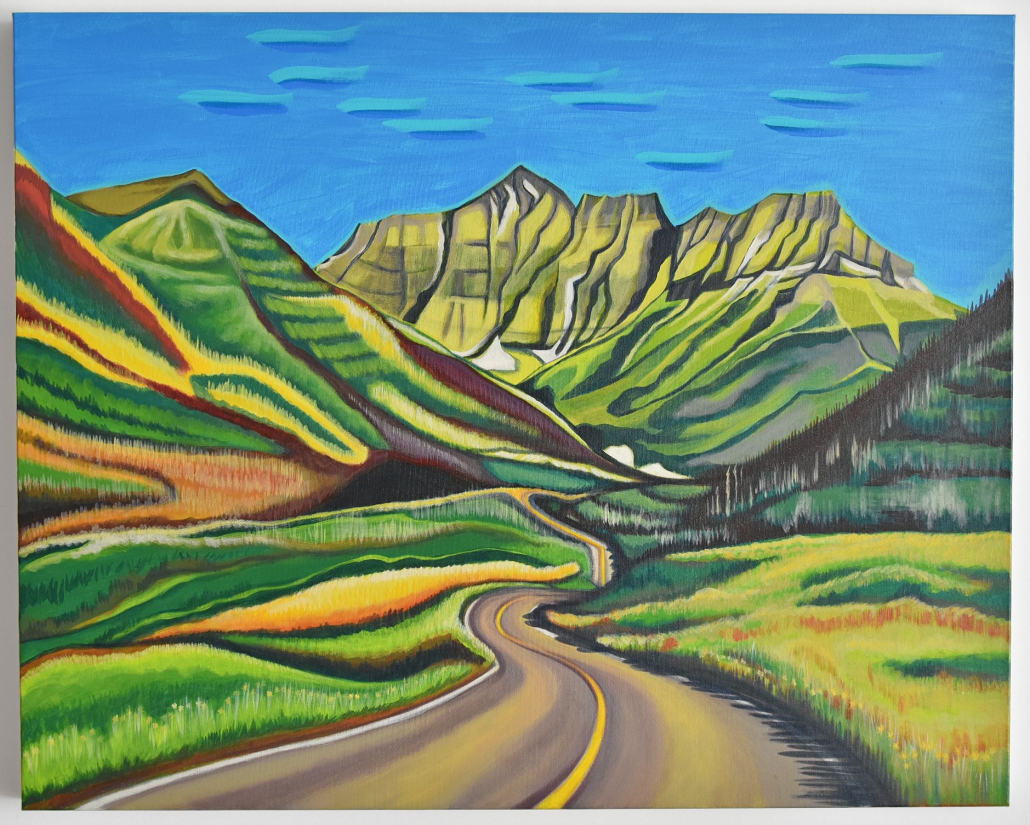 YAM Magazine – full interview with Victoria, BC based artist Brandy Saturley
What mediums do you work in and how do you describe your work?
My primary medium is Acrylic paint on canvas. I prefer large format; most of my work is 4×3 feet in size. My practice includes photography for reference. In between paintings I enjoy exploring outside, with my Nikon camera in tow. Photography offers the opportunity to get out and experience life from a new perspective and new vantage points, fueling future creativity back home in my studio.
I paint Canadian Pop Art style paintings. My palette is vivid, stylized and contains elements of realism set against abstract backgrounds. I coined the term 'Pop Canadianisms' which refers to my series of paintings which comment on Canadian popular culture and the landscape.
Signature subjects include:
Canadiana, Landscapes, Hockey, & Portraits
What do you think art adds to a home? Is there anything specific that paintings bring in this regard?
As an artist I live with a lot of Art! In simple terms, Art adds beauty, pause, décor, style, energy, and value. Art is an investment in good health, culture, and your home. A few years ago, I sold several paintings to a collector in Cordova Bay who had just finished building their dream home. When it came time to sell their home, they kept the art in place for real estate tours, and most clients wanted to buy the art with the house. The collector declined selling the art with the home, taking it with them to their new home in Edmonton.
For me, the most important thing art adds is an inception point for future conversations. A well-crafted piece of art offers a starting point for conversation, a reflection of one's tastes, and escape. Original art on your wall offers a vacation from reality and the stresses of the day. Art offers a moment of meditation, a place where your mind can wander and rejuvenate. When you cannot get outside, or take that vacation, Art provides a place for your mind to escape. 

How do you feel when you see a piece of your art displayed in someone else's home?
Grateful! A piece of my art in someone else's home means SOLD. It means my art and my voice will live on and be passed down through generations of family. It means a collector connected to something in the work, enough to want to display it in their beautiful home or business.
Do you have a favourite space in a home to be displayed?
My work is made for a large wall, a feature wall, a place where people gather or enter. My work is for collectors who change the couch to go with the art, and not the Art that goes with the couch.
Feature wall at a front entrance, dining room wall, a room where you entertain. My work features well in eclectic and custom spaces, my vivid palettes work well with a range of interior decors and styles. People buy my work because they love it.
Do you ever do commissions? Yes, when I have time in my schedule. Most recently I created a custom piece for a client in Oak Bay.
Where can people find your art to buy? I am a full-time self-representing artist You can begin with viewing the artwork on my website: https://www.brandysaturley.com/
My work is also available with Adele Campbell Fine Art in Whistler, Canada.
https://www.brandysaturley.com/wp-content/uploads/2021/03/WindingRoadMockup_Saturley-1781x2048-1.jpg
1725
1500
Brandy Saturley
https://www.brandysaturley.com/wp-content/uploads/2020/10/brandysaturley_logo.png
Brandy Saturley
2021-03-04 11:10:34
2022-09-29 10:33:00
Art Benefits