Featured Article Island Arts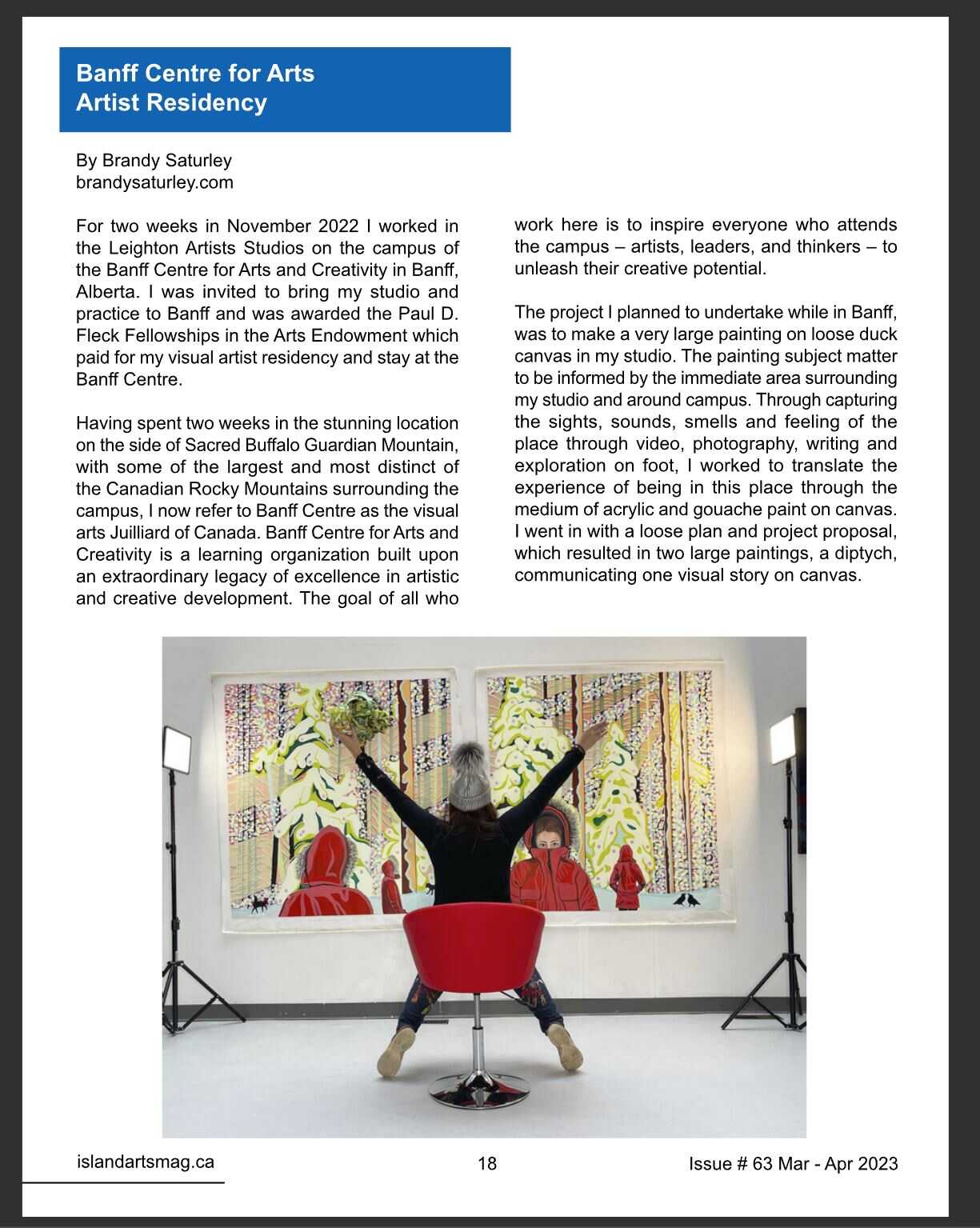 Spring Issue Island Arts Magazine Featured Article
Featured in the Spring 2023 Issue of the Island Arts Magazine (IAM) an article written by Brandy Saturley about her time working in the Leighton Studios at Banff Centre for Arts & Creativity.
The Island Arts Magazine, or IAM for short, is based in Parksville on Vancouver Island, British Columbia, Canada. The Spring 2023 issue marks the beginning of their 16th year publishing this magazine about local Vancouver Island artists as well as Artists across Canada. The Island Arts Magazine has become an interactive digital publication covering artistic events, art exhibitions, workshops, editorial content on everything Canadian Art. For the first several years the focus of this art publication was Vancouver Island Artists. Over the years they were able to expand their reach to the mainland, and later all of BC. During the pandemic they expanded their offering becoming a digital magazine, presenting art and artists from across Canada – Coast to Coast.
In this 63rd issue of the magazine you can read an article by Brandy Saturley about her experience as artist in residence at the Banff Centre. Saturley spent two weeks in the Leighton Studios creating new work informed by her time in Banff and on campus. The Banff Centre is the largest arts institution in Western Canada. The Leighton Artist Studios are home to ten distinct studios, nestled in the forested area of the campus. The studios provide a creative haven to a variety of disciplines: writing for stage and screen, composing and songwriting, visual arts including painting, photography, literary translation, curating, and art theory.
A contemporary Canadian artist whose work captures the essence of Canadian life and culture.
Saturley typically works from her home studio on Vancouver Island, surrounded by the stunning natural beauty of Canada's west coast.  Her paintings often reflect this connection to nature, with sweeping landscapes, rugged mountains, and vivid skies and central figures featuring prominently in her work. Her use of bold colors and dynamic brushstrokes creates a sense of energy and movement, and her work has been described as "joyful, emotional, and thought-provoking."
In addition to her focus on nature, Saturley also explores themes of identity, community, and belonging in her work. Many of her paintings feature Canadian icons such as hockey players, Canadian wildlife, and maple leaves, highlighting her deep connection to her home country.
Saturley travels across Canada to exhibit, create, capture imagery and work from her experiences. She creates visual stories on canvas about moments experienced on her adventures, coming home to Vancouver Island to work from her North Saanich based studio.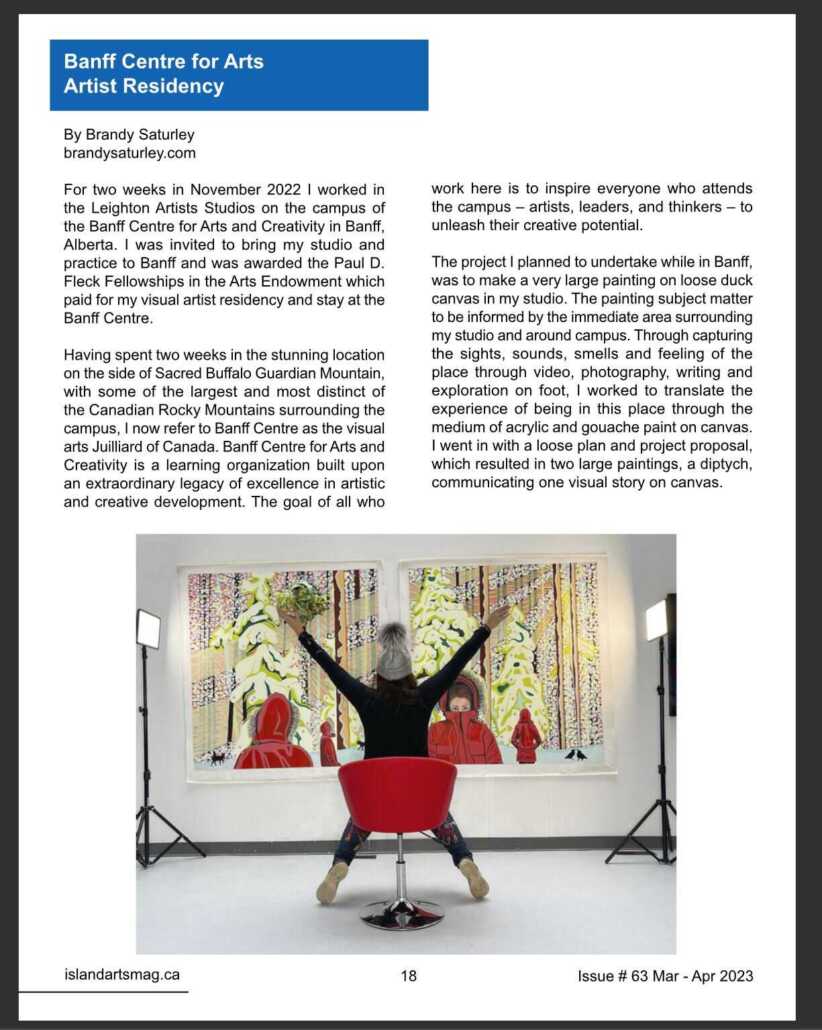 More about Saturley's time at Banff Centre here.
Read the entire issue of Island Arts Magazine here: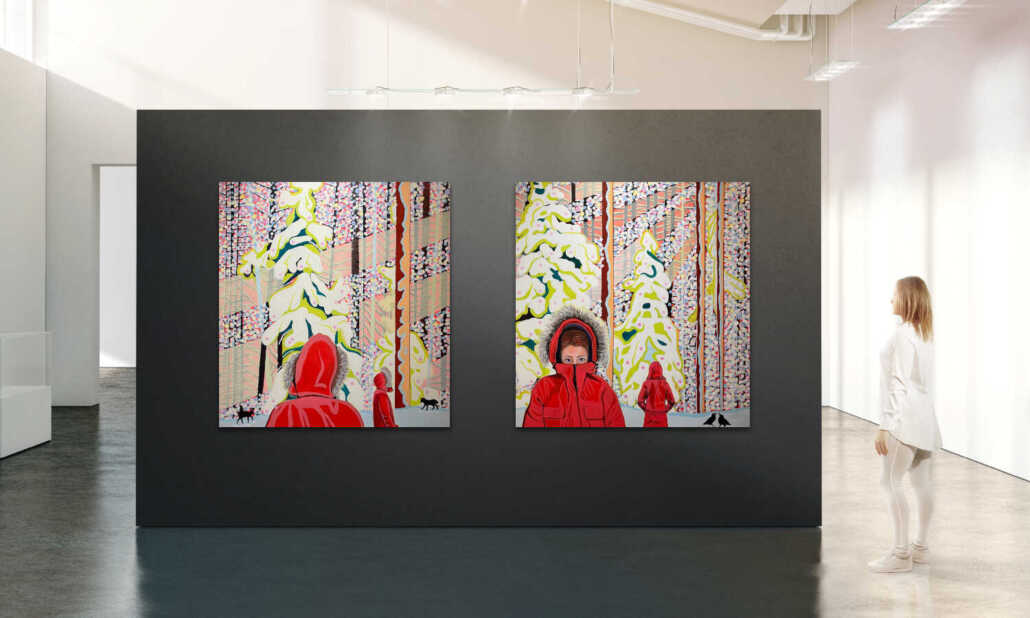 https://www.brandysaturley.com/wp-content/uploads/2023/03/IAM1.jpg
1535
1225
Brandy Saturley
https://www.brandysaturley.com/wp-content/uploads/2020/10/brandysaturley_logo.png
Brandy Saturley
2023-03-03 10:26:35
2023-03-07 10:03:26
Featured Article Island Arts