School Celebrates The Arts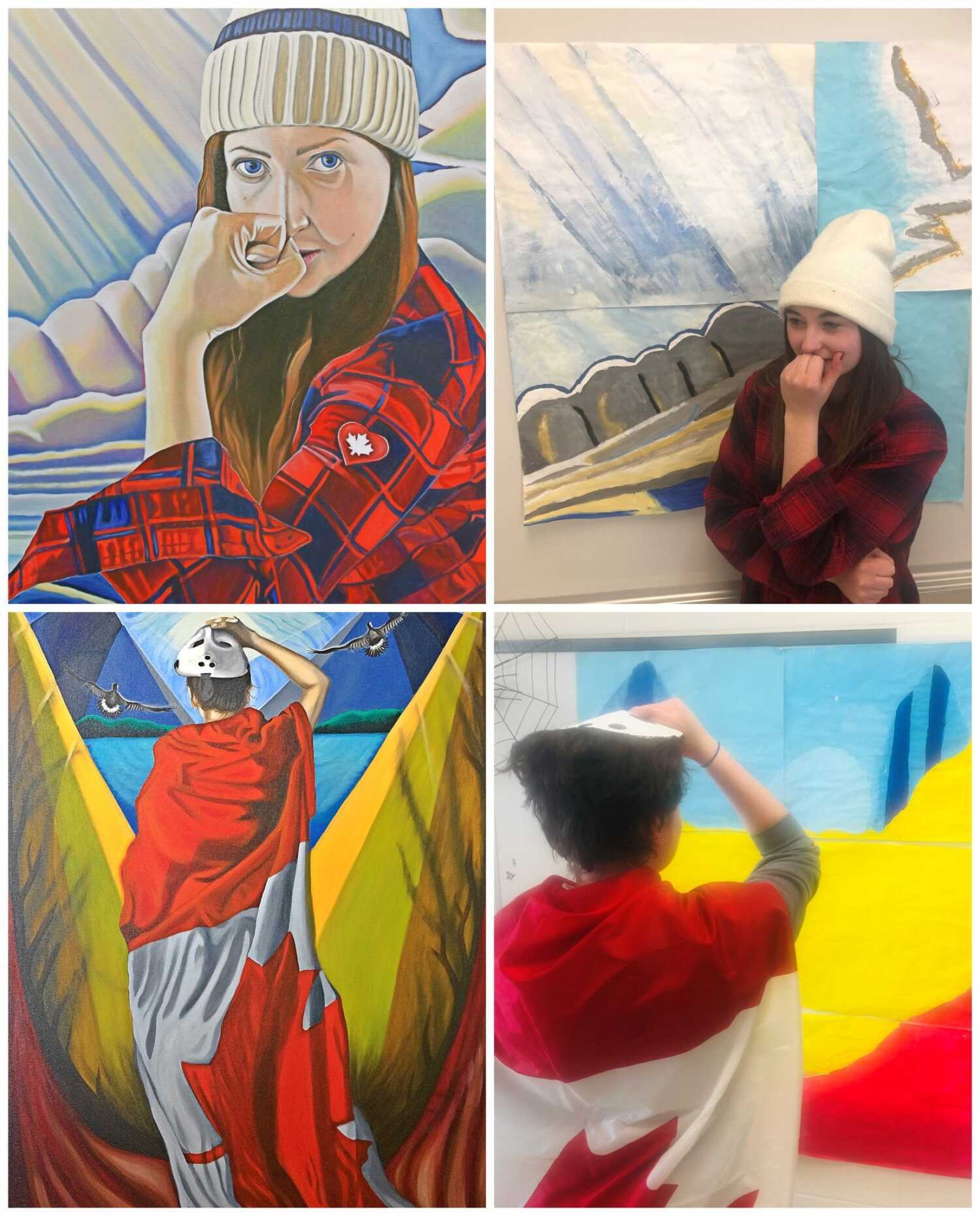 New Brunswick School Celebrates The Arts
Recently, I came across an intriguing article online that highlighted a captivating art class at a Community School in Woodstock, New Brunswick, Canada. In this progressive setting, the arts and graphic arts teacher for Grade 9 invited guests to immerse themselves in an extraordinary artistic experience. Through live performances and mesmerizing 3D imagery, students breathed vitality into pop culture references and celebrated iconic Canadian painters.
The classroom displays were nothing short of impressive, as students donned costumes to embody renowned artists such as Maud Lewis, Brandy Saturley, and Andy Everson. As I perused the article, I was delighted to stumble upon captivating photos showcasing these talented students bringing two of my own paintings to life. Their rendition was nothing short of exceptional, and I couldn't help but appreciate the passion and dedication of their Art teacher, who injected newfound energy into the Art Class.
This heartening story serves as a testament to the transformative power of the arts within our community. By embracing contemporary Canadian art and bridging it with popular culture, the school in Woodstock exemplifies the vitality and relevance of artistic expression in our modern society. It is through such creative endeavors that we foster a deep appreciation for our cultural heritage while encouraging innovation and imagination among the younger generation.
I extend my heartfelt admiration to the students and their Art teacher for their remarkable achievements. They have not only brought art to life but have also kindled a renewed sense of enthusiasm for the arts within their educational environment. May their artistic endeavors continue to inspire and uplift, reminding us of the extraordinary potential that lies within each of us when we embrace the transformative power of creativity.
Below are images of the original paintings by Brandy Saturley, alongside the 'live creations' by students at Hartland Community School. Read the full article here.
https://www.brandysaturley.com/wp-content/uploads/2023/05/brandysaturleyartstudents.jpg
1861
1500
Brandy Saturley
https://www.brandysaturley.com/wp-content/uploads/2020/10/brandysaturley_logo.png
Brandy Saturley
2023-05-30 15:24:17
2023-05-30 15:25:10
School Celebrates The Arts