Queen Elizabeth II Paintings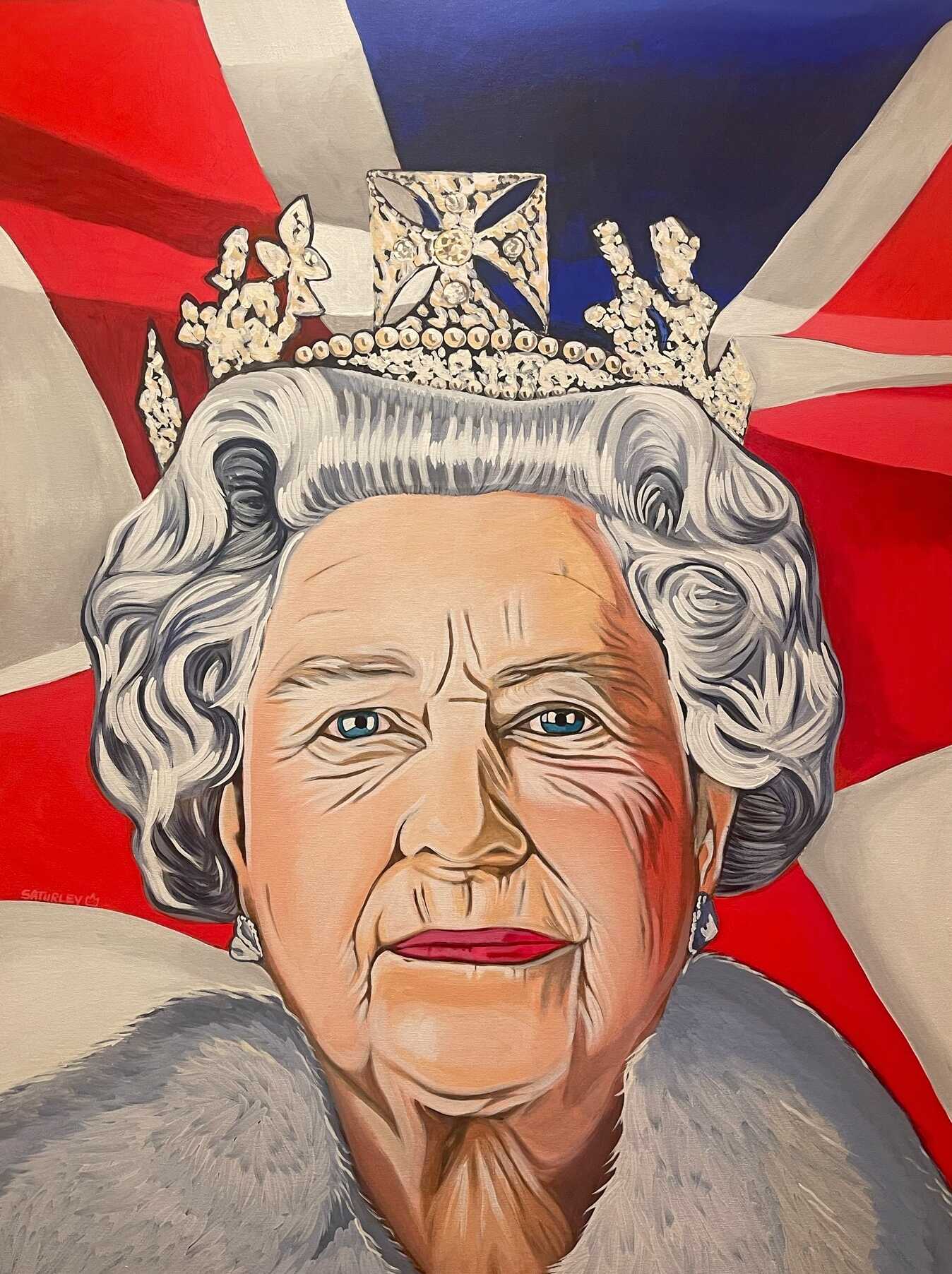 Brandy Saturley
Queen Elizabeth II Paintings: honouring The Queen in Art
Throughout my life there has always been a portrait of The Queen hanging near me. With Cornish grandparents and Canadian roots, Queen Elizabeth II has been a constant in my life. Growing up in Victoria, British Columbia and being born at The Royal Jubliee hospital the crown's presence can be felt everywhere. In 2019 my art career took me to London, England and I spent the summer making art and studying at the Royal College of Art. During this visit I had time to really explore the monarchy and it's relationship with the commonwealth countries and Canada. It was a time to explore my family roots and express my feelings through my art using a very contemporary expression. Over the years I have addressed and celebrated the United Kingdom and the monarchy, in my paintings. Sometimes poking fun, but always sincerely celebrating the influence of the monarchy on Canadians.
From a painting of The Queen wearing a toque with the Rocky Mountains in the distance, to the Union Jack flag, these five paintings feature expressions of an artist under the influence of the Commonwealth. Featuring collage and painted using acrylics on various substrates, these artworks celebrate what it means to be a Canadian with British roots.
In September 2022, Queen Elizabeth II passed after reigning for 70 years. As a moment of great sadness blanketed the world, I retreated to my studio to paint away the sadness and celebrate a great life.
Here are a few images of paintings from over the years that celebrate Queen Elizabeth II and the monarchy. All seven paintings feature the Union Jack flag.
See more iconic Canadian paintings by Canadian artist Brandy Saturley.
https://www.brandysaturley.com/wp-content/uploads/2022/09/Queen1.jpg
1804
1348
Brandy Saturley
https://www.brandysaturley.com/wp-content/uploads/2020/10/brandysaturley_logo.png
Brandy Saturley
2022-09-12 11:39:29
2022-09-28 10:21:59
Queen Elizabeth II Paintings