Inspired by Queen Victoria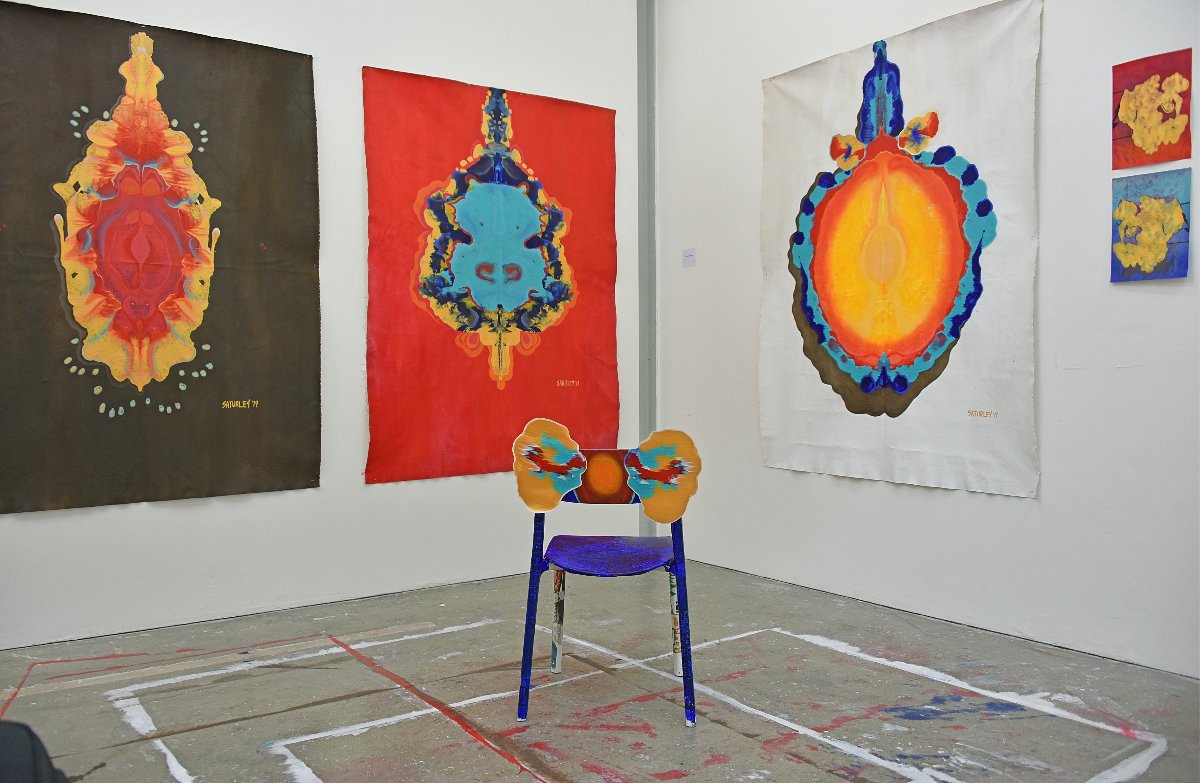 The Discomfort Zone – Making Art Inspired by Queen Victoria
I am continually trying to make choices that put me outside of my comfort zone, it is the only way I know how to grow. When I find myself 'too comfortable' in life and in my art practice, I get agitated and anxious, and I need to get out and test myself and push my boundaries. I call it the 'discomfort zone' and sometimes it comes with kicking and screaming, but it always delivers! At the beginning of the year I decided to accept an invitation to join the contemporary art summer intensive at the Royal College of Art in London, United Kingdom. Yes, this Vancouver Island artist, born in Victoria British Columbia, hit London this summer, during Queen Victoria's 200th anniversary party, for some zone pushing of the contemporary art kind. Making Art inspired by Queen Victoria.
It was a transformative experience, as I talk about the programme in detail in my previous blog post. During my month in London I created four new large format paintings on unstretched canvas, and two smaller works. These new works are visceral and come from deep down within. When looking at how and what I would paint during my time at the RCA, I began with looking at the current political state of affairs, with Brexit and Boris Johnson dominating the media coverage in the United Kingdom. As I have been commenting on Canadian popular culture for the past decade, I thought I might find some common themes in London. The first painting I created upon arrival in my studio at the Sackler building at the RCA, was a painting of the Union Jack flag. Much like Canada, the UK has a very strong 'brand' and identity based on their flag. The appeal of the flag to this Canadian artist is undeniable, and I had to have a go at creating a comment on the undercurrents felt upon my arrival. I decided to begin with raw canvas, no layer of gesso or primer, I began to pour the paint Jackson Pollock style on the raw canvas, while laid on the floor of my studio. After, rather than take my brush and spread the paint around, I chose to fold the canvas in half, then stomped with my feet and used my hands to spread the paint like peanut butter between two slices of bread. I was creating a mirror image, a Rorshack if you will, offering symmetry between the two sides and many opportunities to see things within the abstract application of paint.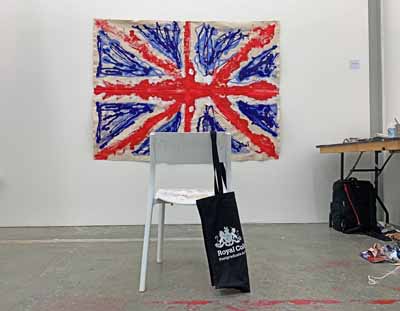 Once dry, I hung the painting on the wall. Many images were appearing to me and I decided to grab a brush and add some depth and dimension to the piece, as well as a contrast of Indian yellow, an orange-yellow to the composition. I wanted to comment on the 'topsy turvy' nature of the nation and the feeling of 'which way is up', as I felt this undercurrent throughout my time in London. I began to turn the canvas and settled on a vertical display, adding to the comment on the uncertainty of the times in London.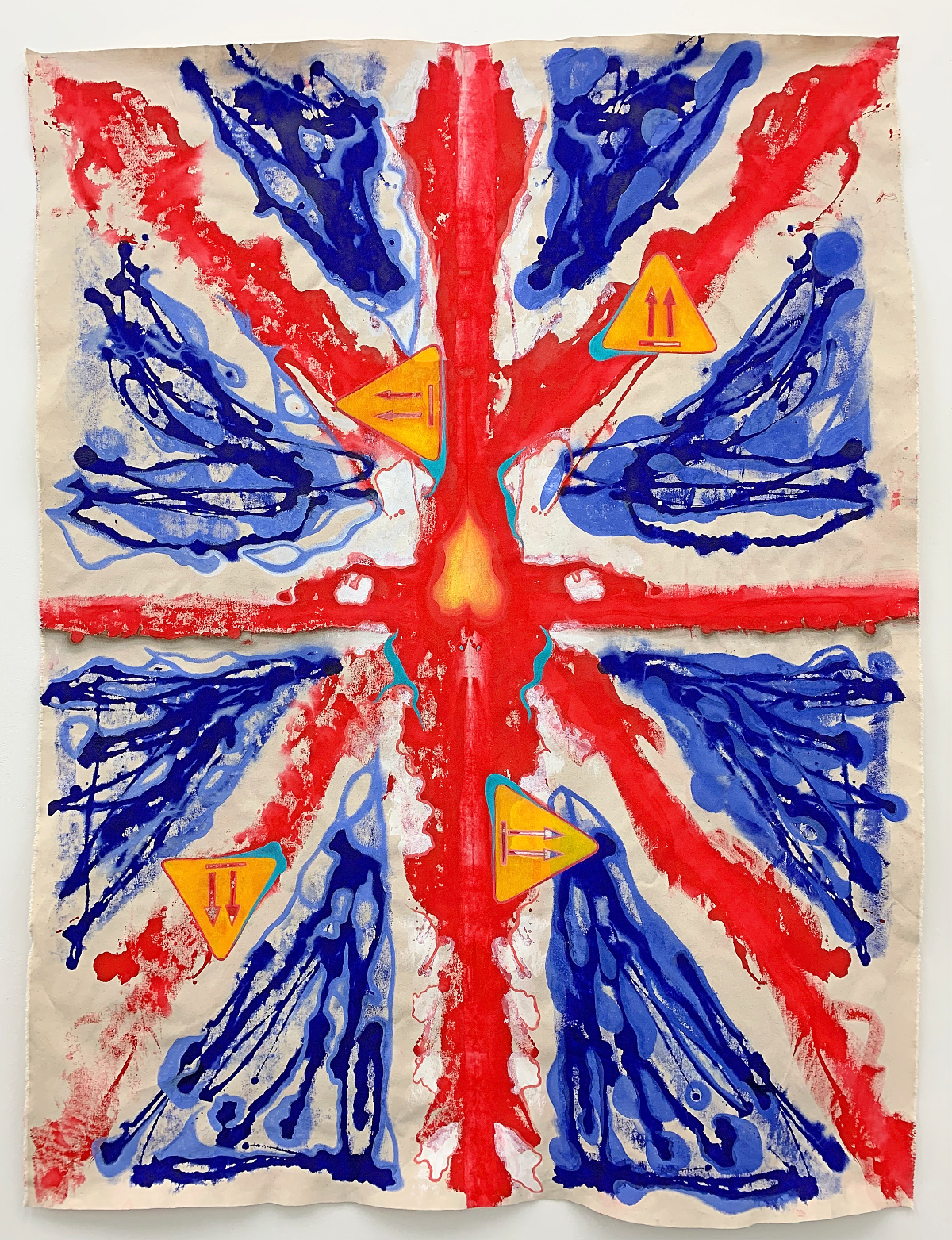 As I moved through my work at the college I was looking to keep pushing the boundaries and go deeper, more visceral, and more personal. The next painting began after taking in the Queen Victoria exhibition at Kensington Palace. I found the show to be very moving as it touched on her difficulty with child birth and her responsibilities as Queen. Throughout the show paintings of the Queen are framed ornately in circular frames of carved wood gilded with gold, I began to create next, what would become mirrors on canvas. Perhaps influenced by my visit to Kensington Palace and into the archives of a Queen, whom my city is named after. Being born and living in the capital of British Columbia, Victoria is close to my heart.
As I came to complete my second painting, I found a new direction and the potential for a series of paintings based on the 'mirror reflection' theme. I also confirmed a consistent size for these pieces on unstretched canvas. At 73 inches long by 53 inches wide, they were lovely large draped pieces, almost like tapestries. I began to create the next two pieces side-by-side, in conversation with one another. This time I decided to paint the background of the canvasses in raw umber and red tones, reaching deeper into the soul.
During my time in London I also visited Buckingham Palace, which was showing another elaborate Queen Victoria exhibition. The lavish textures, deep jewel toned hues, gilded gold frames and trims were burnt into my brain, clearly influential in the creation of these new paintings.
In the final group exhibition I chose to show the three works that were consistent with the 'mirrors' theme. With my signature vivid palette and rainbow hues, the three paintings became portals, and beings of their own. I also created two other works on paper which were not exhibited in the final show, but were nice compliments to the three larger works. I am very pleased with these new paintings and am looking forward to how this time in London, influences my future work.
Final exhibition: 'What is an Image' at Dyson Gallery, Royal College of Art in Battersea London, United Kingdom.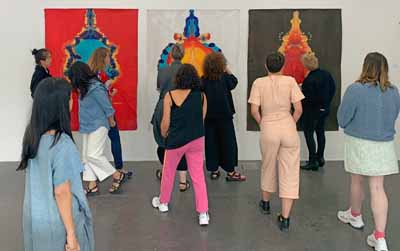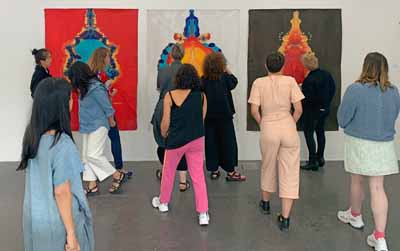 For more information about these paintings please email us. See the full portfolio of paintings by Brandy Saturley here.
https://www.brandysaturley.com/wp-content/uploads/2019/08/NDZ_2634.jpg
783
1200
am-330
https://www.brandysaturley.com/wp-content/uploads/2020/10/brandysaturley_logo.png
am-330
2019-08-20 16:39:54
2022-04-21 15:05:23
Inspired by Queen Victoria