Royal College of Art London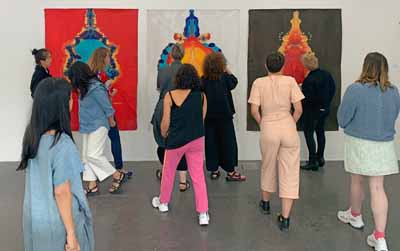 Making Art at the Royal College of Art in London
London is the capital of, and largest city, in England, and the United Kingdom. It is known as the financial centre of the world and one of the world's Art & Culture centres. From the Fine Arts at iconic institutions such as the Royal College of Art, to Literary Arts and Theatre to classical and popular music, London is a destination for Artists and art lovers alike.
Earlier this year, I was looking for an opportunity to challenge myself and disrupt my studio work of the past couple decades. As I enter mid-career as an artist, I am feeling myself moving into a new chapter with my art and the way I make paintings. I feel the best way to access new ways of making art, experiment, and freshen up my practice, is to make art in one of the worlds art centres. Far away from my western Canadian home, on Vancouver Island. I was looking for a professional experience, where I could access the best minds in the business and find out how my artwork would fare, in an International setting. My work has become nationally recognized in Canada over the past decade, I was now looking at moving beyond Canada, and London came calling.
In February this year, I was invited to join the Contemporary Art Summer Intensive Program at the Royal College of Art in London, England. The Royal College of Art (RCA) is rated the number one postgraduate college for art and design in the world. Delivering numerous Masters and PHD level programs in art, design and humanities; the college attracts the best of the best on the International art scene. Beginning in July, this intensive course ran over three weeks during the busiest and hottest summer the city has ever seen. A peek inside my time at the Royal College of Art…
Week 1: my week began with setting up in the painting studios in the Sackler building on the Battersea campus, followed by an afternoon of presentations from faculty, alumni, staff and the 22 artists in this year's summer program. Originating from Italy, Spain, NYC, Canada, Indonesia, Japan, Korea, China, Macao, and London; we all presented our work in the Gorvy Lecture Theatre over the course of the afternoon.
With our studios open and available 7 days a week, most nights until 8pm, we began independent study and creating new work under the influence of our course leader, Despina Zacharopoulou.  (Born in Greece, Zacharopoulou is a performance artist who holds a Master in Fine Arts, a Master in Visual Arts (Costume Design – Antwerp Royal Academy of Fine Arts), and an Msc in Architecture. Apart from her artistic practice, she has been involved in academic teaching. She has participated in various exhibitions in Greece, Belgium, Russia and the UK and has received scholarships and awards for her academic achievements. Her biggest large-scale performance project so far was a seven week (324hrs) long durational performance entitled "Corner Time" commissioned by the Marina Abramovic Institute.)
Our first week included the hottest day on record for London at 40 degrees Celsius, this made for added challenges as we began creating new work and adjusting to our new routine in a very busy city. My week included art gallery visits to South London art gallery, WhiteChapel Gallery and the endlessly fascinating, Flat Time House. (Flat Time House was the studio home of British conceptual artist John Latham and is now open as a contemporary art gallery, centre for alternative learning and artist residency space, housing the John Latham archive.)
From first week tutorials with leading artists and alumni from around the world, to a film screening and discussion, we were well on our way to quickly integrating into this new art community. We were already finding ourselves experimenting with new ways of communicating, through the use of our chosen mediums.
Week 2: the weekend played an important role in offering concentrated studio time, preparing for our first critique sessions (crits) over the second week. The course continued with film screenings, and a writing workshop with Dr. Chantal Faust. (Dr Chantal Faust is an artist, writer and Senior Tutor at the RCA. Her photographic, painting, video and installation works have been exhibited in the UK, Australia and North America. Faust has contributed book chapters to contemporary art publications, and regularly writes for academic journals, magazines, and exhibition catalogues.)
We found new ways of accessing our internal, visceral voice as artists, as we worked through movement and performance workshops led by Despina Zacharopoulou. This second week ended with more concentrated time in the studio.
The transformation begins: At this point I began to experience a transformative moment in my artwork, spurred on by the writing and performance workshops earlier in the week. Like many of the artists in the program, we began to move beyond our initial ideas and plans for art making. Ideas we had brought with us from our respective homes, and began making new work based on our experiences in the program, and influenced by our time in London. We were becoming like a 'hive-mind' of sorts, where our studio mates and our shared experiences were helping to form deep connections to our inner artist voices. Many of our interactions and workshops were quite intimate, which can often be foreign to the modern-day artist as we are sequestered in our studios alone, a great deal of the time. I also found that the use of technology, computer communication, and social media fell to the wayside in favour of personal connections.
Week 3: our last week began with working through our final details and preparing our works for the group exhibition on Friday. Our final tutorial sessions came on the Tuesday and I was pleased to be paired with Professor Jo Stockham for my final tutorial session. Jo has a wealth of knowledge and experience that I found valuable to my work as a painter.
(Jo Stockham professor and Head of the Printmaking programme since 2008. She began working at the Royal College of Art in 1993 as a Visiting Lecturer in Painting, Sculpture and Printmaking. After studying painting at Falmouth School of Art, Jo worked at Chisenhale Studios for two years before undertaking an MA in Sculpture at Chelsea College of Art and Design. Returning to Chisenhale, she initiated an education programme with local schools and helped build Chisenhale Gallery, an experience which was formative in her desire to work in and create public spaces alongside studio work. Over the next 20 years, her studio practice was supported by running workshops for the Whitechapel Gallery, Tate, Camden Arts Centre and part-time teaching. Her first full-time teaching position commenced in 2008 when she became head of Printmaking at the RCA.)
A final film screening and a day of installing the show rounded out the week.
FINAL DAY AND SHOW: on our final day at the college we spent the day participating in final crits under the bold leadership of Professor Johnny Golding. (Johnny Golding is Professor of Philosophy & Fine Art, and Senior Tutor at the RCA. Born in NYC, Golding lived in Toronto carrying out PHD studies at the Universities of Toronto and Cambridge.)
Golding was joined by Habda Rashid, curator of WhiteChapel Gallery (Habda Rashid is Assistant Curator at the Whitechapel Gallery, working on a variety of exhibitions including; commissions solo and survey shows. As part of her role she also coordinates, edits and writes in exhibition catalogues. Habda is also a visiting tutor on the MFA programme at, Goldsmith University and has sat on the selection panel for Temple Bar Gallery and Studios, Dublin.)
A spirited day of crits followed by an evening opening of our final art exhibition at the RCA Dyson Gallery; for alumni, staff, patrons and public.
It was an intense three weeks, with a fourth spent on my own exploring all London has to offer. I am still processing all the information and thinking about how my experiences in London will push my work forward as a professional artist. Unlike many of the artists and instructors I met, I rely solely on the sales of my work and commissions to support my full-time art career and not on income from teaching or a job on the side. It will be interesting to see where my work ends up from here and look forward to developing my relationships abroad, as I work towards my goal of exhibiting and selling work internationally.
Your question may be, why does a successful mid-career painter from Canada upset her studio practice and take off to London to go to school and make new artwork. The answer is a continuous need to push beyond the boundaries of the work, the comfort zones. In order to keep me invested, I need to keep growing and risking things as an artist. The need to risk things and push myself into areas where I am not comfortable, it is what has gotten me to the place I am as a professional Canadian artist. I'm a creator and a fighter, and I am here to make the most honest, best work, I can. For routine kills creative thought and we must shake up or perspective, our routine and challenge our point of view, every so often.
Onward and upward! ~ Brandy
About the new paintings: more about the paintings created during my time at the Royal College of Art, with detailed photos.
*photos on this page courtesy; RCA, Despina Zacharopoulou, Hattie Allen, Mei Kei Lai, Brandy Saturley
https://www.brandysaturley.com/wp-content/uploads/2019/08/IMG_3354.jpg
251
400
am-330
https://www.brandysaturley.com/wp-content/uploads/2020/10/brandysaturley_logo.png
am-330
2019-08-20 14:55:09
2022-04-21 15:08:54
Royal College of Art London