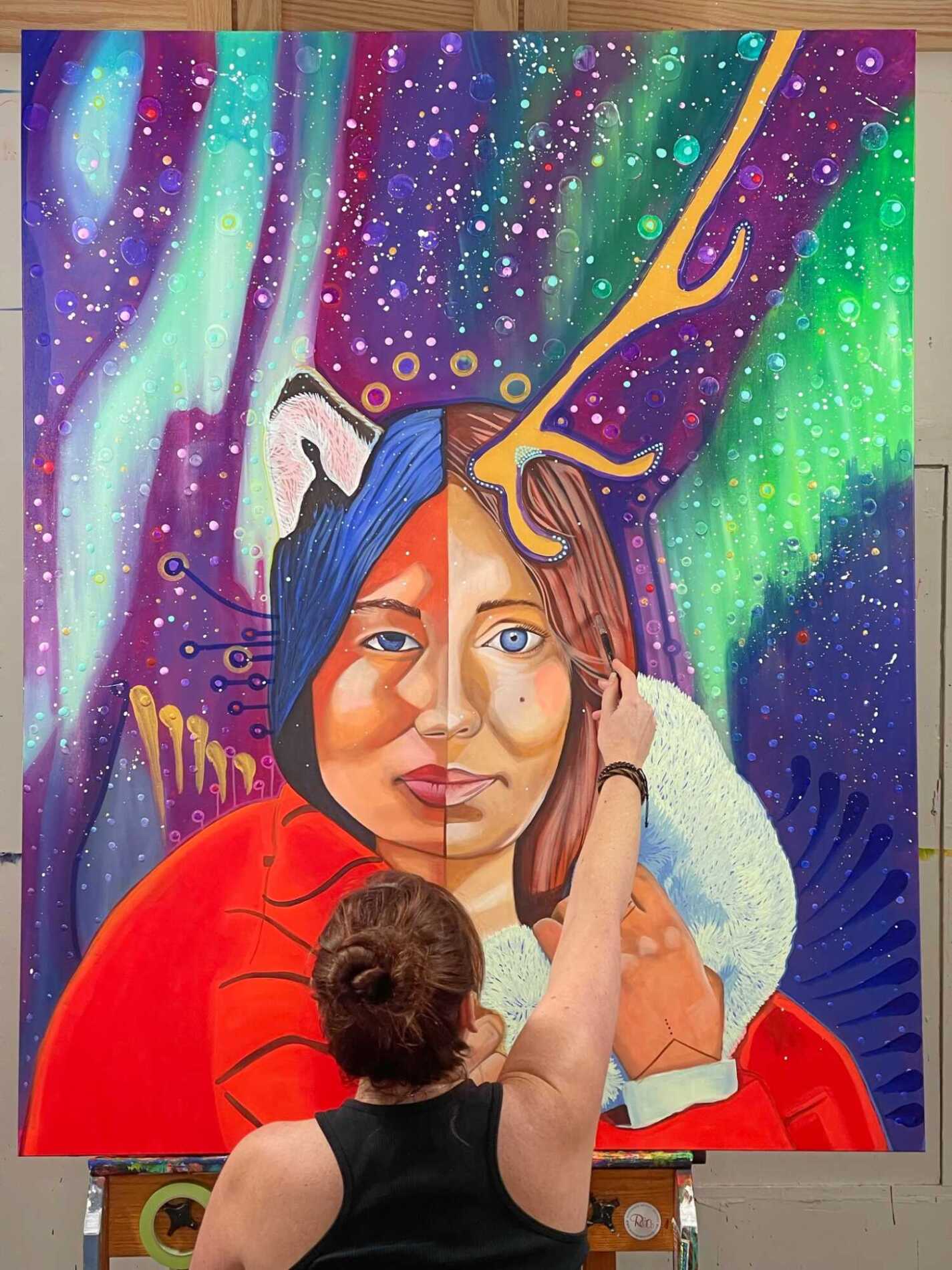 By Centuries: Artist's Ahead of Their Time
There are numerous articles and books that talk about Artist's ahead of their time. Perhaps the most famous painter described as being ahead of their time is Van Gogh. Over the centuries there have been many, who were painting about the culture of the time and their thoughts. So while they were painting what they were living, they were in many ways addressing internal thoughts about the future.
As I continue to explore themes about contemporary Canadian culture and my journey as a Canadian Artist, I find myself intuitively addressing questions that are currently on my mind, through my art. Right now I find myself on a path of painting figurative works about Canada, set against vivid backdrops of shadow, light and saturated colour. With my first few paintings this year, I find myself romanced by outdoor skating on frozen ponds and lakes. I am listening to a soundtrack filled with poetic lyrics that project images of joy and appreciation for life. These sounds are colourful, haunting and even romantic. From Joni Mitchell looking for a river to skate away on, to the Tragically Hip who are ahead by a century, the soundtrack flowing in the studio is important to the flow of my paintbrush.
My hope in posting this article is to share a little behind the scenes experience into how I work in the studio and how this new painting came to live. I carry a large cotton duck canvas of five feet high by four feet wide down to my studio and I begin to sketch out the idea I've been developing. A painting about two women, becoming one. One Inuit woman wrapped in a Hudson's Bay Eight Point Scarlett blanket, and one Caucasian woman wearing a red parka with furry white trim. The backdrop will be Northern Lights (aurora borealis) and the night sky filled with stars, some shooting and some larger than life. One woman with the ear of a wolf and one the antler of a stag deer. Together these two women will appear to be shapeshifting and becoming one under the Aurora night sky. It is a magical, spiritual and futuristic story about friendship and common ground. This painting tells stories of how life should be for all Canadians, and this painting speaks of sisterhood and equality.
While I begin with an initial rough sketch on canvas, I move on quickly to laying down an underpainting through colour blocking in neon hues.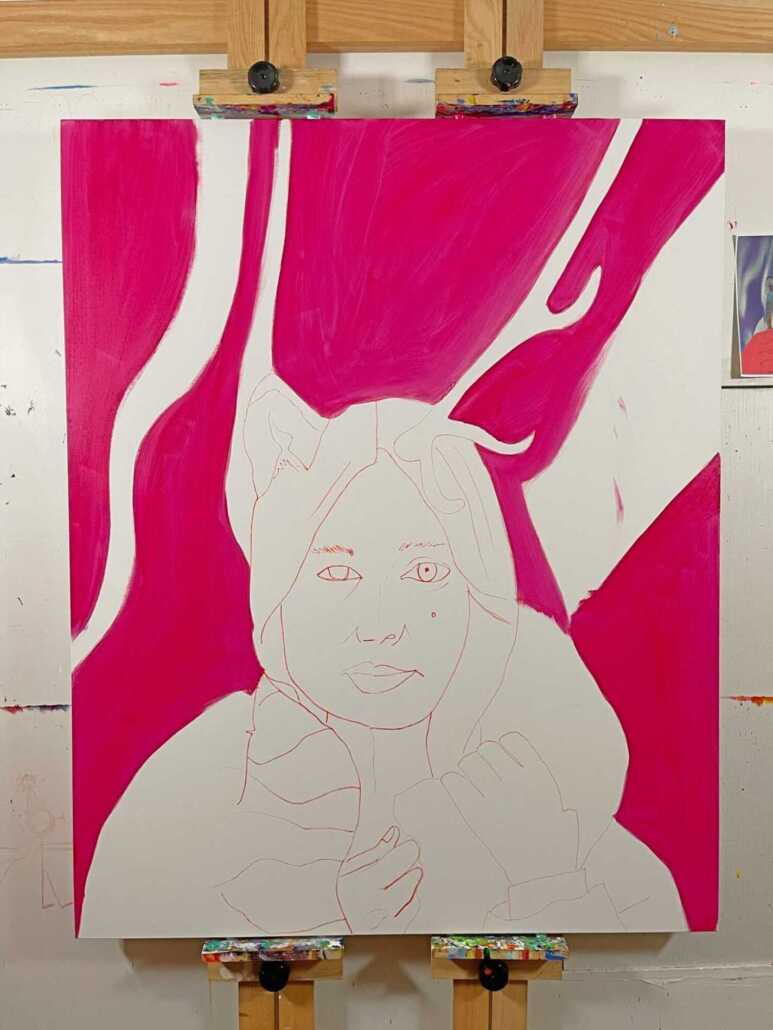 My palette becomes a furious abstract painting and evidence of an artist busy painting.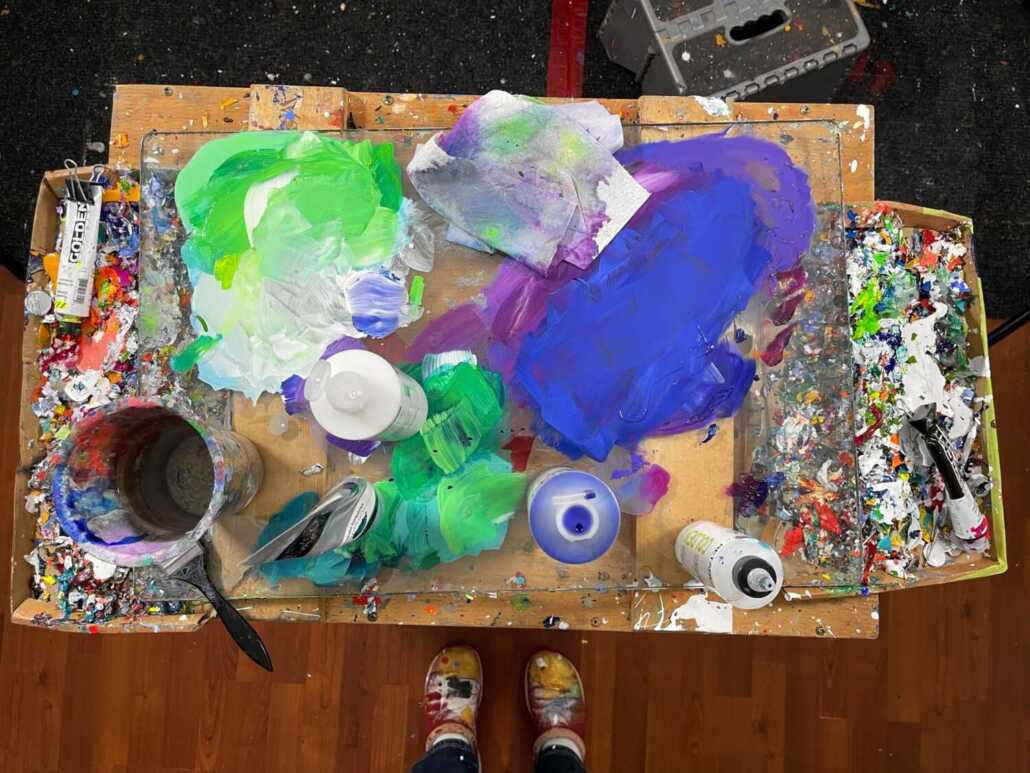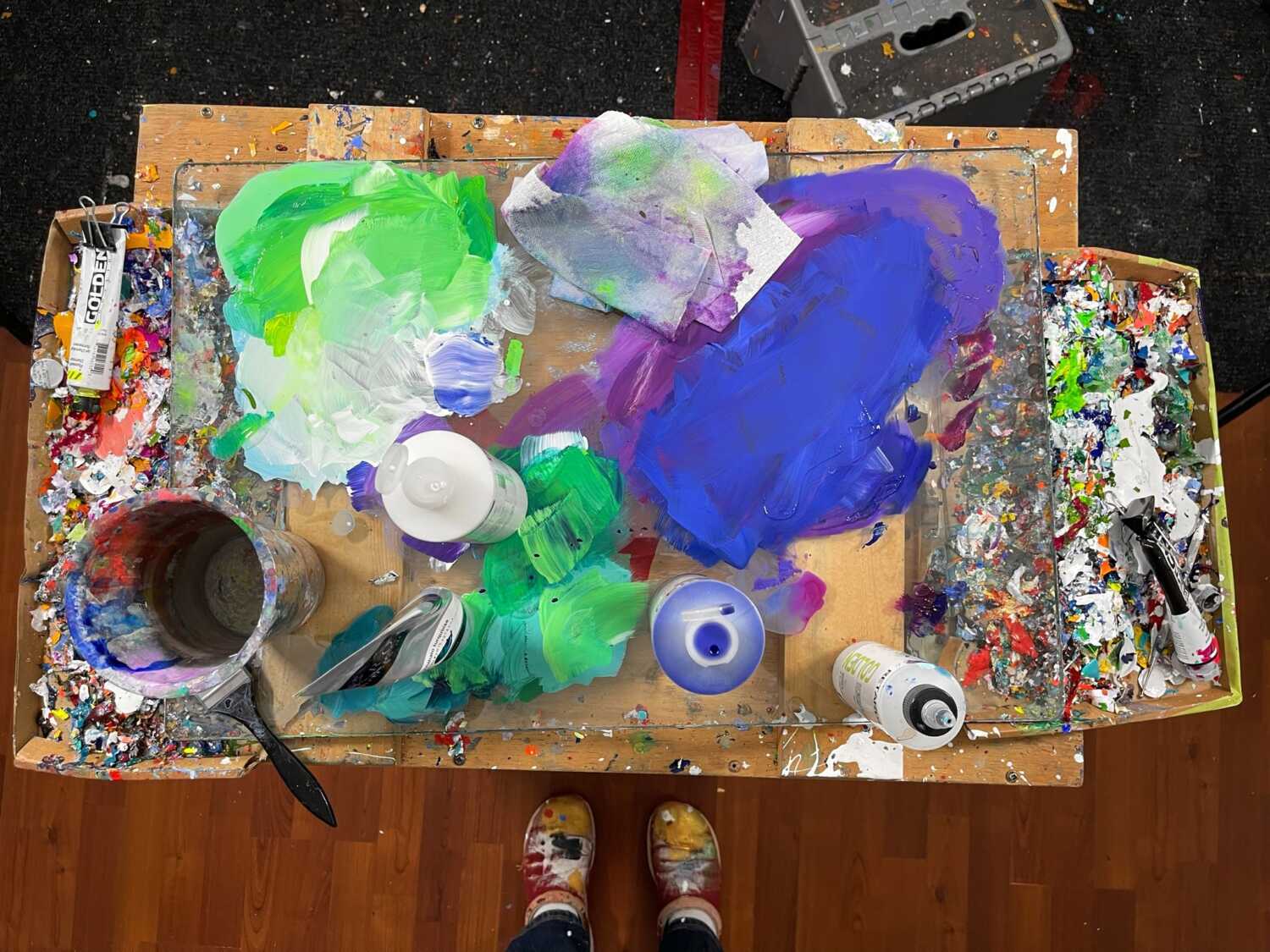 Once I have laid down all the underlying colours I move on to painting out the background, blending on the canvas as I go and this leads me to a question, do I want more texture in this painting? and the answer is, yes.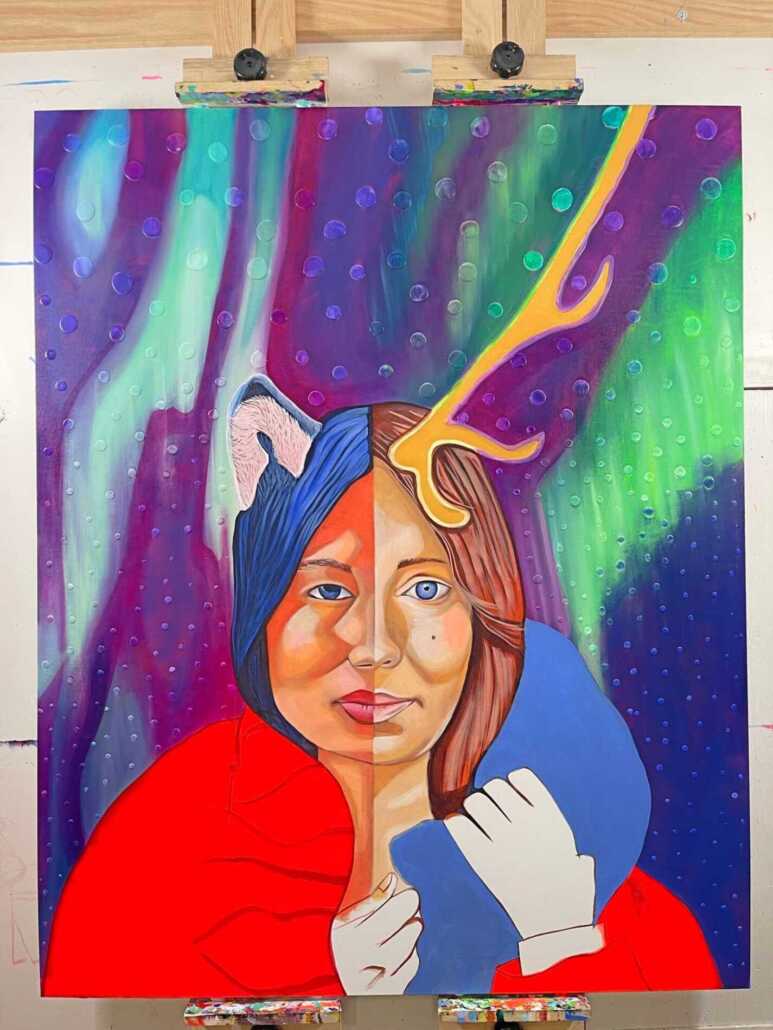 After the first few days I take the canvas and lay it flat on my studio floor, I begin applying dots of paint through pouring paint in a loose pattern to the background sky of the piece, then the piece has to dry overnight and harden before I can begin the second day of painting. I do this numerous times, and create dots of varying sizes, each by hand, painting over each layer as I work.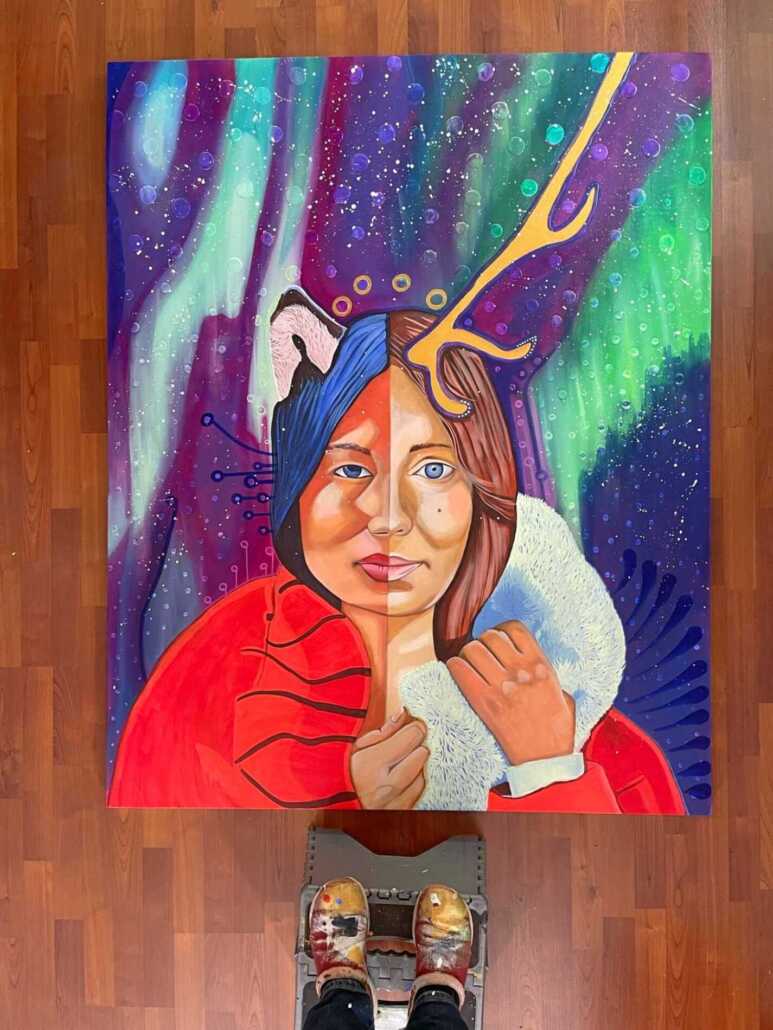 I move the painting to my crank easel so that I can work more finely on details in the lower portion of the canvas, thankfully I have numerous easels and lots of space in my studio so that I can work on this canvas from multiple vantage points and orientations.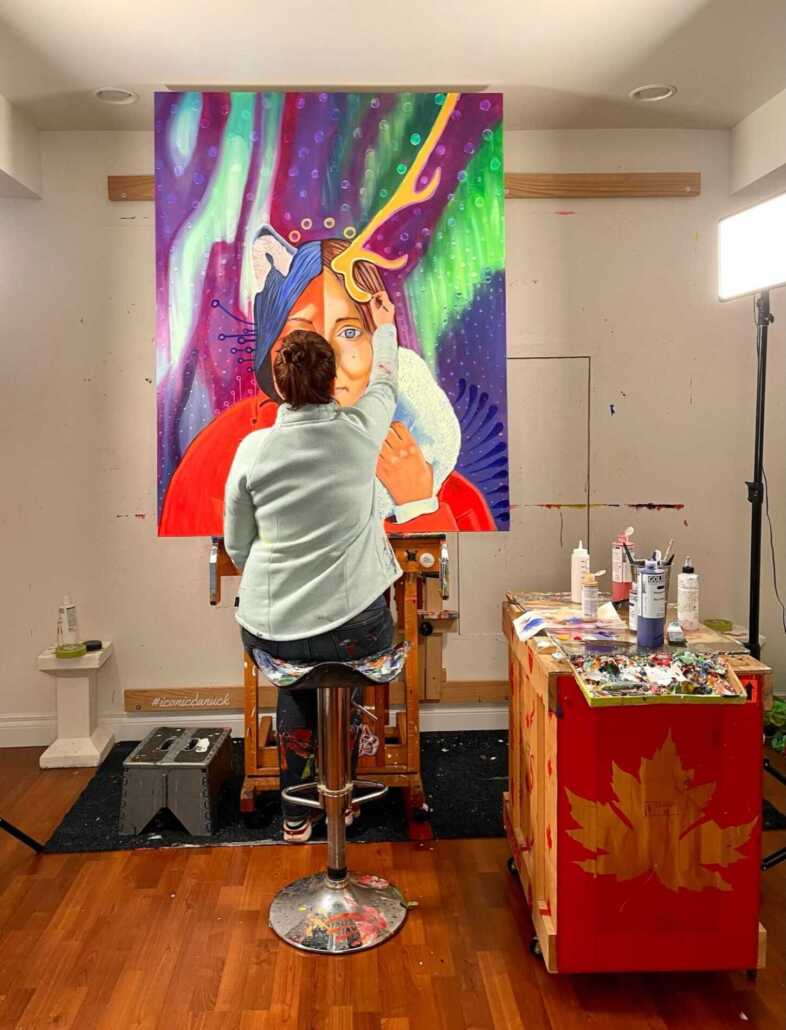 Detailing the hair and face in this painting, because my style of working is very much influenced by realism but also pop art. An idealized portrait, and some might refer to it as magic realism. I refer to my style as 'Canadian Pop Realism'.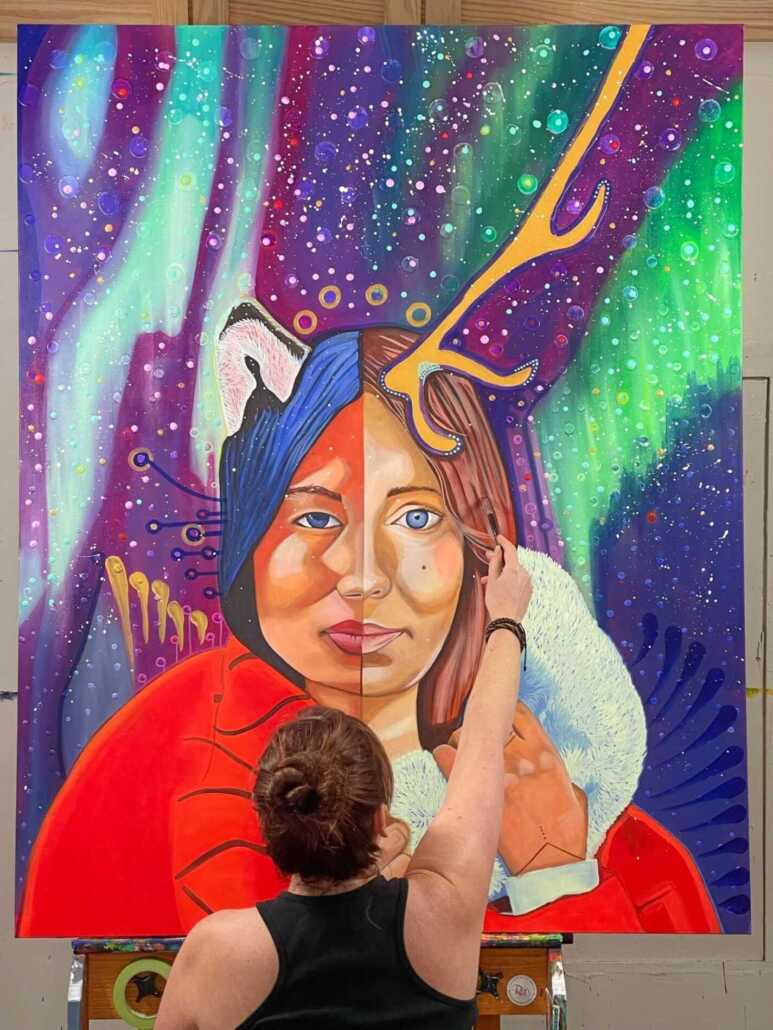 Once the details are done and I feel like the journey of this painting has come to an end, I sit back and take long looks at the piece, contemplating it's story and overall balance. There has to be 'a flow' in the composition, the eye must move around and then land somewhere in the centre of those faces, they are the focal point of this piece.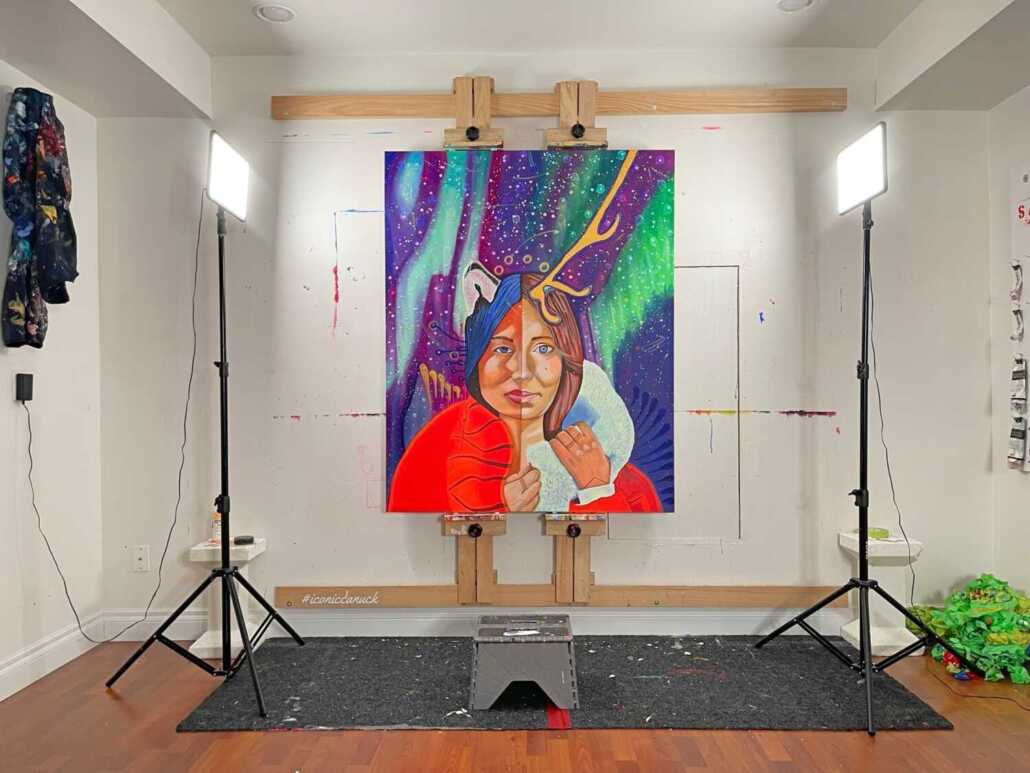 Once I am finished the front of the painting, the edges get their treatment of texture and colour to compliment the piece.
A painting that perhaps in it's time, may be ahead of it's time. See more visual stories on canvas by Brandy Saturley here.
https://www.brandysaturley.com/wp-content/uploads/2023/02/WIP5.jpg
1900
1425
Brandy Saturley
https://www.brandysaturley.com/wp-content/uploads/2020/10/brandysaturley_logo.png
Brandy Saturley
2023-02-07 16:38:30
2023-02-07 16:56:35
Ahead of Their Time