Banff Paintings for Collecting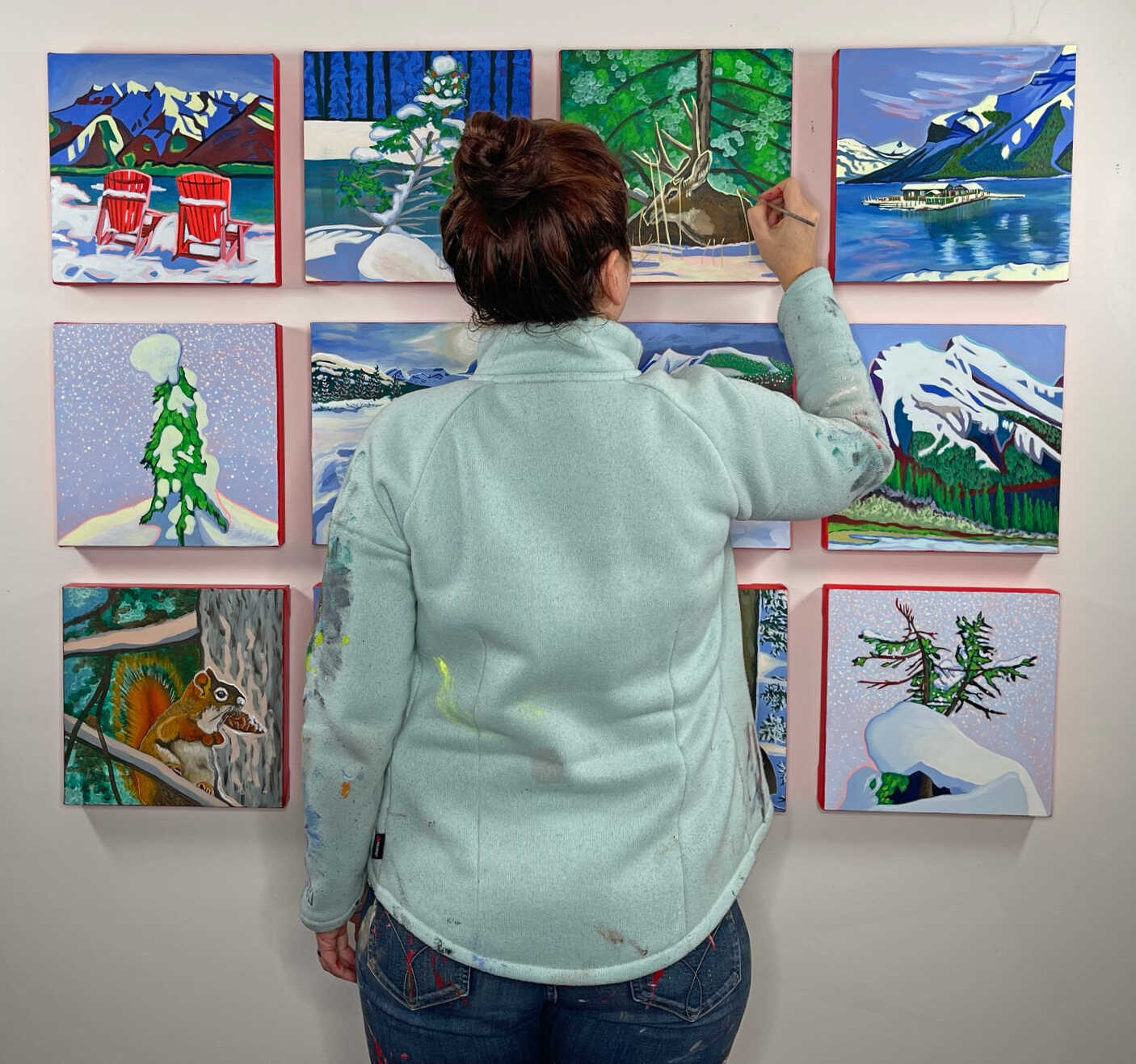 12 SMALL WORKS SALE: Banff Paintings for Collecting
In November 2022, I spent two weeks painting at Banff Centre for Arts and Creativity. During my time in Banff I had some days to explore Banff National Park and capture photos and videos of awe-inspiring locations in the heart of the Canadian Rockies. From Banff Centre campus to Lake Minnewanka, Bow Lake, Vermillion Lakes, and North Saskatchewan River crossing I covered some ground. Banff paintings for collecting: these 12 small works of art are for sale and make an excellent opportunity to become a collector of the artworks of Brandy Saturley, small paintings to begin a collection, gift to a client or friend and even fill out an existing collection of Canadian Art. These paintings tell stories of Banff in the details, from the wildlife to the mountains, trees, lakes and snow, these are my interpretations of Banff in Winter.
The beauty is mesmerizing in the Winter in Banff. Part magical wonderland and part natural wonder, it is a feast for the eyes that touches the soul. The palette of colours ranges from Ultramarine to teal blue-green, with light setting ice crystals ablaze throwing soft pastel hues across the landscapes. These 12 small paintings offer a starting point for larger works that will capture the magical stories contained within these locations.
Featuring locations within Banff National Park, these Canadian landscape paintings are small treasures. It is not often I paint small works, and this offers an opportunity for a whole new group of art collectors access to my work. These paintings are for landscape lovers, mountain lovers, nature lovers and wildlife enthusiasts. Little gems from the North.
These 12 small paintings are now available to collect, view the collection now. 
https://www.brandysaturley.com/wp-content/uploads/2022/12/smallswall.jpg
1317
1406
Brandy Saturley
https://www.brandysaturley.com/wp-content/uploads/2020/10/brandysaturley_logo.png
Brandy Saturley
2022-12-19 17:01:38
2022-12-19 17:03:15
Banff Paintings for Collecting