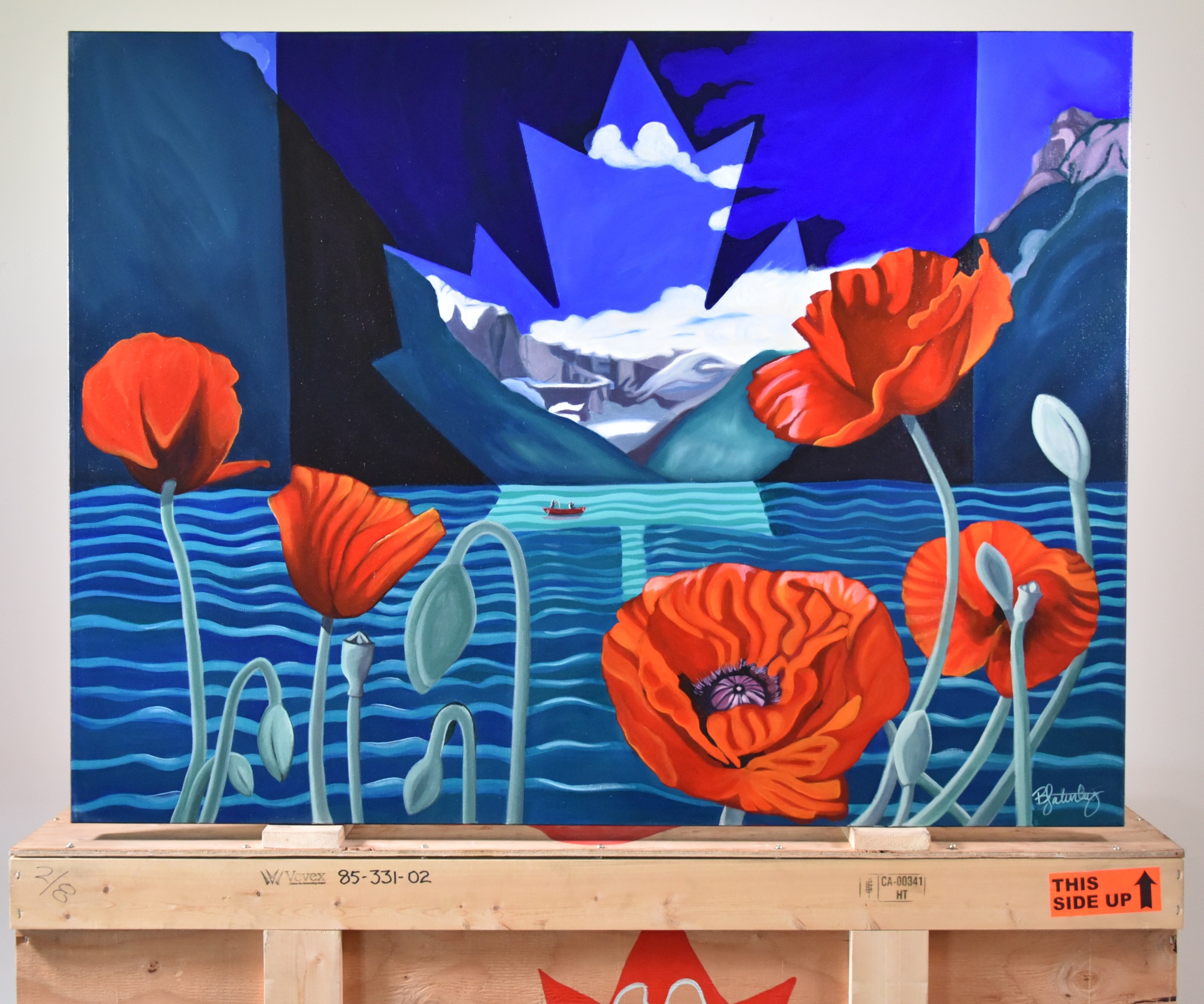 Collectors Art: curated art collections, ready for you to purchase.
In our first article about curated art collections, we talked about the inception of the idea for these collectors art boxes, crated and ready for you to purchase.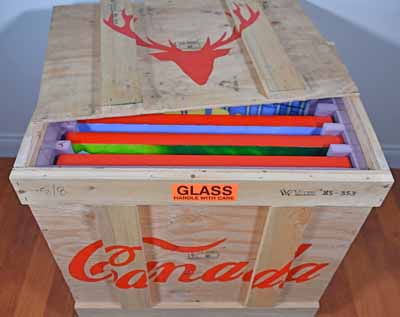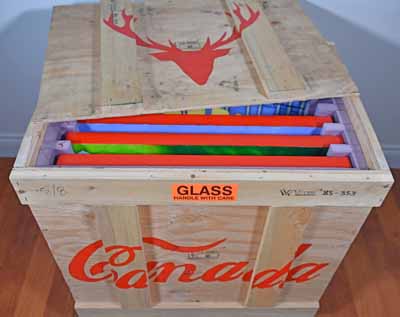 The first release of 'BOX SETS' in March was a great success. A limited time offering to own curated art collections; ready to hang in your home, corporate art collection or office. With the first limited time offering, we presented five distinct hand painted art crates filled with various sizes of important original fine artworks, paintings created by Canadian artist, Brandy Saturley. With the first five crates we offered a range of sizes from small artworks in the 12″ x 12″ size to larger artworks such as 30″ x 40″ and 36″ x 36″. These art collections ranged in price from $3000.00 to $29,000.00.  With this second release of fine art to collect, we are going bigger, not only in the size of artworks available, but in the size of the art collections contained within each crate.
Crate #6 is a stunner! The paintings of Canadian Artist Brandy Saturley, are stories of the landscape told using brush on canvas. These artworks are vivid love letters inspired by Canada and beyond. This crate contains a wealth of art; not only in value, but also in beauty. The 'Beauty' collection includes six original fine artworks painted between 2010 and 2017. Artworks included in this collection feature iconic Canadian landscapes such as; views of Lake Louise from Fairmont Chateau Lake Louise, Babel, Robson and Assiniboine mountains from the Rocky Mountain range, the commemorative Canada150 tulip, the red maple leaf, and red poppies. These paintings are more than your average landscape painting, much more. Employing the artists' signature vivid and saturated palette and utilizing abstract form and shape, these landscapes tell stories far beyond the landscapes themselves. Offering you, the collector, the ultimate way to invest in an art collection. Pre-selected and ready to hang, with the finest coated hanging wire professionally affixed to the back of each piece. Making collecting original fine art online, easy.
More than landscapes, I am telling visual stories.
"I am continually and obsessively consuming this world and expressing it vividly on canvas, I am not just painting what I see, I am painting the story of what I see. I am continually collecting experiences, spurned by my travels. My excavation of the world around me begins with exploring, I am continually exploring the world, and drinking it all in, through my eyes, ears, nose and tongue. As I move throughout the world, I am continually collecting and re-imagining. I am a storyteller, but not the writing kind, words are not my forte and reading a book can take years. With everything I experience my mind begins to draw, so as reading can inspire thoughts and images in my head, it can also impede me from finishing a chapter as my mind begins to paint.
Most of the paintings you see, begin with an idea and a photograph, I begin with a central theme or focal point and then the brush tells me where to go. I do not plan out my paintings from beginning to end, I do not begin with a number of sketches or rigorous blueprint. I have tried creating from sketches, and while they are a great starting point, much like my photos, they are just the point of inception. Once the painting begins, the painting tells me where to go, and it doesn't always work out, and this allows for innovation. I drink it all in, and then I paint it all out. I make art because it is what I have done my whole life. I never really had a choice in the matter, art chose me and I obliged. My biggest fear is that I will die with all these ideas left in my head, and yet the more art I make, the more I have to make. Art never sleeps and the job of an artist never ends."
As for the crate that the paintings are safely stored within, it is imbued with it's own signature artwork.
There are many passionate stories being expressed in this art collection. Below we will highlight each painting with a comment about each piece from the artist.
Here are 'THE PAINTINGS' in BOX SET #6:
A painting of ruby red poppies on the shore of Lake Louise with a signature red canoe, turquoise waters, glaciers and mountain in the background – Canadian flag imposed. A love letter to Lake Louise, this piece is inspired by the composition of the Canadian Flag set against the turquoise blue waters of Lake Louise in the Canadian Rockies. The red canoe, features the number nine, the most star worn number in professional hockey and the NHL. An ode to Canada, from sea to sky and sport to nature.
2. Patchwork Nation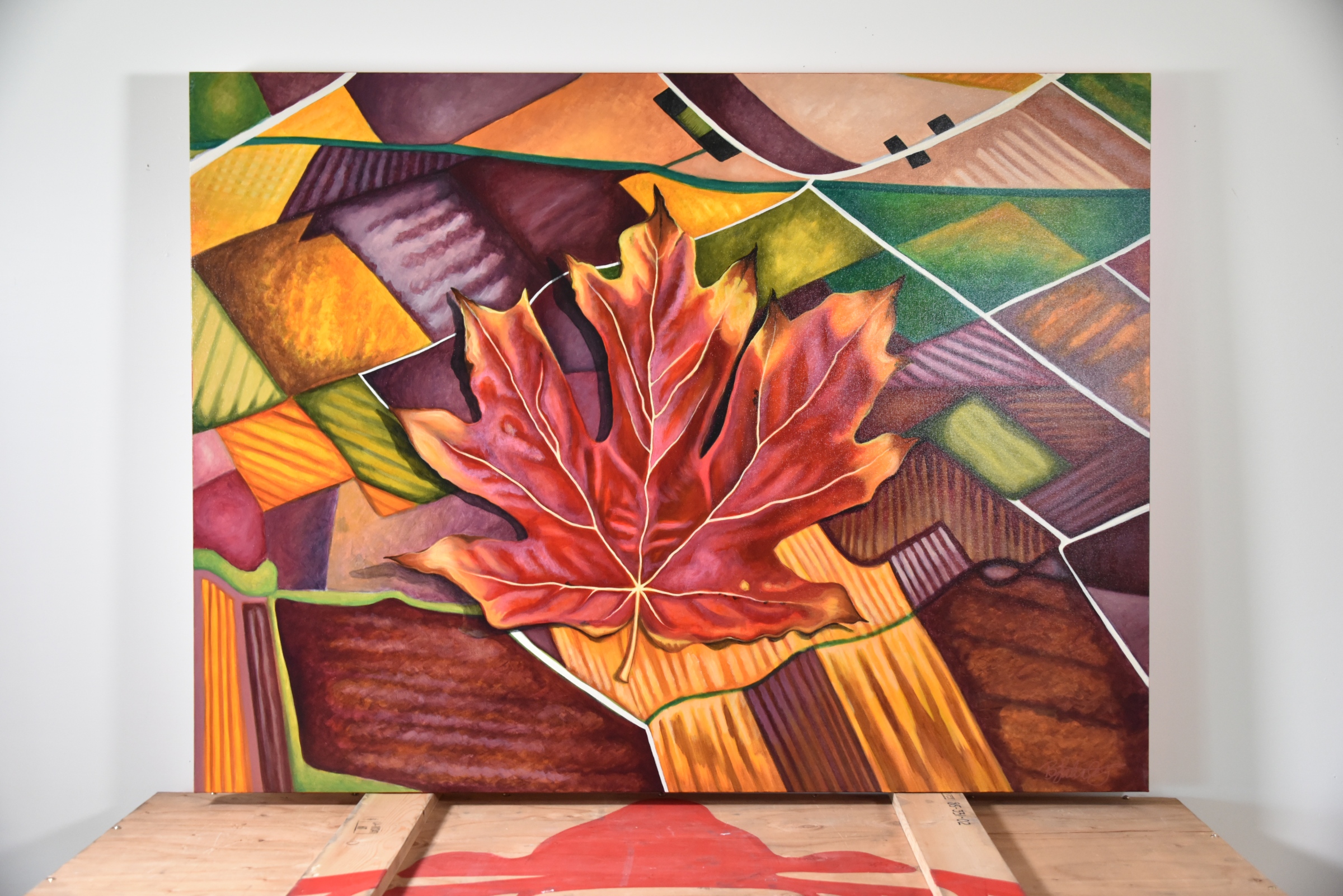 A painting of a Canadian Maple Leaf on an aerial view of the prairies and the multicolored crops and lines as seen by air when you fly over Mantioba and Saskatchewan. Canada is a Patchwork Nation and this piece is a re-imagining of the Canadian flag against the abstract aerial view of the prairie crops.
3. Assiniboine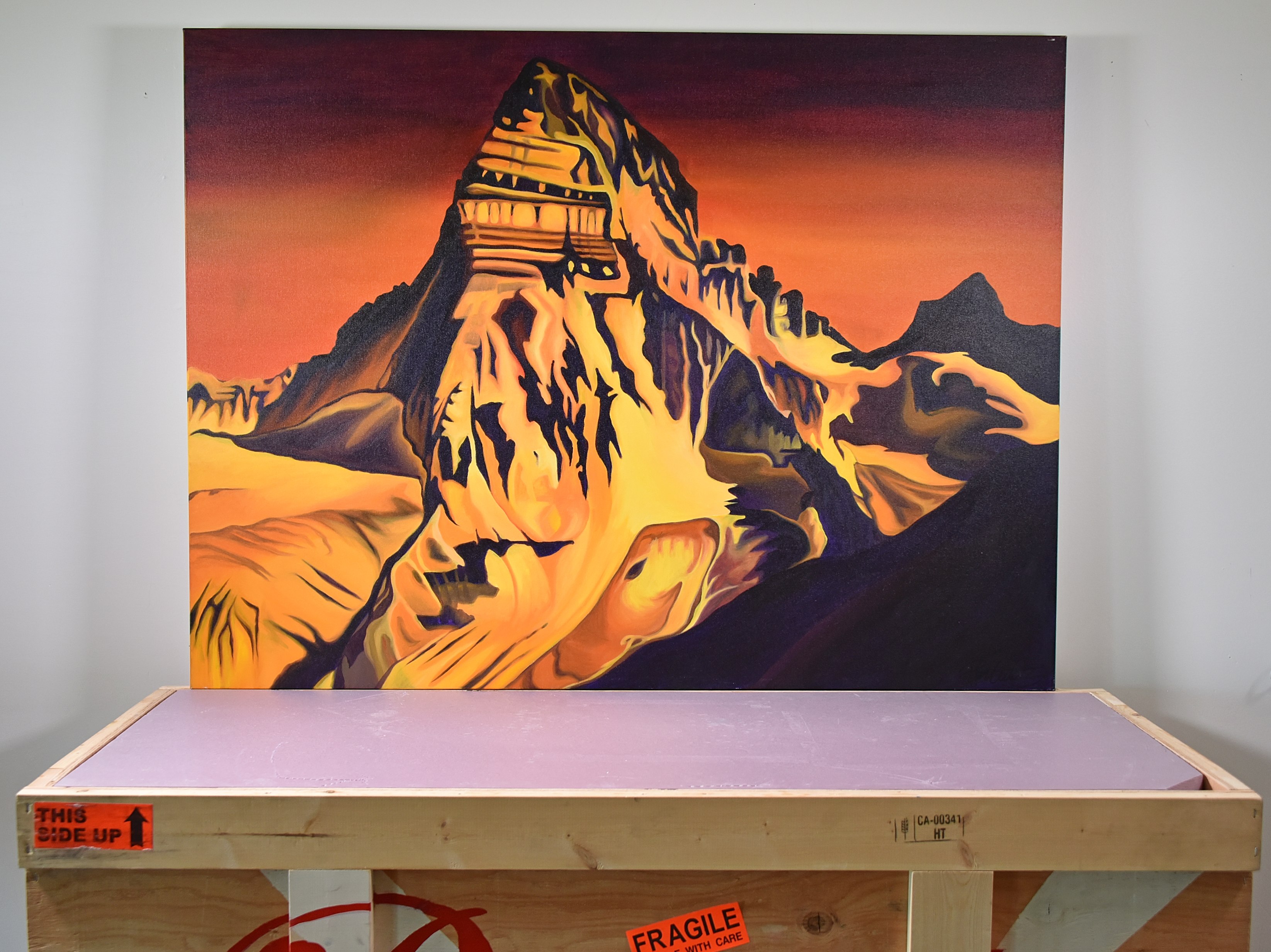 This painting is my representation of Mount Assiniboine, a pyramidal peak mountain on the Great Divide on the BC/Alberta border. This peak is nicknamed, 'the Matterhorn of the Rockies', for it's resemblance to the Matterhorn in the Alps. I imagined Warhol painting these peaks, with his POP Art palette. In total there are 13 peaks in this series, some of the most famous and least known peaks in the Rocky Mountain range from BC to Alberta.
4. Robson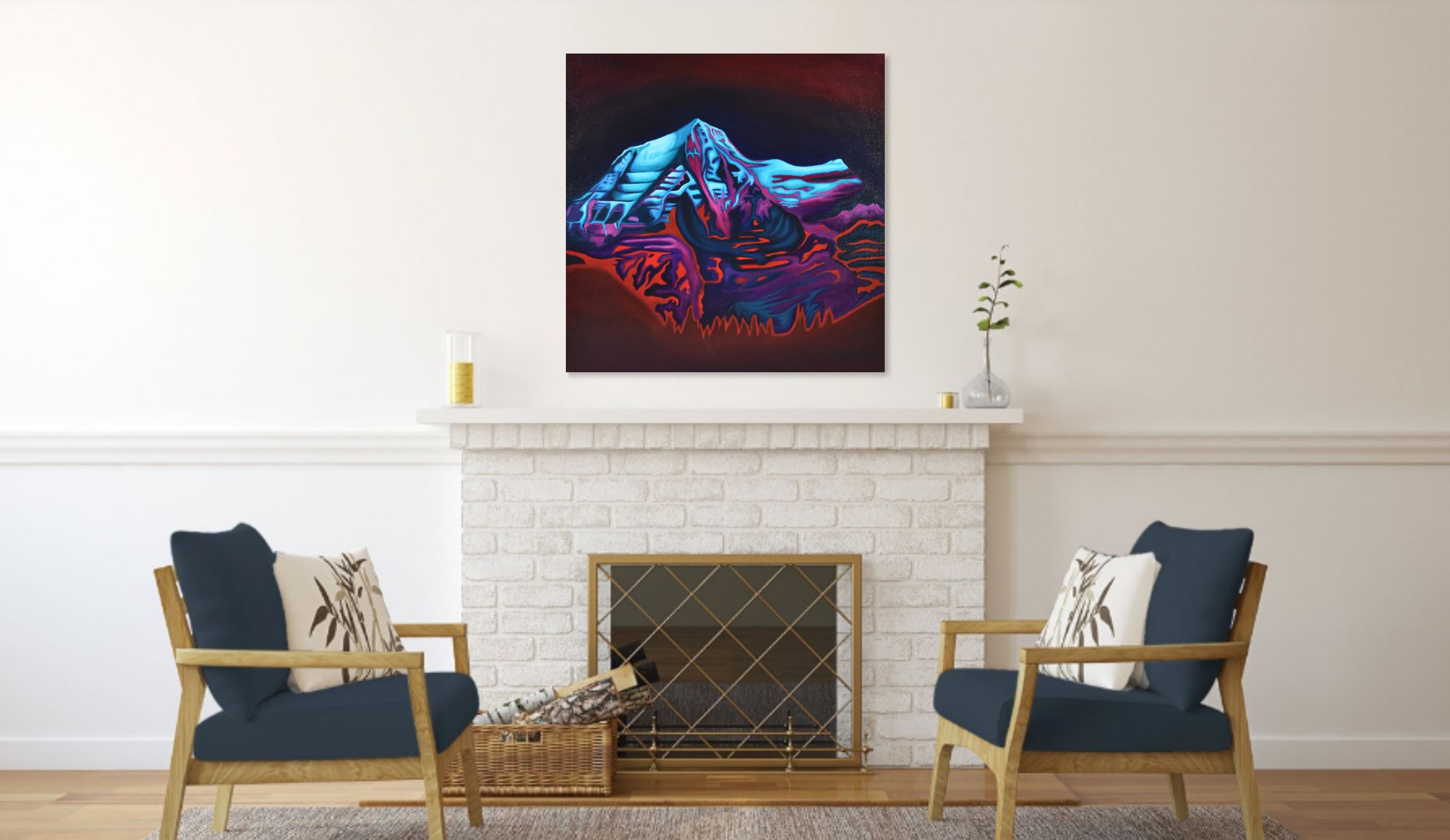 This painting is my representation of Mt. Robson, it is the most prominent mountain in the Rocky Mountain range and the highest point in the Canadian Rockies. Bordering BC and Alberta, Mt. Robson is awe-inspiring and takes your breath away as you drive into the park and hike to the base of the mountain. In 2010, I found myself on a new journey, this time travelling through the land of giants, the Rocky Mountains of the Western Canadian Landscape. I felt utterly alone in a hauntingly impressive landscape as I watched sunrise paint these snowy peaks, casting shadows and vivid shades of blue, purple, orange, blue-green depending on time of day and position of the sun or moon. From the Group of Seven to Robert Genn, these mountains have romanced many and the love affair continues.
5. Babel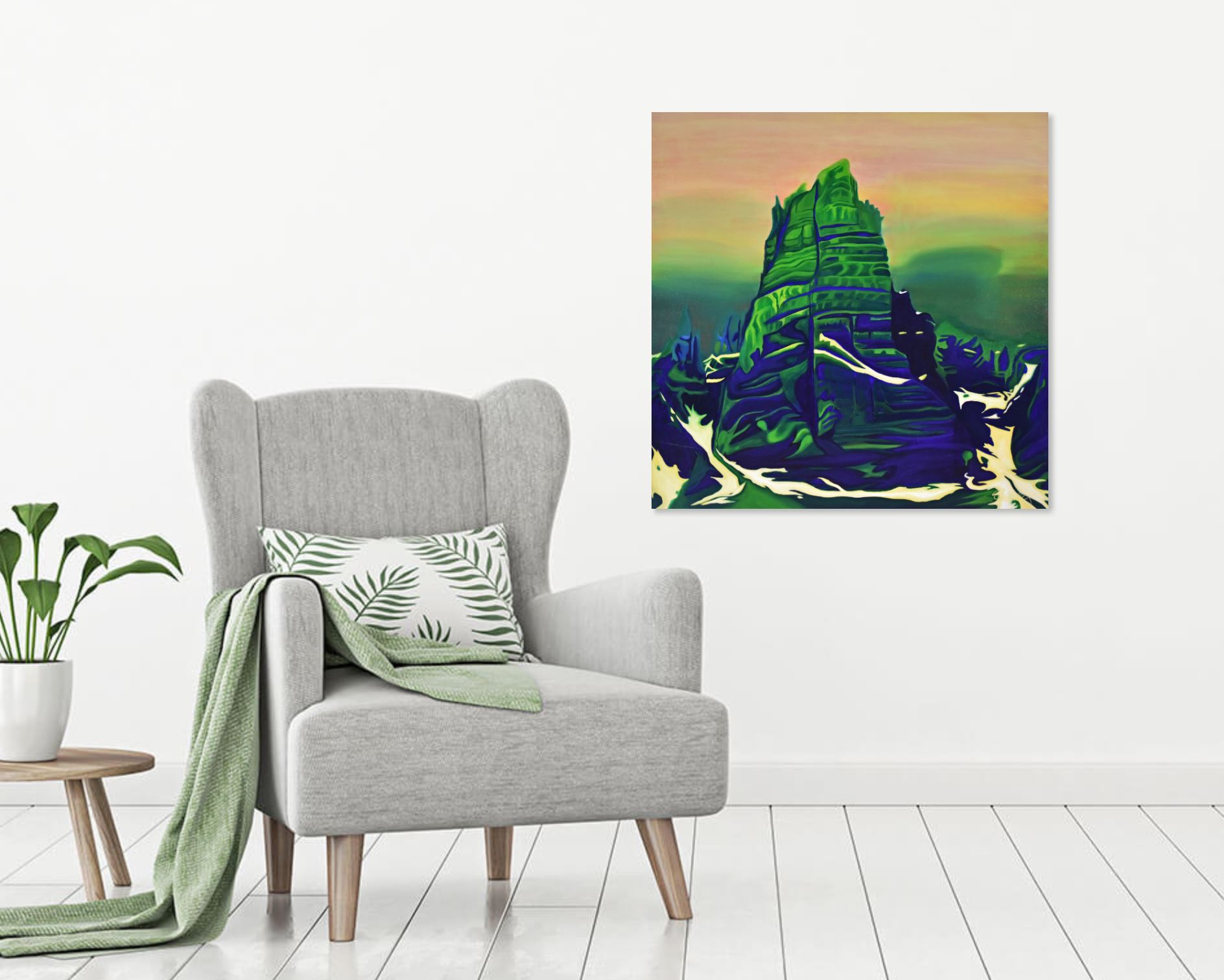 Part of the, 'I See Mountains' series inspired by peaks in the Canadian Rocky Mountain range from BC to Alberta. Mount Babel is a peak in the Bow Range in Banff, Alberta that bears a resemblance to the tower of From the Group of Seven to Warhol, these mountains have romanced many and the love affair continues.
6. Charity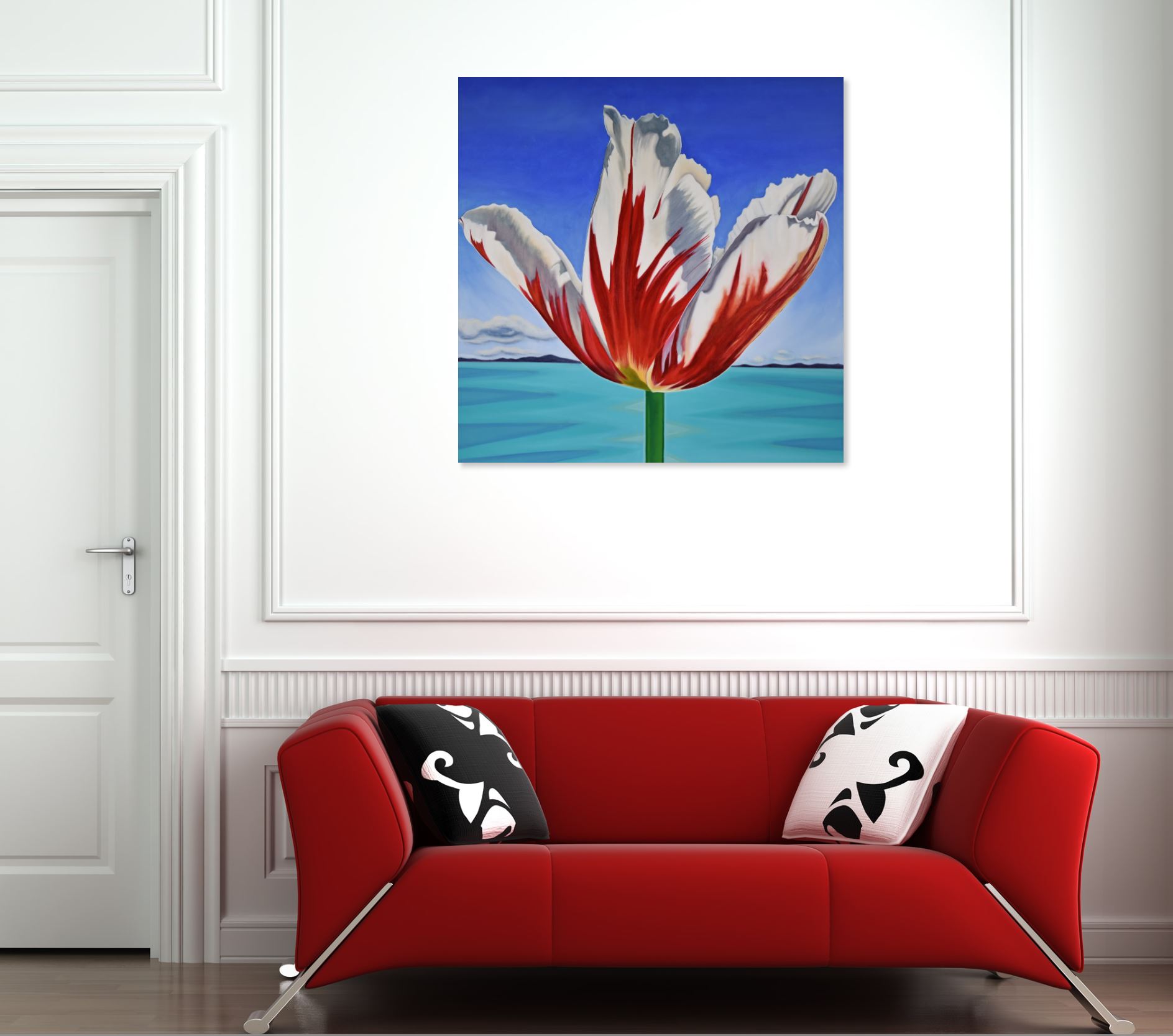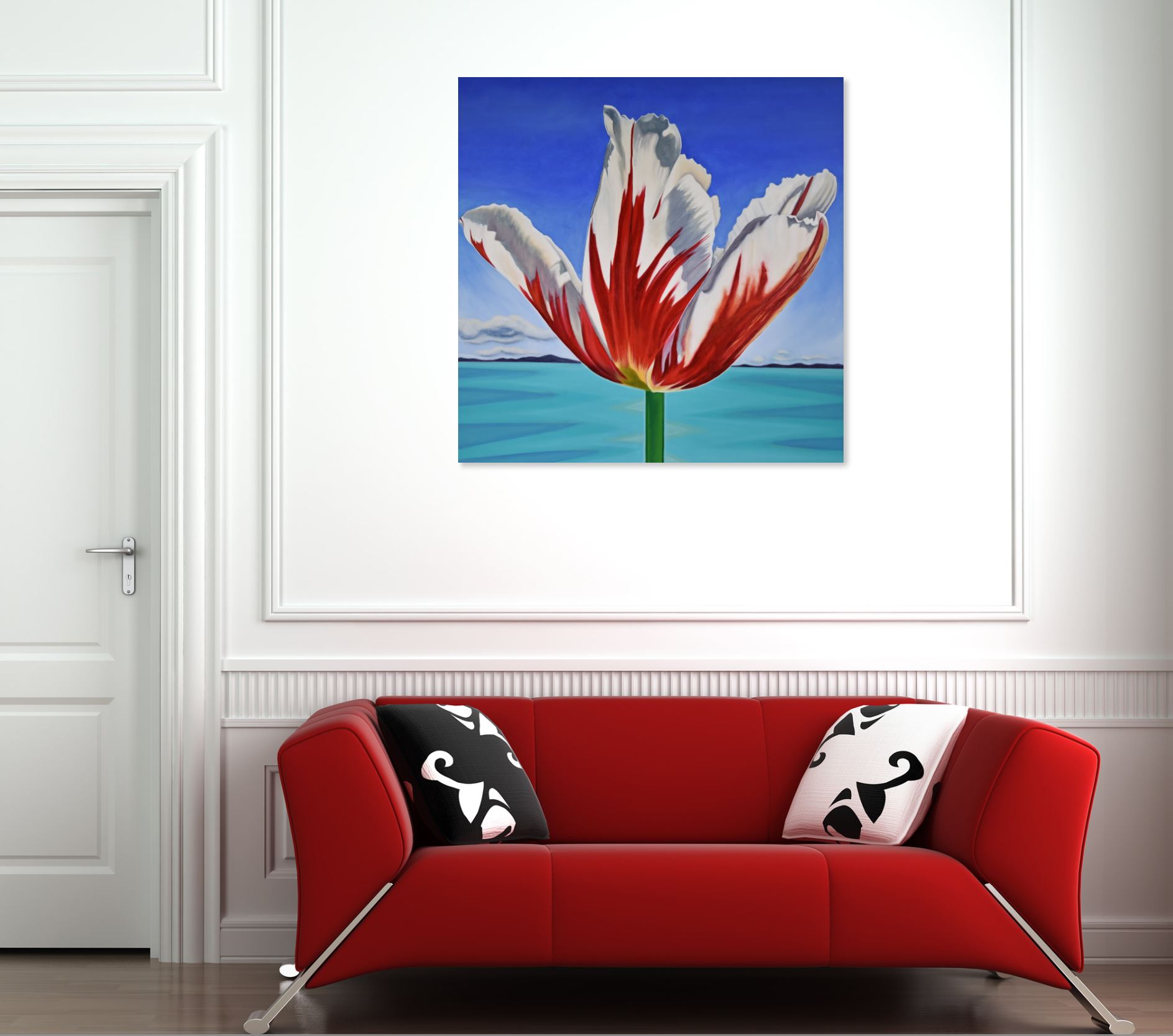 My expression of the Canada150 tulip. The most common meaning for tulips is perfect or deep love. Because tulips are one of the first flowers to bloom in the spring, they can mean rebirth. Victorians often associated tulips with charity, and the Dutch associate tulips with "Thanks" to Canadian soldiers that liberated The Netherlands in World War II.
As for the crate that the paintings are safely stored within, imbued with it's own signature artwork. As seen below;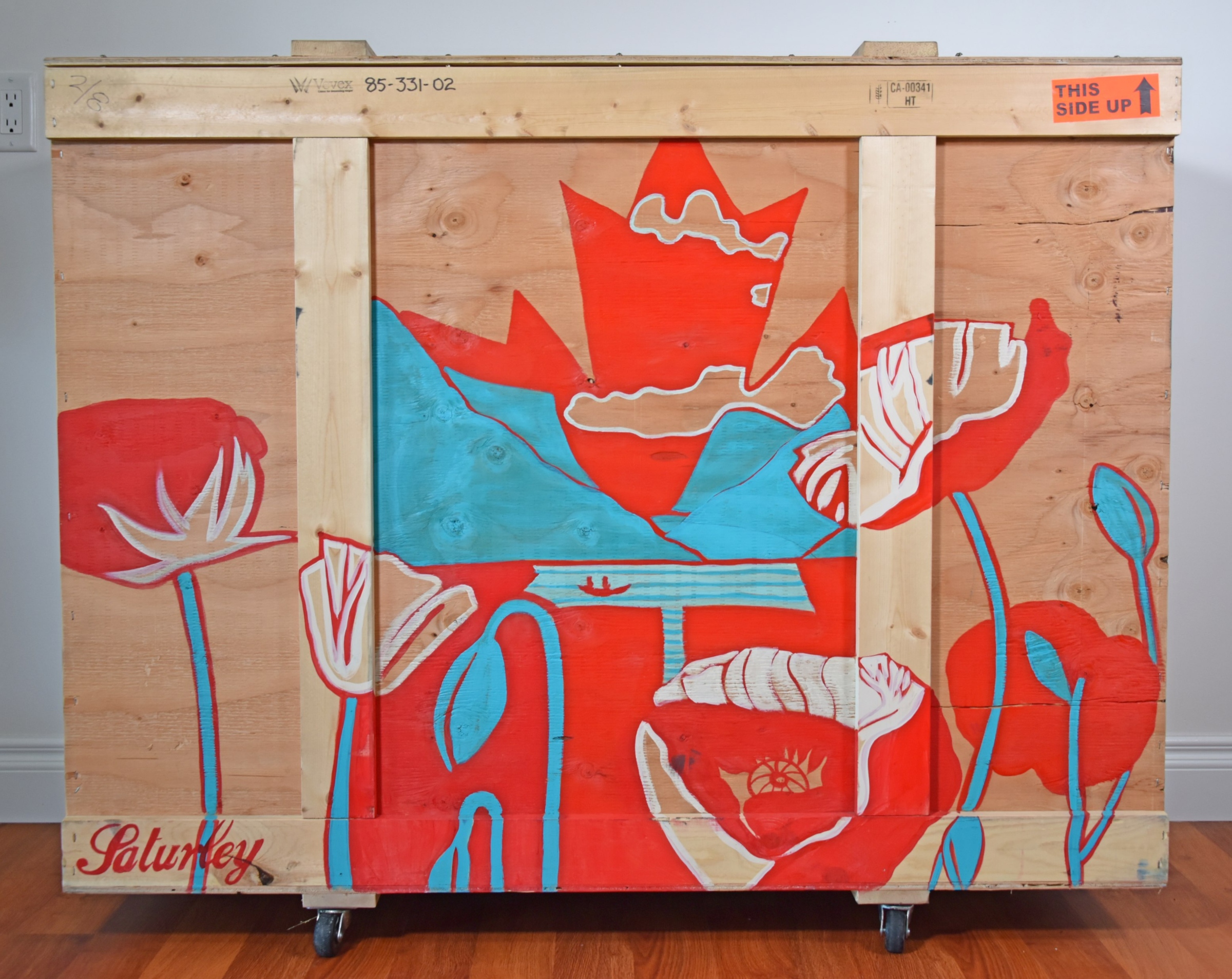 This crate safely houses the artworks of BOX SET #6, is painted with a graphic rendering of the painting 'Poppies For Louise' which is contained within the crate itself.
On the reverse side of the crate the words, 'Beauty Day' emblazon the crate – a common saying in Canada on a beautiful sunny day.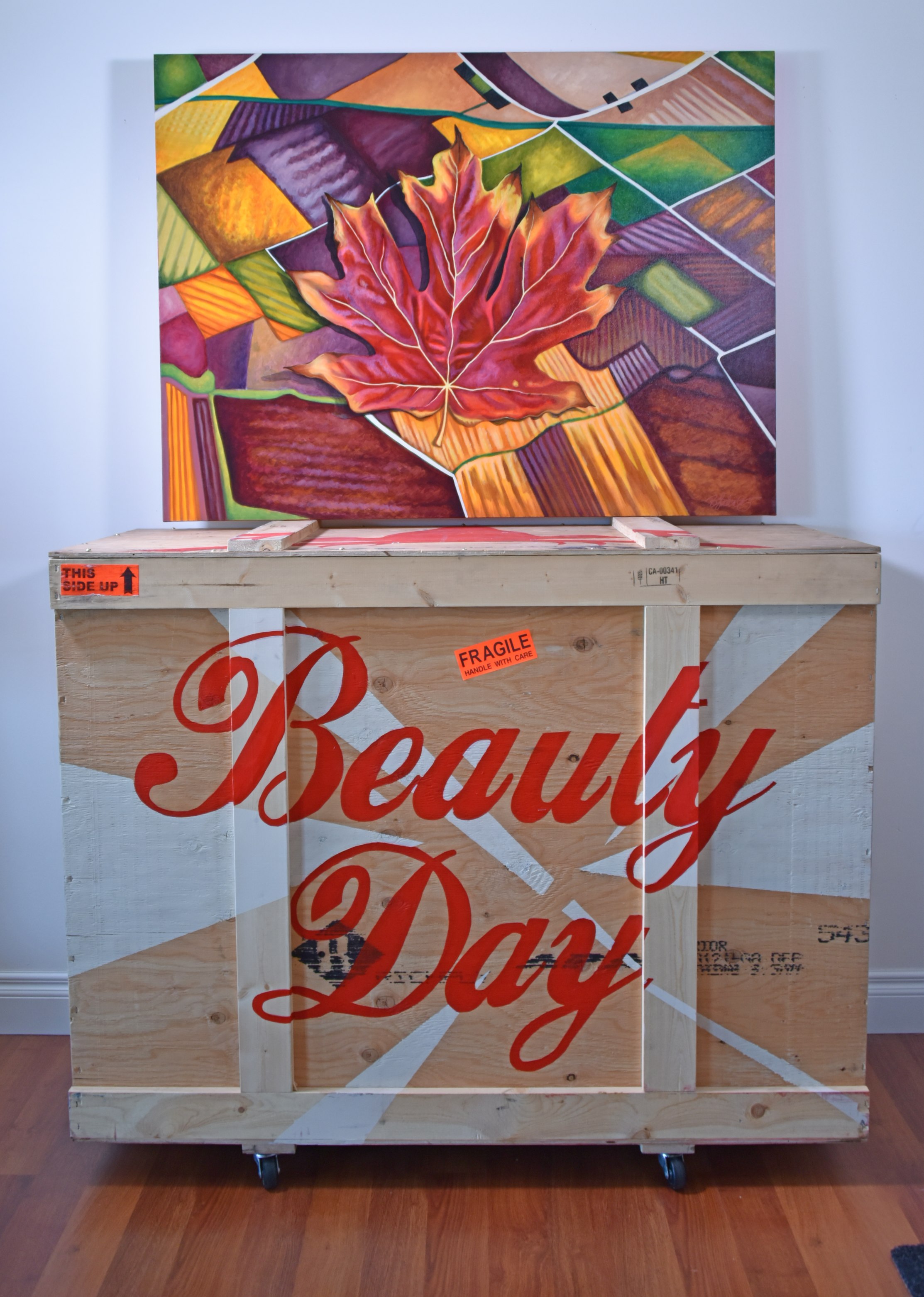 Art to talk about for generations to come, view the collections now.
https://www.brandysaturley.com/wp-content/uploads/2019/06/LakeLouise_painting.jpg
2002
2400
am-330
https://www.brandysaturley.com/wp-content/uploads/2020/10/brandysaturley_logo.png
am-330
2019-06-03 14:54:19
2022-04-21 15:16:50
Collectors Art