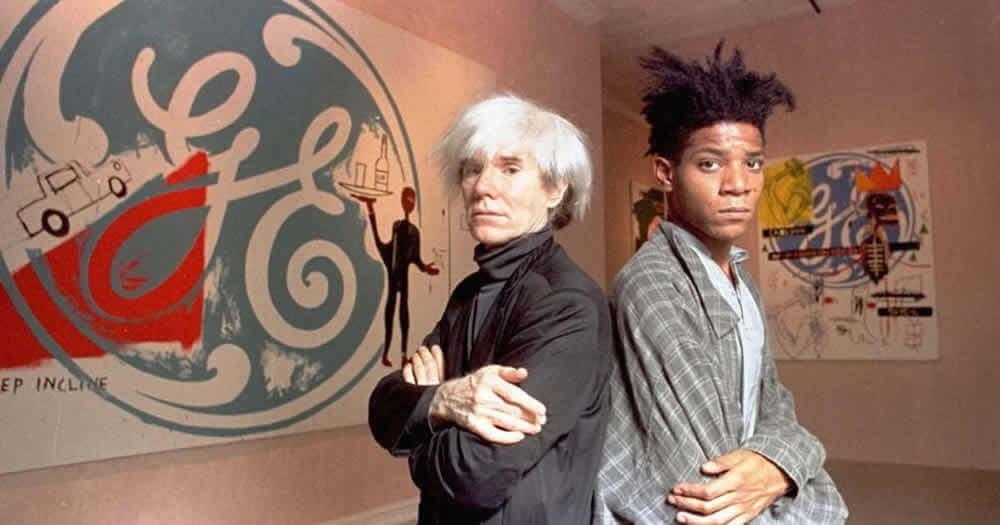 The Art of Collaboration: Inspired by Famous Art Collaborations in History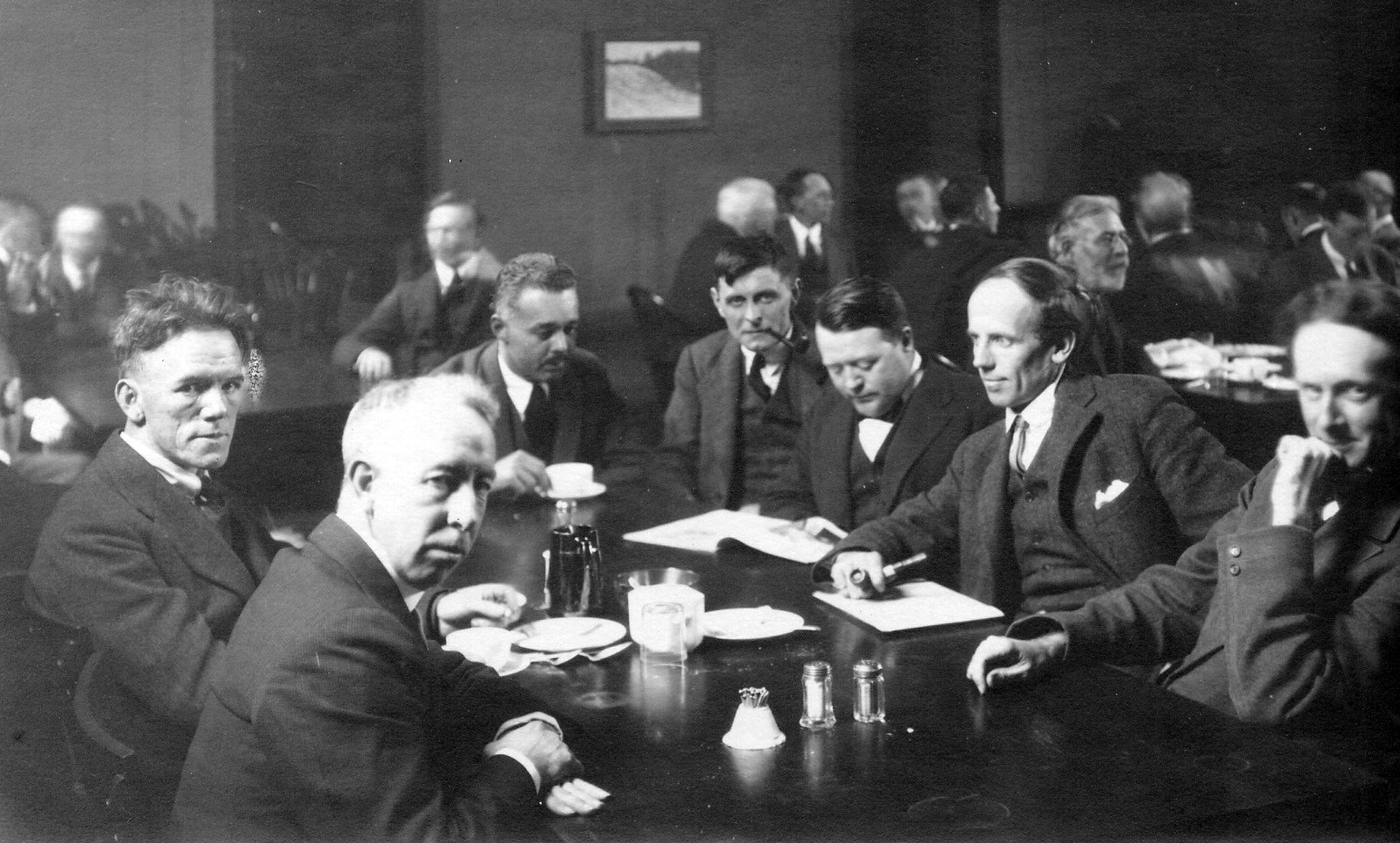 There I was, a young artist beginning art college, excited about all the possibilities of art and romanced by the stories of famous artists' lives and artists of the past. As a Canadian artist the most famous artist group is perhaps the Group of Seven, created and led by Canadian landscape painter, Lawren Harris. Assembling a number of Canadian painters into a group or club, Harris managed to direct the aesthetic of the group and create the 'aesthetic of the North, the aesthetic of Canada'. Though not truly a collaboration, the group did create an outcome of a group effort, much like a collaboration achieves. They showed us the art of collaboration.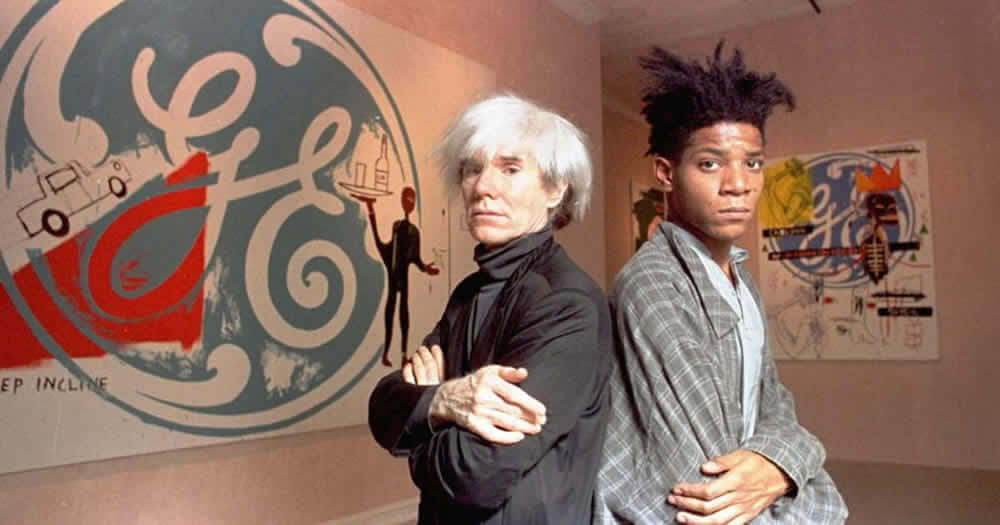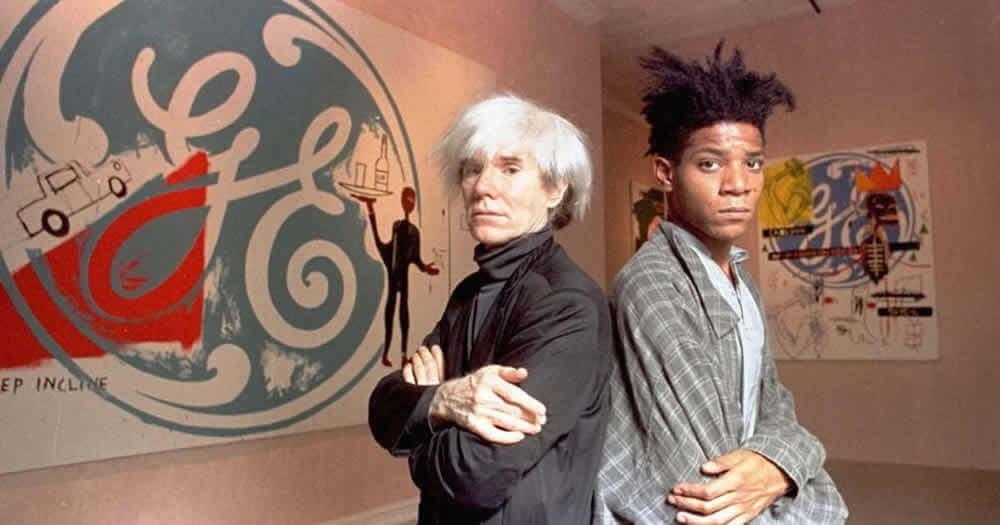 Back to that art history class. Art history classes begin with the ancient, European Art, which mystifies and romanticizes the artist life. Ancient art and specifically paintings were based on technique, craftsmanship and knowledge. Fast forward to the 1950's and early 60's of the New York City art world, a movement which challenged the traditions of fine art by including imagery from popular and mass culture. This movement included many artist collaborations, which saw artist's paint together and even on the same canvas, imagine two artists painting in opposite, yet complimentary styles, on the same canvas. Inconceivable!
Most famous is perhaps the collaborative pop art meets street art paintings of Andy Warhol and Jean Michel Basquiat, where a famous Warhol took a less famous Basquiat under his wing and painted together on the same canvas in his studio. Even though some critics didn't appreciate Basquiat and Warhol's relationship — some claiming that Basquiat was a fame-hungry leech trying to ride on Warhol's reputation while others stating that Warhol was an opportunist who was using Basquiat's talent for his own ends, the truth seems to show that the relationship was genuine, if fraught with frustrations.  Whether intentionally exploitative of Warhol or not, it is true that the young Basquiat felt deeply for the man, and created masterpieces with his idol.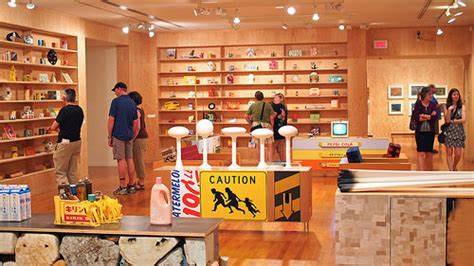 Fast forward to artists in Canada in the 20th century, and one in particular, Douglas Coupland. For his major solo exhibition at the Vancouver Art Gallery in 2014, 'everywhere is anywhere is anything is everything'. Often incorporating everyday materials and objects such as plastic lids, children's toys, pencils and books, Coupland's work and installations require a collaborative effort with everyday people, asking them to participate through collecting and sending him items to include in his pop culture creations.
Collaborative art is an interesting phenomenon, I mean we are artists, we are very independent with singular signature visions of what we want to create, so how can visual artists collaborate? If you look at the musicians, collaboration is important in their process and often better when one or more are together, such as the case with Lennon and McCartney and the Beatles. Collaboration made these artists better and stronger as they riffed off each other and pushed each other forward. Prior to the establishment of formal artistic training schools, the close bond between artists was often forged in the studio or the gallery. The sense of camaraderie – as well as competition – between artists presented opportunity for them to learn, and steal, from one another – collaboration can create better art through outcomes you cannot control.
So what is collaboration in terms of art? is it teamwork? The key difference between teamwork and collaboration is that in teamwork, a group of people perform their individual roles to contribute to the achievement of a goal whereas in collaboration, all individuals are partners that share work as well as ideas and insights to achieve a common objective.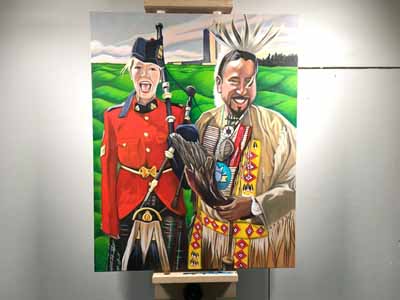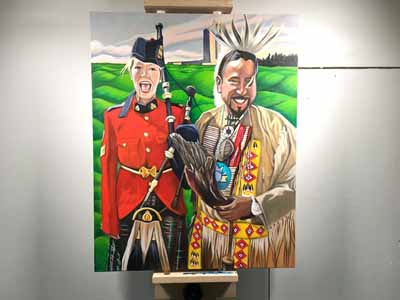 In the footsteps of past artist collaborations and famous artist collaborators I came to create two collaborations in art. The first began in 2014, shortly after I visited the Douglas Coupland exhibition at the Vancouver Art Gallery. The People of Canada Portrait Project, a collaborative portrait painting project, between myself and everyday Canadians. Through photos submitted by Canadians, I paint portraits based on the stories they share with me about their lives as Canadians.
For the project, I used social media and the internet as a tool for connecting to a diverse audience of subjects. I never know what photo will grab my attention and you never know what the backstory will be, but the photo has to 'grab' me, I have to be invested in the subjects I will paint. The original images selected as reference points for portraits are displayed in a stream on the project's website (Peopleofcanada.ca). Through interviews, process photos, and short films the original subjects of the photographs become part of the project's archive, material for future excavation into how people define themselves as Canadian. By choosing their own photographs, my subjects participate in their own self-representation. Yet they also cede control as I invent a landscape intended to amplify the relationship between the people and landscapes depicted.
As this Canadian portrait project continues to grow and evolve, the project guidelines I set forth in the beginning have also evolved, because of the collaborative experience.
The second collaboration I am currently working on, is inspired by the tradition of landscape painting in Canada, and the Group of Seven. In 2017, I began collaborating with another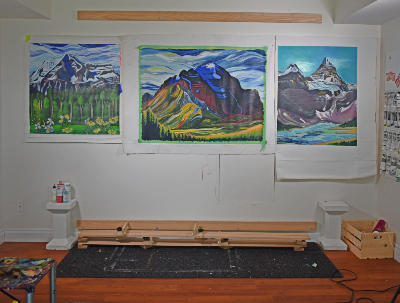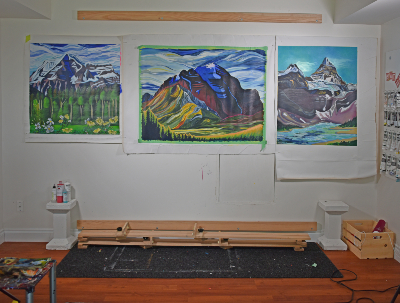 Canadian painter, based in Calgary, Alberta. The idea: paint mountain peaks on the provincial border of Alberta and British Columbia (the border that divides us as artists) Painting mountains on the continental divide, the painting begins in one artists' studio in Calgary, and the painting is completed in the other artists' studio in Victoria.  Inspired by famous collaborations of art history past, such as Warhol and Basquiat, Johns and Rauschenberg, and Rivera & Kahlo – this was going to be interesting as in our case we live 1059KM apart, a 13 hour drive and a ferry boat. Each painting rendered in brushstrokes from each artist. Each painting a collaborative effort and celebration of two styles, creating a new language, expressing a combined love of the Rockies. Beyond the borders of the paintings, and beyond the borders that divide two provinces that have been locked into a political battle over a pipeline. Moving us beyond the borders of our differences, and bringing us together, over art. In honour of Group of Seven luminary, Lawren Harris, we selected a name under which to paint, and the Mountain Forms Collective is born.
The art of collaboration is truly one that requires patience, an openness to learning no matter your level of experience and expertise (leave your ego at the door) respect of your collaborators, working as a team to achieve something bigger than yourself, the creation of a new community in which to grow and propagate your ideas and the unique experience of creating something important, together. For if it is important to you, it is important to make it heard in any way you can conceive!
Sincerely Yours,
https://www.brandysaturley.com/wp-content/uploads/2019/05/Warhol-and-Basquiat-painting-collaboration.jpg
525
1000
am-330
https://www.brandysaturley.com/wp-content/uploads/2020/10/brandysaturley_logo.png
am-330
2019-05-15 11:51:58
2022-04-22 09:46:22
The Art of Collaboration