Two Canadian artists painting mountains on the Continental Divide.
How do two Canadian artists painting mountains, in different provinces, come together to collaborate on paintings that separate their practices?
In early 2017, my "Canadianisms" began their solo exhibition tour across Alberta, and as part of promoting the tour and getting to know the arts community of Alberta, I attended the CARFAC AGM in Edmonton at CARFAC Alberta. Previously, Visual Arts Alberta, it was where my first solo show of paintings inspired by Canadian culture and hockey were exhibited under the title, #ICONICCANUCK in 2014. At this AGM I met a painter by the name of Gisa Mayer, a landscape painter from Calgary, by way of the Bavarian Alps, where the painter spent her early years.
Over that year, Mayer and I began to develop a connection and friendship, inspired by our shared love of the outdoors, hiking and the iconic mountains of the Rocky Mountain range. By the end of 2017 we had decided that we would begin a collaborative project, inspired by our shared loves. Inspired by famous collaborations of art history past, such as Warhol and Basquiat, Johns and Rauschenberg, and Rivera & Kahlo – this was going to be interesting as in our case we live 1059KM apart, a 13 hour drive and a ferry boat.
We began with the idea of painting mountain peaks on the continental divide, the border between BC and Alberta. Painting on rolled canvas, for ease of shipping back an fourth between provinces. Mayer, in her sweeping textured strokes and soft palette would begin with sky and foreground, then shipping the canvas to me in BC where I would take on mountains and trees. Sometimes I would begin the canvas and start with sky and mountain, each time was a new experience and each time a new challenge. With my saturated and bold palettes and pop realism aesthetic, our styles couldn't be more different but seemed to be perfect compliments to one another.
We began painting at the end of 2017 and have completed 6 canvasses to date, with a plan to begin exhibiting the work in 2020. Two female artists, one from Alberta and one BC, painting mountain forms on the great continental divide, the mountains on the Alberta/BC border. Each painting is shipped back and fourth across the border, until complete. Each painting rendered in brushstrokes from each artist. Each painting a collaborative effort and celebration of two styles, creating a new language, expressing a combined love of the Rockies. Beyond the borders of the paintings, and beyond the borders that divide two provinces that have been locked into a political battle over a pipeline. Moving us beyond the borders of our differences, and bringing us together, over art.
In honour of Group of Seven luminary, Lawren Harris, we selected a name under which to paint, now known as the Mountain Forms Collective.
UPDATE: March 2020 a virtual 3D exhibition was presented online with Kunstmatrix Berlin – Together/Divided featuring mountain paintings created by both artists as well as individual works from each artists; oeuvre. An online preview in the time of COVID-19.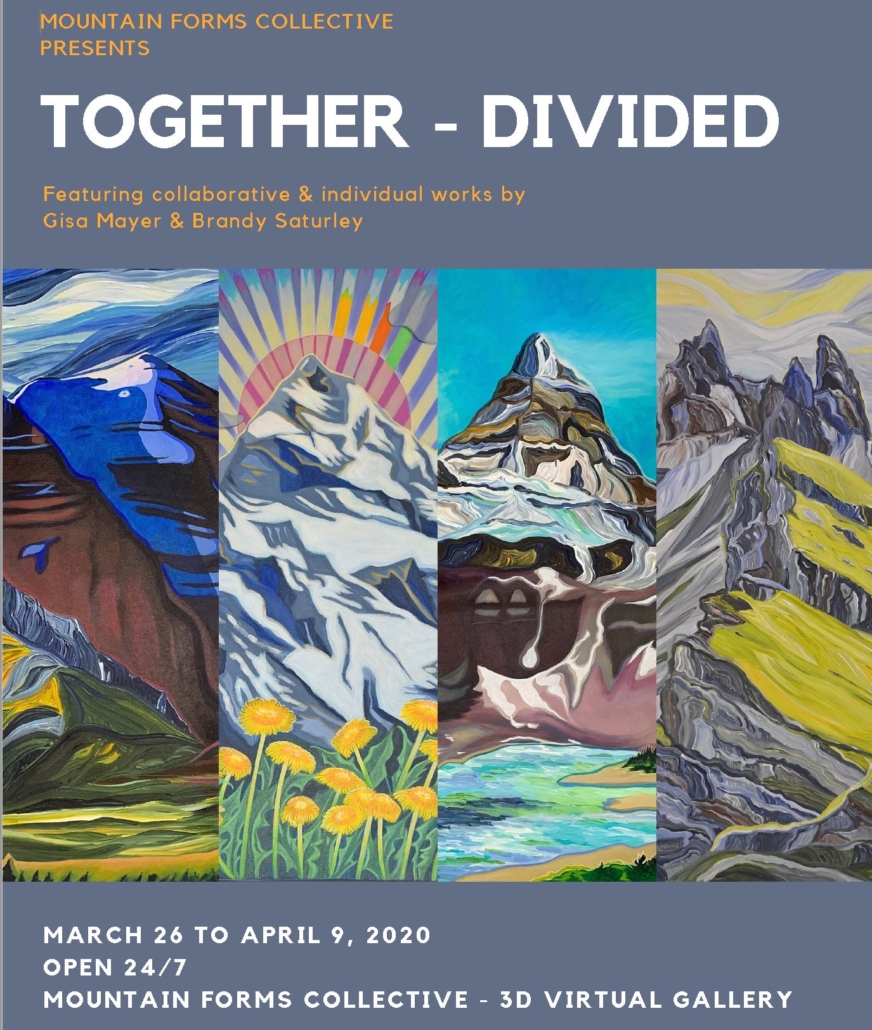 Museum/Gallery? Curator inquiries?
Two Canadian Artists Painting Mountains – more about Mountain Forms Collective
The Canadian landscape has been a source of inspiration for countless artists over the years, with its majestic mountains, serene lakes, and sweeping prairies offering endless possibilities for creative expression. Two Canadian artists who have captured the beauty of the country's mountains in their paintings are Brandy Saturley and Gisa Mayer.
Saturley is a contemporary Canadian artist known for her bold and colorful paintings, often depicting iconic Canadian landscapes and cultural motifs. Her series of mountain paintings, which she created while visiting Banff, Alberta, are a testament to her love of the natural beauty of the region. Saturley's paintings feature vibrant colors and bold brushstrokes, giving her mountain landscapes a dynamic and energetic feel. Her use of light and shadow creates a sense of depth and perspective, drawing the viewer into the scene and making them feel as though they are standing in the midst of the mountains.
Gisa Mayer is another Canadian artist who has captured the majesty of the country's mountains in her paintings. Mayer's work is characterized by its rich colors and textures, with her mountain landscapes featuring sweeping brushstrokes and layers of thick paint. She uses a variety of techniques to create a sense of movement and energy in her paintings, giving them a dynamic and almost sculptural quality. Mayer's mountain paintings are often large in scale, adding to their grandeur and sense of awe-inspiring majesty.
Both Saturley and Mayer's mountain paintings are a celebration of Canada's natural beauty and a testament to the power of art to capture and convey the essence of a place. Through their use of color, brushstrokes, and composition, these artists have created a sense of awe and wonder in their mountain landscapes, inviting viewers to experience the grandeur and majesty of Canada's mountains in a new and profound way.
In conclusion, Brandy Saturley and Gisa Mayer are two Canadian artists who have captured the beauty and grandeur of the country's mountains in their paintings. Through their use of color, brushstrokes, and composition, they have created works of art that convey the essence of these majestic landscapes, inviting viewers to experience the awe-inspiring power of Canada's mountains in a new and profound way.
Brandy Saturley is an award-winning painter, photographer, and writer born and living on Vancouver Island. Her widely exhibited "Canadianisms" series, with it's 'pop realism' aesthetic, have garnered the Canadian artist notoriety as the Voice of Canadian Pop Art. Exhibitions in unique corporate venues include; Canada's Sports Hall of Fame, TELUS Convention Centre at Glenbow Museum, Canadian Tire, Canadian Olympic Committee headquarters and on LED billboards in Times Square, NYC. Saturley has contributed articles to ArtInCanada.com, ArtistsInCanada.com, Reader's Digest Our Canada. Her work was shortlisted for the Olympic Trophy in Sport & Art in 2014. Solo public gallery exhibitions include Gallery @501 Strathcona County and Okotoks Art Gallery. Brandy is an active arts advocate serving as public art juror (City of Saanich), professional development speaker and member of CARFAC Alberta.
Gisa Mayer is a painter born in the Bavarian Alps, known for her fluid brushstrokes creating sweeping mountainscapes. Her post graduate experience includes training in Painting, Art History and a degree in Romance Languages. Her work experience includes the Carolino Augusteum Museum in Salzburg and the Neue Pinakothek in Munich.  After working and teaching for many years in Salzburg, she made Calgary her permanent home in 1997, after falling in love with the Rockies. Mayer is represented by Bugera Matheson in Edmonton and Ruberto Ostberg in Calgary. Gisa is an active arts advocate in the Alberta arts community and has served on the board of CARFAC Alberta and is a member of the Leighton Arts Centre. Collected by private and public clients internationally.
https://www.brandysaturley.com/wp-content/uploads/2019/05/Painting5.jpg
1248
1699
Brandy Saturley
https://www.brandysaturley.com/wp-content/uploads/2020/10/brandysaturley_logo.png
Brandy Saturley
2021-01-06 10:29:36
2023-04-07 11:37:33
Canadian Artists Painting Mountains