Buying Original Art from The Art of Brandy Saturley
Original artwork by Canadian painter Brandy Saturley can be purchased directly from the artist by contacting us through this website. From time to time paintings are available through galleries or dealers exhibiting the work, please contact us directly and we can answer your questions or refer you to the current dealer of an artwork. We can assist you in choosing the perfect piece of original Canadian Art for your business or home, as a gift, or arrange a consultation for a personalized commissioned piece of art. Whether it be an original painting, a commissioned work of art, or buying an image license for use in promoting your brand or product, we are happy to answer your art related questions and make your art collecting experience effortless and enjoyable. Located on Vancouver Island, minutes from the Victoria International Airport, BC Ferries & Washington State Ferries. We ship worldwide.
General Price Range
Current pricing guidelines, based on artwork size, for paintings by Canadian painter Brandy Saturley;
Price list effective January 1, 2019 – annual price increase takes place at the end of each calendar year
Small Works
31cm x 31cm (12 x 12) – $900.00*
41cm x 41 cm (16 x 16) – $1600.00*
51cm x 61cm (20 x 24) – $3000.00*
61cm x 61cm (24 x 24) – $3600.00*
Medium Works
61cm x 76cm (24 x 30) – $3060.00*
61cm x 92cm (24 x 36) – $3670.00*
76cm x 102cm (30 x 40) – $5100.00*
92cm x 92cm (36 x 36) – $5500.00*
Large Works
61cm x 122cm (24 x 48) – $4600.00*
92cm x 122cm (36 x 48) – $7000.00*
92cm x 152cm (36 x 60) – $8600.00*
122cm x 122cm (48 x 48) – $9000.00*
122cm x 152cm (48 x 60) – $11,500.00*
Purchasing multiple paintings: if you are purchasing more than one painting, we are happy to negotiate on shipping and/or price – please feel free to contact us with your request 
* Please note: add shipping and crating – pricing depends on location, local delivery/pick-up on Vancouver Island, Canada available at no extra cost.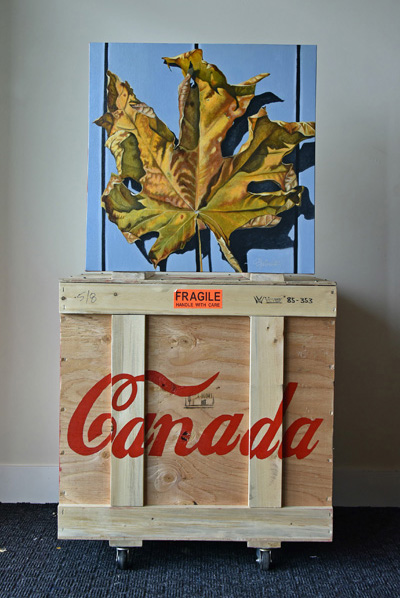 All artwork is shipped using custom-made art crates built to order by VEVEX crates in Vancouver, Canada. Each crate is fully enclosed, foam lined, and certified, allowing access to virtually any nation on earth.
Art Leasing is available to our patrons through Art Lease Canada.
Corporate commissions: quoted by project after consultation with the artist.
Image licensing is available and quoted on a case-by-case basis. Saturley has licensed her work to a select group of corporations, non-profits, publishers and luxury retailers including; ThinOptics Inc., Vancouver Symphony, Music In The Morning Vancouver, BC Children's Hospital, Island Art Publishers, Blossom Spice Fine Chocolatiers, Lethbridge Symphony, the University of New Brunswick, Canadian Tire, Blue Ant Media, Reader's Digest. Products featuring The Art of Brandy Saturley include; fine chocolate, magazine covers, t-shirt design, brochures, programs, menu covers, greeting cards, calendars. Other products of interest; billboards, large format art mural installation, fine liquors, wine, Canadian luxury products, Canadian designers and other unique items and venues, worldwide.
SIGNIFICANT WORKS – range $15,000.00 – $90,000.00 – highly valued and well known paintings that have received accolades, awards, and extensive press acknowledgement.
Somewhere Between M&M and The Walrus – 36×60 – $20,000.00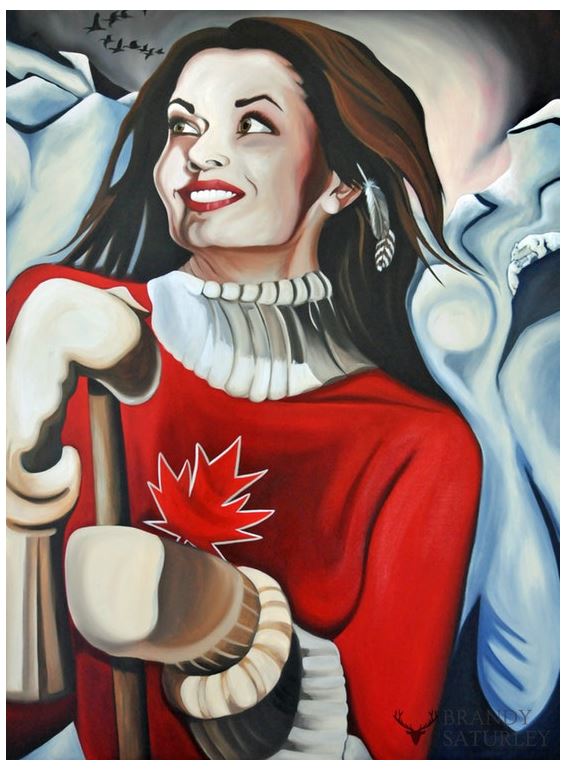 Saint Kanata – 36×48 – $15,000.00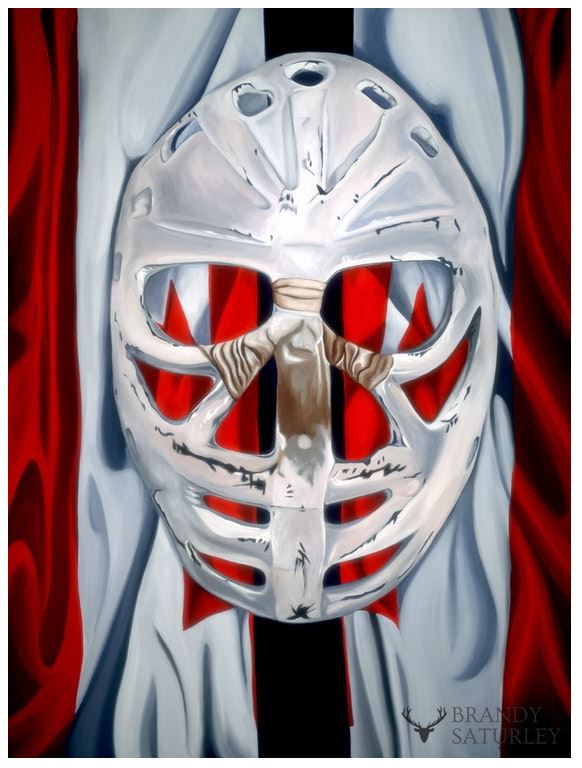 Goalie's Mask: red, white & Dryden – 36×48 – $91,000.00
Corporate Collections include: Canadian Tire (Toronto), Canada's Sports Hall of Fame (Calgary), Colart Collection (Quebec), Price's Alarms Inc. (Victoria), Sol Fine Foods Inc. (Victoria), Robert P. Assaly Corp. (Edmonton), Janks Holdings Inc. (Victoria & California) Victoria Hospitals Foundation (Victoria), McIssac & McIssac Law Firm (Victoria), Richard Pearce Law Corp. (Vancouver)
Why Buy Original Canadian Art?
Simply put, you should buy original Canadian Art because you love it. After that I can give you many reasons why you should buy original Canadian art, but the number one reason (for me) is because I fell in love with it and have to own it. An original piece of art is a passionate creation reflecting the soul of the artist and in turn your soul, in choosing the piece. An original piece of art can provide inspiration, escape, beauty and encourage conversation. Buying original art from an artist begins a unique and personal relationship that will last lifetimes. It is an investment that you can enjoy, visually. You are the owner of an original artwork, the only one of it's kind. You are investing in our heritage and your investment insures this heritage will continue to live on, evolve and inspire the next generation. The value of an original piece of Canadian art continues to grow, the value of a print in today's digital world, is less likely to increase in value – where the signature of the artist on the print becomes more valuable than the print.
Corporate Art Collecting in Canada
The Canadian government recognizes the importance of encouraging the purchase of original Canadian art. Investing in the Canadian art market and its creators offers many benefits to Canadian businesses large and small. The Canadian Government has implemented tax incentives intended to promote the purchase of Canadian artwork and encourage donations to museums and public institutions. Buying Canadian artwork, paintings, etchings, sculptures, drawings, photographs, etc. is considered as an amortization expense for corporations or individuals who operate a business. It qualifies as a tax deduction provided that certain criteria are met. The Canadian tax law allows business owners to purchase and write-off Original Canadian Art in its entirety.  The acquisition of Original Canadian Art is included in the Capital Cost Allowance for all Canadian businesses, so long as the Artist was a Canadian Citizen when creating the work and the work of art is an original worth a minimum of $200.
VIDEOS: The Art of Brandy Saturley has a Video channel on VIMEO, where you can watch the paintings taking shape and a few other short films about the paintings over the years. This short film is a retrospective showing paintings inspired by The Montreal Canadiens Hockey Club and their indelible mark on the Canadian landscape.