Canadian Artist Brandy Saturley – The Voice of Canadian Pop Realism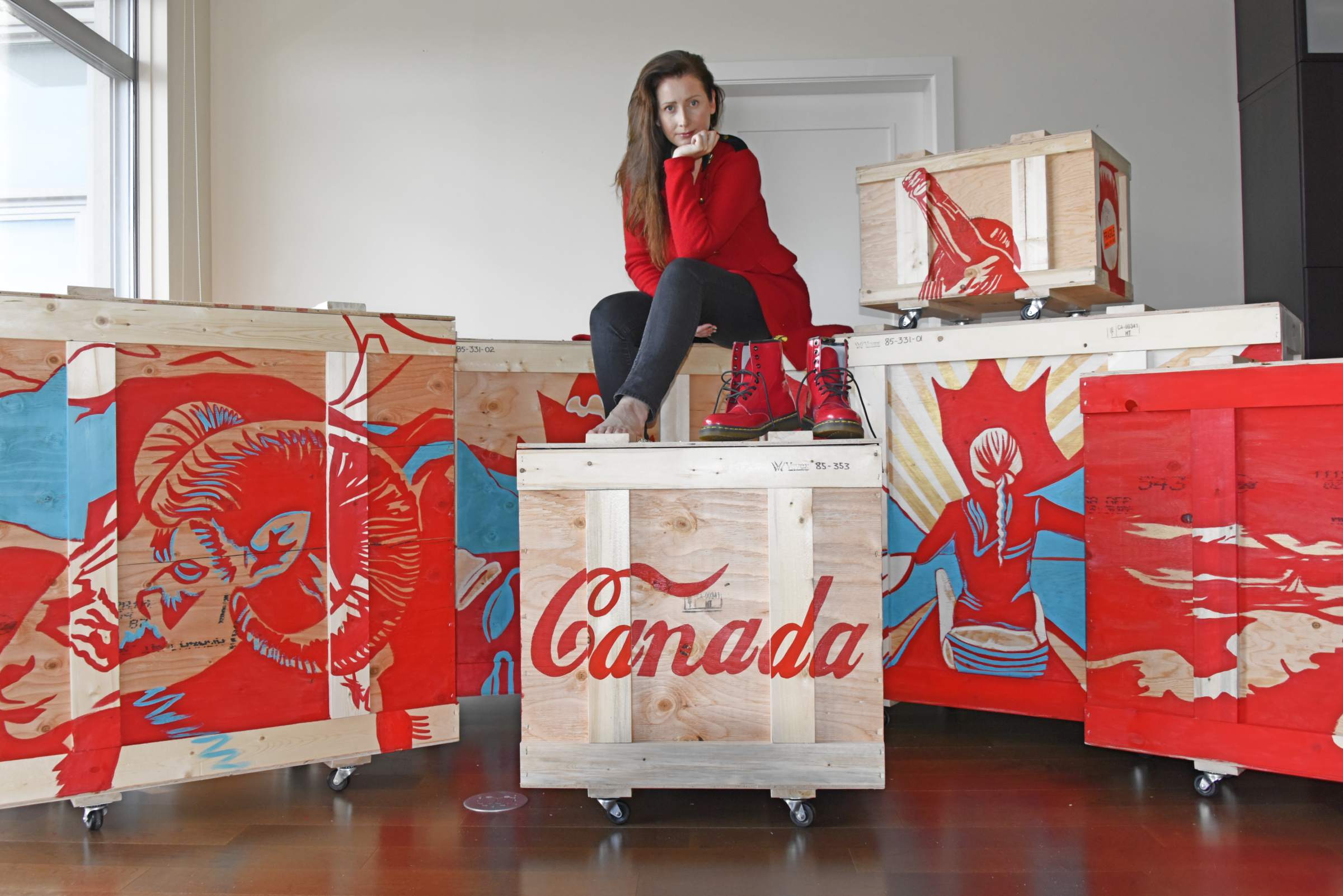 Artist Statement: Confronting the Enormity of Canada: I began life on an island on the western-most point in Canada, like a puzzle piece that was never placed in the final map of Canada. As a consequence, my preoccupation became everything that existed in my country, but not my island home. What informed my work began with 'popular culture' and stereotype. Over the years I became more interested in 'authentic experiences' and I began to travel to gain a true understanding of my country, and in returning home to my island home, a better understanding of the culture in which I was raised. My practice focuses on acrylic painting on canvas, and over the years has incorporated collage, photography, writing, and video. My paintings encompass themes related to Canadian popular culture, symbolism, and the landscape; distinctly rendered in my signature pop realism aesthetic and vivid palettes.
SHORT BIO: Brandy Saturley was born in Victoria, BC Canada in 1972. Saturley studied contemporary visual arts in London, England at The Royal College of Art & Emily Carr University in Vancouver, Canada. The artist also carries a degree in cinema from the Victoria Motion Picture School. Saturley's work has been exhibited internationally and collected widely. Public collections include Larry Rossy Family Trust, Price's Alarms, Canadian Tire, Canada's Sports Hall of Fame and Blue Ant Media. Her work was shortlisted for an Olympic Trophy in 2014.  Gaining notoriety as the 'Voice of Canadian Pop Art' ~ Whitehot Magazine NYC, 2018
The Canadian painters' work has been featured in numerous publications, websites and blogs including; CBC Arts, Forbes, Our Canada, More Our Canada, Whitehot Magazine NYC, Art Reveal Magazine UK, Aji Magazine, Emboss Magazine, Galleries West Magazine, Visual Overture Magazine, Art Avenue Magazine, Victoria Times-Colonist, Okotoks Western Wheel , Sherwood Park News, Canmore Leader News, Monday Magazine, A-Channel News, CHEK 6 TV Island 30, CityTV Vancouver, Sportsnet, and in many Canadian blogs including AllHabs Magazine, Canadian Art Junkie, Puckstruck, Dennis-Kane.com, Independent Sports News, Curry's Canada, Life As Human, and a Portrait of the Visual Arts in Canada. Saturley's self-published works and portfolio are on file with ARTEXTE in Montreal, and the National Gallery of Canada Library and Archives. Saturley's work has been licensed by designers, for  luxury products, and the artist has produced unique commissioned work for a number of corporate, private and charitable organizations.
 British Columbia born and West Coast raised, the Vancouver Island artist spends time traveling across Canada, her home and studio have always remained in Victoria, BC. The artist openly shares her studio process, art travel, exhibition news, and new painting releases on her Instagram page daily. You can follow The Art of Brandy Saturley on Instagram here.