Brandy Saturley – The Voice of Canadian Pop Realism
Whether 'Canadian Pop Art' or 'Graphic Realism', Canadian Artist Brandy Saturley is known as the painter of 'Pop Canadianisms'. These aren't your typical 'Canadianisms' like canoes and hockey, although you can find these symbols in her paintings, rather Saturley renders symbolic narratives on the canvas influenced by her travels, photography and writing.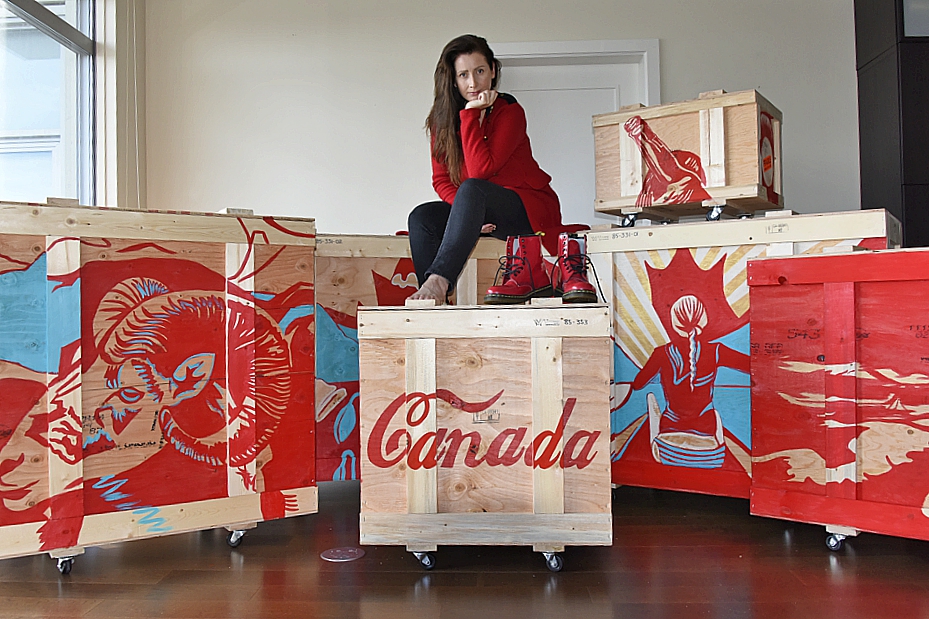 "Confronting the enormity of the landscape has become a crucial aspect in Canadian identity, and a thread that is woven throughout Saturley's work." 
A prolific Canadian painter and photographer, Saturley has built her art career through exploring relationships both in and outside of the traditional art business. An artist born and working in Victoria, British Columbia, her art career began in the motion picture industry on film sets in Victoria and Vancouver, Canada. Over the past twenty years her work has been featured in solo and group exhibitions in public and private art galleries across North America. Saturley is known for her pop-up exhibitions in unique corporate venues including; Canada's Sports Hall of Fame, TELUS Convention Centre at Glenbow Museum, Canadian Tire, Canadian Olympic Committee headquarters Toronto, and on LED billboards in Times Square in NYC. A painter, travelling photographer, and multiple award-winning Canadian artist, Saturley has built a breadth of knowledge and unique perspective on the Art Business through her travels resulting in her popular blog posts, Art and The City. Saturley has contributed articles to ArtInCanada.com and has written for ArtistsInCanada.com.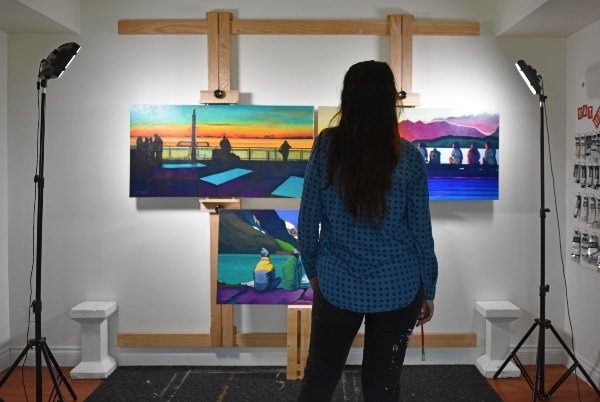 Saturley's writing about her travels in Art have also been published in Reader's Digest Our Canada and More Our Canada. In 2014, Saturley created and launched, 'The People of Canada Portrait Project' a crowd-sourcing portrait project with Canadians. In 2017, Saturley's professional development talk, 'How I Built My Career' at Visual Arts Alberta in Edmonton, AB was simultaneously presented live in person, as a webinar and recorded as a live podcast. In 2018, Saturley formed the 'Mountain Forms Collective' (after Lawren Harris), a collaborative landscape painting project. Attending and exhibiting in numerous Art Fair's over the years including ArtExpo Las Vegas as a buyer, and through a representation award at Scope Miami. Corporate collections in North America include; Canadian Tire (Toronto), Canada's Sports Hall of Fame (Calgary), Colart Collection (Quebec), Janks Holdings Inc. (Canada & USA) Price's Alarms (BC), Victoria Hospitals Foundation (BC). 
Saturley's work has been featured in numerous publications, websites and blogs including; CBC Arts, Forbes, Our Canada, More Our Canada, Whitehot Magazine NYC, Art Reveal Magazine UK, Emboss Magazine, Galleries West Magazine, Visual Overture Magazine, Art Avenue Magazine, Victoria Times-Colonist, Okotoks Western Wheel , Sherwood Park News, Canmore Leader News, Monday Magazine, A-Channel News, CHEK 6 TV Island 30, CityTV Vancouver, Sportsnet, and in many Canadian blogs including AllHabs Magazine, Canadian Art Junkie, Puckstruck, Dennis-Kane.com, Independent Sports News, Curry's Canada, Life As Human, and a Portrait of the Visual Arts in Canada. Saturley's self-published works and portfolio are on file with ARTEXTE in Montreal, Canada. Saturley's work has been licensed by designers, for  luxury products, and the artist has produced unique commissioned work for a number of corporate, private and charitable organizations.