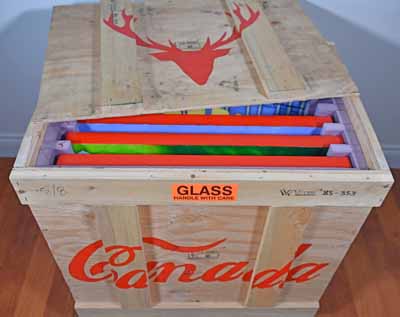 When collecting original Art, gives you something more than the art itself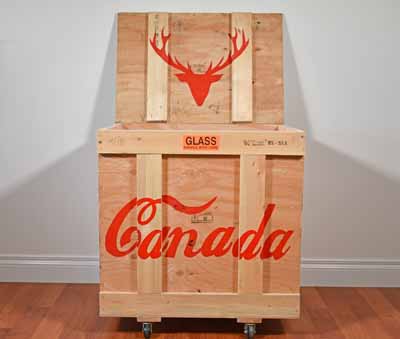 It was a decade ago now when I began shipping my artwork across North America. To art shows, art galleries, corporate collections, and private art collectors who purchased my paintings to display on the walls of their homes, and in their office lobby's. Built in Vancouver and shipped to my studio in Victoria BC, these sturdy wooden crates became as important to my work as the paintings themselves.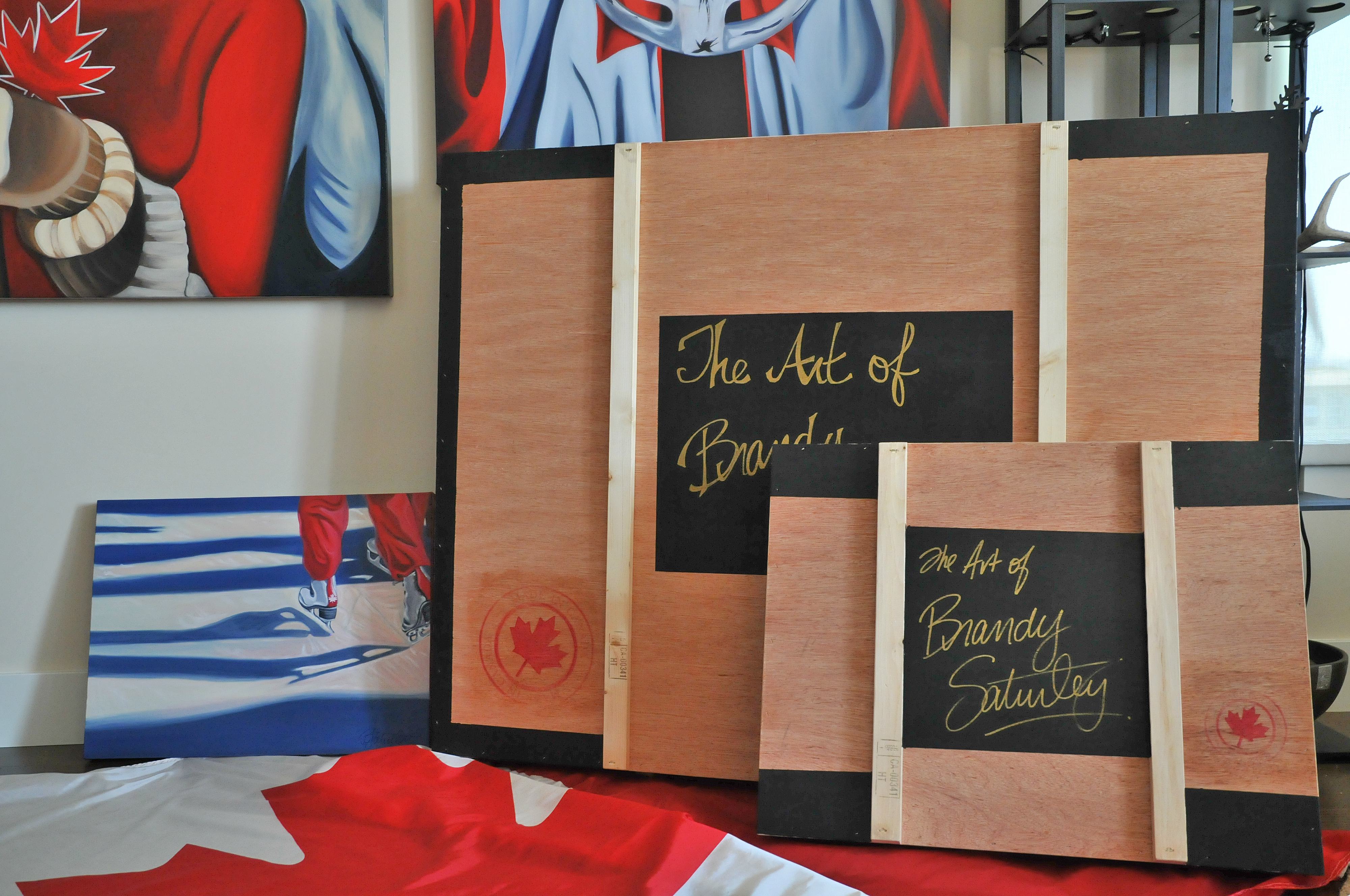 Slowly over the past ten years my exhibitions became larger, and my needs grew with these custom made crates. In 2012, I was contracted to paint live at Canada's Sports Hall of Fame in Calgary, a new adventure and new audience for this Canadian artist. As this was a special event I decided to paint the exterior of my art shipping crates, that would eventually end up in Toronto at the Sportsnet televised, Canada's Sports Hall of Fame Induction ceremonies. It was the first time I entertained the idea of marking the outside of the crates, with name and hand painted with a Canadian flag motif, to signify my work over the years as I have been painting my view of Canada on canvas.
After this a turning point quickly came with my art. I was contracted to exhibit my works in a solo exhibition at Harcourt House in Edmonton, Alberta – the gallery spaces for Visual Arts Alberta, now CARFAC Alberta. The exhibition was titled #ICONICCANUCK, my expressions of Canadian popular culture and sport. I wanted the work to arrive with a big bang. I have always felt that if you are going to put your energy into something in your life, you better go overboard, full tilt, leave it all on the floor as they say to dancers. I wanted this to be a showstopping experience. I ordered up the crates to house and transport the work, and then what came was an idea that has been with me since, signifying my work and branding it at the same time. I painted the outside of the crates in simple two-tone outline – red and white, the colours of the Canadian flag. The simplified paintings on the outside echoing the work within, a window inside perhaps. The crates were a hit, as big of a hit as the work itself, and they provided a feeling of completeness. The crates are the Yin to the paintings Yang, so to speak.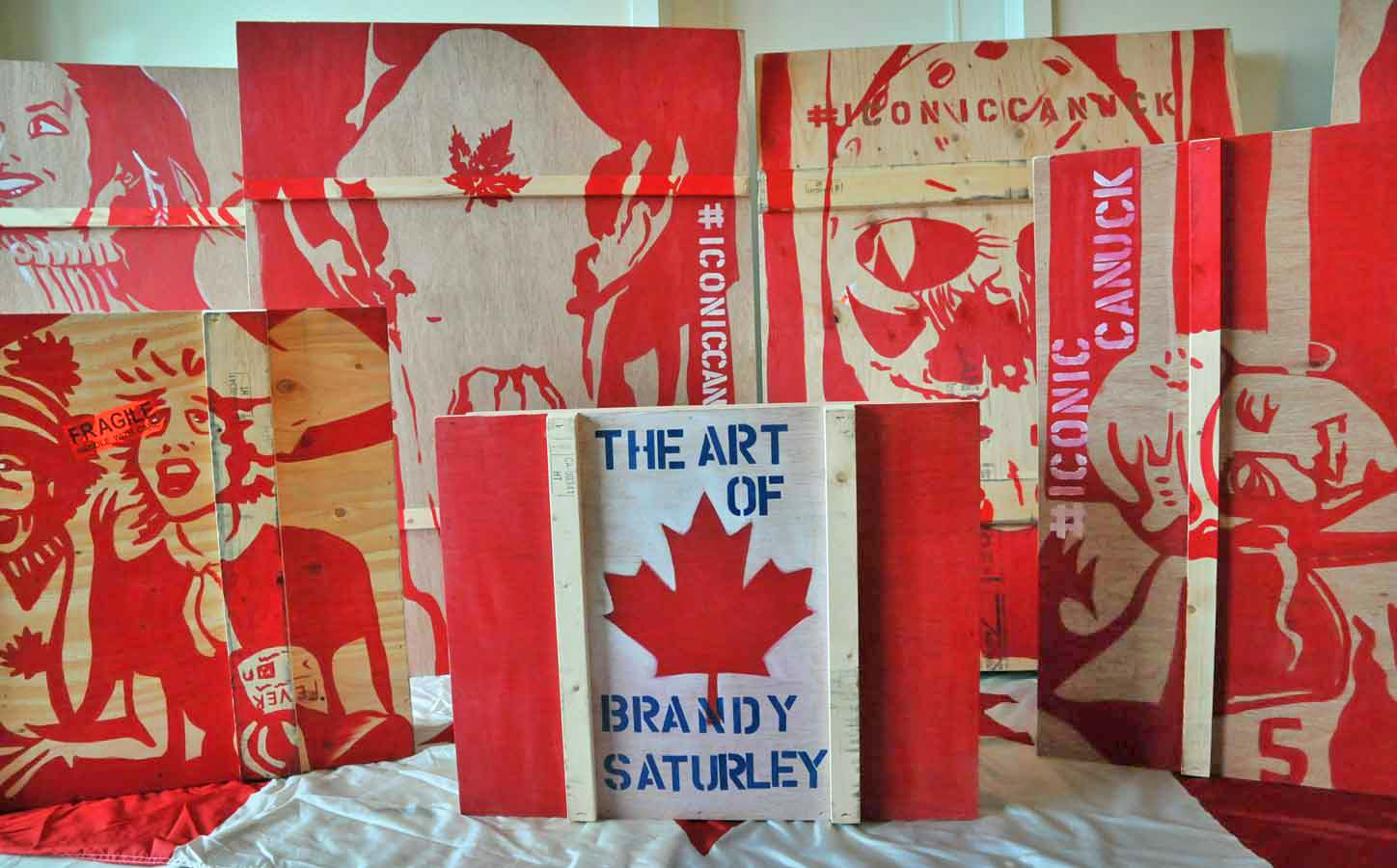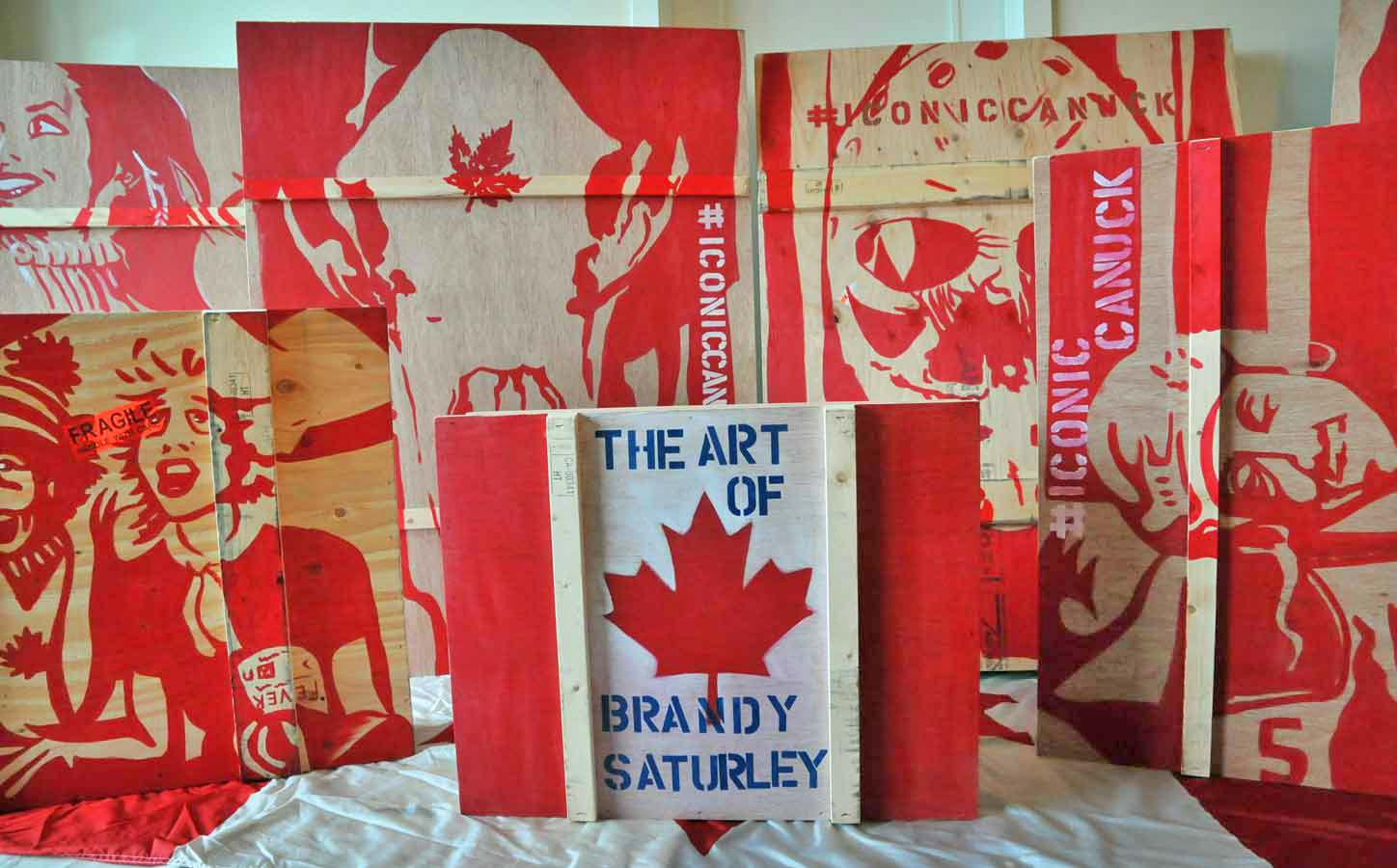 Fast-forward to 2017, again I was contracted to present my work covering a five year period of my career. By this time #ICONICCANUCK had grown into 'Canadianisms' and these paintings were extending my comments on Canada and my travels across the country. With the first exhibition at Gallery @501 in Sherwood Park, Alberta I was working on putting together the best 30 paintings, made over a five year period. A public gallery of 2800 SqFt – I had plenty of room to create something memorable and celebratory for Canada's Sesquicentennial. The gallery offered a front display window that would fit the crates that were used to ship the artwork. The idea came to utilize the display window, reminiscent of the old Hudson's Bay Company windows. Again I came up with a plan for painting the exterior of the crates, this time also including text in my simple renderings in a vivid Cadmium red hue and a contrasting bright teal. These crates were bigger and some holding several paintings, so we put many on wheels. These crates were many things; billboards, travel cases, furniture, display items, but most importantly these crates were becoming art.
The crates were taking on a life all their own and gaining as much notoriety as the paintings. With my second solo exhibition that year, I found an opportunity to include the crates in the center of the show, now becoming as important as the paintings on the walls. The crates were now center stage.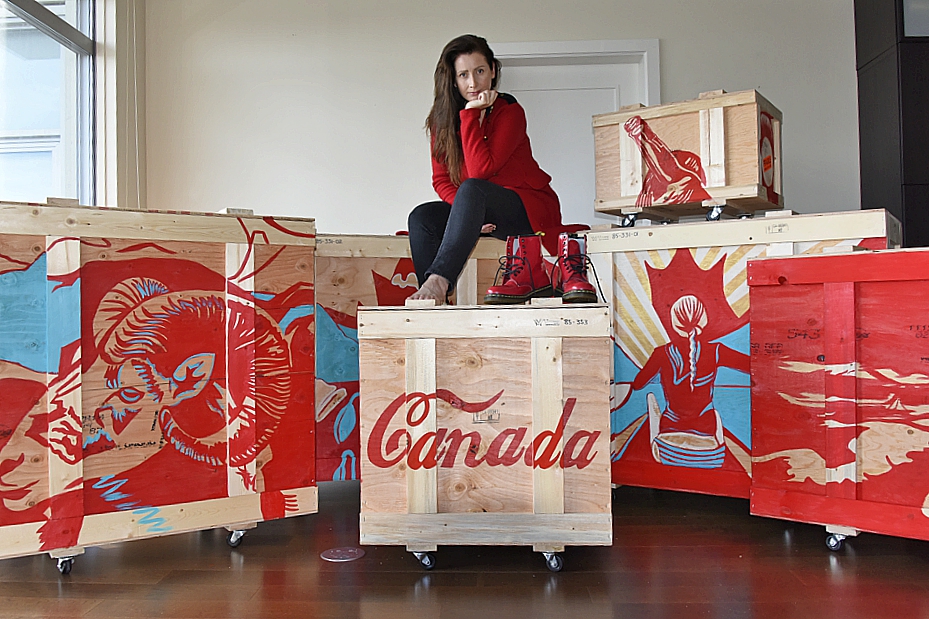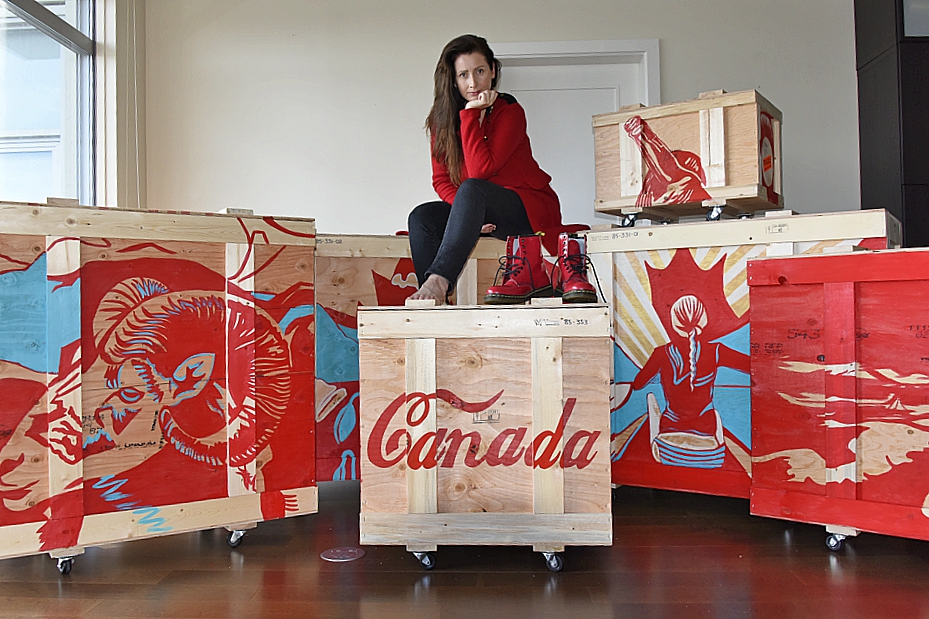 This year I moved into a new studio, a larger space where I can keep increasing the size of the work. In 2018 my 'Canadianisms' became 'POP Canadianisms' my own style of painting, my own art term. With the move of my studio, came the move of my art vault and storage and it was time to update my inventory with new software capabilities. Working hard on documenting the work for the future, recording it's provenance, and in some cases re-photographing the work and including more detailed photos.
I am continually approached about the purchase of the crates and with my exhibitions of 2017 in the distance, it is time for something new. What if collecting art online was easier? What if you could collect multiple pieces that were curated to hang together and compliment one another? What if these works came in handsome storage crates that would go with the paintings for life, protecting them for generations to come? What if the mode of storage were attractive and interesting enough to merit displaying them as well?
These are the many thoughts I had when creating my latest art offering. Launched in February 2019, 'The Box Sets' are the answer to all these questions. A limited time offering of original Canadian Art. Curated art collections housed in hand painted wooden crates. Giving you something to talk about for generations to come.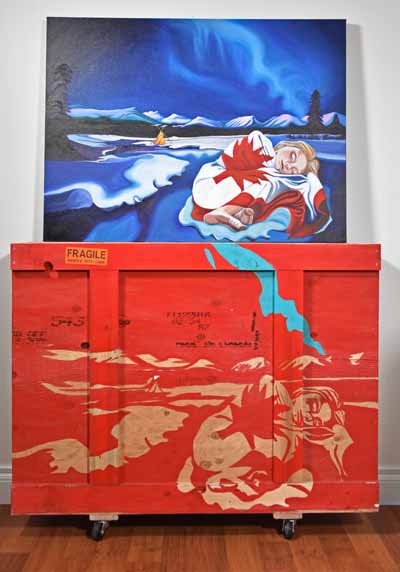 Ranging in size from 12×12 to 36×36 – these first five BOX SETS come in collections ranging from two paintings to six paintings! Prices ranging from $3200 to $29,000 – with the option of financing on most art collections.
Art to talk about for generations to come, view the collections now.
https://www.brandysaturley.com/wp-content/uploads/2019/02/artstoragecrate_saturley.jpg
317
400
am-330
https://www.brandysaturley.com/wp-content/uploads/2020/10/brandysaturley_logo.png
am-330
2019-02-27 10:31:22
2019-02-27 10:31:22
The Art of Collecting Original Art – The Box Sets