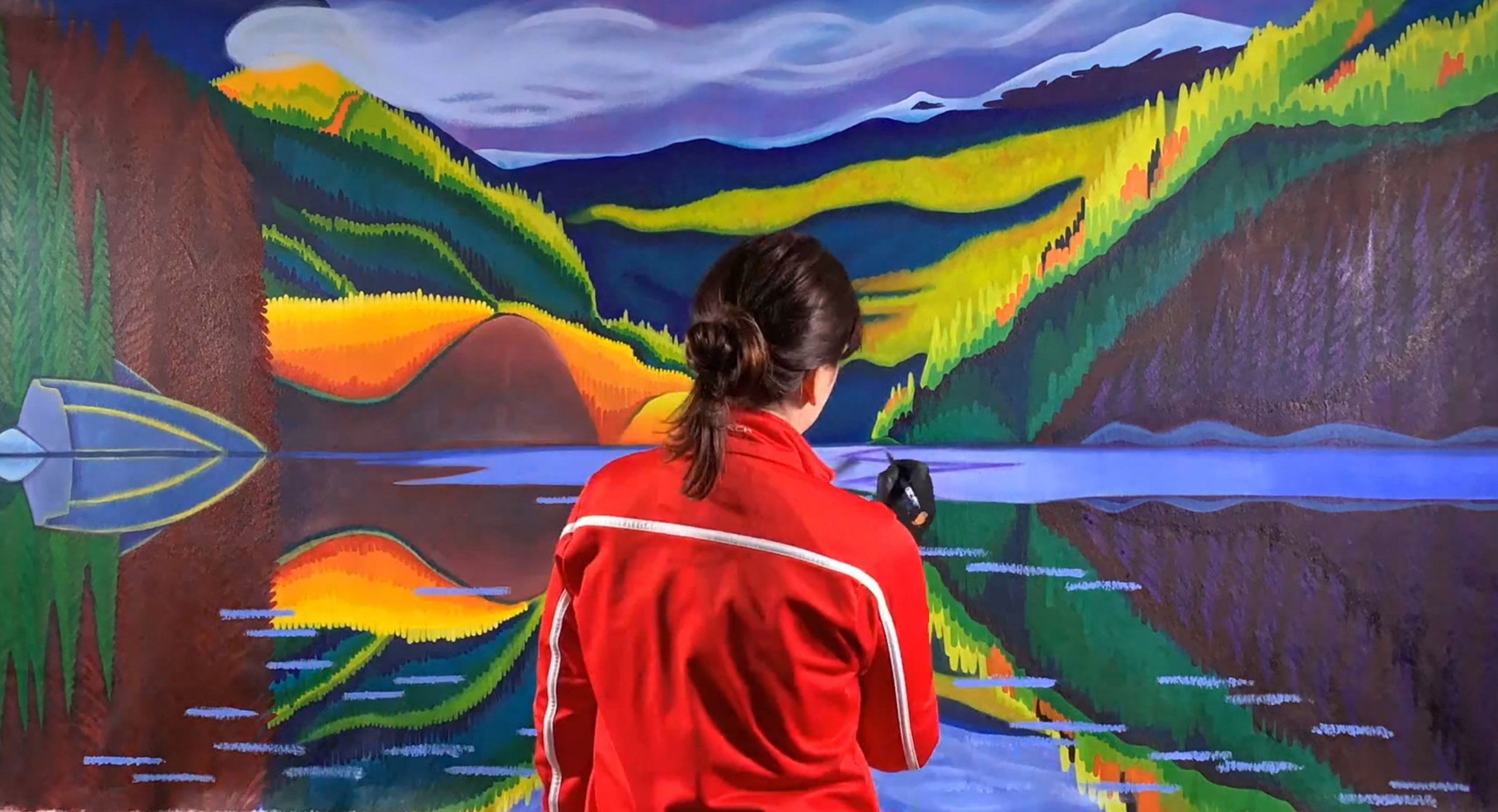 2019 in Canadian Art, My Year in Painting.
In 2010 I set a goal for myself, to paint 25 to 35 new paintings every year and to do at least one thing every year in my art career, that I didn't think I could achieve. For me goals are important motivators, and as a professional artist who lives a life open to all possibilities, a little structure helps to keep the business side of this career moving forward, and not in circles. Circles are important, they are like pauses to swim in the lake of life, soaking up new experiences, where the inception of new ideas begin. But, I cannot languish in the lake for too long, as I would never get beyond the lake, and I like the challenge that comes with riding the waves of the ocean.
2019 began with a bang, and it took me from my island home of Vancouver Island, across the country, to the USA and even the United Kingdom. When asked the question; "if you could be a famous artist, who would you be?" my answer is always, Brandy Saturley a year from now, as the only one I am chasing is me, and the only one I am competing with, is me.
Here is my 2019 in Art.
January – new work and new ideas
Three paintings into a new series of paintings inspired by my travels across North America, featuring 'people in the landscape'. The gathering of friends, family and strangers to marvel at the landscape, it is something as familiar as breathing, moments shared contemplating nature.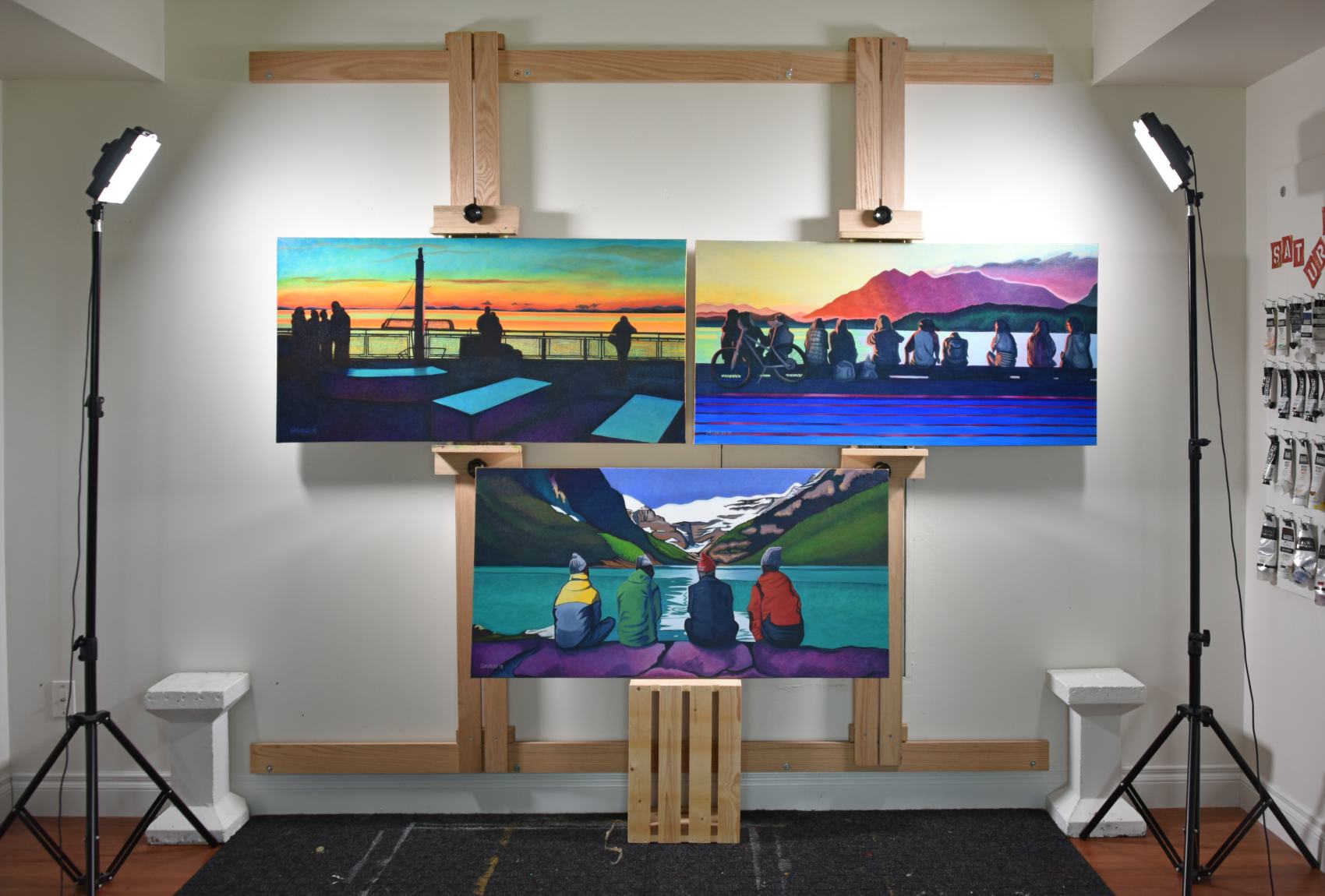 January also included a new initiative, as we began to work on what would become the first fine art offering of it's kind, 'The Box Sets' original art collections.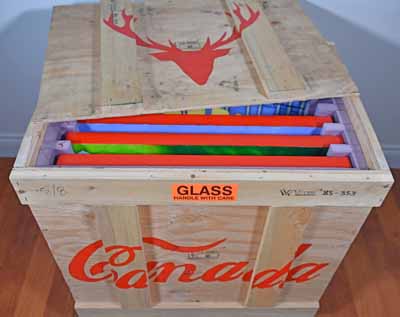 In February, we launched the first 'Box Sets' original art collection and I traveled to the Okanagan for some snowy mountain inspiration.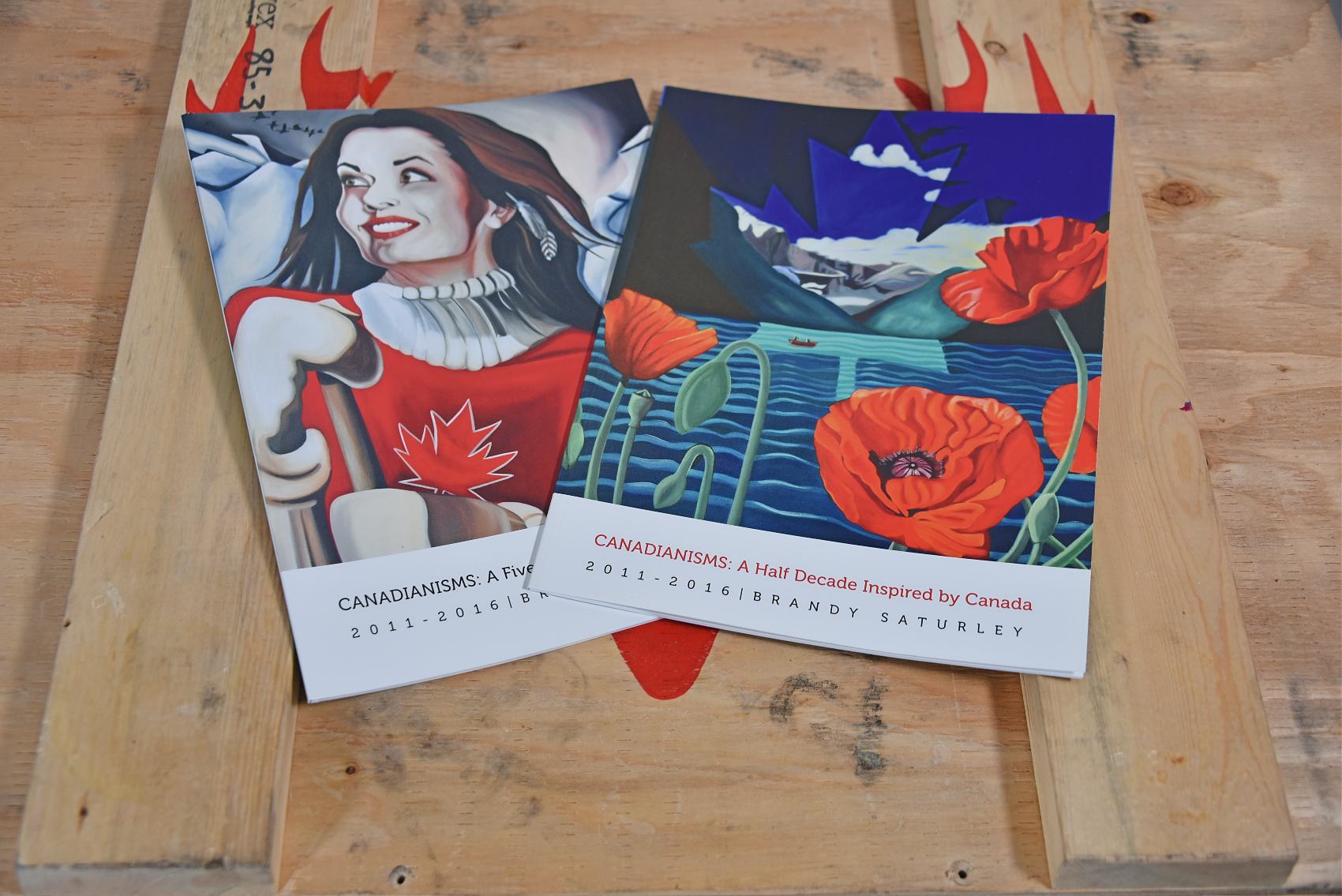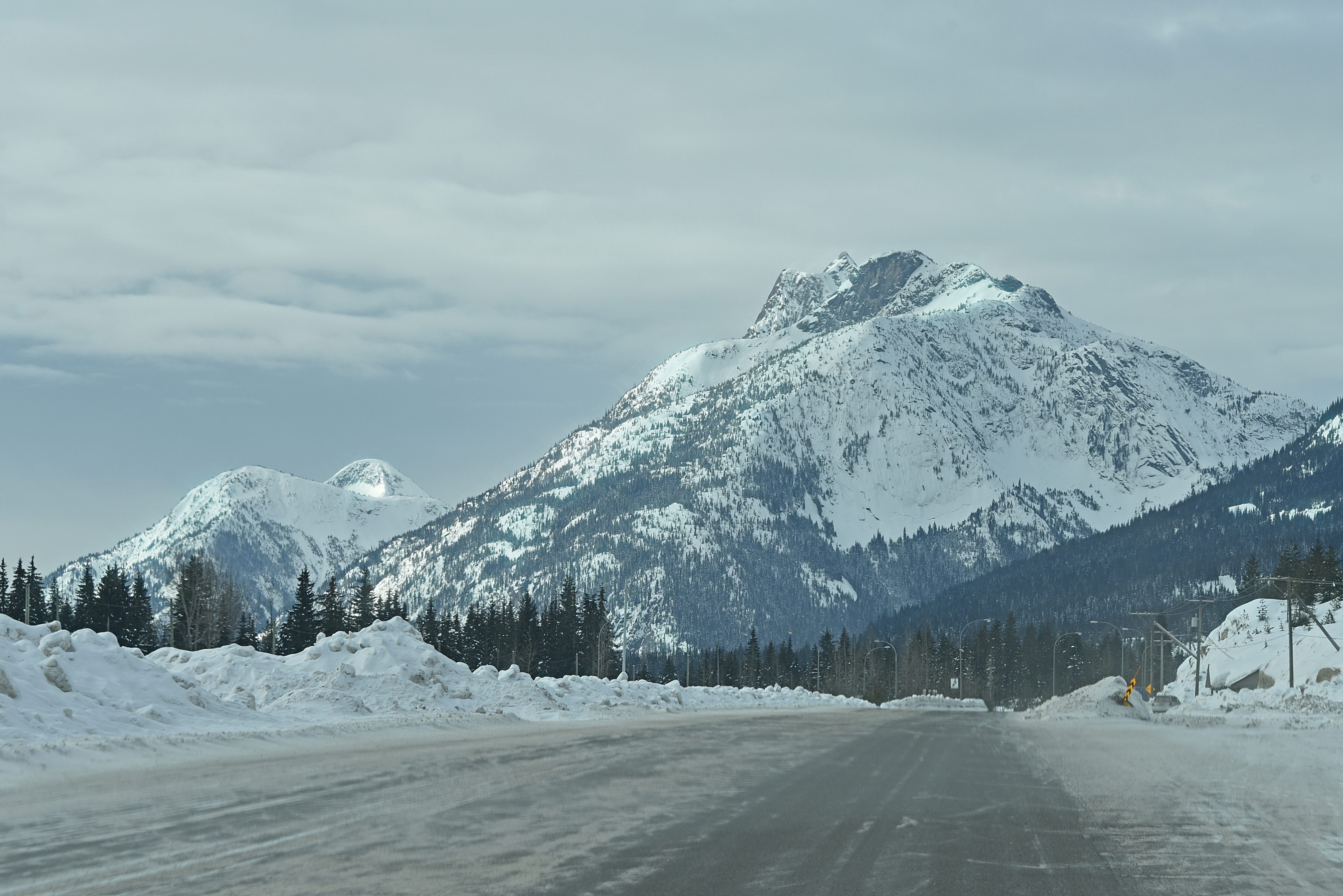 In March, I spent my studio days surrounded by snow with a good amount of the white stuff falling on Vancouver Island. The energy is high when it snows here, it is like a late Christmas present that brings brightness to gray winter days.
in March a new painting inspired by sunrise on Salt Spring Island, in Ganges Harbour was completed. The painting not being quite enough to satisfy, I continued on with painting the crate that would house the painting, adding skateboard wheels for mobility.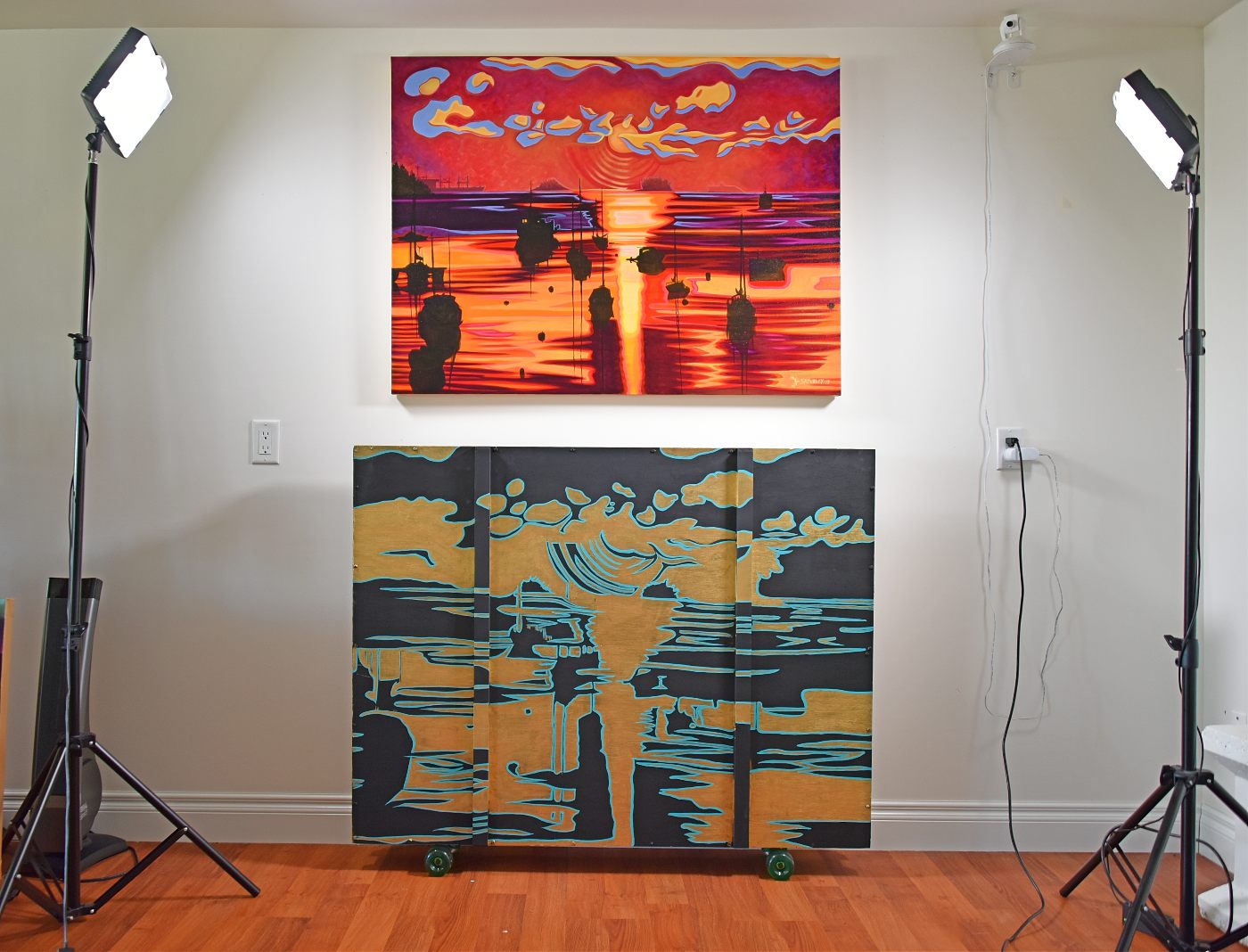 Then I hit the road again, this time headed to Edmonton for art business.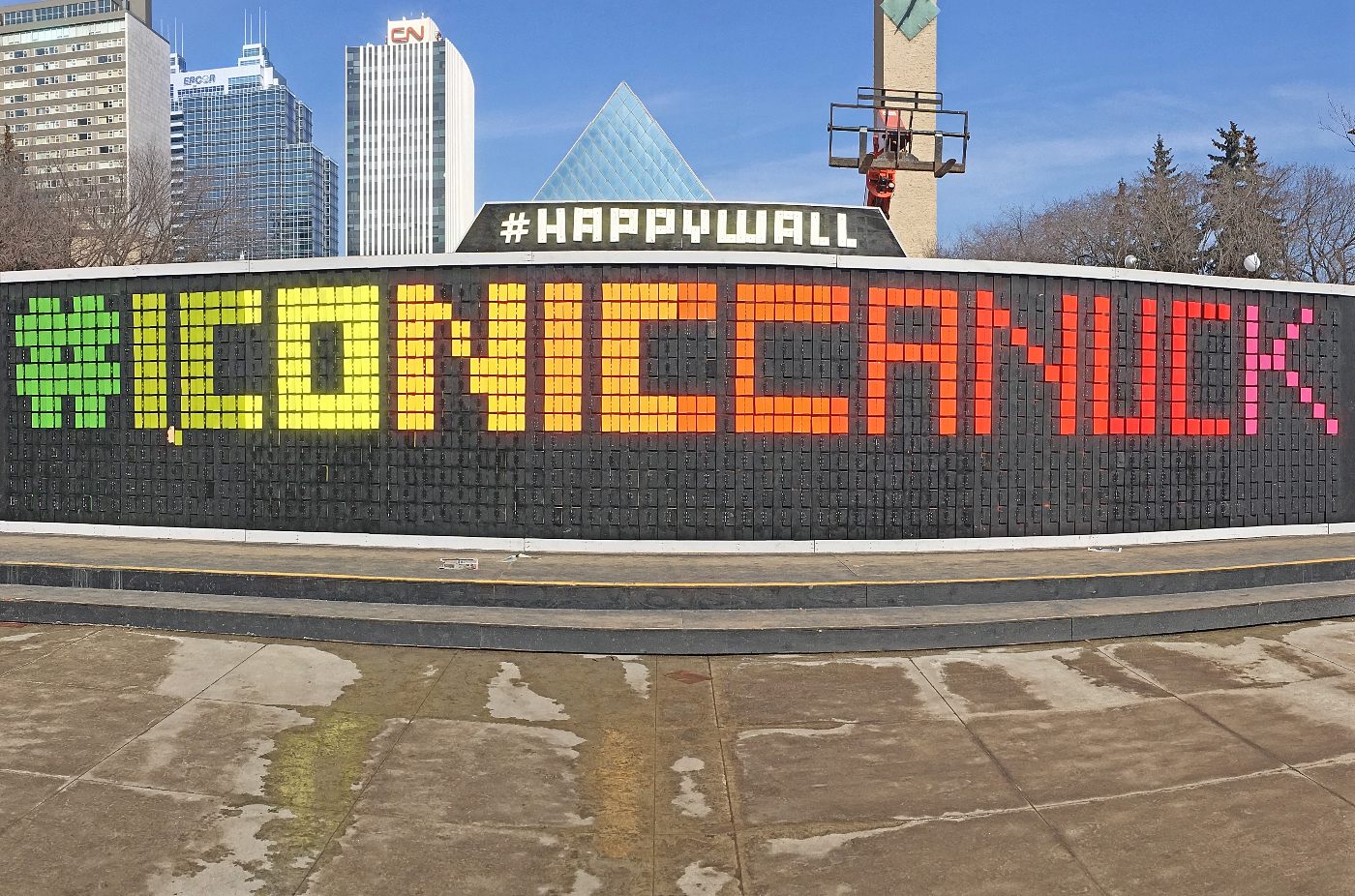 Coming home through Calgary, with a stop at Fairmont Lake Louise…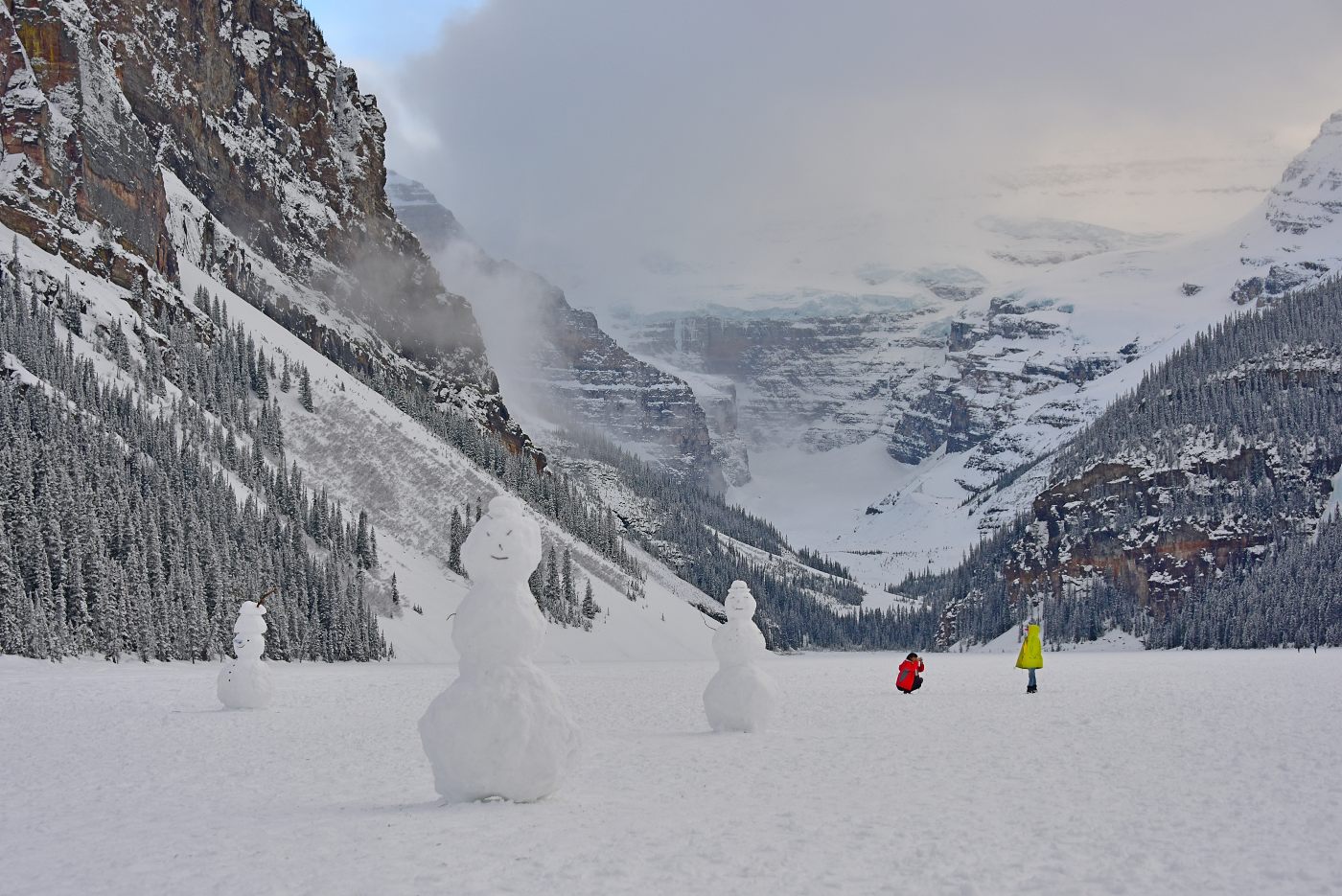 an iconic beacon on the continental divide, Mount Robson.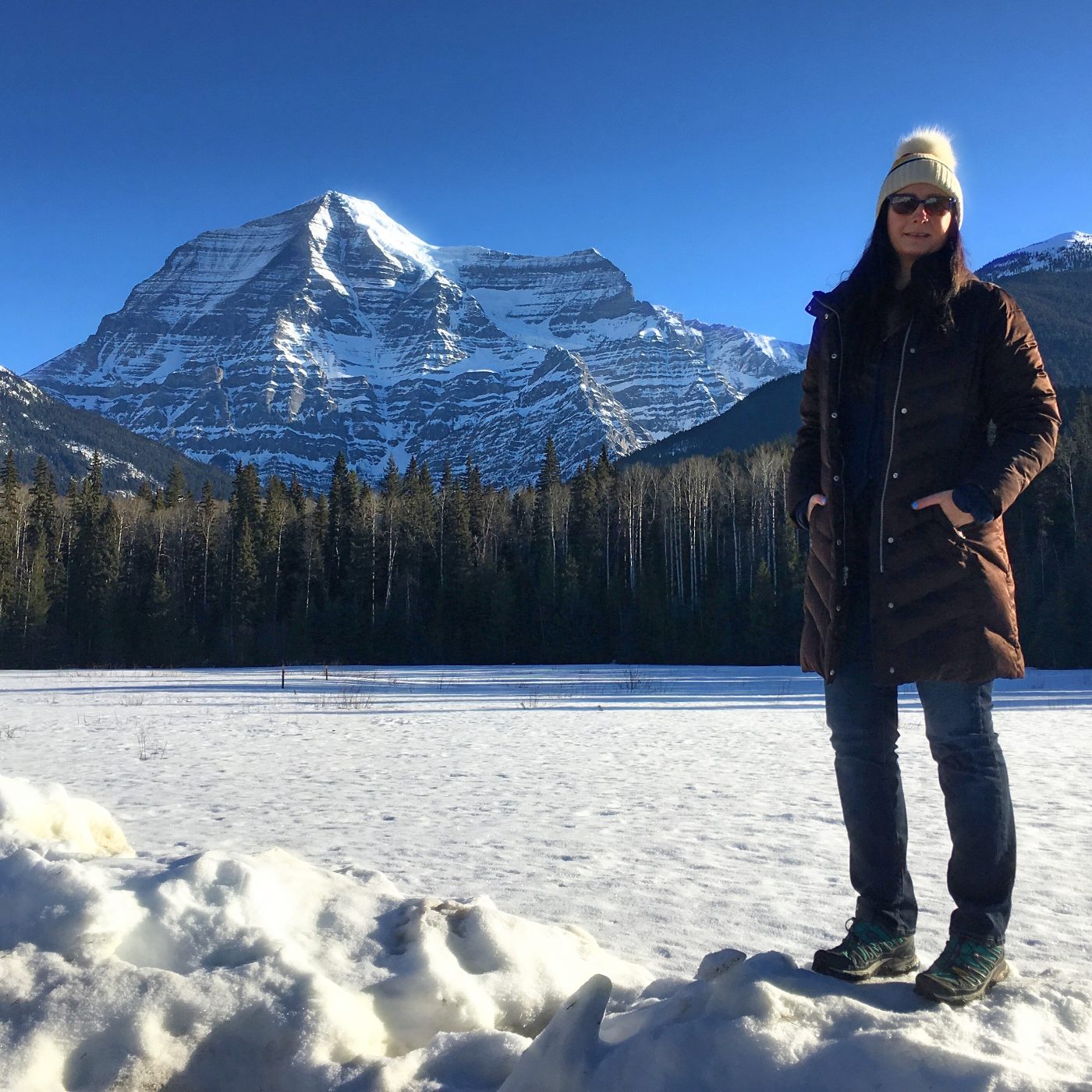 April showers bring, more art. New paintings completed for the Mountain Forms Collective, painting collaboration with Calgary artist, Gisa Mayer.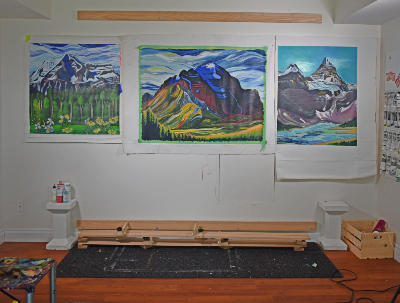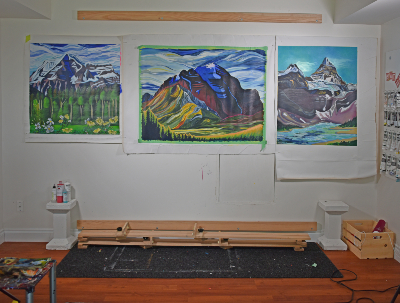 A new painting for the People of Canada Portrait Project.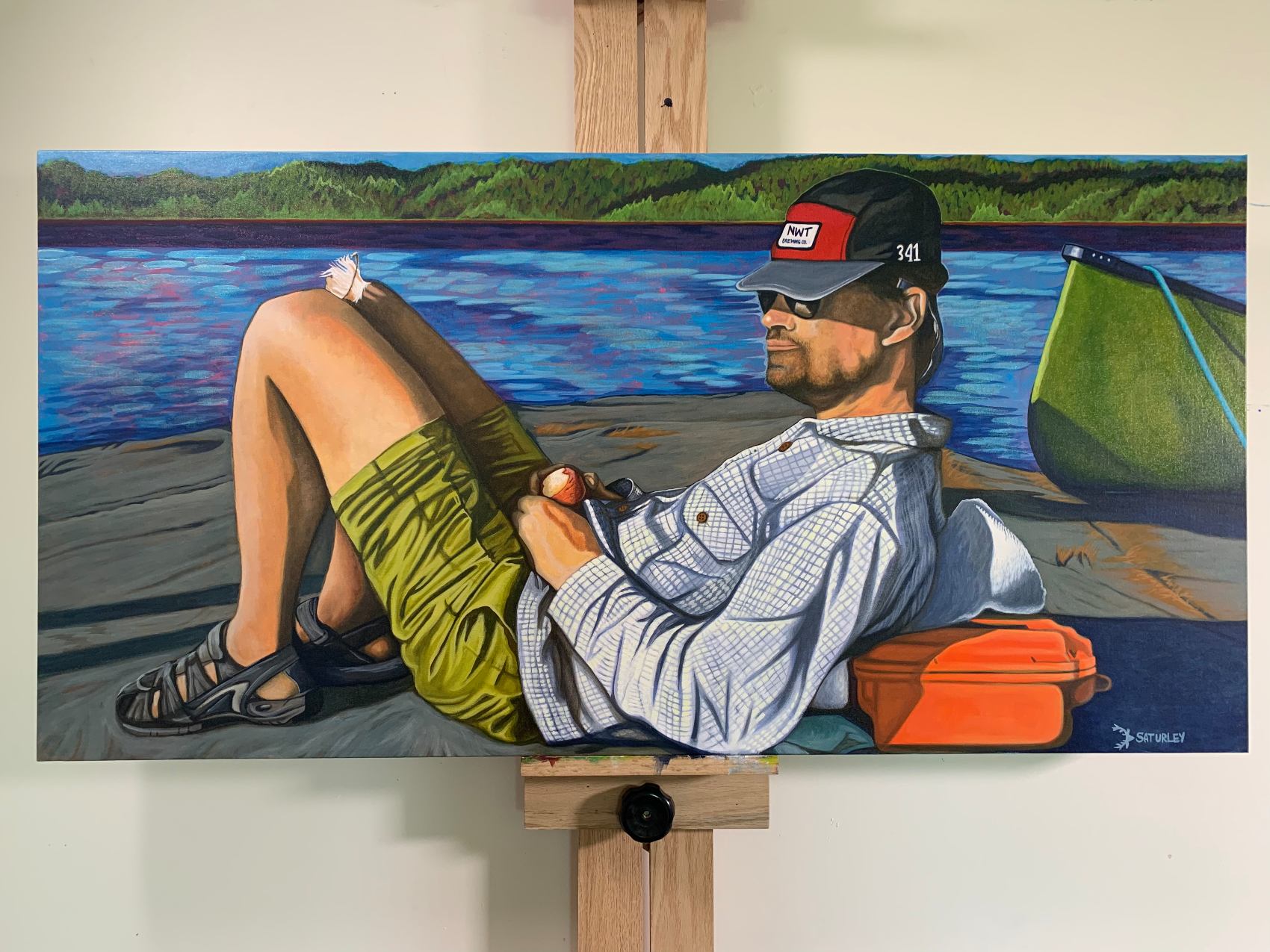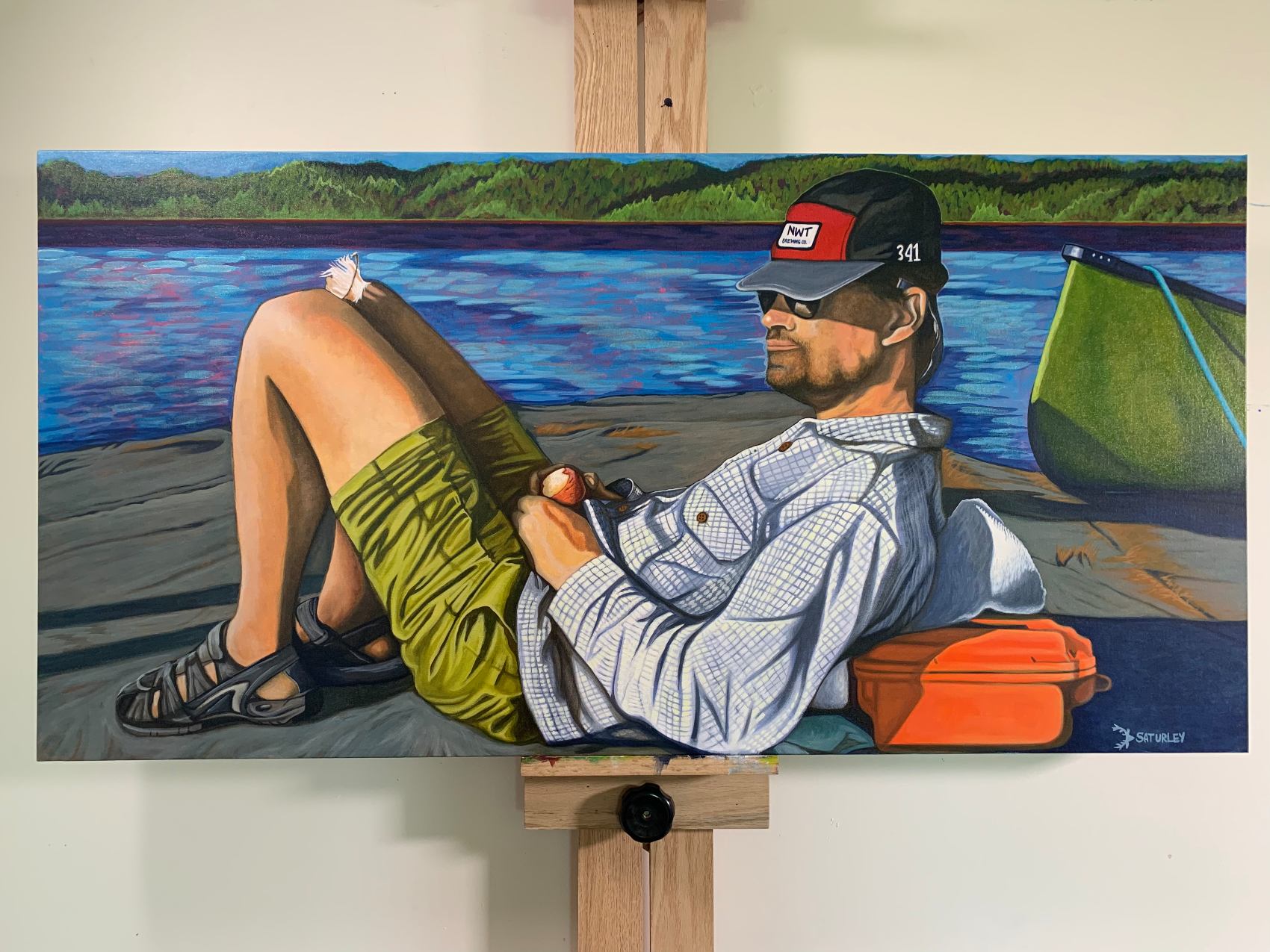 May the force be with you! I don't mean to be punny. A chance to explore with my camera, the work behind the art. One of my photos, now available to license on Getty images.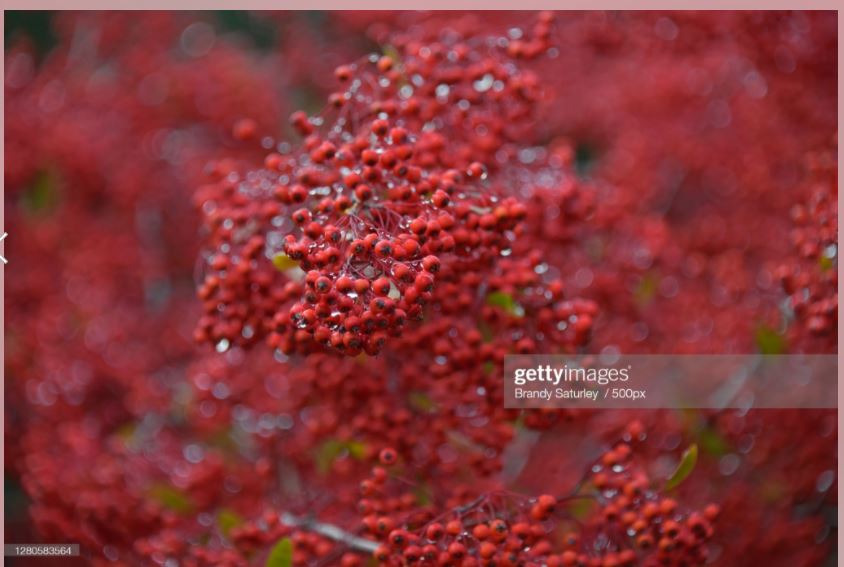 A new painting, this time a diptych (two canvasses) inspired by shared experiences in the landscape and the music of the Beatles.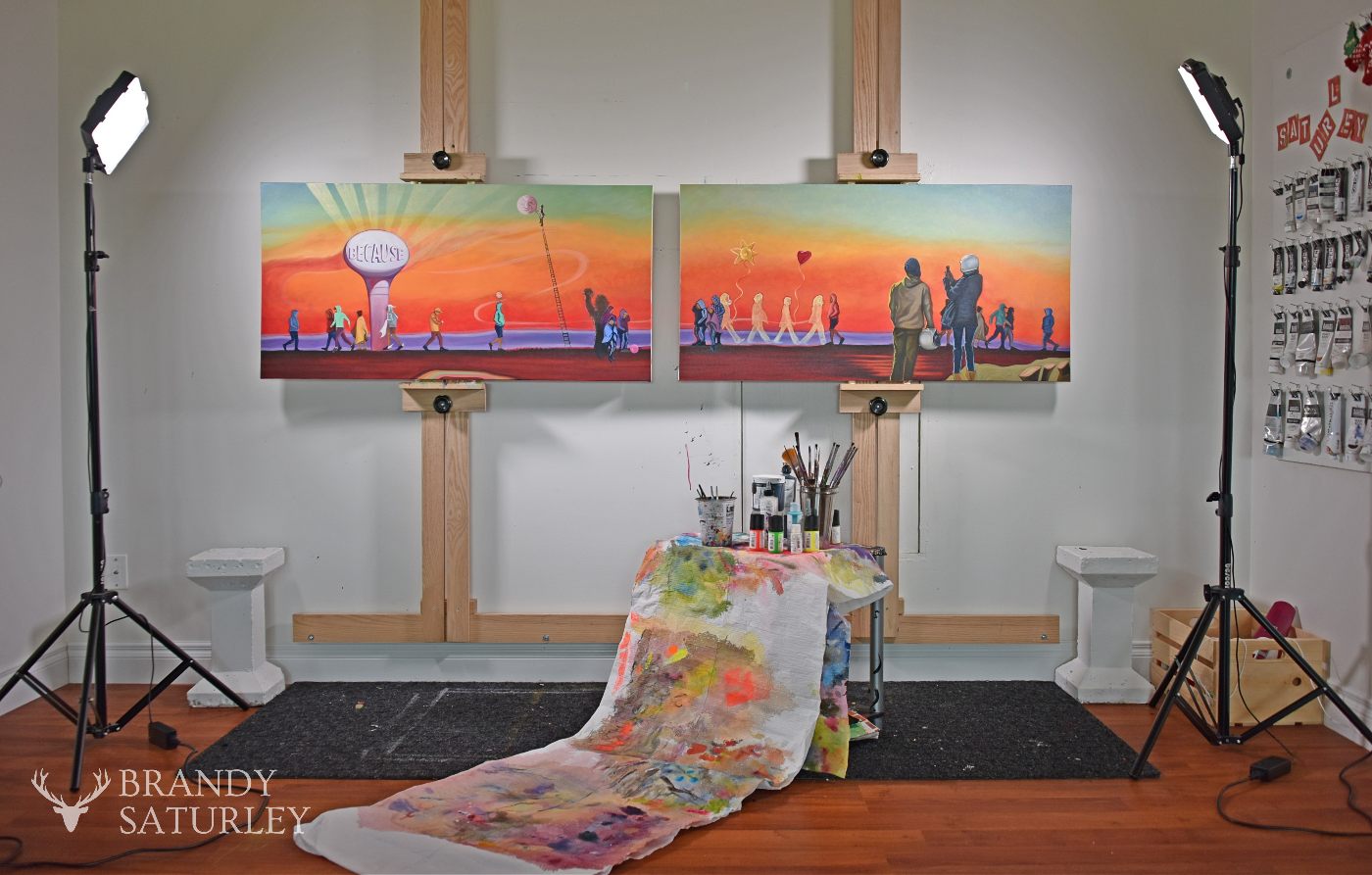 The second round of 'Box Sets' art collections were launched to the public.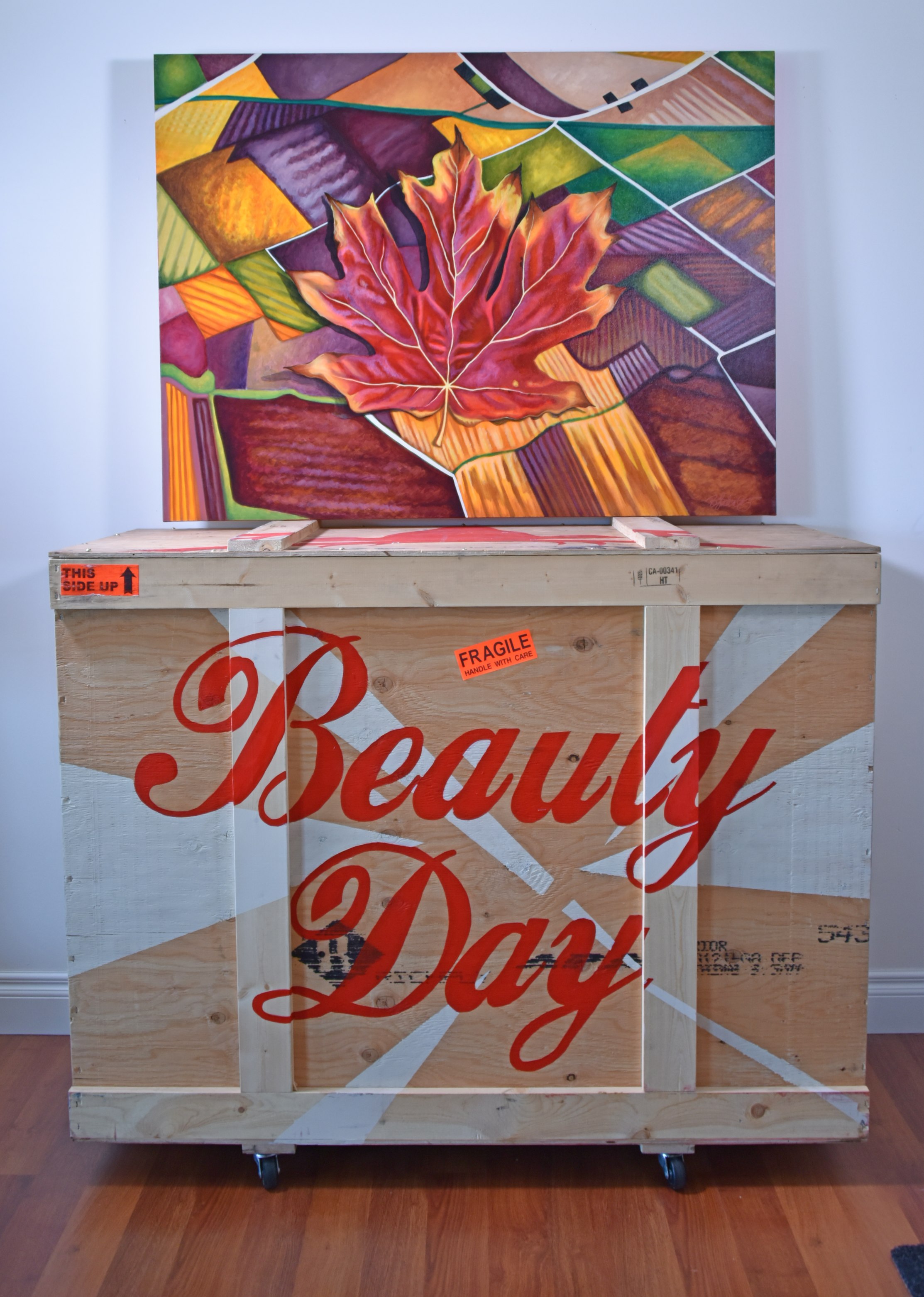 June! one month to London, you heard that right. Earlier in the year I was invited to join the Contemporary Art Summer Intensive at the Royal College of Art in London, England. in June I was packing and ordering supplies for my month in the UK.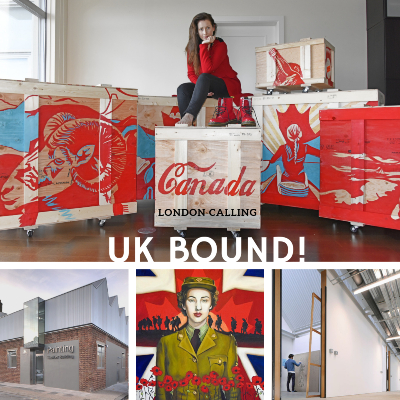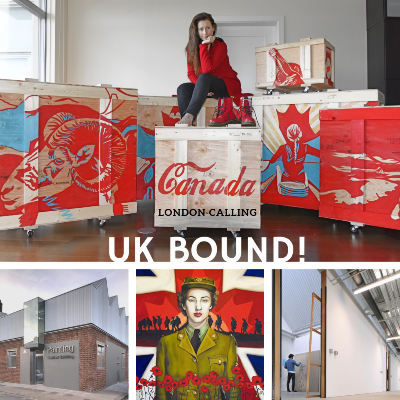 I also completed a new painting for the People of Canada portrait project, this time a self portrait of the artist and her muses.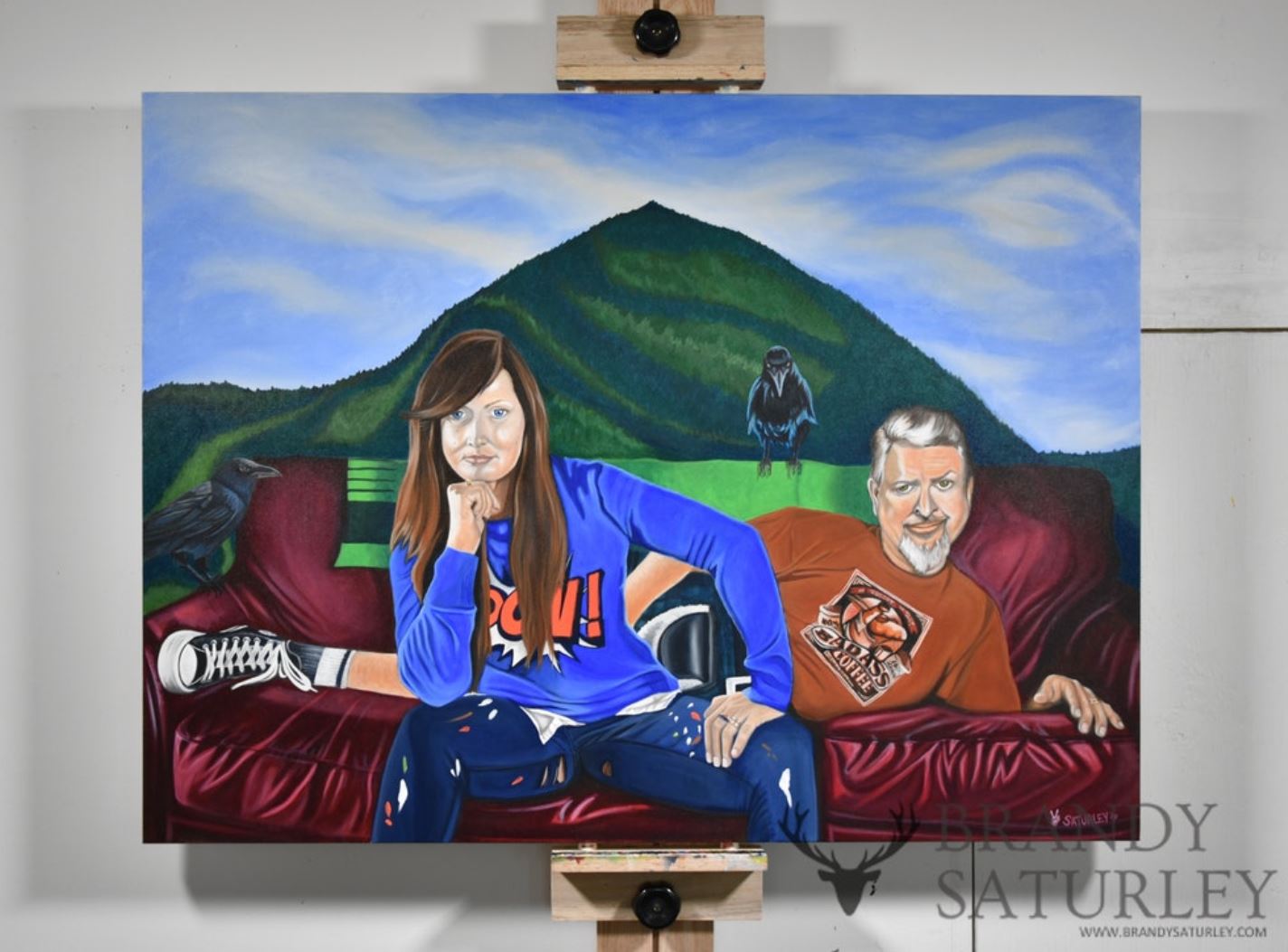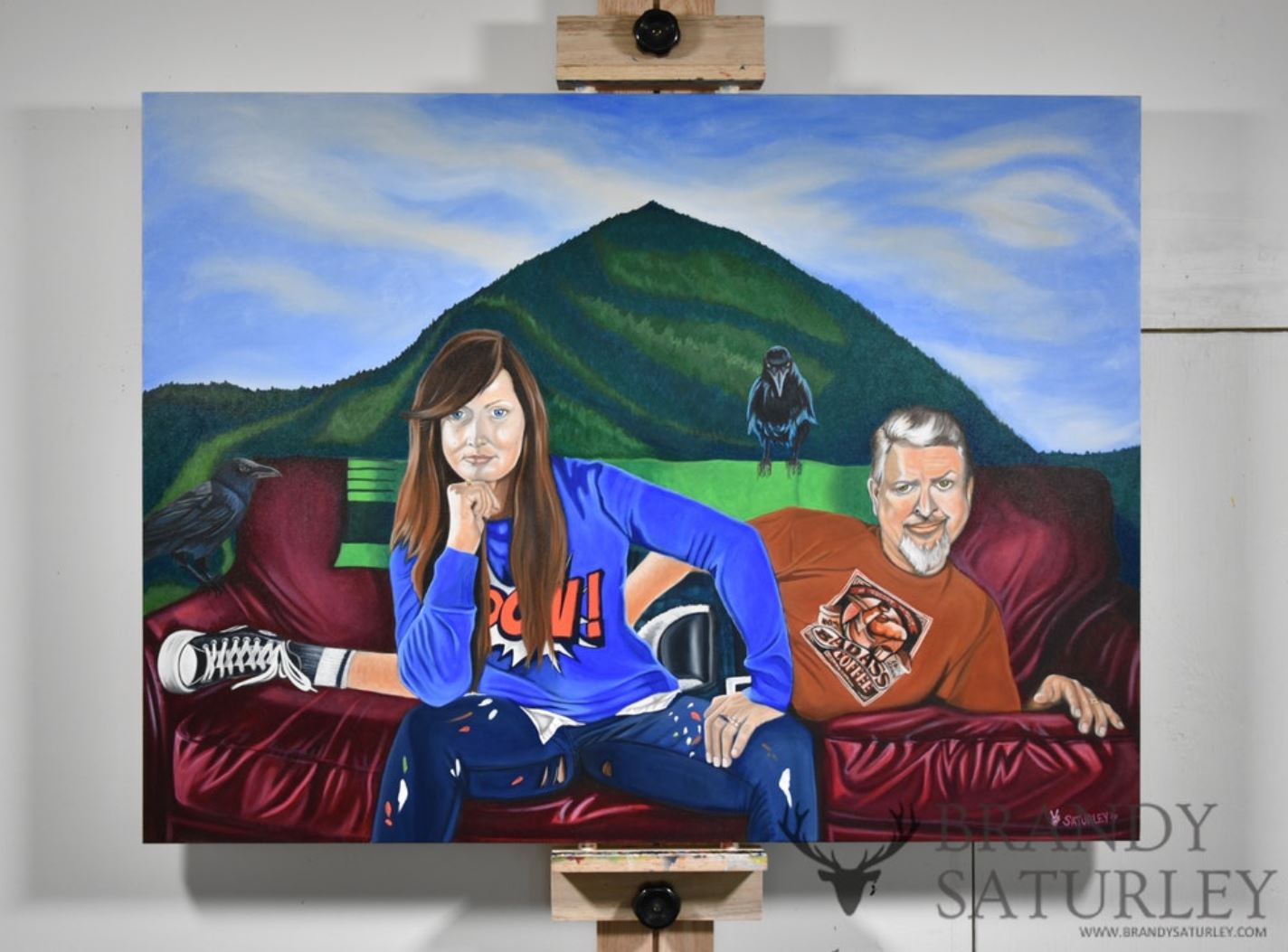 July, I left on a Dreamliner to London, and set up my studio in the Painting wing of the Royal College of Art, Battersea campus. One month of making, talking, exploring art in the world's financial centre.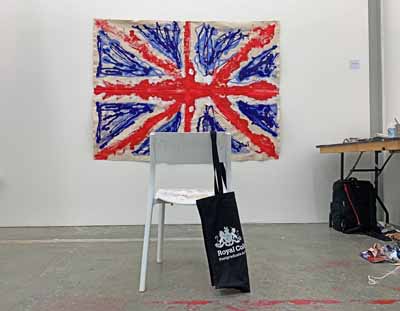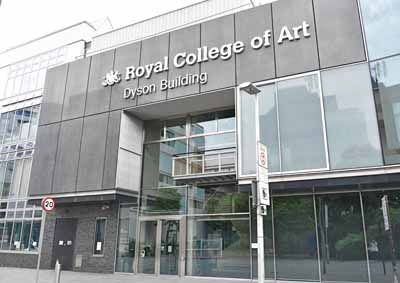 During my time in London I painted four large scale works on loose duck canvas, and a few smaller pieces on paper.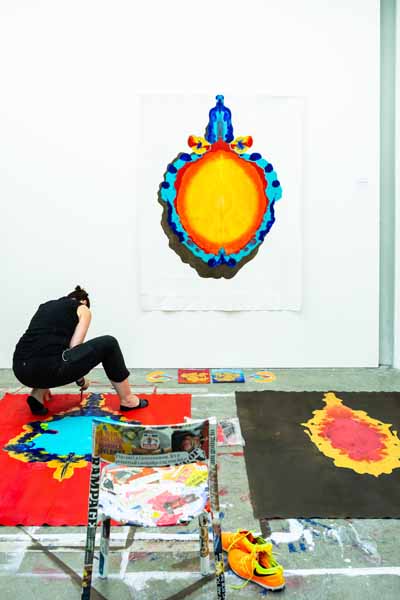 I also toured a number of museums and art galleries including; White Cube, Barbican, Tate Modern, Tate Britain, Design Museum, Victoria and Albert Museum, British Library, and White Chapel to name a handful.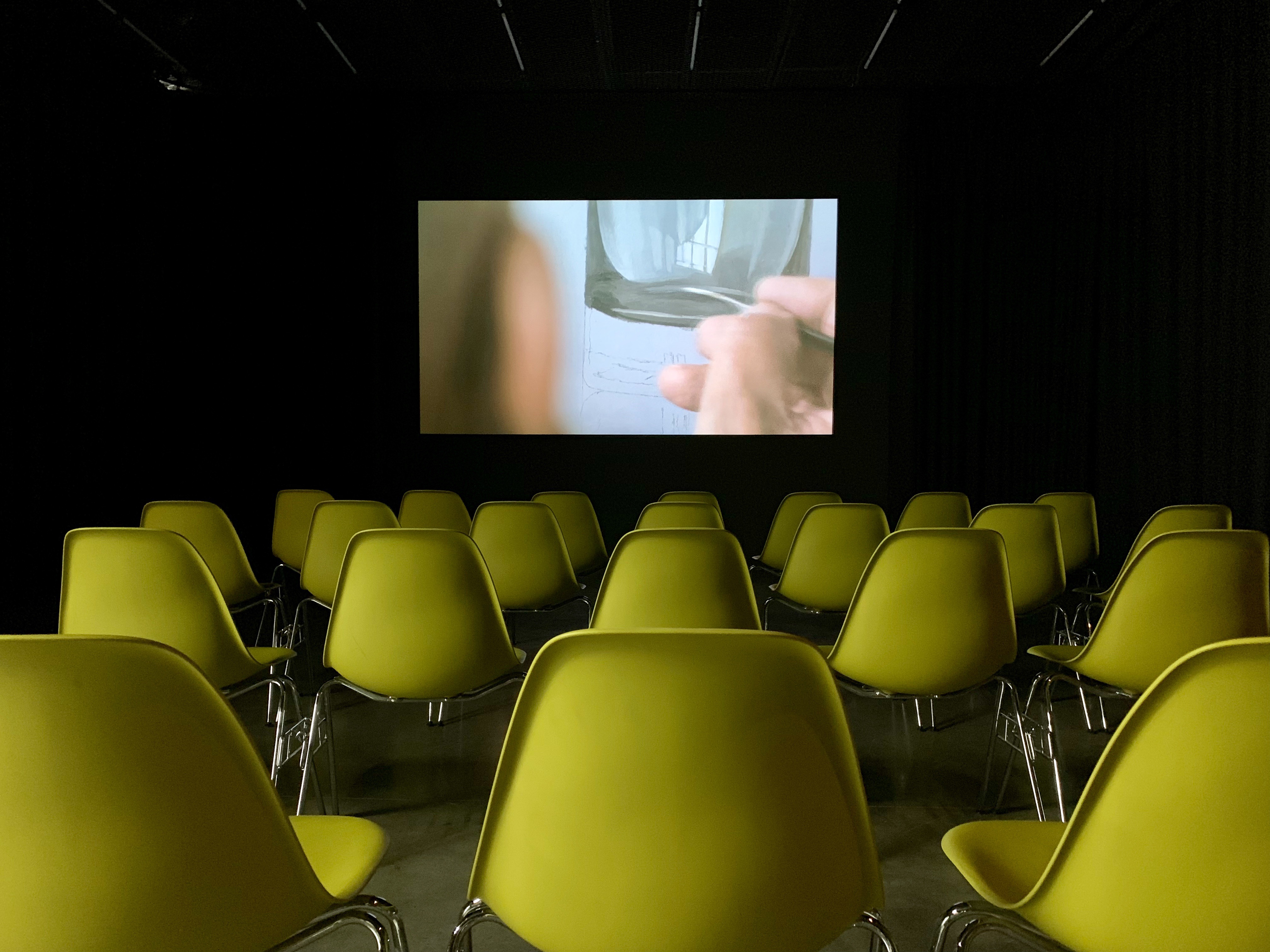 In August, we were preparing for a solo show at Dyson Gallery – 22 artists from around the world. It was the experience of a lifetime.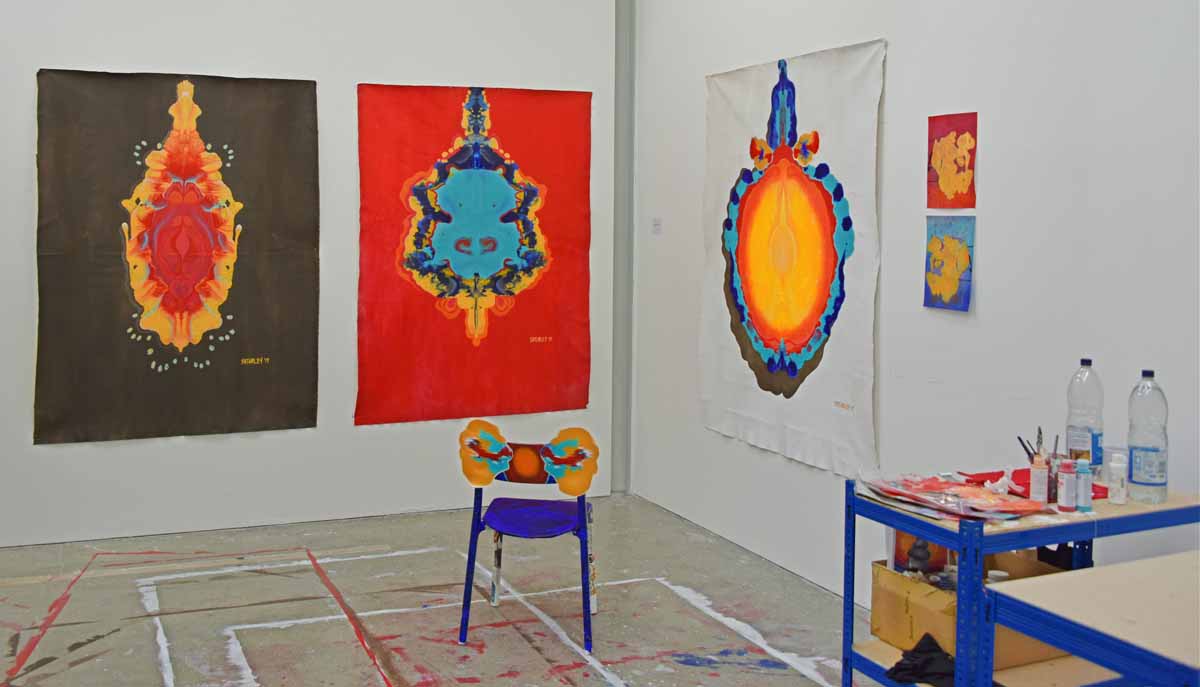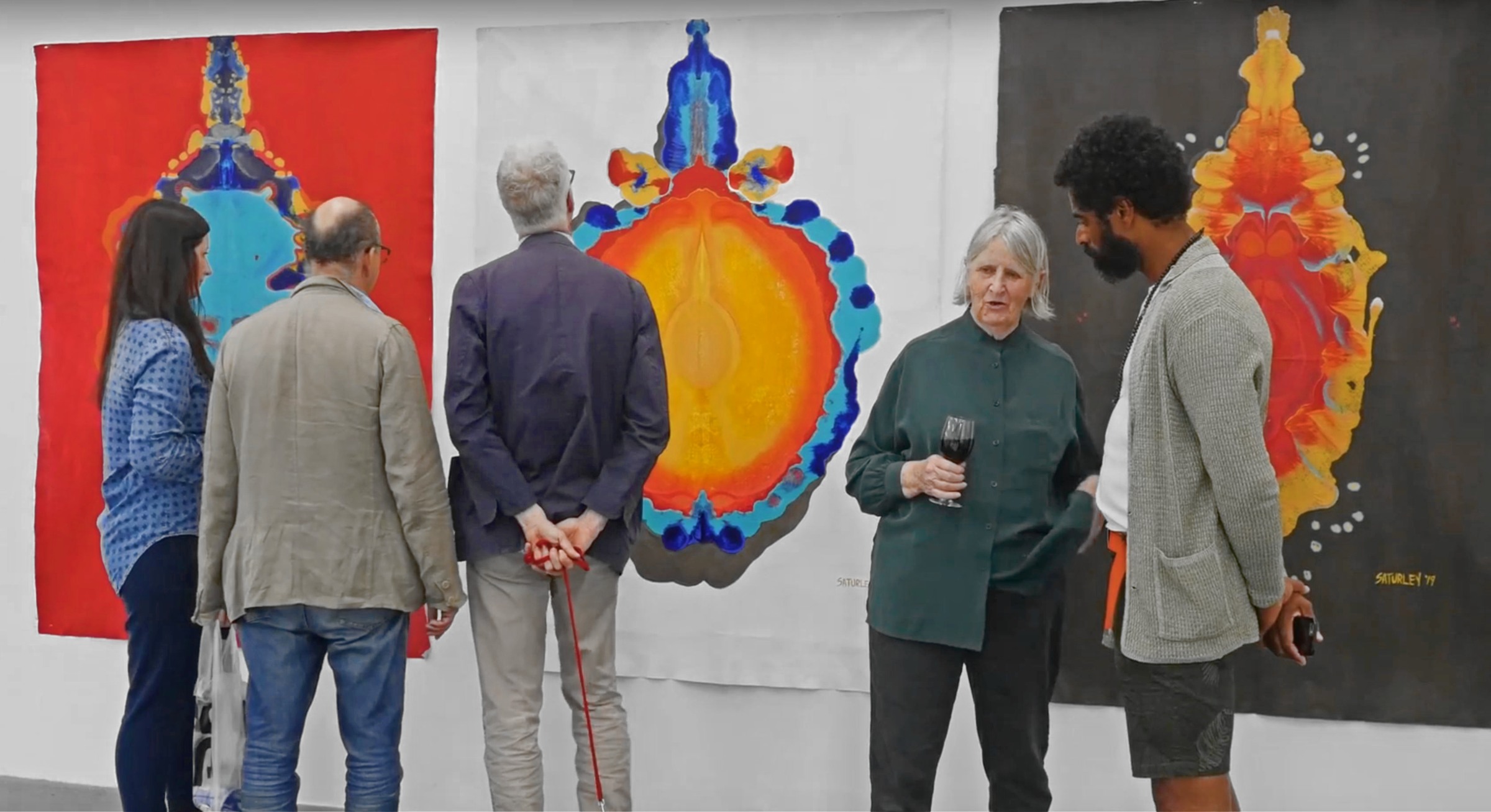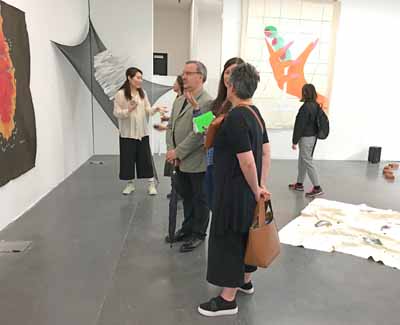 Upon returning home from London, I immediately threw myself into new large landscape paintings, influenced by my time working at the Royal College of Art over the early summer.
In September, while I was painting this large landscape I also began a smaller work on stretched canvas. Two red muskoka chairs, by the light of the silvery full moon.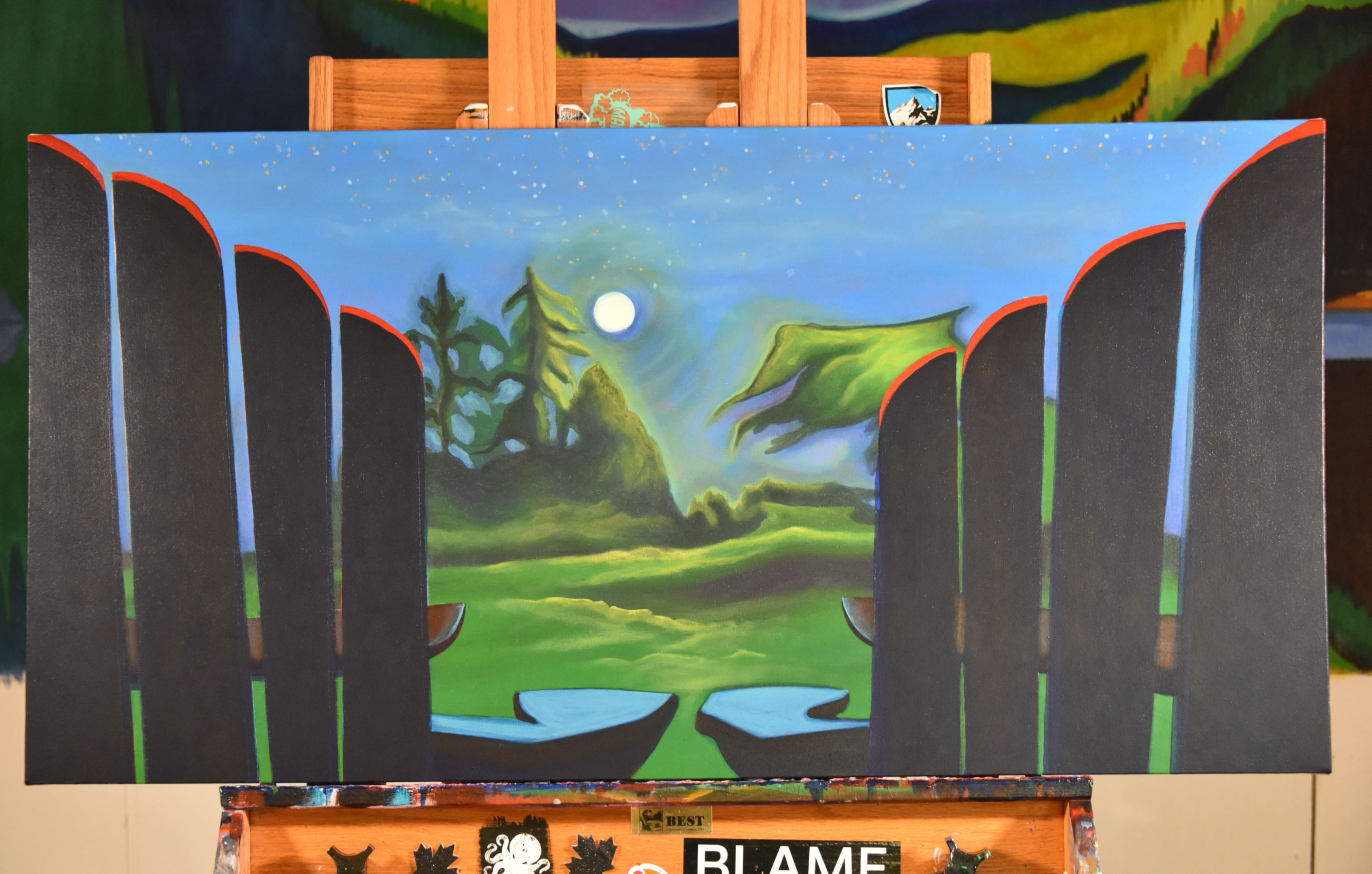 By the time October rolled around I was working to finish the paintings above, and I was talking to a documentary film crew from Winnipeg and Victoria. The Passion Project Series is a docuseries being launched in 2020. I spent two days with the crew sharing my process, talking about my career, and showing a bit of the behind the scenes of my process. We talked about hockey, family, influences, challenges and success as a Canadian artist. I can't wait to see the series and share my episode with you.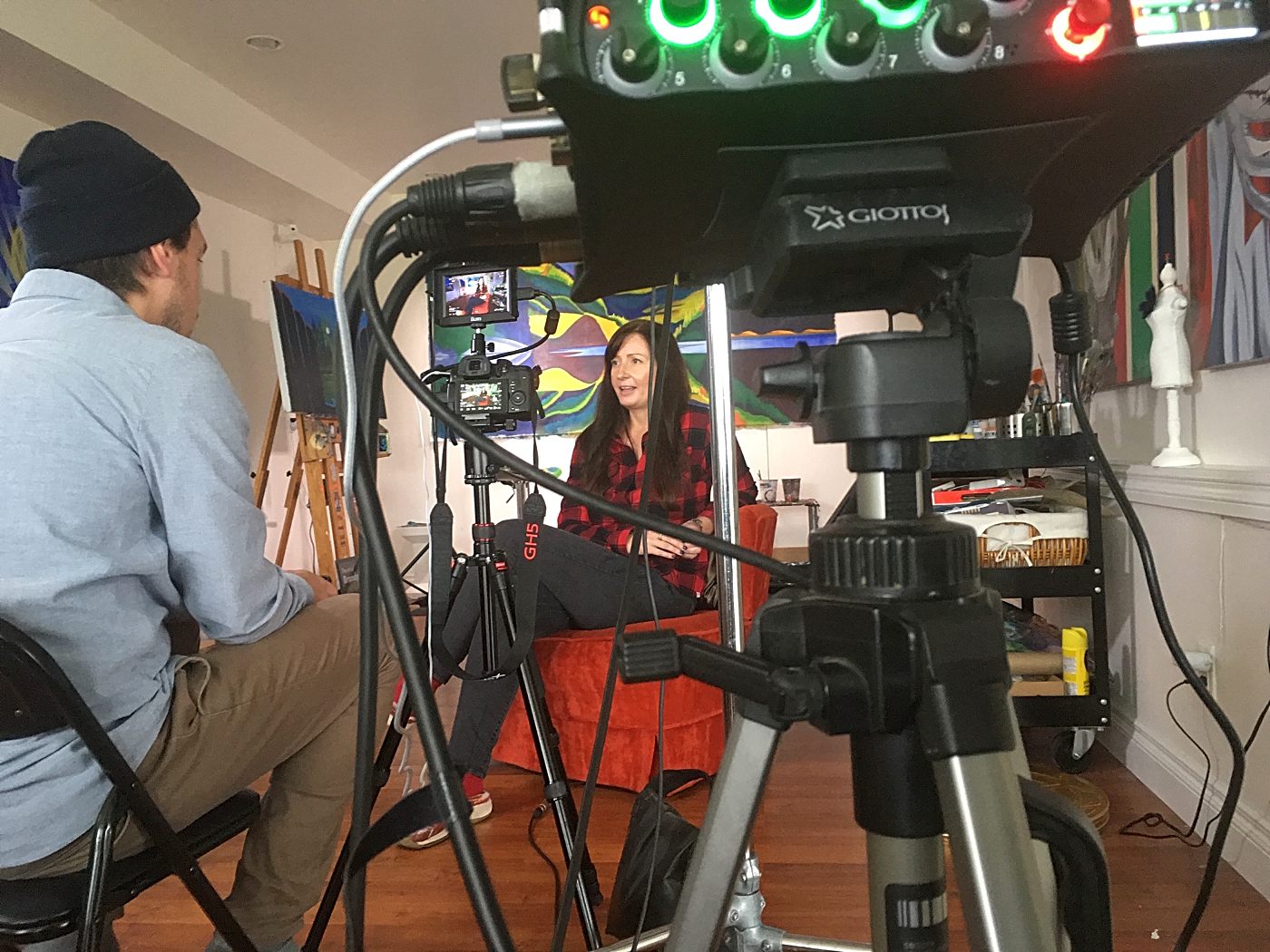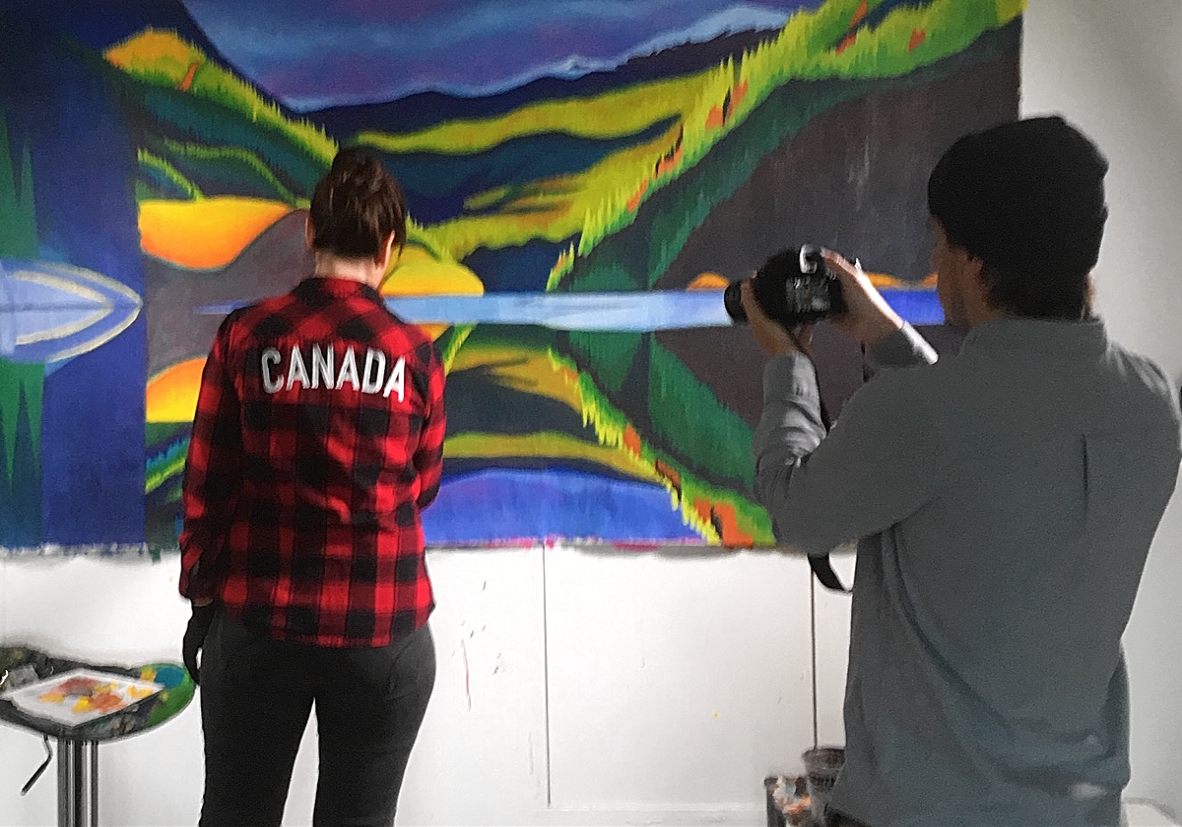 November began with another large format landscape painting, seven feet wide and on un-stretched canvas duck. This time my focus was Lake Louise in Banff Alberta.
Production of my annual art magazine/catalogue was completed – you can get yours here.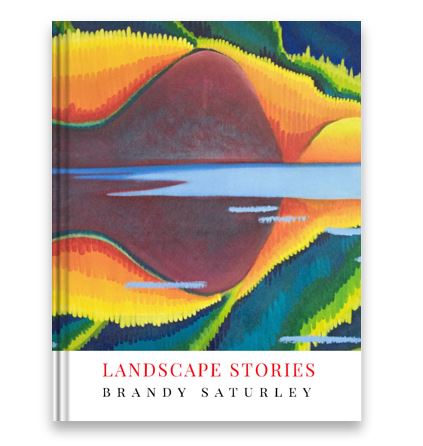 I set up a private art lounge meeting area outside my studio – for collectors, curators and press visits.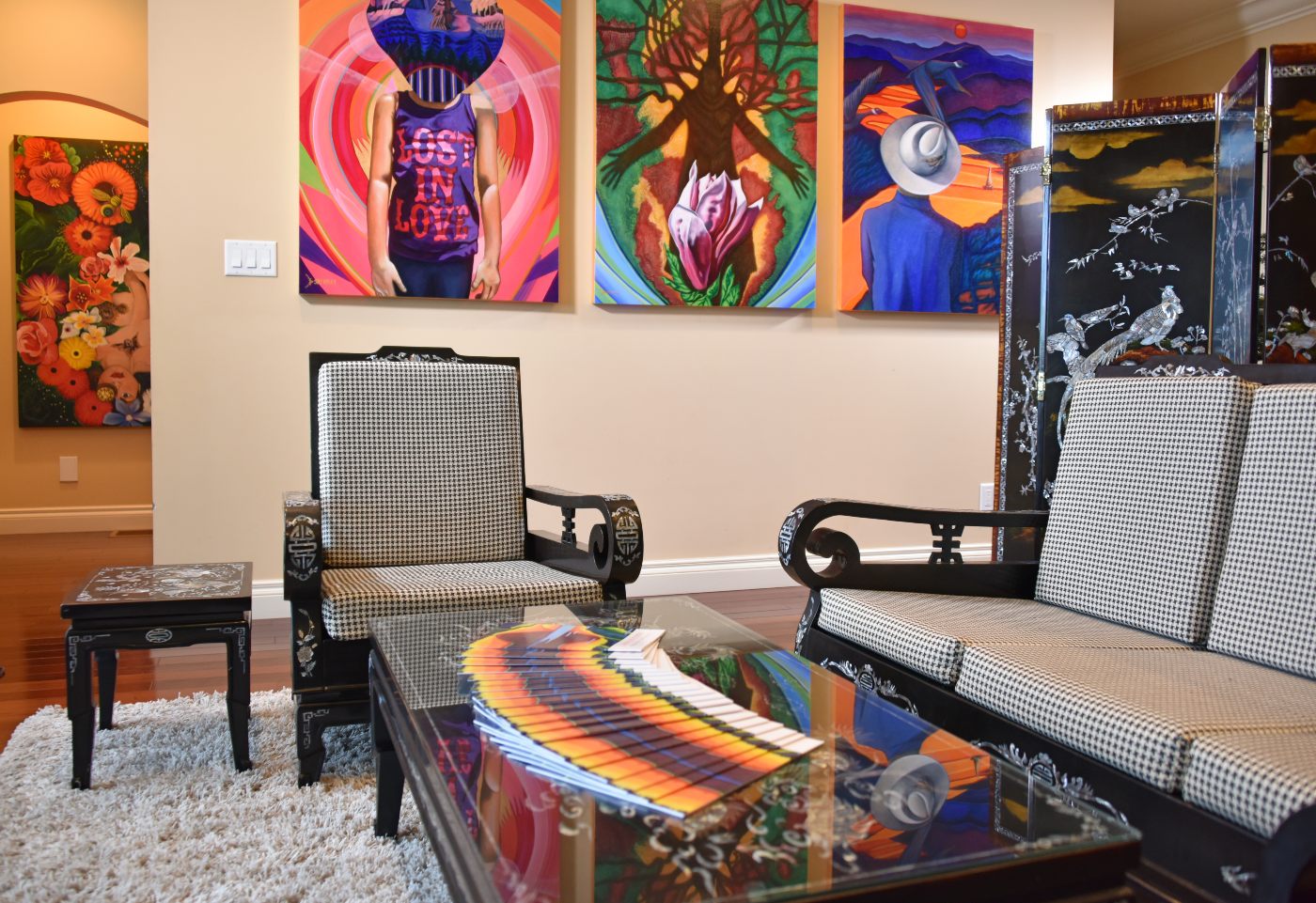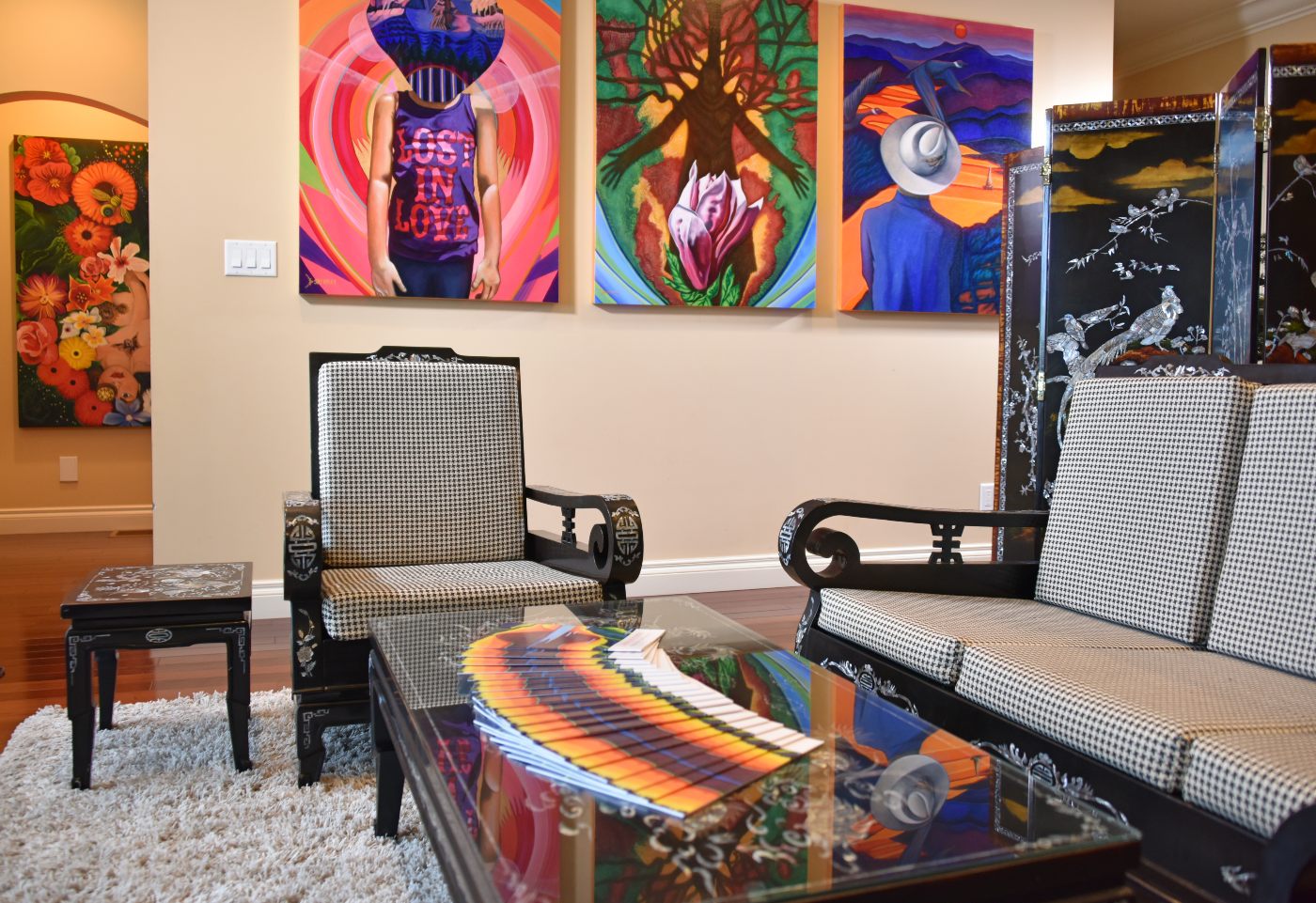 In December, after all the paintings were shipped, gifts wrapped and mail sent out, I jetted off to Las Vegas for a re-charge and to take in some of the best art exhibits in the world. Ate too much, drank too much, and celebrated too much. What happens in Vegas…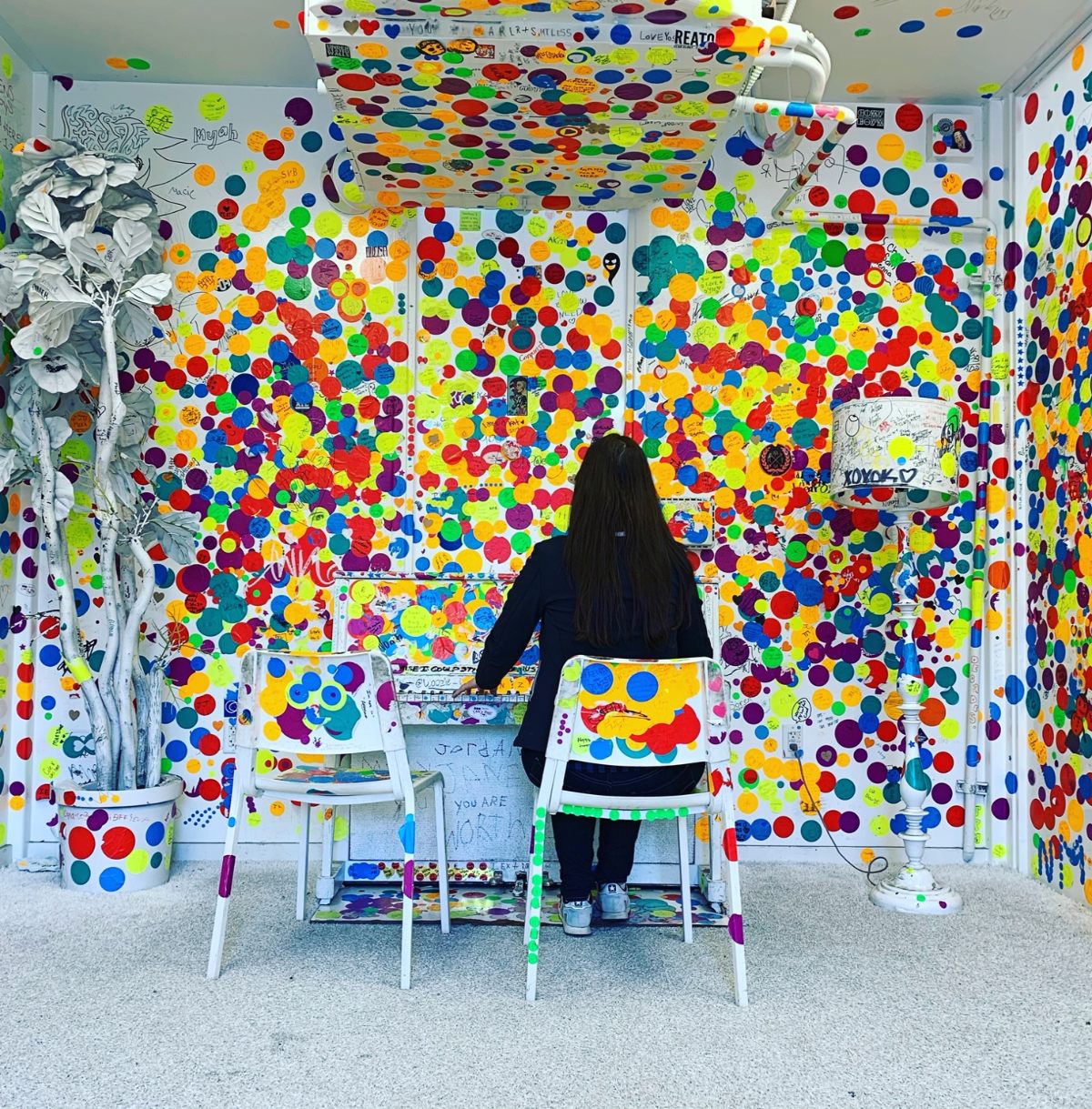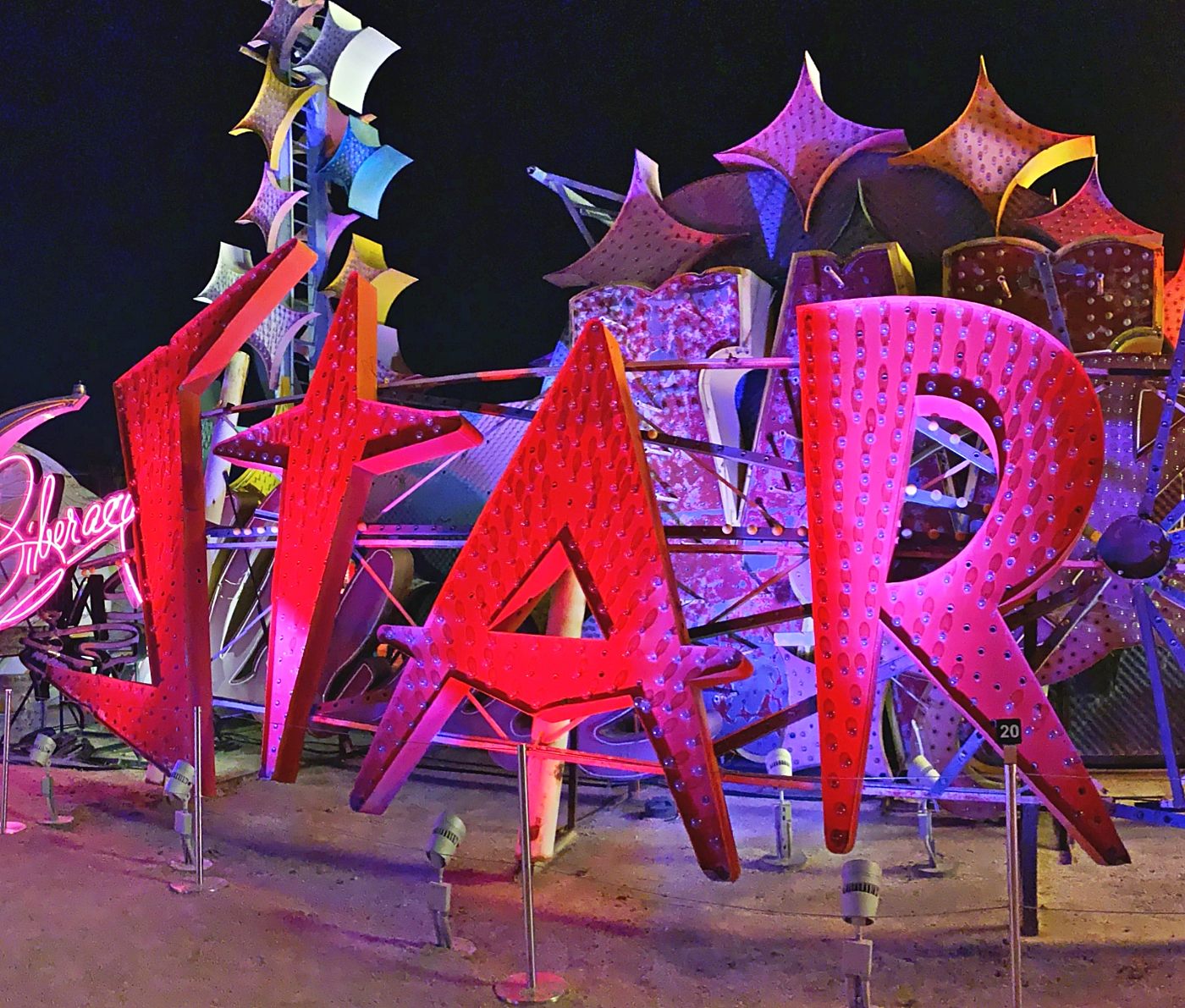 The year included the production and sale of 21 new paintings, travel to Vancouver, Toronto, Edmonton, Calgary, Banff, Las Vegas and London, England. One exhibition in London, the launch of the Box Sets, a documentary film crew and mountains of snow almost covering my studio windows. There was inventory, newsletters, website updates, and a move of my art vault to my home. I set up a lounge for private meetings and worked on the largest paintings of my career. There were a couple magazine features, but can't even remember what those were now. I had the privilege of seeing many great art exhibitions, learning new things from talented people and teaching things to eager young artists. I think one of the reasons I write a year in review is so that I can recall what actually happened in a year, and so I can plan for the coming years. I am thankful to those who collaborated with me and to those who continue to collaborate, I am enjoying the journey, what a ride! There were challenging days, and big moves. There was rejection and the sweetest of rewards. What will 2020 hold? for one, there will be limited edition art prints.
Here we go!
Sincerely Yours,
https://www.brandysaturley.com/wp-content/uploads/2019/11/brandysaturleypainting-scaled.jpg
1388
2560
am-330
https://www.brandysaturley.com/wp-content/uploads/2020/10/brandysaturley_logo.png
am-330
2020-01-07 14:49:58
2020-12-16 16:38:09
2019 in Canadian Art