Creating a large scale landscape painting – the sound of a landscape.
There is a long tradition of landscape painting in Canada, most famously captured by the Group of Seven from 1913 to 1930. Many Canadian artists have captured the iconic landscapes of Canada, it is the subject most admired by art collectors across the country. Over 80% of Canada is uninhabited,  and the country is 9,984,670 sq. km, 3,855,103 sq. mi. – that is a lot of land to gaze upon longingly. It is no wonder we are fascinated with the land, and next time you visit Canada notice how much room people leave between themselves and the next human. Whether in line at the museum, or the grocery store. When you are in line at Tim Horton's, or at the movies, we like our space and we are very polite. We defend our space and hold it dear, we would never tell you to move away, but we will look at you sideways and may roll our eyes if you are too close.
Travelling is eye-opening and when I was in London this summer studying at the Royal College of Art, I found myself having to let go of my need for immense amounts of space. With over 9 million people in the city of London, I quickly learned to not only 'mind the gap' but also 'close the gap' and push forward, if I was going to get anywhere in the city. I was becoming a 'Londoner' and had to let go of my personal space and move at the speed of the crowds, in fact I learned to move ahead of the crowds to keep my sanity.
Attending the summer contemporary art program at the Royal College of Art was a chance to disrupt my current studio work and shake things up with my painting. In my previous blog post, I write about how my month in London allowed me to experiment and expand on my current work. Coming home to my studio in Canada I had another challenge to undertake, that of moving forward from the experience of creating differently in London and integrating this new, loose style into my current language. A time of transition, while also fulfilling projects that are currently in progress. If I explain it in musical terms, I was looking to write a new album, without alienating my current fans, but bringing them along with me to experience new material, more mature material. While there will always be a 'greatest hits' list, and I will always be known for these paintings of Canadian symbols and hockey, I was looking to evolve my work as an artist. It is the most important part of being an artist, of any kind, you need to be able to evolve, otherwise why would you keep making art?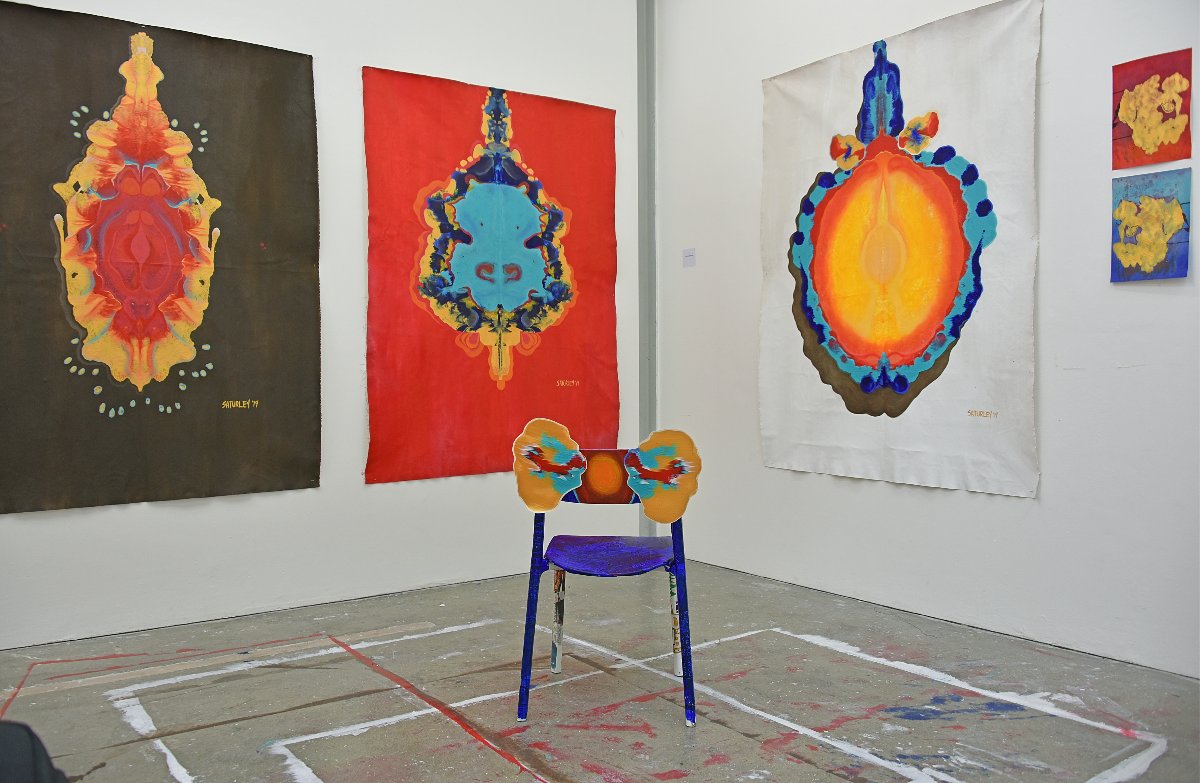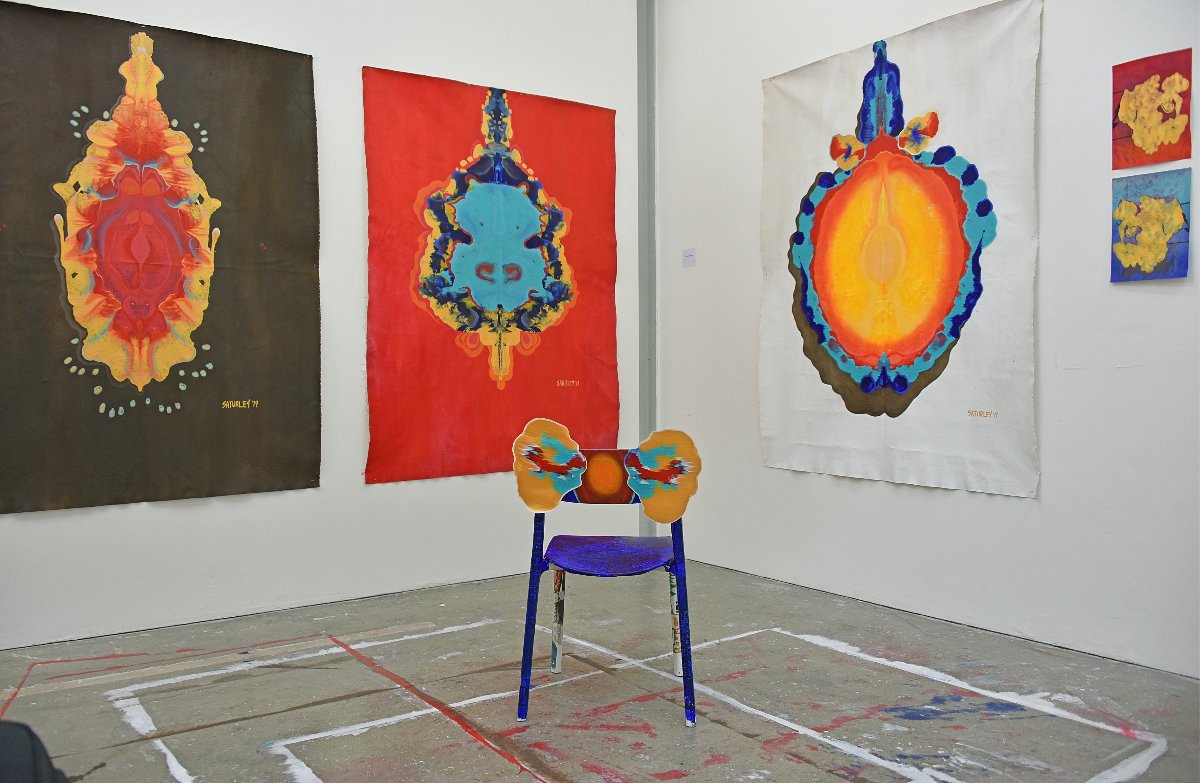 In London, I was painting on large, un-stretched canvas duck (high thread count canvas, higher than regular stretched cotton or linen canvas) offering a smoother surface to apply paint. Coming home I decided to keep this large format, loose style going. Continuing with my signature vivid palette, something that I have been consistent in since I began painting over twenty years ago, I decided to use the scale and expanse for a landscape painting. Perhaps also spurred on by the need for some space, now that I was home in my 'personal space aware' country of Canada. I also wanted to continue my exploration of mirror imagery, like the blotto paintings I was creating in London with Rorschach-like figures emerging.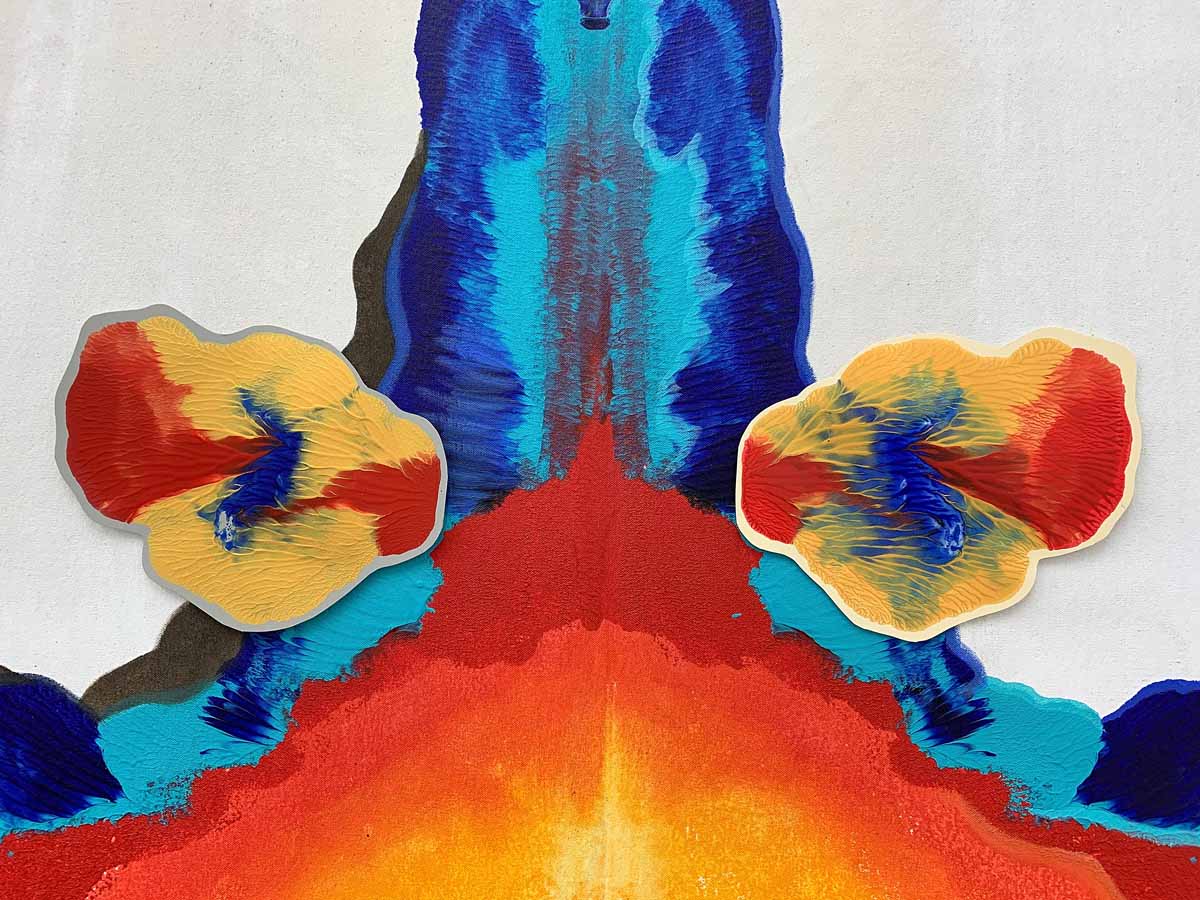 What landscape to paint? It has been a while since I painted purely landscapes, and longer still since I have painted a landscape of my home province of British Columbia. My attention turned to the news and a story about Princess Louisa Inlet. While I was painting in London this summer, Andrew Day of the BC Parks Foundation was busy heading up a crowdfunding campaign to save this pristine swath of wilderness, 800 hectares to be precise, from logging company interest. Raising $3 million to buy the land 100km northwest of Vancouver, BC. The foundation has agreed to work with the Sechelt Nation and the provincial government to sort out the details for the stunning, rugged piece of wilderness.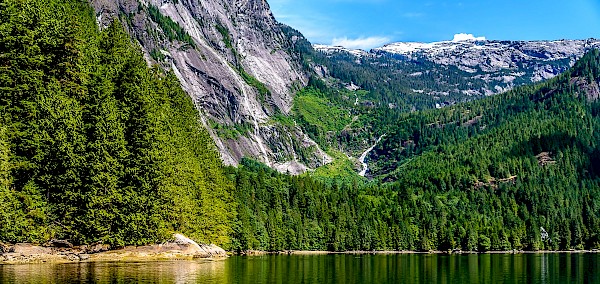 After researching the area and sourcing photos from local sources, I began to sketch my ideas on paper and then transferred to canvas. A very rough sketch on a 5 foot by 8 foot canvas, stapled to my studio wall. The painting took 5 weeks and approximately 240 hours to complete.
Large Landscape Painting: The Process of Creating Oversized Art
The beginning of any painting, means the beginning of a journey, and every journey needs a soundtrack. Almost my entire career I have come to rely on music to set the tone in my studio, I choose the soundtrack very carefully as I believe it will affect the direction, feeling and outcome of the piece. The beginning of this painting began with Jazz, my ears consumed nothing but Jazz for the first four weeks of this painting. The final week I found myself coming back around to an old favourite album from 2011, in 'King of Limbs' – an epic self-released album by English group Radiohead.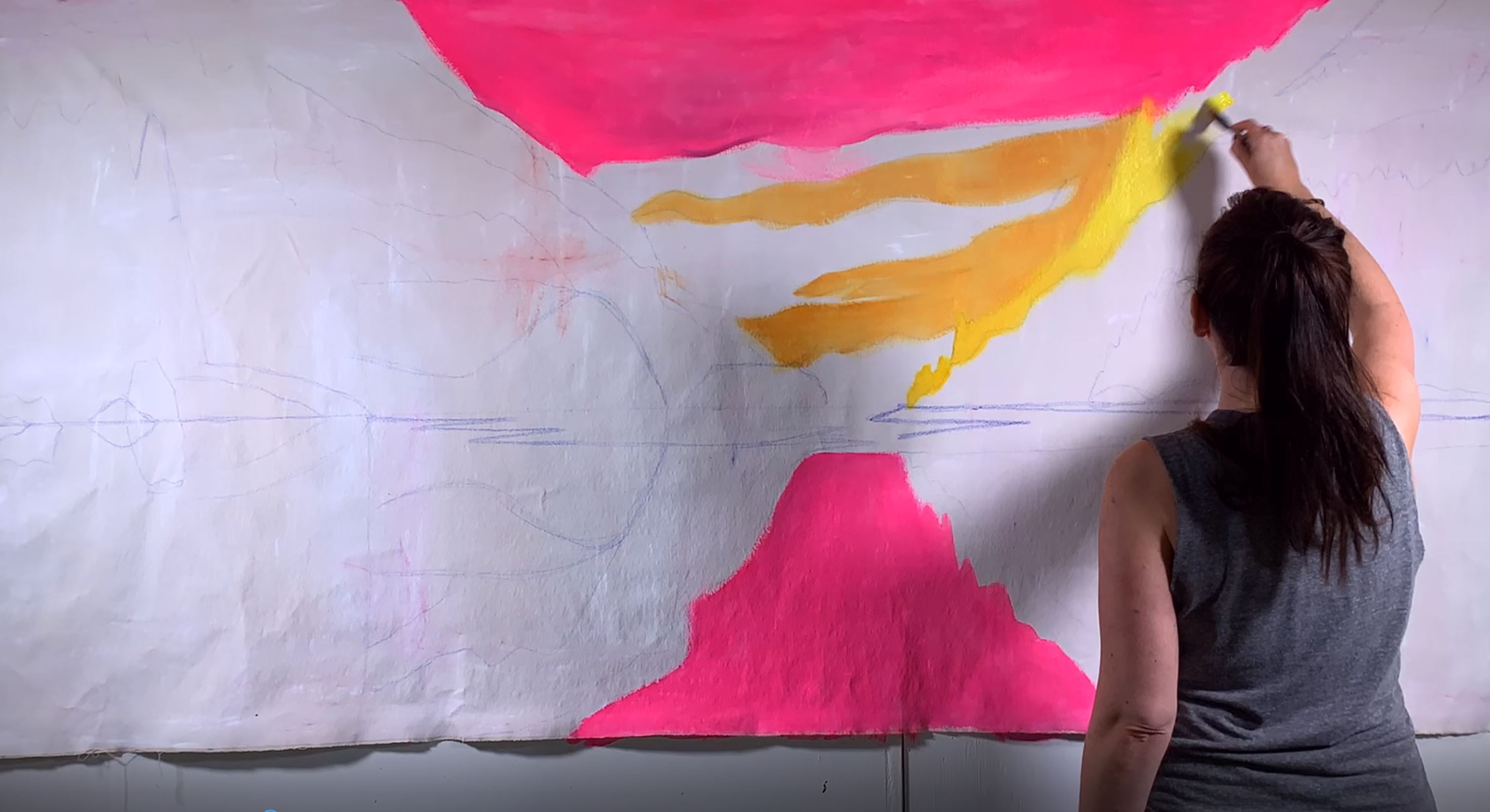 The activity of painting is learned through repetition, I begin every painting with a sketch and then I begin to apply an under-painting, the blueprint for the tones, shades, highlights, forms and colours that will unite to form the subject. For this piece I chose to colour block areas of the painting first, through applying translucent layers of colours to areas of the painting within the sketched lines. These initial colours provide the base layer for the future layers of colour to be applied, allowing me to segment the painting into dark and light, warm and cool. Essentially I repaint the entire painting hundreds of times, until I achieve the exact depth of colour I feel is correct. The brushwork becoming more detailed with each layer, the subject begins to come to life.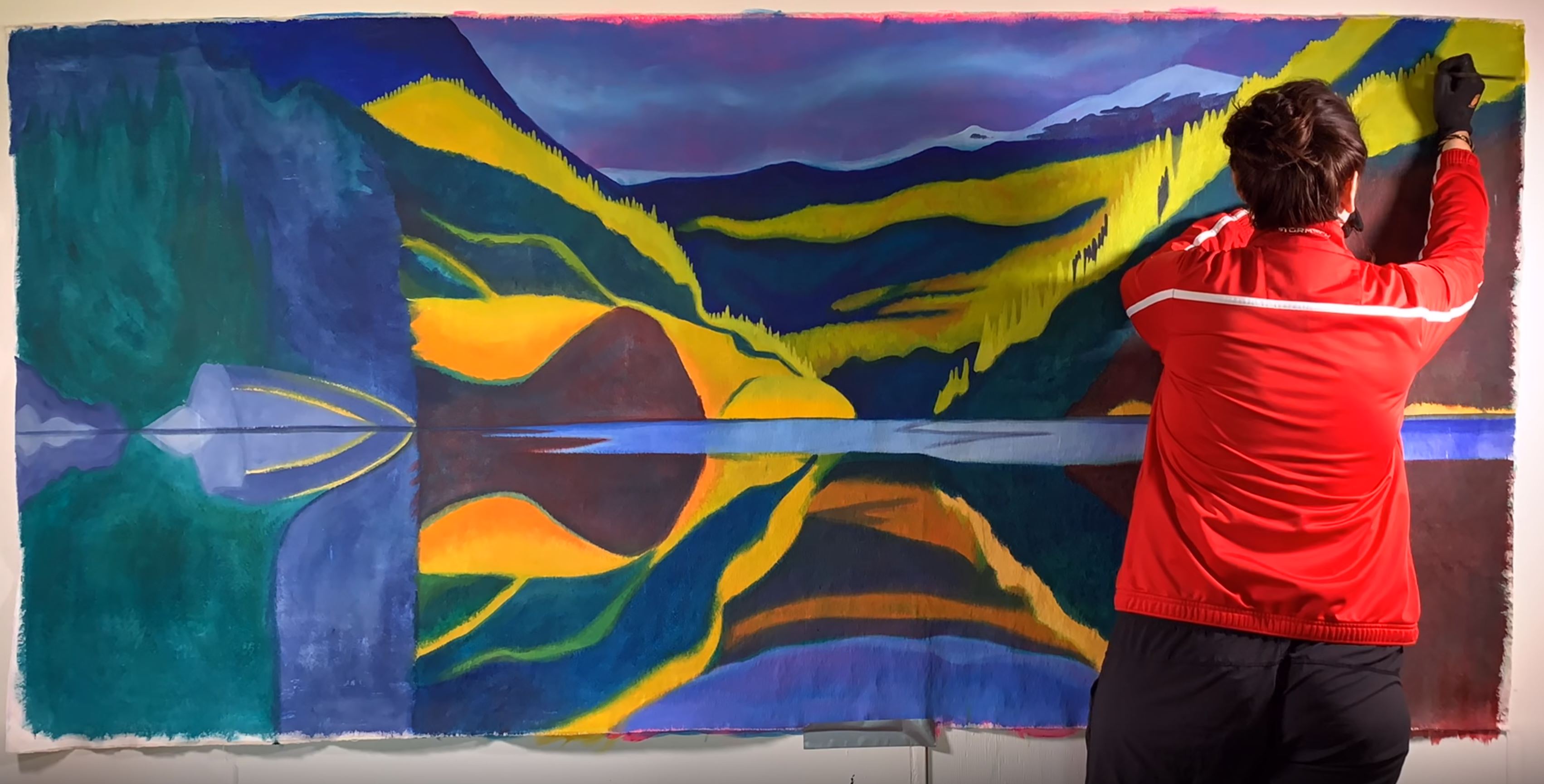 The final few days I take time to contemplate the painting, staring at it while I sit in my orange studio chair, letting my eyes roll over the canvas again and again. I am looking for balance between colour and form. I am looking at the composition and whether the story of the subject is complete. I typically apply a few more strokes, final elements, and then the title comes to me, as with anything I create, it takes a journey to discover a title. In this case the journey came through the use of a very eclectic selection of music, colourful music. When I pulled back from the painting I came to see the images produced by signal processing, like while using audio mixing software, wave lengths of sound. Seeing these images in the painting, helped bring the title; The Sound of a Landscape. With this first new landscape complete, I already see a series developing, exploring the 'sounds' of the landscape.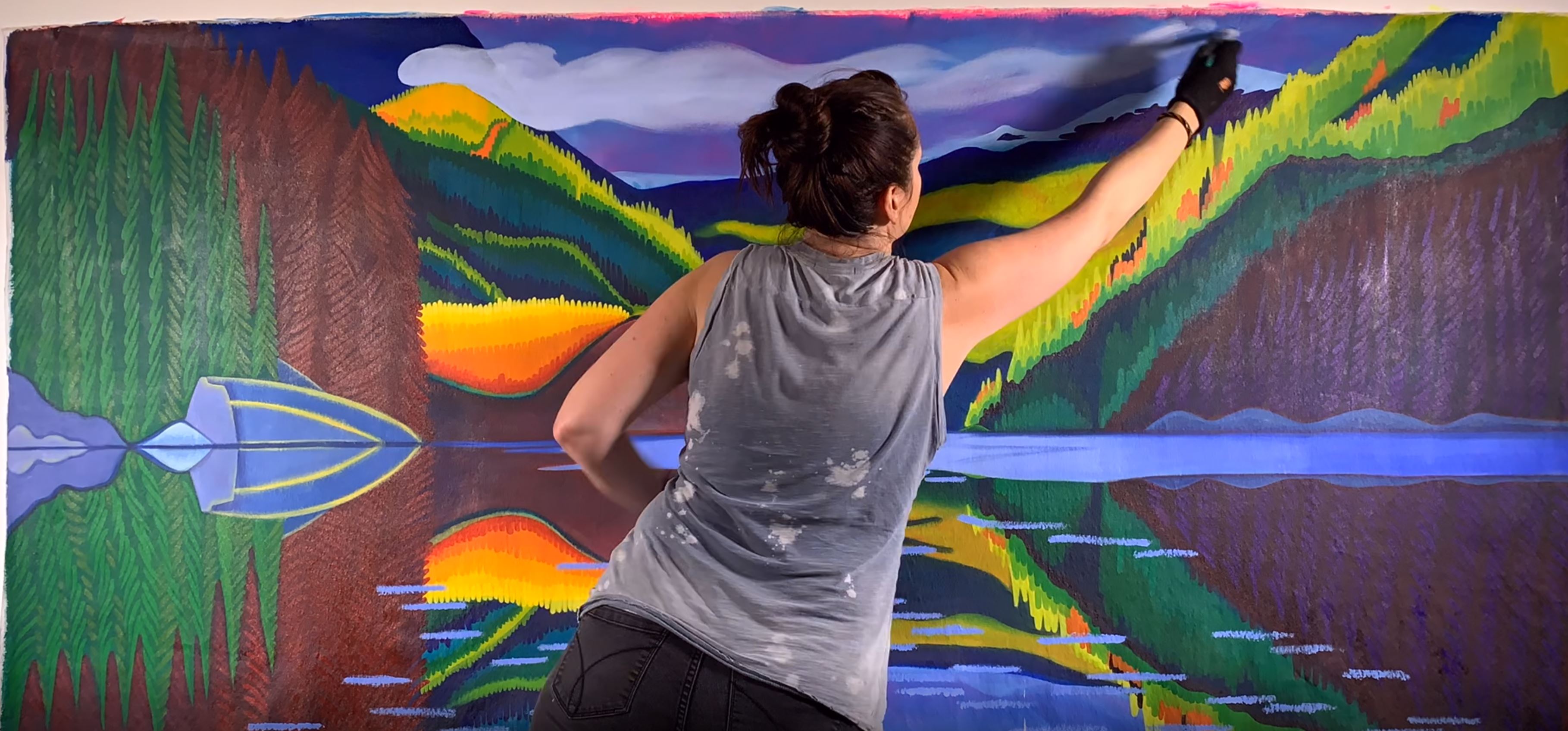 The Chair of Contemplation – to celebrate the final days of the painting I photograph myself reviewing the painting in my orange velour chair. These photos have become art themselves, and I have been creating these photos since 2014.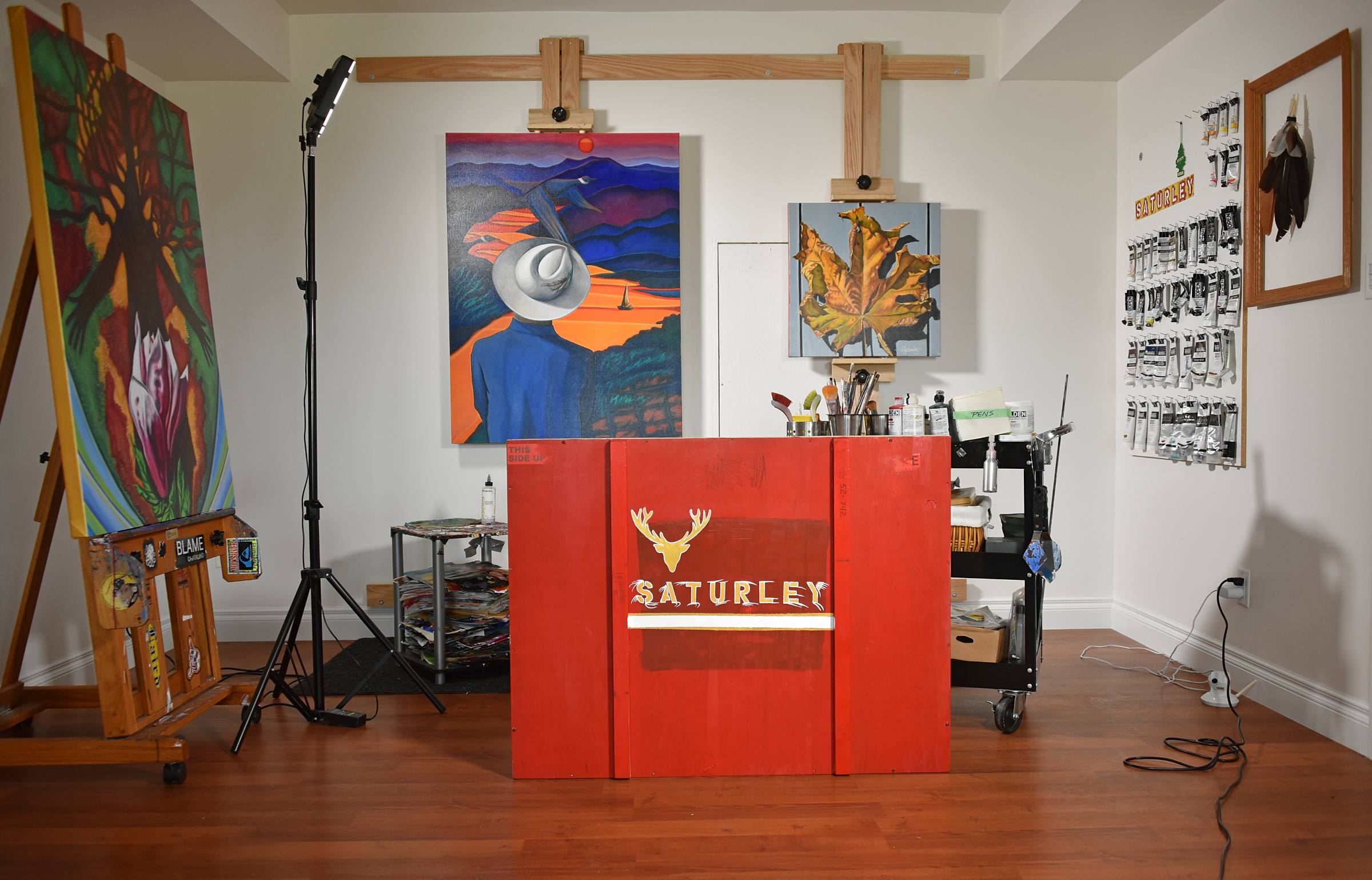 Landscape as Performance Art: Performance art has nothing to do with performance, it has to do with being your true self, expressing your true comments on a subject, through being. An actual performance is acting something out, like a play. In the process of filming myself, authentically making art in my studio, I am creating a cinematic experience for the viewer. During the process I had a camera set-up and was shooting time-lapse video of the entire process. In total, 240 hours of painting time condensed down to 26 minutes of time-lapse video. Watch the painting take shape now. This un-stretched painting is now available to buy through the artist on her website, more information and photographs here.