Famous Canadian Landscape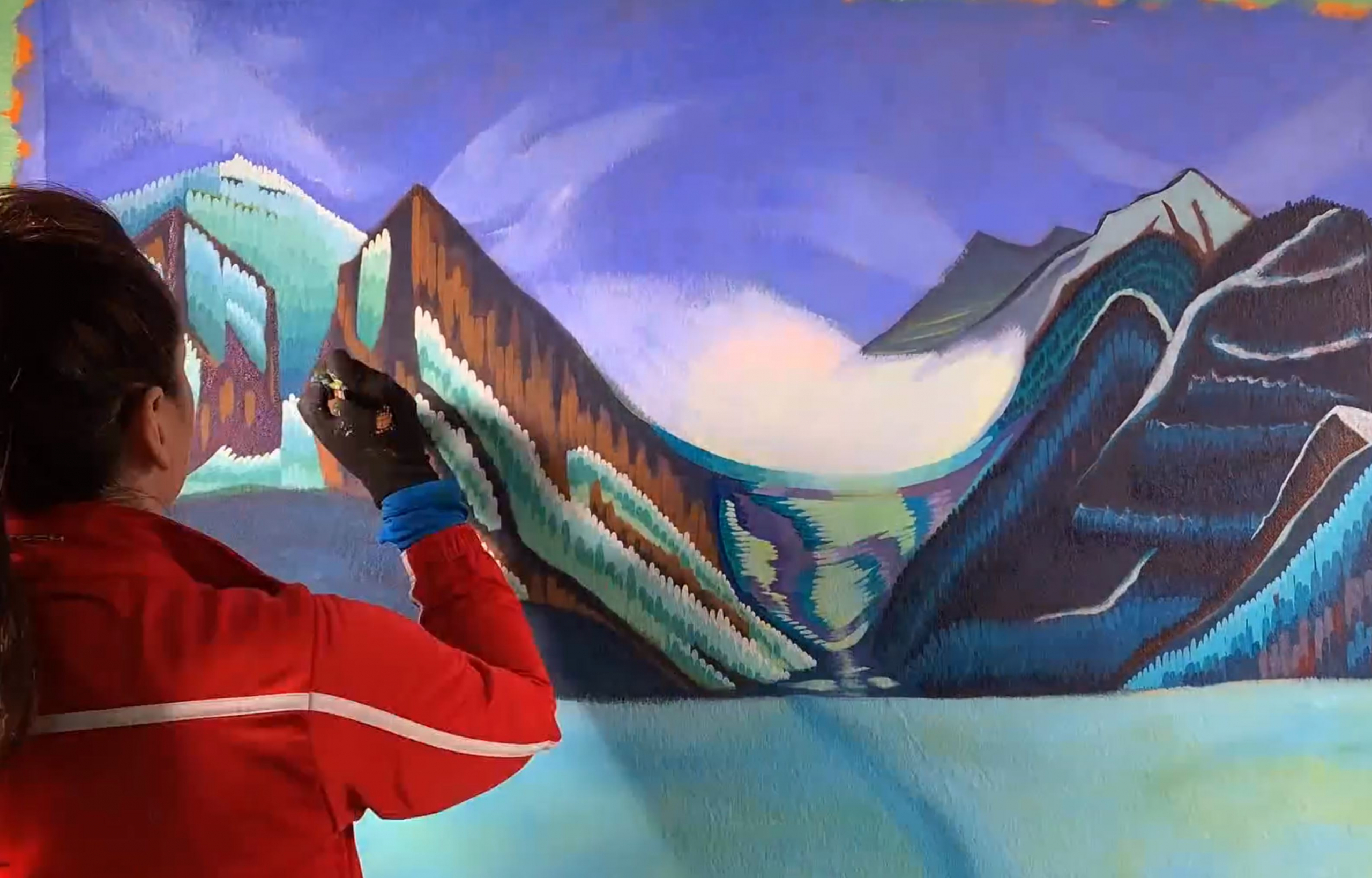 Painting a famous Canadian landscape in Banff, Alberta – all hail Lake Louise
I have visited Lake Louise on many occasions; during the summer when the lake is reflecting hues of tropical turquoise, and in winter when the ice is so think you can skate, snowshoe, ski, hike and even build castles on the lake. I have painted this famous Canadian landscape and her accompanying peaks nine times, and at different stages of my art career. Most recently, upon my return from London, I began painting immense landscapes on unstretched duck canvas. The first landscape being Princess Louisa Inlet, on the sunshine coast of British Columbia. Princess Louisa Inlet is rumored to have been named for Princess Louise or maybe even after Queen Victoria's Mother. My second large landscape, measuring seven feet wide, was completed in December and honours the view of Lake Louise, from the Fairmont Lake Louise eastern shoreline facing west.
In summer 2019, my art career led me to London England. My time in London coincided with the 200th anniversary of Queen Victoria's birth, which meant the opportunity to open the monarchs' archives and share the mementos and stories of her personal life, a side not often seen and certainly not on this scale. What intrigued me most during my time in London was the exhibition at Kensington Palace, Victoria: Woman & Crown. The exhibition offered a peak behind the royal curtain, and included many stories of her and Albert's love of the Arts and included many of her own personal paintings. There are many connections between my home town of Victoria, Canada (named after the monarch) as well as the Province of Alberta (named after the monarch's fourth daughter, Princess Louise Caroline Alberta) the name Alberta itself, the feminine of Albert and derived from German carries a meaning of bright, noble and famous.
In their public lives, both the Queen and Princess Louise were strong proponents of the arts. Louise was an able sculptor and artist, and supporter of the feminist movement. Lake Louise in Banff, Alberta was named after the monarch.
While working on this large Canadian landscape painting, I filmed my daily painting progress in the studio. Filmed in time-lapse mode (super fast painting) the film shows the many layers of acrylic colour; applied in repetition until the desired hues, form, and depth is achieved. I paint using music, it helps me to set the tone in my studio. When editing this short film together, I had to find music to accompany the final piece, that not only matches the tone of the film, but also the tone of the final work itself.
Watch the entire process of painting, Lake Louise Swish here:
See more photos and read about the painting here: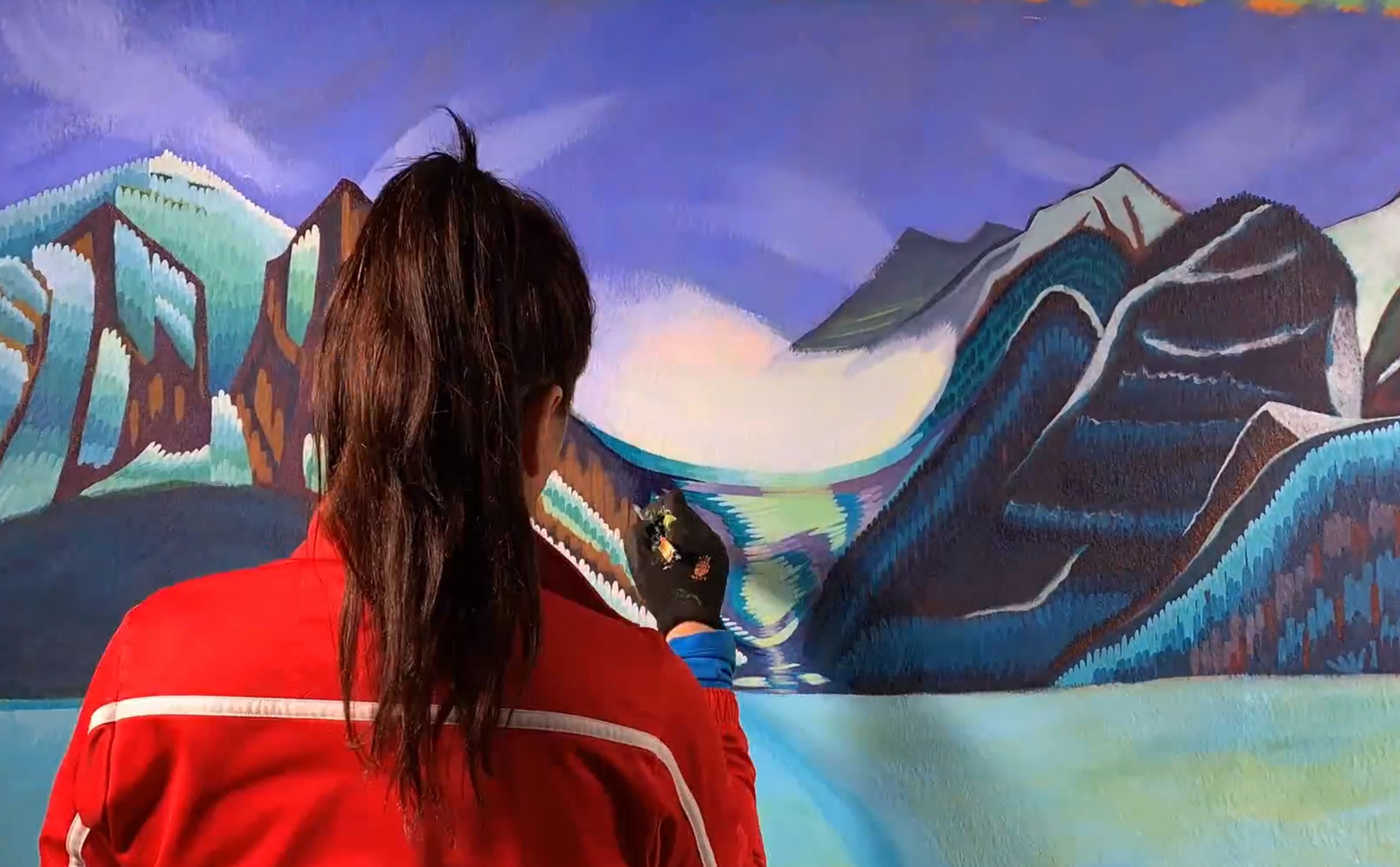 See past works inspired by Lake Louise on the artists'  website here:
https://www.brandysaturley.com/wp-content/uploads/2020/01/workinprogress-scaled.jpg
1638
2560
am-330
https://www.brandysaturley.com/wp-content/uploads/2020/10/brandysaturley_logo.png
am-330
2020-01-02 11:38:40
2022-04-21 14:53:47
Famous Canadian Landscape