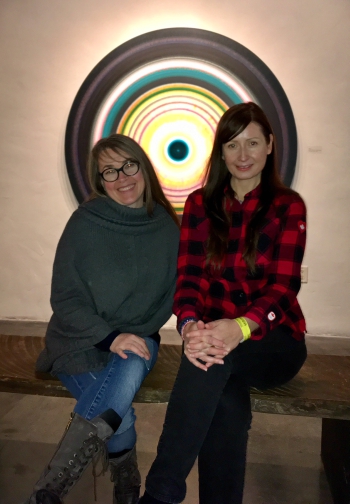 ART AND THE CITY – Kelowna Offers Canadian Art Lovers An Eclectic Mix
Family Day weekend found me in the beautiful Okanagan Valley and specifically the city of Kelowna. Known for it's orchards, wine, ski hills and tremendous Okanagan Lake; there is a great variety of Canadian Art to see in Kelowna, British Columbia.
My visit began in the South Pandosy neighborhood, a funky and fashionable neighborhood hosting unique and eclectic art galleries, vintage, interior design and décor, and high-end fashion.
My first Art Gallery stop at Sopa Fine Arts. A gallery I have exhibited with, this is a gem in the Kelowna art scene. Located in the South Pandosy (or SoPa) neighborhood of Kelowna, BC, Sopa Fine Arts is a contemporary fine art gallery specializing in original art work by leading international and mid career artists, and a selection of talented emerging Canadian artists. The gallery with it's New York edge, rustic wood and long white walls; presents large format paintings, sculpture and a variety of abstract contemporary art. The gallery is a refuge and place of solitude to enjoy the art in a welcoming environment, that appeals to new collectors as much as it does to the seasoned collector.
My next Art stop was at the Kelowna Art Gallery in downtown Kelowna near the Kelowna Yacht Club and lakeside skating rink this time of year. Another haven of art; the Kelowna Art Gallery is one of my favourite smaller public art galleries in Canada. I have visited public galleries across Canada over the past decade and the KAG is one of the best for it's size, always presenting a mix of student to established Canadian artists in their four gallery spaces, including a courtyard space for installation art.
Currently at the KAG:
Joice M. Hall GWAII HAANAS – Islands and Sacred Sites
A painting installation inspired by 1600 digital photographs taken during a two-week artist residency in Haida Gwaii in 2016. The 18-foot installation is a panoramic landscape celebrating ocean, forest, and marine life inspired by her residency in Gwaii Haanas, guided by Parks Canada resource officers.
Short Fictions presents the fascinating evolution of Kelowna painter Gary Pearson's career over the decades that he has worked as a professional artist. The Kelowna-based artist works largely in painting and drawing, with a strong graphic sensibility and a stark, spare, linear style. The exhibition encompasses large format paintings, watercolour studies, drawings and video.
I always enjoy exploring cities and taking in the art offerings from both public and private galleries. My Art and The City diaries began about 5 years ago after I decided that I should do more than take photos and paint on these trips. I began writing down my thoughts about these galleries and places across North America. I have visited public galleries across Canada from the smallest northern towns such as Yellowknife, to the metropolis of Toronto. I realize now that these trips have created a visual database of the Arts across North America and specifically Canada. With this vast perspective on what Canadian Art is, from community Arts to auction houses, public art galleries to the commercial big business of contemporary art in Canada; I feel very fortunate as a Canadian Visual Artist to have gained such a broad perspective and understanding of Art in Canada.  There is much great art in Canada, and much more than just landscape painting for those who venture beyond their local commercial gallery. Collecting great art begins with building your taste profile, what better way to do this than to get out and enjoy art of all kinds. Happy Art hunting! ~ Brandy Saturley
https://www.brandysaturley.com/wp-content/uploads/2018/02/SopaFineArts_BrandySaturley.jpg
504
350
am-330
https://www.brandysaturley.com/wp-content/uploads/2020/10/brandysaturley_logo.png
am-330
2018-02-14 10:21:46
2023-09-27 11:29:32
Canadian Art in Kelowna