ART AND THE CITY: Murakami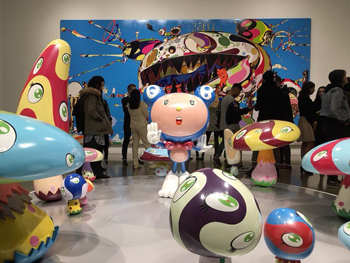 ART AND THE CITY: Murakami – Japan's Warhol at The VAG
The last time I was on the road for the work of Art, was in November last year when I visited Vancouver for the opening of the new Emily Carr University and a variety of art openings around the city. It's 2018 and I'm back on the road taking in the Art, and the city of Vancouver. ART AND THE CITY: Takashi Murakami style.
DAY 1: Takashi Murakami Lecture at SFU
At the end of January I joined a crowd of enthusiastic artists, collectors, curators, fans and students of the renowned Japanese contemporary art star, Takashi Murakami. Japan's answer to Andy Warhol, there was significant media in town for a few days leading up to the main event at the Vancouver Art Gallery.
In Vancouver for his first major retrospective presented in Canada, 'The Octopus Eats Its Own Leg' at the Vancouver Art Gallery. Murakami works in a multitude of traditional art media (such as painting and sculpture) as well as commercial media (such as fashion, merchandise, and animation) and is known for blurring the line between high and low arts. He coined the term "Superflat", which describes both the aesthetic characteristics of the Japanese artistic tradition and the nature of post-war Japanese culture and society, and is also used for Murakami's own artistic style and that of other Japanese artists he represents.
Murakami is the founder and President his own art corporation, Kaikai Kiki Co., Ltd., through which he manages several younger artists. He was the founder and organizer of the biannual art fair Geisai.
I thought his lecture was very honest; for an artist that employs 300 people, owns his own galleries, restaurant, manages other artists careers, is an entrepreneur, and geek at heart. His approach to art is one that I have taken in my own career, and Murakami has found his own niche within in a business that is continually morphing into new forms. While his contemporaries such as the YBA (Young British Artists, Damien Hirst)  and Koons, who also took an entrepreneurial approach to the Art business, have somewhat changed their course in recent years, Murakami continues to push the 'Artrepreneur' envelope as his consumption of all things visual and aural continues to drive his world domination forward.
DAY 2:  Polygon Gallery in North Vancouver
It's another day of grey and rain on the 'wet' coast, dark and damp days mean I am searching for new indoor art experiences, and thankfully North Vancouver has a new one I was anxious to visit. After a walk, and a 15 minute ride on the 'Seabus' I found myself at the Polygon Gallery. The Polygon exhibits contemporary art with a focus on photography and Canadian artists.
Operating as Presentation House Gallery for forty years, the organization presented more than 300 exhibitions, earning a reputation as one of Canada's most adventurous public art institutions. Some of the most important local and international artists have been featured—from acclaimed Vancouver photographers Stan Douglas and Fred Herzog to world-renowned artists Ansel Adams and Andy Warhol—as well as the work of North Vancouver students participating in innovative education programs, such as Gallery School and Chester Fields.
Polygon is a stunning new space with lots of windows and open beam ceilings, allowing natural light to diffuse the space below. The Patkau Architects-designed gallery offers jaw-dropping views of downtown Vancouver from Lonsdale Quay. I could not think of a more fitting space to host the inagural exhibition, 'North Vancouver'. In its new home, The Polygon will expand on the organization's long history of presenting the work of artists who respond to transformations taking place in the world.
Day two down, tomorrow I am headed to the big party at the Vancouver Art Gallery.
DAY 3: Takashi Murakami Birthday Bash & VIP Preview Vancouver Art Gallery
The Octopus Eats Its Own Leg in Vancouver, and by Octopus the artist refers to himself, his art, his career, and his consumption of all things that influence his art.
Takashi Murakami: The Octopus Eats Its Own Leg is a major retrospective of Takashi Murakami's paintings, presenting more than fifty works spanning three decades of the artist's career. The first survey of Murakami's work to be shown in Canada, this exhibition showcases the artist's paintings from his earliest mature work to his recent large-scale projects, including a newly created five-metre-tall sculpture and three multi-panel paintings created specially for the Vancouver Art Gallery exhibition.
Anticipation was the feeling and sensory overload was the experience upon entering and moving through the exhibition. Japanese pop art, employing a team of 300 assistants and artists, from silk-screening to anime and painting to graphic modelling, a feast for the eyes and the brain. Attendees were encouraged to dress in a creative, colourful and fun way to compliment the exhibition. The people watching at the event was as entertaining as the art itself, and with a cast of Vancouver Art world characters, ready to meet the cast of characters presented in the art. The after party hosted at the Commodore Ballroom offered the chance to mix and mingle and dance the night away in Murakami-land. With items up for auction going for upwards of $160K. A fascinating experience from all angles, and a grand opportunity for Murakami's launch into the Canadian art market.
The exhibit is an antidote to the west coast greys and rain. A rainbow party with a deeper message. Technical excellence and idealized characters blurring the lines between high brow and lowbrow. This exhibition is accessible to all and offers something for all ages and walks of life.
That's all from Vancouver folks!
Sincerely Yours,
https://www.brandysaturley.com/wp-content/uploads/2018/02/Murakami_octopus_2.jpg
263
350
am-330
https://www.brandysaturley.com/wp-content/uploads/2020/10/brandysaturley_logo.png
am-330
2018-02-05 11:39:58
2023-09-27 11:57:33
ART AND THE CITY: Murakami