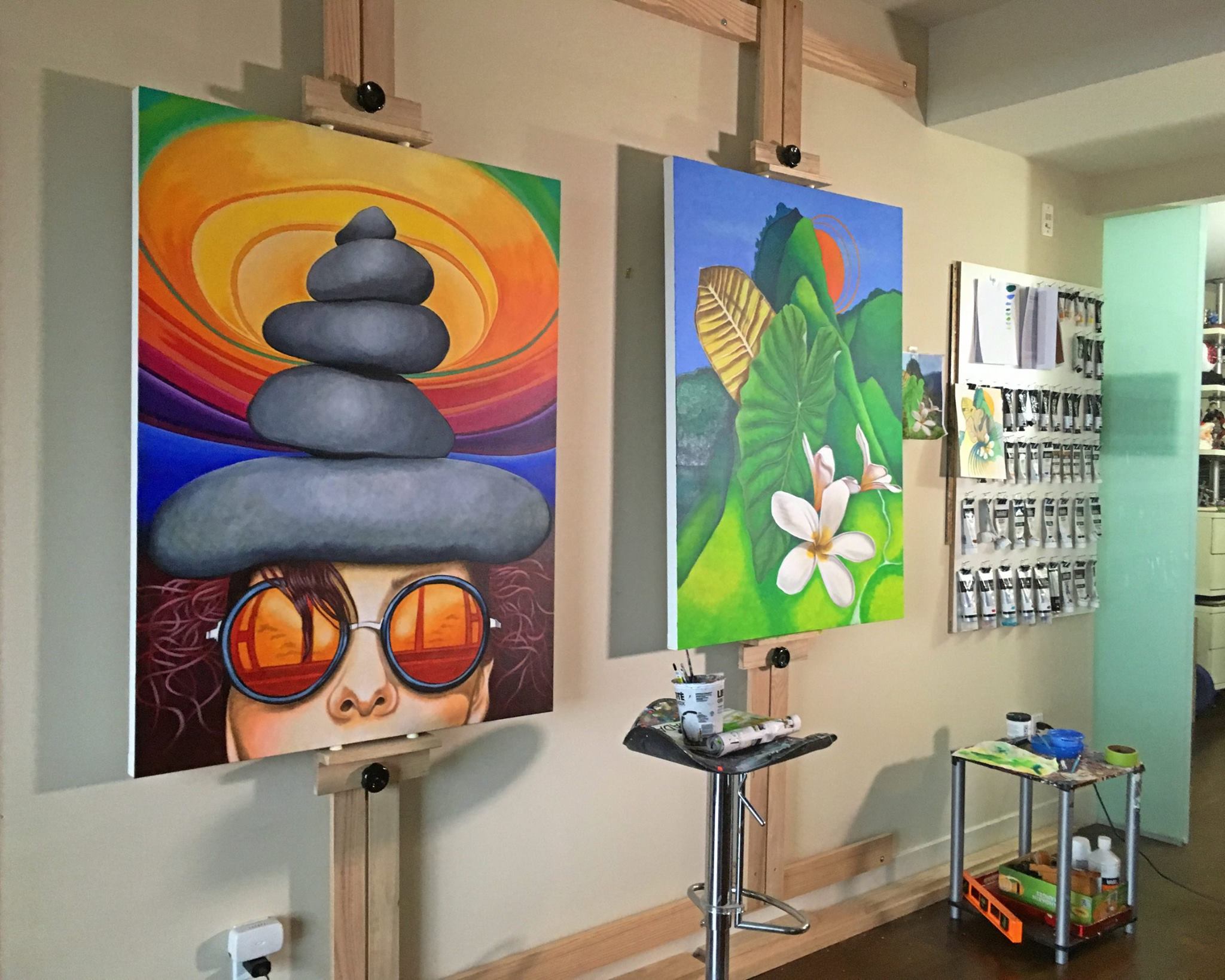 The Work Behind The Artist – Celebrating 2017 in Canadian Art
Every year I look back at the work behind the artist, meaning I celebrate the work behind the final product that is art. It is a behind the scenes view for my readers and a reminder that much goes into an art career, beyond the art itself. 2017 was Canada150 here in Canada, but also a celebratory year for my art career, and an opportunity to present my work of the past half-decade to art lovers across the country. Here is my month-by-month highlight reel from the year of 'Canadianisms', which continues to bring opportunities and feed my work in 2018.
JANUARY Edmonton/Victoria
2017 began with the grand opening of 'Canadianisms: A Half Decade Inspired by Canada' at Strathcona County Gallery @501 in Sherwood Park, just outside Alberta's capital, Edmonton. Thank you to Brenda Barry Byrne and her team at Gallery @501 for a successful event which included me delivering an artist talk about the work created over the past five years, inspired by my travels across Canada.
FEBRUARY Edmonton/Vancouver
'Canadianisms' continues at Gallery @501 an interview with Sherwood Park News and a special event final week of the show as the gallery hosted Salvi Group (Homes). The end of the month offered an art trip to Vancouver to see the truly remarkable and inspiring, 'Spindle Whorl' exhibit featuring a retrospective of the career of Susan Point.
MARCH – Edmonton/Vancouver
On the heels of the closing of the first 'Canadianisms' exhibition in 2017, I head to Edmonton in March to present a Professional Development Talk at Visual Arts Alberta/CARFAC about building my career as a Canadian artist. My 'Poppies For Lousie' painting inspired by Lake Louise, and my 'Canoe View' painting, graces the cover and interior of the 2017-2018 brochure for Music In The Morning Concert Series in Vancouver, BC.
Music in the Morning is a distinctive morning concert series that inspires its audiences with masterpieces of the past, while challenging them with music of our time performed by the finest local, national and international talent – all at affordable ticket prices. In its 30th season, Music in the Morning is known for uncompromised quality, intimate setting and friendly rapport between artist and audience. With sell-out crowds, Music in the Morning fills a unique niche in the city of Vancouver appealing to people who prefer their cultural events with coffee in the morning.
APRIL – across Canada
My exhibitions in 2017 offered a chance to talk about the People of Canada portrait project. A crowdsourcing, collaborative portrait project between myself and Canadians. Many more photos received, and more portraits painted. This project began in 2014 and I will be painting more portraits in 2018 with a planned 2018/19 exhibition. Accepting photos until year-end! www.peopleofcanada.ca 
MAY – Victoria/Calgary
Preparing for the second solo exhibition of 'Canadianisms' in 2017 – creating and printing a second exhibition catalogue, selecting artwork to ship, preparing the crates for shipping.
JUNE – Victoria/Edmonton
As I was preparing for my second solo exhibit in 2017, a few opportunities came my way to talk about art, the current climate of the Arts in Canada, collaboration, and the future of Art in Canada. SHAW TV came to the studio and interviewed me about The People of Canada Portrait Project – The Canadian Art Junkie featured my work as part of their 150 artists for Canada150 – I joined the CARFAC AGM hosted by Visual Arts Alberta/CARFAC at MacEwan University in Edmonton, Alberta.
JUNE/JULY – Calgary/Okotoks
Art on tour, second showing in 2017 for 'Canadianisms: A Half Decade Inspired by Canada' @ the OAG in Okotoks, Alberta, just outside the metropolis of Calgary. Thank you to Okotoks Culture & Heritage, and to all who came out to the opening, and to see the show over it's three month run at the gallery which offered visitors worldwide the opportunity to experience a Canadian artists' perspective on her own country.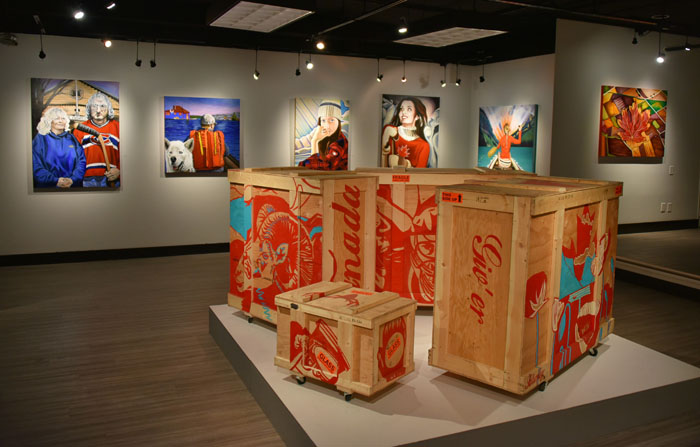 JULY – Calgary/Okotoks/Yellowknife
Interview with the Okotoks Western Wheel about the show and my journey of the past half decade.
A painting featured in the exhibition, 'The Getaway' also appears on the cover of Reader's Digest More Our Canada magazine for the July 2017/Canada150 issue – with an article I penned about my time exploring the landscapes and art of Yellowknife, Northwest Territories, Canada
This experience inspired many a painting when I returned home to my studio on Vancouver Island. These people have heart and grit and talent beyond whatever expectations I had going in. I love you, Yellowknife—see you for the freeze!
AUGUST – Seattle Art Fair/ Seattle, Washington USA
August found me on another art trip, destinations; Seattle Art Fair, Mt. Baker, Seattle Art Museum & Paul G. Allen Institute for Brain Sciences, which presented Allen's private art collection at Pivot Art & Culture. It was a remarkable and eye-opening art trip. I love Seattle. The Art, Tech, Food, Kitsch…it all feels like home to me.
SEPTEMBER – Victoria/Calgary/Montreal
In September, I finished two commissioned paintings and penned an article for ArtInCanada.com, the first of a four-part series with Alberta Artists for Canada150, beginning with Chris Cran. I take on very few commissions, however I was delighted to take on these two commissions after hearing the clients ideas – one being 4 ft high by 7.5 feet and the other, a very special piece using a reference photo from an iceberg loving photographer, Doreen Dalley, who has been shooting these lovely moving landscapes for over 30 years. It was a delight and a privilege to interview celebrated
OCTOBER – Victoria/Winnipeg
October was all about in studio as I began working a new body of work, began upgrading my studio to include two new wall easels and got ready to launch a new website. After hosting with another provider for years I moved my website to a Canadian company in Winnipeg, Art Moi and am thrilled with the new and improved website, my online portfolio for a worldwide art collecting audience.
NOVEMBER – Victoria/Vancouver/California
In November, I was back in Vancouver checking out the members opening at the Vancouver Art Gallery. Portraits of Artists, a show from the collection of the Royal Gallery in London, Queen Elizabeth II private portrait collection. From the 1700's onward an immense show of some of the most detailed and highly skilled classical mezzotints, etchings and paintings, an ode to the old fashioned 'selfie'. I also had the opportunity to see the beautiful, custom, Fazioli Piano at The Fairmont Pacific Rim at the #fightforbeauty exhibit.
Art Licensing: From time to time I license my work to great organizations, who make exceptional products. I was approached by a US company called ThinOptics – a company who makes a great product that fits in a case on the back of your mobile phone, offering portable reading glasses. You can now find three of my most popular paintings from 'Canadianisms', including the hockey themed painting sold to the Colart Collection in Montreal, on the cases of these great specs-to-go. Now I can see myself taking a selfie and see the details of my paintings much clearer!
DECEMBER – Hawaii/Alberta/Victoria
In December, I took off to Maui, Hawaii for a couple weeks. I was eager to read a book about American painter Georgia O' Keeffe and her time in Maui and subsequent 20+ paintings that came from her trip, which were later exhibited at American Place Gallery, owned by Alfred Stieglitz.
The trip offered the chance to explore by foot, helicopter and car. I had some time to write, sketch, take photos and capture digital video. Returning home, I was in the thick of Christmas mail-outs and on the receiving end of many new things for my studio. Gratitude!
Art Licensing: From time to time I license my work to great organizations, who make exceptional products. I was approached by an Alberta art publisher, Island Art Publishers, with interest in re-producing my 'Rocky Mountains' series of paintings created back in 2011. You will find these beautiful reproductions through Island Art in early 2018.
That's it! Some of the highlights from my year. It was incendiary! Thank you to everyone for the incredible support during 2017. Wishing you all a remarkable 2018, filled with great adventures, and beautiful moments. Cheers to 2018, and all the new work to come!
https://www.brandysaturley.com/wp-content/uploads/2018/01/Oct_review_saturley_4.jpg
1638
2048
am-330
https://www.brandysaturley.com/wp-content/uploads/2020/10/brandysaturley_logo.png
am-330
2018-01-11 13:17:38
2022-09-29 11:02:50
2017 In Canadian Art