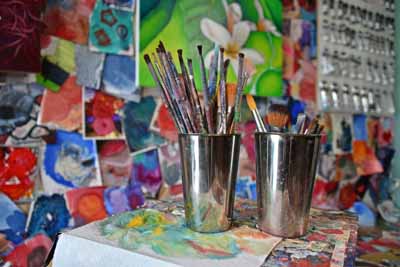 A Day in The Life of An Artist: documenting the creative process
At the end of the work day, I take whatever paint I have left on my palette and I use it to make a small abstract painting on a torn out page of high-gloss magazine paper. I think I began this ritual about five years ago and it shows a day in the life of an Artist. I found that it gave me a time at the end of the day to break concentration and freely create something loose and immediate, a mental stretch of sorts to end a day of highly concentrated painting. Instead of scraping the paint off my palette and saving it, something that is very hard to do with acrylic paints, the leftover paint was helping to birth a new creation. Each page has come to represent a 'day in the life' of a painting, a painting diary of sorts. These 8×10 abstract paintings were forming a diary and a dialogue about working as a painter. Over the years I have saved thousands of these pages, most survived, not all as some became stuck to one another and i was unable to save them, and some I cut into shapes that I am certain will be used in future paintings, perhaps paintings with collage elements worked into the composition. A painting diary is a wonderful thing, it offers a record of my palette over the past few years, painting swatches if you will, a journal of colours.
From Vincent Van Gogh to Georgia O' Keeffe, keeping a diary, or journal,  has always been a crucial part of the artist's life. For some, it helps formulate a better conceptual understanding of works created through sometimes intuitive processes. For others, it can be a reference for future art making. Whether a detailed written journal like that of Van Gogh, or a more visual diary of sketches, studies and even colour swatches, journals are a necessary part of the creative process and provide fuel for future discovery.
I recently gathered most of my 'abstract palette pages' and arranged them for a photo shoot in my studio. I spread the pages from floor to ceiling, running up my studio walls, integrating them with paintings in progress, the result is a vivid and energetic environment. How I imagine the inside of my mind looks at any given time. These photos show a glimpse inside my creative process, which heavily relies on intuition these days. A peek inside the artists' process. 
https://www.brandysaturley.com/wp-content/uploads/2018/03/DSC_1503.jpg
267
400
am-330
https://www.brandysaturley.com/wp-content/uploads/2020/10/brandysaturley_logo.png
am-330
2018-03-20 16:42:30
2022-04-22 10:28:04
Life of An Artist