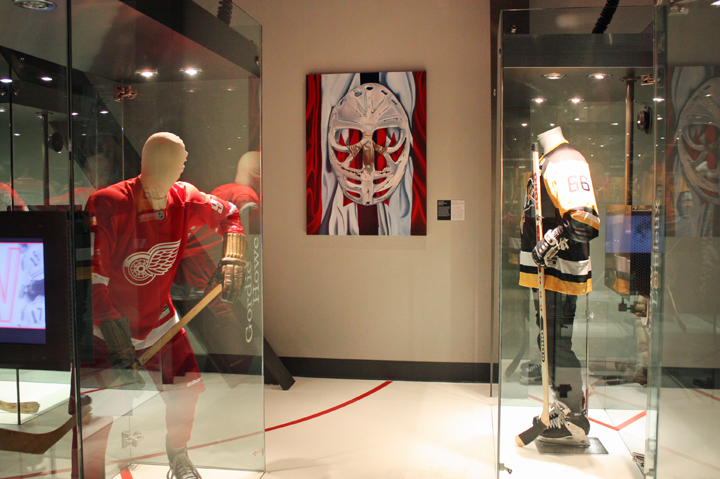 The IOC Trophy for Sport Art, shortlisted painting about hockey.
TORONTO, ON April 2015 – This week we received news from the Canadian Olympic Committee (COC) that the painting, 'Goalie's Mask: red, white & Dryden', by Canadian visual artist and painter, Brandy Saturley, has been shortlisted for the 2014 IOC Trophy in Sport and Art.
Another accolade for a painting that launched a new body of work titled, #ICONICCANUCK, in 2010, and later was exhibited as part of retrospective exhibitions, 'Canadianisms' in 2017 celebrating Canada150. The Goalie's Mask painting continues to ignite interest and engage viewers in passionate discussion about Olympic hockey, Dryden, Habs and Canada. From The Glenbow Museum Lobby in Calgary, to Canada's Sports Hall of Fame, from Gallery @501 in Sherwood Park, Alberta, to Okotoks Art Gallery in, Calgary, Alberta. This iconic and important painting has been included in numerous exhibitions across Canada including; Victoria, Vancouver, Edmonton, Calgary and Toronto. The painting has been featured across the web, from art publications like Galleries West Magazine, Montreal Canadiens Instagram, to on-line Habs communities including AllHabs Magazine.
An homage to Canada, hockey, Habs, goaltenders and the American painter, Georgia O' Keeffe; the painting has touched many and enjoyed accolades and a range of polarizing feedback from art lovers and hockey lovers alike. Bridging a gap between sport and art and bringing together two communities, often at odds over funding.
"The annual International Olympic Committee (IOC) Trophy was established in 1985 to promote the teaching of Olympism in various areas. For 2014 the IOC intends to reward artistic expression. With the Canadian trophy, the Canadian Olympic Committee (COC) wishes to recognise artists and creators who, through their talent, have promoted Olympism and left a legacy through art." ~ Olympic.ca
Olympism is defined by the IOC as follows:
"Olympism is a philosophy of life, exalting and combining in a balanced whole the qualities of body, will and mind. Blending sport with culture and education, Olympism seeks to create a way of life based on the joy found in effort, the educational value of good example and respect for universal fundamental ethical principles."
As accolades and press pile up, the value of the original piece has increased considerably over the past decade. With the continued building of interest and fascination in the painting, the artist suggests it may now be time to offer this important Canadian painting for sale. Update 2021: learn more about this painting.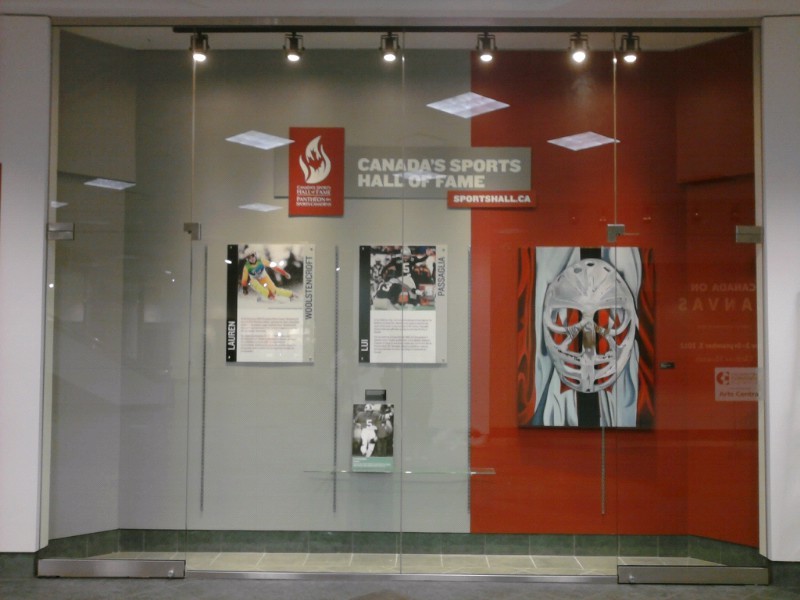 https://www.brandysaturley.com/wp-content/uploads/2018/03/IMG_4096.jpg
479
720
am-330
https://www.brandysaturley.com/wp-content/uploads/2020/10/brandysaturley_logo.png
am-330
2018-03-23 11:27:06
2021-06-10 10:29:15
IOC Trophy Sport Art