My Designer says the paintings don't fit my space – Buy The Art You Love
As a professional artist, I have encountered various relationships when it comes to placing my artwork with art collectors, both corporate and private. Sometimes, I collaborate with art galleries and advisors to find forever homes for the signature original paintings I create. My best advice is always, buy the art you love, that speaks to you loudly and says, 'buy me'.
One of the challenges I face when working with art collectors who involve interior designers is getting them to view art as more than just decoration. That's why many clients who love collecting unique works of art choose to work with an Art Advisor in conjunction with an Interior Designer. Designing interiors is one thing, but incorporating real, one-of-a-kind finely crafted works of art requires a different perspective. It involves looking beyond mere décor and creating a world that reflects your tastes and life experiences.
At The Art of Brandy Saturley, we sell art to art lovers. This means we don't sell art to match your couch (although sometimes, by accident, it may actually match). Instead, we encourage our clients to view art as the most significant feature of their custom-designed interior. The paintings of Brandy Saturley are bold statement pieces and have been collected by corporate and private collectors with varying tastes. They can fit into any type of interior, whether it's mid-century modern, west coast contemporary, or even a cozy log cabin in the mountains or by the lake.
Recently, one of my galleries contacted me about a client who expressed interest in a few paintings. After a few communications back and forth, we received the disappointing news that their designer thought the paintings were too small for their space. Although we occasionally receive this feedback, it only motivates me to educate and assist the client further.
You should never refrain from buying artwork you LOVE simply because it doesn't fit a specific space. Instead, always follow your internal intuition and purchase what speaks to you. There is always a way to incorporate what you love into your space. If you don't include what you love, your space remains incomplete, like a blank canvas waiting to be filled. Here was my response to the client:
"I understand that your designer has expressed concerns about the size of the paintings in relation to your space. While it's important to consider the visual impact and proportion of artwork within a given environment, I would like to emphasize that buying art encompasses more than just finding something that fits the space.
Art has the power to evoke emotions, stimulate creativity, and inspire thought-provoking conversations. It adds character and personalization to a space, reflecting your unique taste and individuality. While the size of the artwork is certainly a factor to consider, it shouldn't overshadow the intrinsic value and impact of the pieces you choose.
I encourage you to think beyond the immediate dimensions and focus on the overall aesthetic experience that the artwork can provide. Sometimes, a smaller piece can make a significant impact when combined with other elements such as framing, lighting, or complementary pieces. It's also worth exploring different arrangements, groupings, or even considering larger pieces as focal points while incorporating smaller artworks as part of a curated collection.
Ultimately, buying art is an opportunity to express your personal style and create a meaningful connection with the pieces you bring into your space. I would be delighted to assist you further in exploring various options that align with your vision and help you create an environment that truly resonates with you."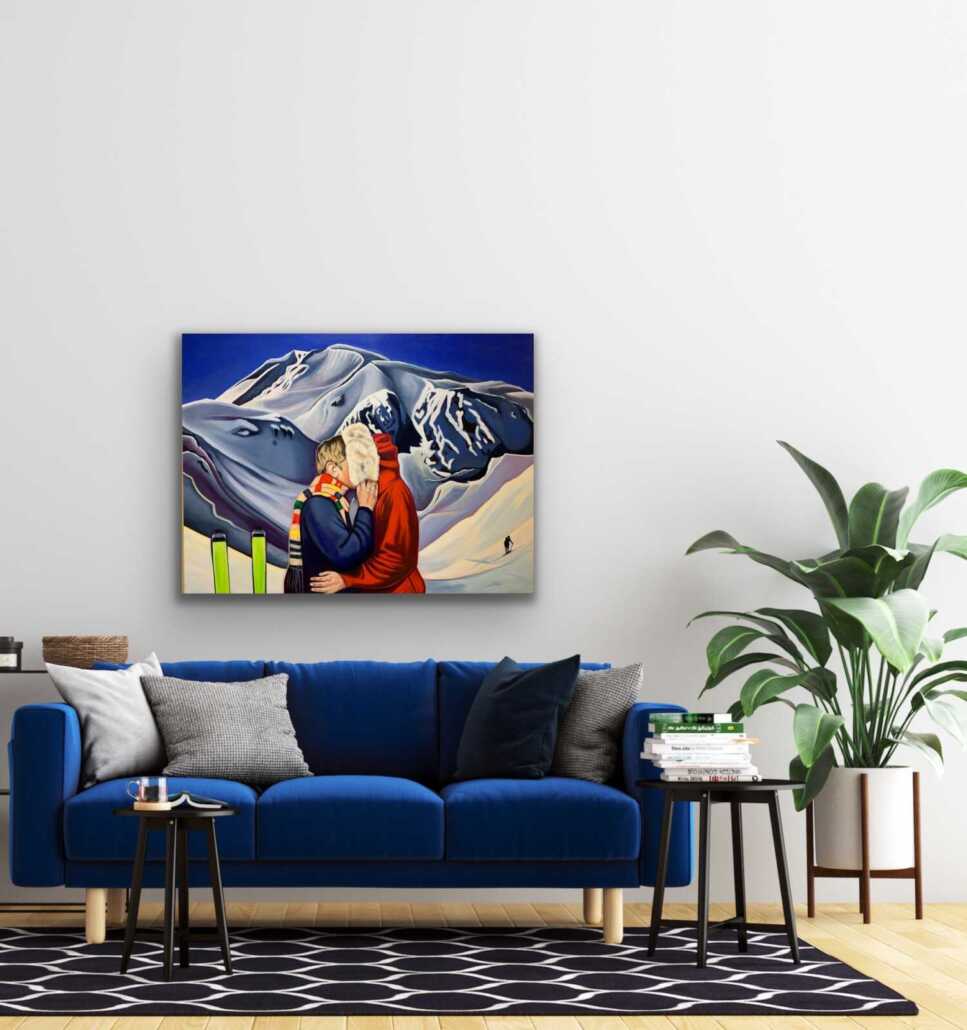 Original fine art isn't merely décor; it's an investment in a piece of history that exists on Earth specifically for you, the collector. Buy the Art you love, it will always fit your space.
See Art in the Homes of real art collectors.
See Art Dealers for Brandy Saturley – in Banff and in Whistler, Canada.
https://www.brandysaturley.com/wp-content/uploads/2021/07/study_art_books.jpg
1653
1500
Brandy Saturley
https://www.brandysaturley.com/wp-content/uploads/2020/10/brandysaturley_logo.png
Brandy Saturley
2023-07-17 15:10:46
2023-07-17 15:10:46
Buy Art You Love