In Print Toronto Publications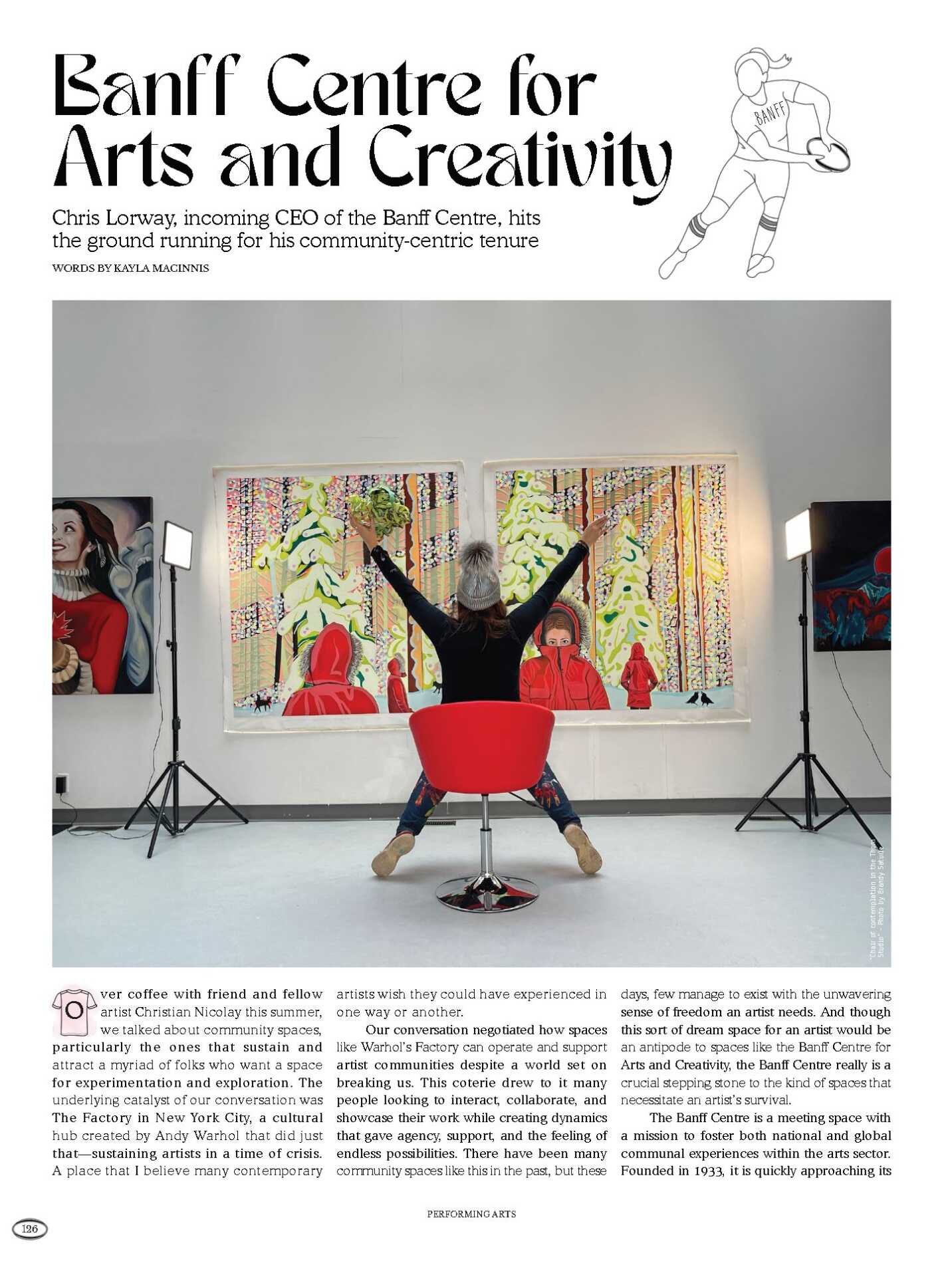 Brandy Saturley's Paintings featured in Prominent Toronto Print Publications
Highlighting the remarkable talent of Vancouver Island-based Canadian contemporary painter Brandy Saturley, her captivating artworks are currently featured prominently in forthcoming Toronto-based print publications that celebrate the Visual, Performing, and Literary Arts.
Brandy Saturley's Presence at Banff Centre – Showcased in smART Magazine Issue 12, Summer 2023:
In an exciting development, Brandy Saturley's artistry will grace the pages of Issue 12 of smART Magazine—an exquisitely detailed monthly digital and print magazine that focuses on the visual and performing arts. Presented by Lighthouse Immersive and accessible at smartbylighthouse.com, this publication holds widespread distribution across North America.
This particular issue holds a compelling interview with the incoming CEO of the Banff Centre for Arts and Creativity, Chris Lorway. Beyond that, it features a captivating photograph of Brandy Saturley taken during her Leighton Studios residency at the Banff Centre. The photograph, part of Saturley's insightful self-photography series, captures the final moments of contemplation before she applies the finishing touches to her paintings. Characterized by their performative nature, these intimate photographs grant viewers a rare glimpse into the artist's creative process. Known as the 'Chair of Contemplation' paintings, Saturley elucidates the concept behind these images in her recent blog post. Her engagement in documenting these poignant moments dates back to 2015, and over the past 8 years, she has amassed over 200 of these evocative instances across various studio locations.
In Print Toronto Publications – Hart House Review by University of Toronto, Summer 2023:
Another noteworthy publication set to showcase Brandy Saturley's  distinctively Canadian paintings is the Hart House Review. This literary and art magazine, curated by Hart House since 1991 and published at Coach House Press in Toronto, creates a harmonious juxtaposition of art alongside prose and poetry. This unique approach constructs a tapestry that chronicles the journey of both emerging and established Canadian artists within their respective domains. The upcoming 2023 edition of the Hart House Review is set to house several of Brandy Saturley's artworks, underscoring her presence within the artistic tapestry. Readers can procure a copy of this publication from the Hart House Library in Toronto.
Brandy Saturley expresses her profound excitement, stating, "It is a privilege to contribute to these two esteemed art publications, which are crafted by exceptionally talented creative teams based in Toronto, Canada."
The forthcoming publications in Toronto print media stand as a testament to Brandy Saturley's enduring artistic journey and her commitment to sharing her introspective moments and captivating paintings with a wider audience. Through these platforms, her distinctive artworks serve to inspire, resonate, and connect with art enthusiasts and admirers across North America and beyond.
See more iconic Canadian paintings by Brandy Saturley.
https://www.brandysaturley.com/wp-content/uploads/2023/08/BC1.jpg
1900
1432
Brandy Saturley
https://www.brandysaturley.com/wp-content/uploads/2020/10/brandysaturley_logo.png
Brandy Saturley
2023-08-09 10:00:15
2023-08-09 10:06:37
In Print Toronto Publications