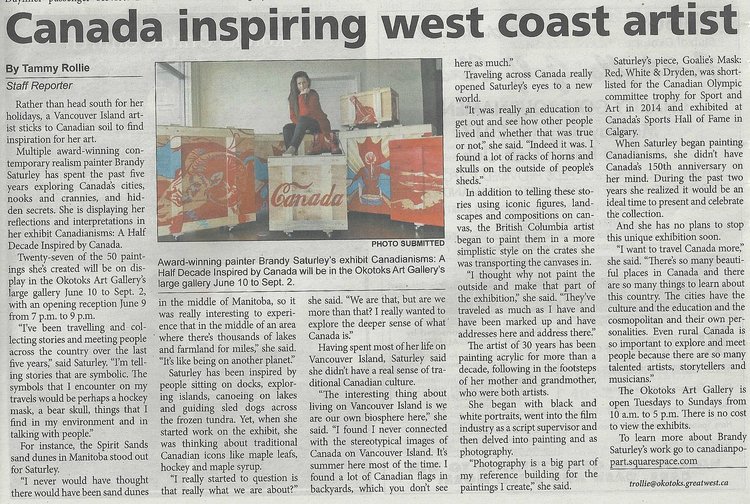 Canada Inspires West Coast Artist – Brandy Saturley talks with the Okotoks Western Wheel
In 2017, Canada inspires West Coast artist Brandy Saturley with tour of an art exhibition inspired by her travels across Canada. The artist talks with the Okotoks Western Wheel about her exhibition; 'Canadianisms: A Half Decade Inspired by Canada' – at the Okotoks Art Gallery near Calgary, Alberta. The show which began 2017 in Sherwood Park, just outside of Edmonton, made it's way across the province to a town just outside of Calgary, known as Okotoks. This travelling art show includes hand painted art shipping crates, central to the show, which carries 30 paintings, illustrating stories of Canada.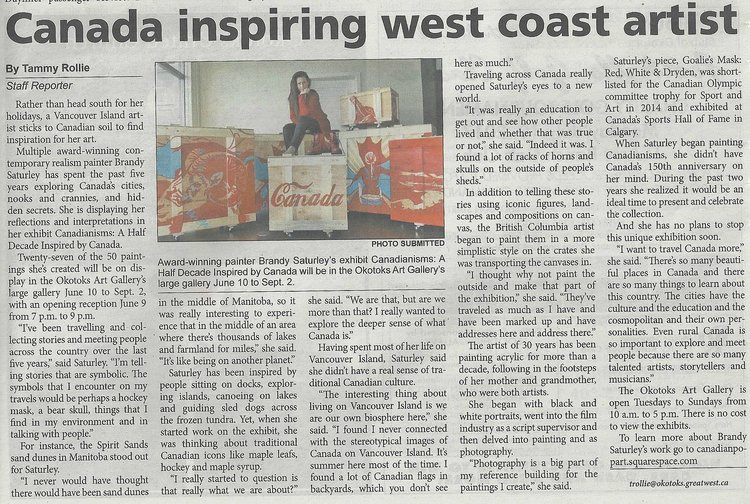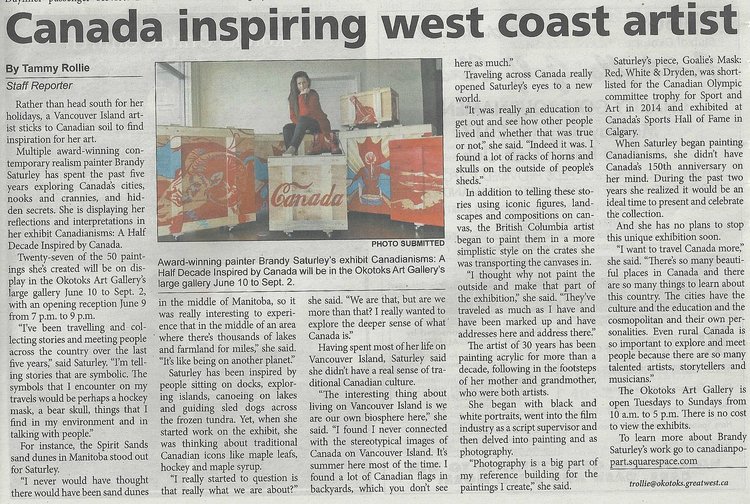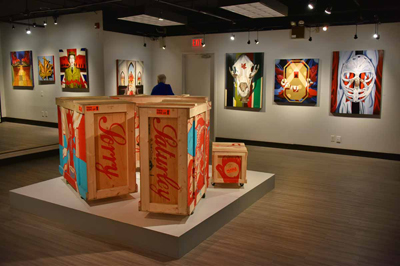 These paintings tell visual stories; encompassing themes related to Canadian popular culture, symbolism, people, nature and the landscapes of Canada. Saturley's paintings not only have a sense of humour, but also reference famous works of art. Her vibrant Canadian art collection boasts archetypal landscapes, Tim Hortons cups and Canadian icons like Gord Downie and a hockey stick-holding Shania Twain. One painting depicts a Mi'kmaq performer and RCMP officer at the Vimy Ridge 100th anniversary; another portrays a Canadian veteran poised above a field of red poppies. One piece portrays a couple standing outside the Montreal Forum, posed in the style of Grant Wood's 1930 painting American Gothic.
https://www.brandysaturley.com/wp-content/uploads/2017/09/brandysaturleyinterviewwesternwheel.jpg
504
750
am-330
https://www.brandysaturley.com/wp-content/uploads/2020/10/brandysaturley_logo.png
am-330
2017-09-22 16:42:24
2022-09-29 10:49:43
Canada Inspires