Top 10 Best Paintings 2022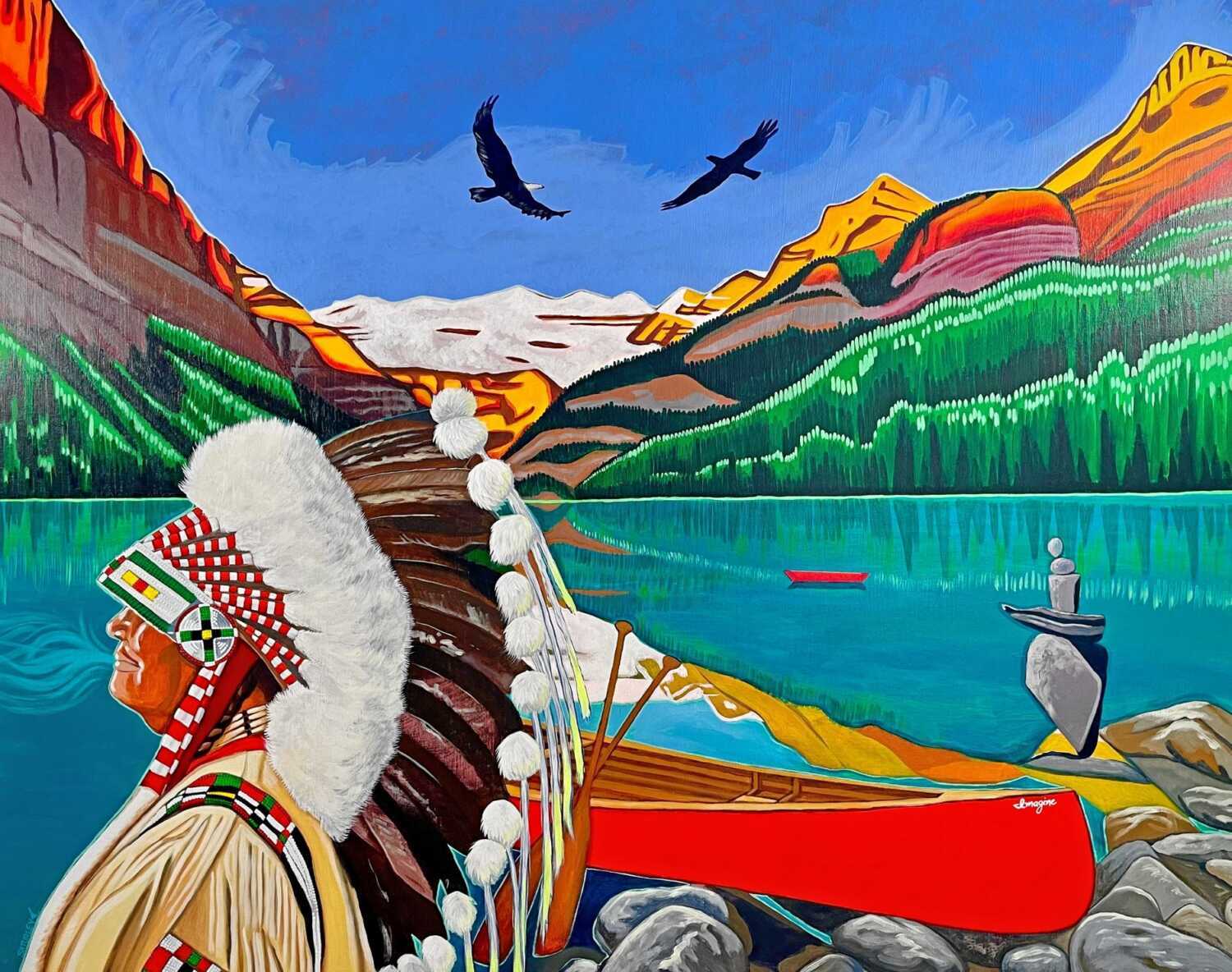 Top 10 Best Paintings 2022 – Art in Canada
Every year we review the top 10 paintings of the year, highlighting the best artworks created by Brandy Saturley. This year was a year filled with figurative paintings reflecting Canadian culture, landscapes, outdoor pastimes and icons. There were many portraits painted in 2022, northern skies, wildlife and paintings with canoes. With realistic foregrounds and focal points, set against vividly vibrating abstract backgrounds of form and colour. These modern pop art style paintings, sometimes feature kitschy elements of Canadian culture. With hard edged compositions and representational elements, these paintings tell visual stories of the subjects contained within. Please enjoy these top 10 best paintings created in 2022.
Imagine Canoe: A spiritual landscape at Lake Louise. A Blackfoot tribal chief in regalia and headdress stands at the head vantage point of Lake Louise, towards the glacier. A canoe of red with name inscribed 'Imagine'. A stack of rocks that resembles a person in the foreground, another red canoe in the distance. Two eagles fly high in the sky above the vortex point of the glacier. The lake is depicted in summer, with tropical turquoise colours and uncovered mountains and trees. Imagine Lake Louise, imagine Peace.
Golden Hour in The Heart of Canoeland: Two scarlet red canoes meet at sunset, on a lake in Canada. In the distance two snow peaked mountain ranges, and a swoosh of clouds. The tree line bordering the lake sparkles with shades of emerald and lime green. Reflections on a perfect moment shared in nature. Perhaps a skinny dip? where are those canoe lovers.
Wanderlust: A family carry a canoe named 'Wanderlust' a grand portage across dried creek beds to a lake. On top of the canoe a polar bear and a snow goose accept the offer of carriage to a cooler locale. As with many of my polar bear pieces they are joyful visual stories but also carry deeper more serious meaning.
Dreaming Under Northern Lights: Crisp northern air, standing under the aurora borealis. A girl in a fur trimmed parka gazes up at the northern sky and watches the dance of light. Dreaming under the night sky and the magical dance of the Northern lights.
Modern Canadian Elk: A mystical elk. A dreamy modern pop art take on a Canadian nature paint. Can you feel the spirit of the elk? Abstract forms an colour, along with a Northern lights sky create a dreamy scene.
On Top of Nanaimo Bars: all covered in winter. A figure skater wearing a toque and red sweater, blowing a bubble is perched on top of a stack of Nanaimo bars, with Candy colours below. She holds a string of ice that flows into a vase or vessel, from which daffodil flowers burst. An icy lake and bridge behind with sky of violet blue peering through the trees. Painted around the time of the 2022 Beijing Olympic Games. A dreamy confectionary Canadian landscape.
Surfing Rainbows: A west coast beach under dramatic skies of golden hour, post rain shower and rainbow. Surfers and beachcombers explore the beach, looking for the next wave or beach treasure. Symbolic of a west coast Vancouver Island day on the beaches of Tofino.
A Handful of Polar Bear: This little handful of fluffy white polar bear, sleeping silently, is surrounded by modern flora and fauna. He is perched in a dreamy slumber, on a bed of ice and has a tiny heart in his paw. Has almost an art deco feel – pop art deco.
Ukraine Strong: Portrait of the artist in Ukrainian headdress, honouring her heritage and in support of Ukraine. She wears a blue collar flannel of red and black check, the quintessential Canadian business shirt. A Canadian Ukrainian with a pysanka egg of Ukraine flag yellow and blue resting between bicep and forearm. Against a background of wheat fields and blue sky.
Royal Gaze: "It has been women who have breathed gentleness and care into the harsh progress of mankind."
Painted during the month of Queen Elizabeth II passing and funeral. I wanted to honour The Queen in a portrait that captured her gaze, her warmth and her strength. This painting of The Queen features an undulating Union Jack flag in the background, her majesty is wearing the Diamond Diadem crown.
There you have it, our top 10 picks for best paintings of 2022 by Canadian Artist, Brandy Saturley. See more artworks by this Canadian painter here. You can also purchase the annual art catalogue featuring these works and more.
https://www.brandysaturley.com/wp-content/uploads/2022/05/imaginecanoepainting.jpg
1184
1500
Brandy Saturley
https://www.brandysaturley.com/wp-content/uploads/2020/10/brandysaturley_logo.png
Brandy Saturley
2022-11-02 10:46:07
2022-11-02 10:46:07
Top 10 Best Paintings 2022