Georgia O' Keeffe's Hawaii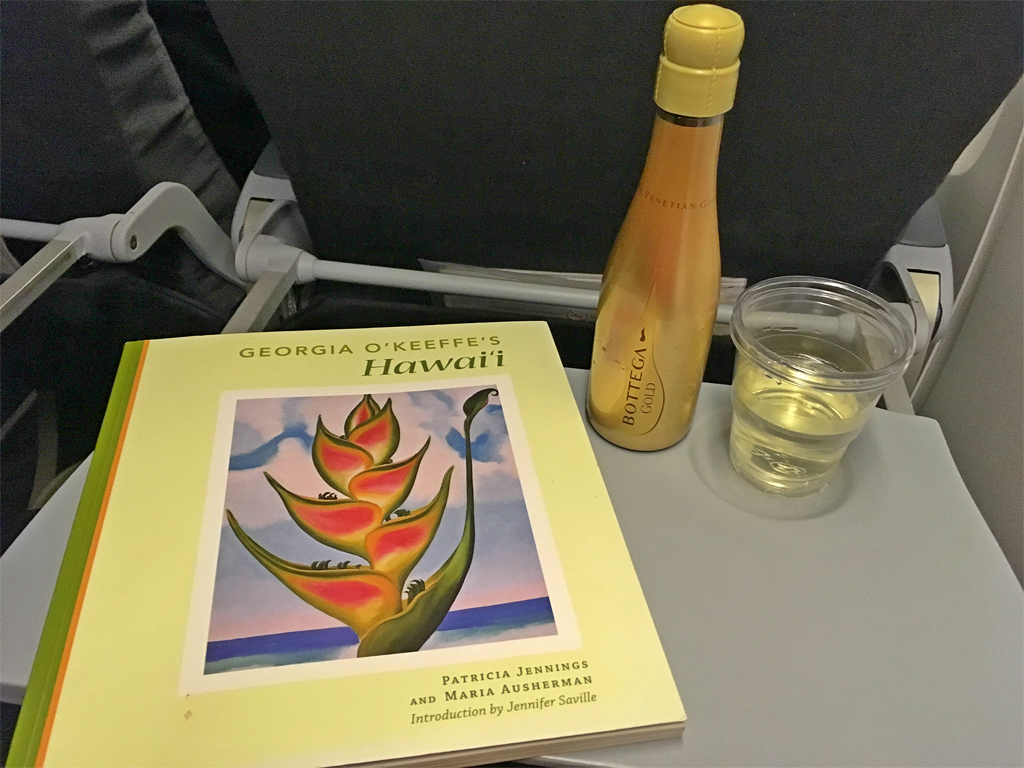 Georgia O' Keeffe's Hawaii – Making Art in Magical Maui
About six years ago after my first trip to explore the landscapes and flora of Maui, I discovered a book written by Maria Ausherman from interviews with Patricia Jennings, about world famous painter, and one of my favorites, Georgia O'Keeffe. The book,  Georgia O'Keeffe's Hawaii  , focuses on three month's in 1939 when O'Keeffe visited Hawaii including Maui, as guest of the Dole Pineapple company as they had commissioned her to paint an image for their advertising campaign. The book had been sitting on my desk and I had yet to crack it open, and with a December trip planned to the island paradise, I decided to pack the book up and read it on the plane on my seven hour flight to the island. It was the best way to begin this second journey and set me up for re-tracing O'Keeffe's footsteps in Hana and the I'ao Valley areas of the island.
The book is told from the perspective of a 12 year old girl by the name of Patricia Jennings who had served as O'Keeffe's personal guide while in Maui in 1939. "Less than three years after O'Keeffe's visit, Pearl Harbour was attacked. The world suddenly changed and Jennings memories of her time guiding O'Keeffe on Maui sustained her through this difficult period in US History. As long as we keep our stories, friendships, and our art, we will not lose the joy of being alive." (excerpt from the book, April 2011 NYC)
The story is an entertaining and vivid recollection from the perspective of a child and a famous artist, known for her sometimes difficult nature. Jennings spent 10 days with O'Keeffe and from this experience bloomed, much like O'Keeffe's flower paintings. Jennings credits her time with the artist as schooling in becoming a more confident girl and woman.
Coming off the plane in Kahalui and breathing in the plumeria laced air, I was ready to let the sentiments and recollections in the book, lead me to the places that inspired more than twenty paintings, including the final piece for Dole.
Beginning with the flowers, I was on the lookout for the Heliconia, which appears on the cover of the book. The flower is flamingo-like in it's colours and shapes. There are many varieties of this flower, all beautiful, unusual and substantial. I found this particular flower in Hana, on Maui. Hana is located at the eastern end of the island of Maui and is one of the most isolated communities in the state. It is reached mainly via the Hana Highway, a long and winding, 52-mile-long (84 km) highway along Maui's north shore.  The charm of Hana is the fact that little has changed over the last 20 years. Untouched by the major developments of the other side of the island, the Hana community has managed to perpetuate the small town atmosphere, Hawaiian culture and most of all, its natural scenic beauty. Unspoiled, serene and mystical; Hana is truly Maui's last authentic Hawaiian place. Polynesians arrived in Hawaii in 500-800 AD and built the Pi'i-lani Heiau temple – the largest in the state of Hawaii.
I then ventured to the rugged lava created coastline exploring one of the area's red sand beaches, which offers a view of a lava bridge, famously painted by O'Keeffe. It is a significant structure that offers a keyhole view from from a distance. O'Keeffe also painted many of the valleys and waterfalls in the area, most found along the Hana Highway through short hikes from the roadside.
Thanks to Maui Air I was able to get up and achieve an overhead perspective of the many valleys and waterfalls in the area, inducing the one's that inspired O'Keeffe. From 50ft to 400ft and more, these waterfalls and turquoise pools against emerald green lushness, sets your soul at ease. Breathing in the eucalyptus and the tropical flowers sends you into a foggy headed trance, you find yourself in a place you never want to leave.
After soaking up the beautiful coast and rainforest of Hana I was excited to explore the I'ao Valley. An emerald and lime green valley in Wailuku and including the West Mountains and volcano. Perhaps the most lush and most green place on Earth. The mountains change throughout the day as their wrinkles or valleys light up as the low hanging clouds pass by revealing their beauty, but only a little at a time.
This trip offered numerous opportunities to soak in the lush colours & shapes and the intoxicating sounds and smells. From eucalyptus to plumeria blossoms, from salty air, to sand – Maui puts you in a trance that you do not wish to leave. I spent a few days at a condo in Kihei sketching on my lush garden patio, listening to birds and watching plumeria blossoms dropping daily to my feet. Breathing in Maui and breathing out my expression of this cinematic place on my sketch pad and canvas. As with any adventure, I am looking forward to seeing what this trip produces in my art. The sketch shown here, which is a study for a future painting, is titled; for Georgia & Lawren – two of my favorite painters and both icons of symbolic landscape painting. Aloha from paradise and thank you Georgia O'Keeffe, Patricia Jennings and Maria Ausherman for the inspiration. What if Georgia O'Keeffe and Lawren Harris met and made art together? A question to answer in my next post.
https://www.brandysaturley.com/wp-content/uploads/2017/12/IMG_8411.png
768
1024
am-330
https://www.brandysaturley.com/wp-content/uploads/2020/10/brandysaturley_logo.png
am-330
2017-12-13 16:13:24
2023-09-27 13:59:55
Georgia O' Keeffe's Hawaii