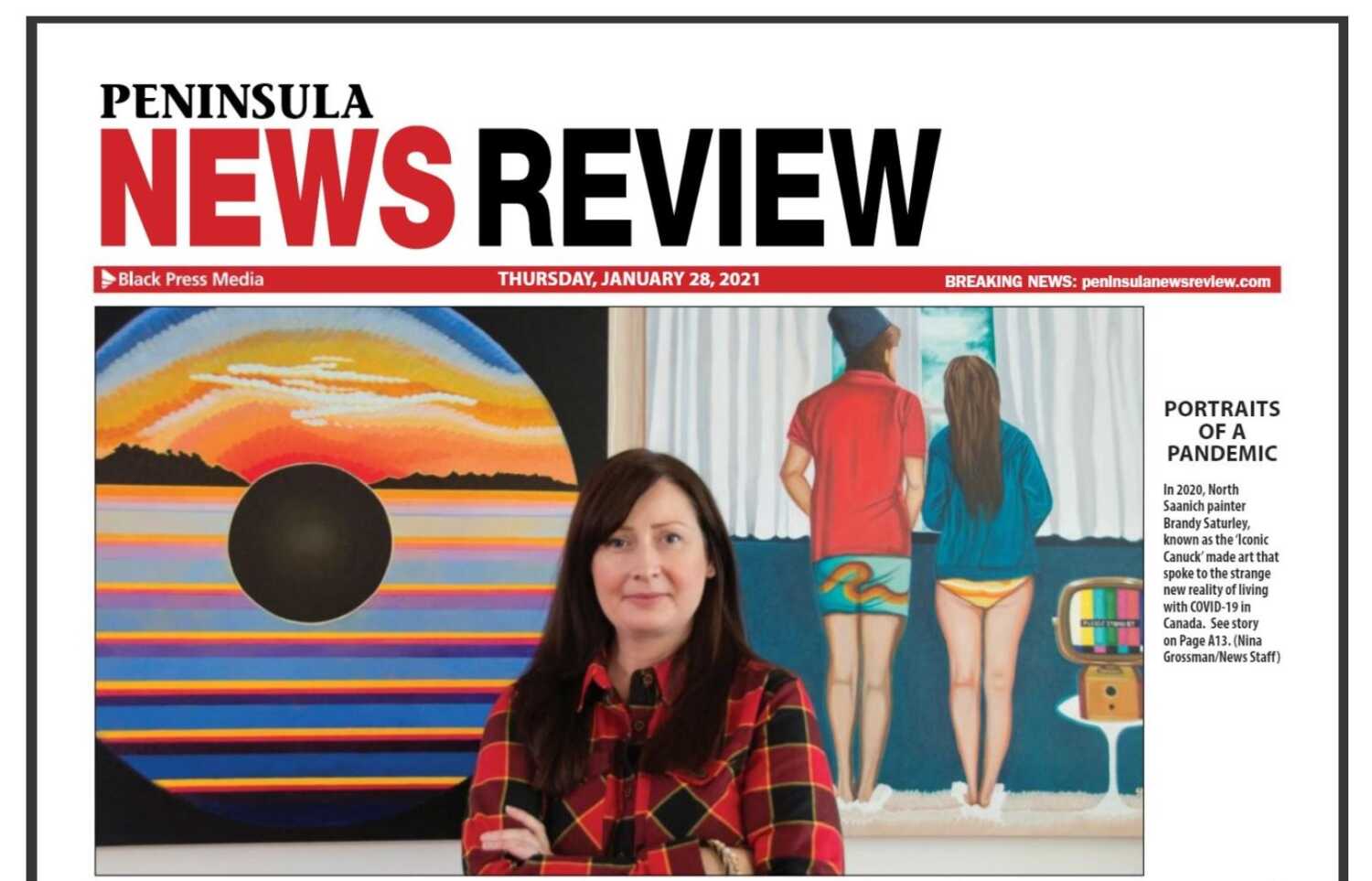 Talking Art During COVID with Peninsula News Review
"I just feel the internal need to say something about the time that we are in. Sometimes I make paintings that are pretty paintings, but sometimes I make paintings that talk about events that are happening in the world, I think both are important." Talking art in the time of COVID-19 with Nina Grossman for the Peninsula News Review, Sidney/North Saanich News.
2020 was a year, for all of us, and for this ' Iconic Canuck' it was a year where I felt the need to let my heart lead my brush a little more than my brain. As an artist, who is continually and emotionally connected to the undercurrents of the world, I need to let the emotion flow onto the canvas. The gift of being born with the need to create Art on a daily basis, is the gift of therapeutic output, because Art is my therapy, my solace, my way of processing Life. In it's purest form; Art is the conduit for realizing truths about the world, life, and oneself.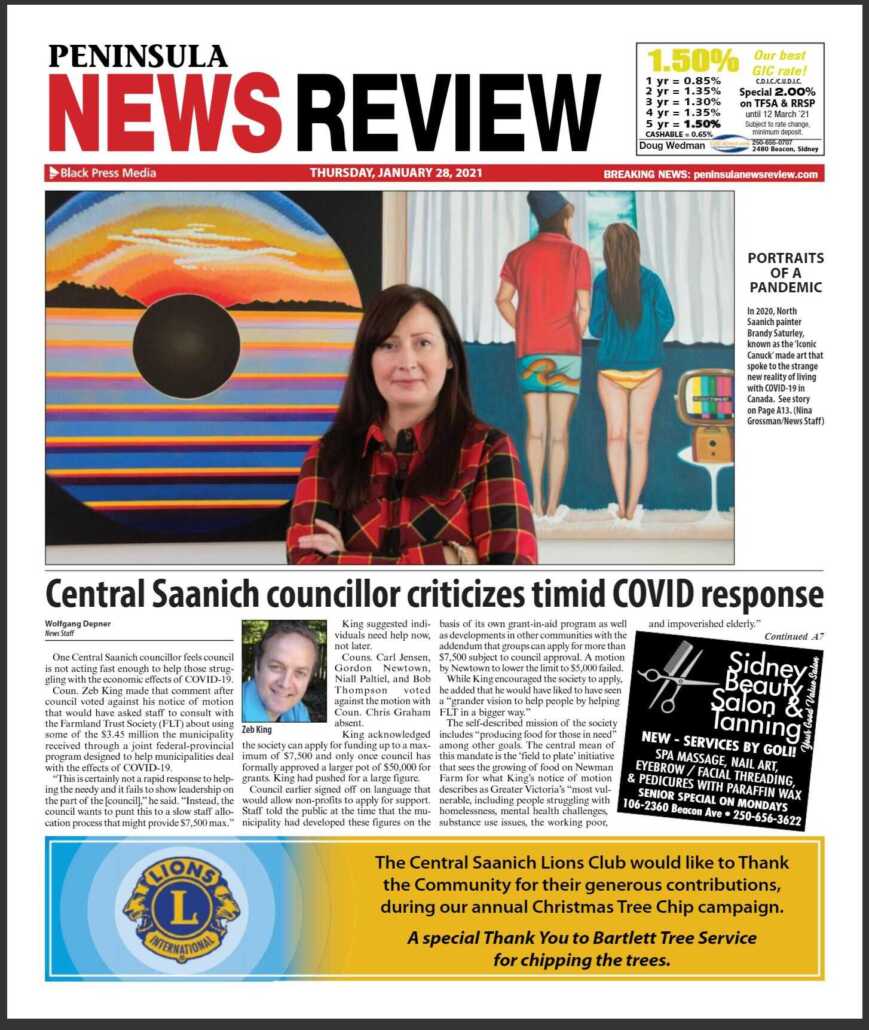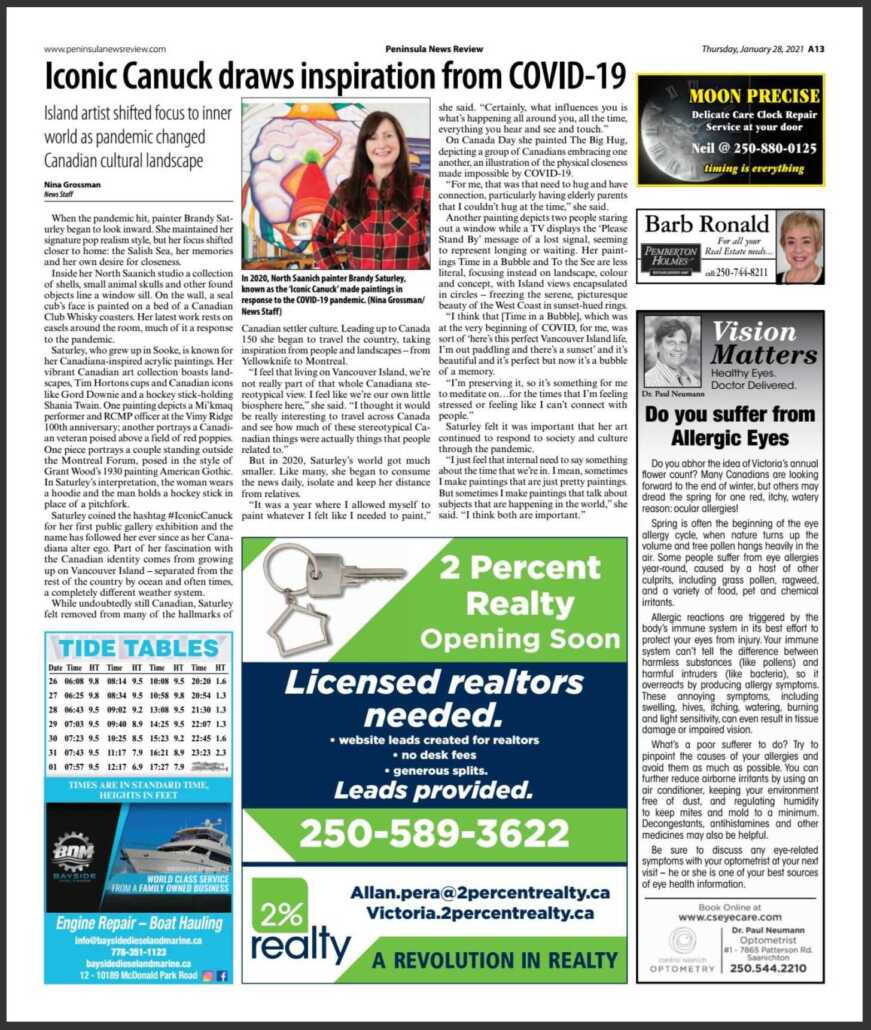 Over the past two decades paintings made by Victoria BC born, Canadian Pop Art painter, Brandy Saturley have been exhibited across Canada, in London, England and online with virtual galleries in Berlin, Germany as well as corporate venues such as Canada's Sports Hall of Fame.
#ICONICCANUCK – is a hashtag that Saturley coined on Twitter in 2013 to describe her distinct style of Canadian Art. The hashtag became the title of the artists' first public gallery exhibition, taking place in Edmonton at the end of 2013. Since then, #ICONICCANUCK not only references the paintings of Saturley that comment on pan-Canadian identity, it has become the painter's persona, quickly becoming the alter ego of Saturley, as the artist develops her own iconography, as a contemporary visual artist in Canada.
https://www.brandysaturley.com/wp-content/uploads/2021/01/peninsualnewsreviewcovidart.jpg
963
1500
Brandy Saturley
https://www.brandysaturley.com/wp-content/uploads/2020/10/brandysaturley_logo.png
Brandy Saturley
2021-01-29 10:59:47
2021-01-29 10:59:47
Peninsula News Review