Mentorship for Emerging Artists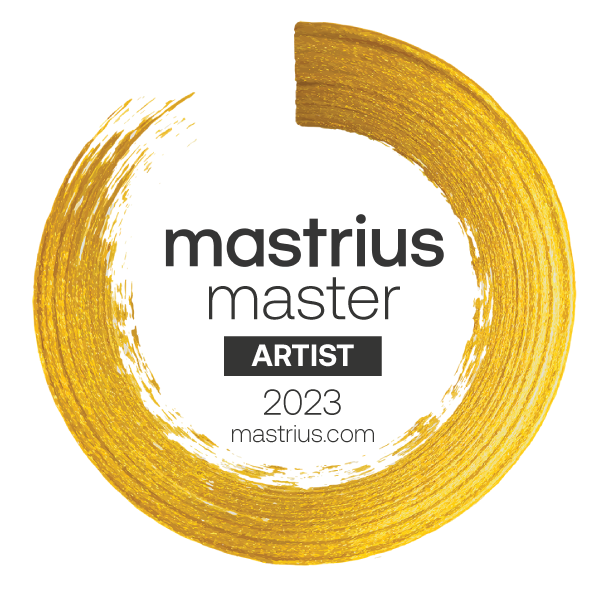 What is mentorship? How adding a 'guru' can help emerging artists.
When I began looking at taking my art career to the next level, and making it my full-time career, I sought out the advice of a 'gurus' in my field and parallel businesses that support the art business. Mentorship for emerging artists is key to helping you move, with purpose, towards a fulfilling full-time career as a professional artist. I connected with painters, photographers, writers, gallery directors, bloggers and many more using nothing but my email account and some well written emails. Fast-forward two decades later and I am now being asked for my advice as an Artist mentor.
As my art practice and catalogue of work has grown, so have I, as a painter and as an Arts business professional. When I came up more of us grew our careers through reaching out to those who came before, our learning was organic and through guru's. For some reaching out to another Artist you admire can be daunting, but more often than not I find it to be an incredibly rewarding experience. In today's world with Zoom, Facetime and even WhatsApp, reaching out to others in your field is much easier and can be even more personal than standing next to them in their studio. It takes away that nervousness that comes with being in someone's space and offers me as a mentor the opportunity to schedule visits during times that suit my practice. Learning in your own space is more casual and allows you to relax into the session, and really focus on the content being provided.
When Mastrius approached me about coming on board as a mentor, I responded with open arms and an open mind, with endless opportunities to share, learn and give back to a community bonded by Art. I like the 'group' approach where you can join in with fellow Artists at your level, offering support and opportunities for future collaborations. As a Master Mentor I am looking forward to talking with emerging artists at the beginning of their careers, and of all ages. Emerging and aspiring artists does not necessarily mean young, you can be emerging at any age, all you need is the time and drive to make and pursue your Art, a good place to start.
Join me in ART MENTORSHIP!
I'm hosting a small group (no more than 8 artists) with Mastrius, where I'll be supporting you on your art journey. Mastrius is an online platform that connects Master & Professional Artists with those who want to learn from them.
ARTISTS, this is an opportunity to BOOST YOUR SKILLS & CONFIDENCE in a trusted group designed to share ideas, practical information, and receive feedback about your work.
The group meets ONLINE monthly to help you achieve your specific goals! You'll also get access to our online community to connect with others on a similar journey.
I'll Help You:
🔥 Find your signature style
🔥 Explore technique, color and composition
🔥 Design + achieve goals for your creative practice
You'll Also Get:
💥 Critiques on your work
💥 Learn how to self-critique
💥 Demos of my process + expertise
💥 Guidance to avoid mistakes I've made
This Group is for You if:
✅ You feel you haven't found your style
✅ You're painting for friends and family
✅ You want to learn better technique
✅ You want to improve skills + quality of your art
✅ You need some ENCOURAGEMENT
Over the years, I've learned a lot as a Master Artist. It's my honour to have this opportunity to walk alongside you on the next stage of your creative journey!
ONLY 8 SPOTS & Groups Fill Fast!
Don't worry, you're not locked in & you can cancel at any time… but we're sure you'll want to stick around and reap the rewards of mentorship!
JOIN ME & REGISTER TODAY!
Registration Link: https://www.mastrius.com/brandy-saturley-mentorship/
📅 Starting Wednesday, January 17th at 5 PM MST (7 PM EST) Or..Thursday, January 18th at 11 AM AEDT (1 PM NZDT).
An intro to what I can offer as an Artist Mentor here:
https://www.brandysaturley.com/wp-content/uploads/2023/11/Master-Badge-2023.png
604
604
Brandy Saturley
https://www.brandysaturley.com/wp-content/uploads/2020/10/brandysaturley_logo.png
Brandy Saturley
2023-11-06 14:56:25
2023-11-24 10:02:31
Mentorship for Emerging Artists