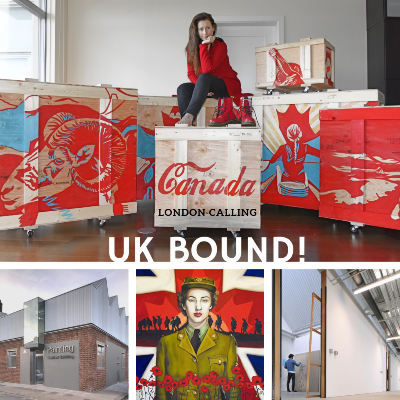 Making Art in London: From Victoria, BC to the Royal College of Art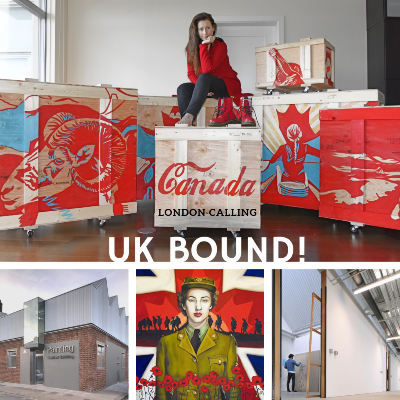 She was just a girl living in her own world, her bedroom walls covered in pink and purple rose wallpaper. The carpet was green like the Spring grass, and she would sit for hours on this grass dreaming up ideas and writing down thoughts. It was her English Garden. The tape cassette player clicking and pushing out tin can sounds of great, and not so great but popular, music. The Beatles Greatest Hits, Billie Holliday, the soundtrack for Miami Vice and AC/DC. It was the 1980's and her world was mostly created, in this room. The walls were lined with stacks of magazines; Cosmopolitan, Vogue, Top Model, British Elle and the European Newspaper. Making art in London was a dream.
Fast forward to 2019, with nearly two decades working as a professional visual artist and a dozen years working full-time developing my artist voice as a painter, I am now looking forward to the next challenge and opportunity to 'freshen-up' my practice and perspective as a contemporary artist.  As long as we are persistent in our pursuit of our deepest destiny, we will continue to grow.
It has been said that there is a number when it comes to mastery, related to time spent practicing an activity, that number is 10,000 hours. In recent years this popularized rule of numbers, was clarified. Within that study, there was no magic number for greatness. 10,000 hours was not actually a number of hours reached, but an average of the time elites spent practicing. Some practiced for much less than 10,000 hours. Others for over 25,000 hours. Where the rule has been challenged, is in the quality of time spent, versus the quantity. Meaning, someone who was not genetically pre-disposed or exposed to a practice, such as painting, might not attain expert level ability just be practicing daily. The research found that there's much more to mastering a skill than just months, even years, of practice. Genetics may play some role, but science is also giving us glimpses into what else we can do to learn more efficiently.

There are many things that make a master; hard work, persistence, patience, and an early introduction in life to the activity, in my case art. (painting, drawing and photography)  Equally important skill acquisition, and particularly rapid skill acquisition. Exposure to mentors and learning that teaches advanced skills, short-cuts and new forms of creative problem-solving and reasoning. As long as I can remember I always sought out the elders in the room, because they were better at things than me, more experienced, and I wanted to learn.
My study in the arts began with my artist mother, with my eyes being opened with that first public school art teacher. This led to the study of fashion design, cinema, and time working in the motion picture arts. These experiences led to the fine arts with schooling in sculpture, graphic design, drawing, painting, and art history. These experiences found me obsessed with taking my drawing practice to the canvas and once I began painting, I never looked back, I was hooked. Photography came to play a role in my practice and complemented my time in the studio, while it also gave me an opportunity to break from my studio practice and explore the world, behind the lens.

I am a fan of shaking up my perspective, and challenging my practice of art and I am now preparing for a new opportunity for learning, in one of the world's art centres.
In July and August his year I will be shaking up my practice and perspective while I make art at the Royal College of Art in London, United Kingdom as part of the Contemporary Art Summer School program. I will be making art where some of my favorite masters, walked before.
The Royal College of Art and its predecessor schools have numerous notable alumni in many fields. Alumni from the twentieth and twenty-first centuries include the sculptors Barbara Hepworth and Henry Moore, painters Frank Auerbach, David Hockney, Bridget Riley, Sir Peter Blake and Charles Tunnicliffe, artists Jake and Dinos Chapman, Tracey Emin and R. B. Kitaj, fashion designers Ossie Clark and Zandra Rhodes, industrial designers James Dyson and David Mellor, film directors Tony and Ridley Scott, designers Thomas Heatherwick and Sir David Adjaye, prominent member of the suffragette movement Sylvia Pankhurst, the musician Ian Dury and the actor Alan Rickman. 

The world's number one art and design university, the Royal College of Art. The only entirely postgraduate art and design university in the world. The RCA has three campuses, in South Kensington, Battersea and White City. The Darwin Building in Kensington Gore.
I will be making art, alongside a small group of  international artists, on the Battersea campus. Battersea is a district of south west London, England, within the London Borough of Wandsworth. It is located on the south bank of the River Thames.
Bringing my Canadian art voice to the country that is the birthplace of my paternal grandparents and ancestry. I will be making art and disrupting my perspective and art practice for the months of July and August. Looking forward to sharing this experience with you!

https://www.brandysaturley.com/wp-content/uploads/2019/02/royalcollegeofart_brandysaturley.jpg
400
400
am-330
https://www.brandysaturley.com/wp-content/uploads/2020/10/brandysaturley_logo.png
am-330
2019-02-19 14:16:58
2022-04-22 09:49:13
Making Art in London