Canadian Artists Exhibits Alberta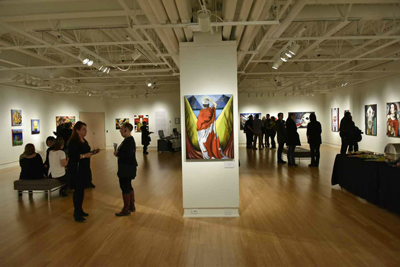 Impressive list of Canadian Artists Exhibits in Alberta
What does it mean to be Canadian? To celebrate Canada's sesquicentennial year (150th anniversary of confederation), the Gallery@501 in Alberta, Canada presented an impressive list of Canadian Artists Exhibits in Alberta that explore what it means to be Canadian featuring artworks by: Diana Thorneycroft, Joe Fafard, Dr. Roberta Bondar and Brandy Saturley.
I am honoured to be included with this group of iconic Canadian artists, as my retrospective exhibition, 'Canadianisms: A Half Decade Inspired by Canada – by Brandy Saturley' kicked off this celebratory exhibition year at Strathcona County Gallery @501.  Beginning with 'Canadianisms' in January, the 2800SqFt museum level, public gallery played host to some of the most well known Canadian Artists expressing a variety of views about Canada, through their artwork.
Following 'Canadianisms' in February was the work of Winnipeg visual artist, Diana Thorneycroft. O Canada (I'm Sorry) featured selections of two bodies of work: Group of Seven Awkward Moments and A People's History. The works found in the series Group of Seven Awkward Moments investigates the relationship between the Canadian landscape and national identity. A People's History explores examples of Canadian society that exemplify the word "awkward". In the words of Thorneycroft, "Canadian history is full of awkward moments and that is more of a reality than this heroic landscape that the Group of Seven portrayed." The summer solo exhibition featured another Winnipeg artist and celebrated Canadian sculptor, Joe Fafard. Internationally renowned, Joe Fafard is one of Canada's most recognized and prolific artists. Retailles offered an insight into Fafard's exploration of the laser-cut process featuring laser-cut and welded metal sculptures along with embossed and woodcut prints.
With more than 20,000 visitors annually the gallery has quickly developed a formidable presence, equal to the Art Gallery of Alberta, thanks to the vision of chief curator and director, Brenda Barry Byrne and her team of seasoned arts professionals.
On November 10, 2017, the final show of the season opens and I wish I had time to hop on a jet plane and cruise into gallery for the opening of Dr. Roberta Bondar's solo exhibiton, 'Light in the Land – the Nature of Canada. "The photographic portraits of land and seas in this exhibition are artistic interpretations of the unique and important landscape that is Canada. Appropriate in Canada's sesquicentennial year, these images present extraordinary landscapes across the country, encouraging a love and respect for the natural environment in its complexity. The collection is a consistent view of one artist, Dr. Roberta Bondar, Canada's first woman in space, exploring the varied landscape in the singular light that is Canada.
Enhancing the sesquicentennial celebrations, Gallery@501 in partnership with the Strathcona Wilderness Centre will be exhibiting the winning photographs from the 2013-2016 Summer Camp Bondar Challenge. Winning entries from the national Camp Bondar Challenge include three winners from the Strathcona Wilderness Centre Summer Camp."
From 'awkward moments' as visualized by Diana Thorneycroft, to the Retailles of Joe Fafard, from the spectacular photographs of Canada and the nature that surrounds by Dr. Roberta Bondar, to the tongue-in-cheek narratives of my 'Canadianisms', this year has been a year to take pause and reflect on who we are, and where we want to go as a country. Happy Birthday Canada! See you with a new perspective in 2018.

https://www.brandysaturley.com/wp-content/uploads/2017/10/artgallery6.jpg
267
400
am-330
https://www.brandysaturley.com/wp-content/uploads/2020/10/brandysaturley_logo.png
am-330
2017-11-10 01:21:11
2022-04-27 10:16:31
Canadian Artists Exhibits Alberta