Remembrance Day Painting 2020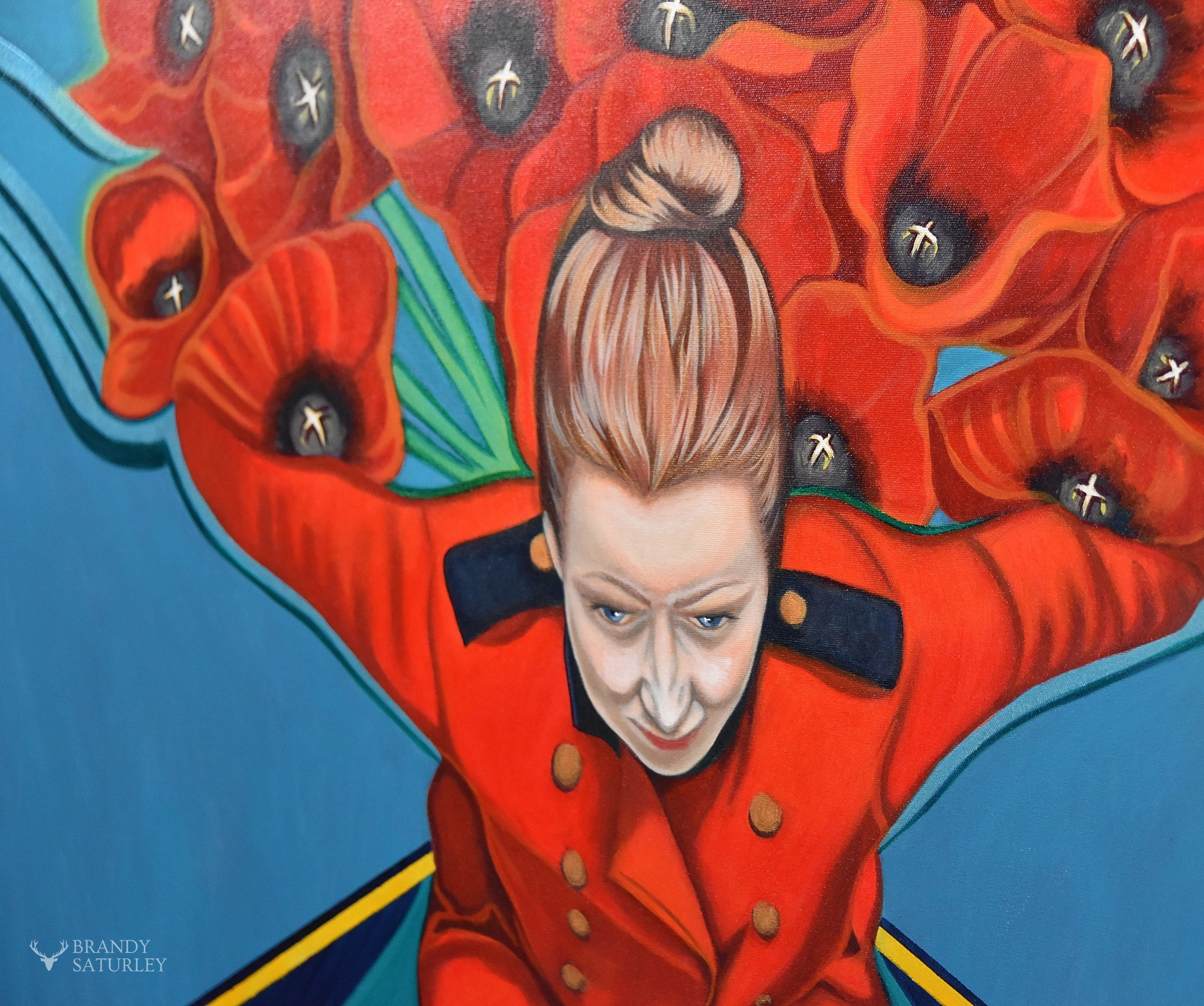 Making a Remembrance Day Painting in The Pandemic Year
Talking about making a Remembrance Day Painting, and looking at the artist process behind making a painting in 2020.
In Canada, red poppies seem to conjure thoughts and feelings about Remembrance Day and family that has served, or is currently serving in our Canadian Forces. I have painted red poppies a number of times over the years, but none seemed to touch Canadians as much as this piece created in 2014, inspired by the women of the Canadian Women's Army Corps.
Perhaps it is because many of us had grandmothers, mothers and even great-grandmothers serve. Many people have sent me the most lovely notes about this piece over the years, it seems to connect with Canadians widely and on a deep level, with many seeing their own mothers in the piece. I have been interviewed about the piece, shown it in public and private galleries. Please enjoy this Remembrance Day Art.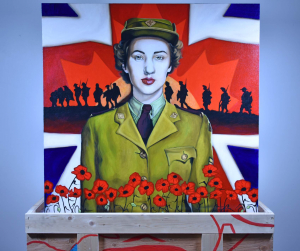 A New Painting with Poppies: with this new painting my focus is Remembrance Day, as it is approaching and it has been 6 years since I have referenced the day in my artwork. I am mindful of how this day will look in this pandemic year. As this year is quickly coming to a close, I am looking at the paintings which I have made this year. I feel that this piece here, right behind my bowler hat and white gloves, is my very best of the year.
This piece brings together my pop aesthetic, realistic details, and symbolism – it is striking and simple in my design. I begin painting by sketching an outline of my idea on stretched cotton canvas. Then I outline again and add shading in a complementary colour, to the final colour I will be painting on top. In this case I am using variations of green for the outline and shading details, as the final colours in the piece will be variations of red.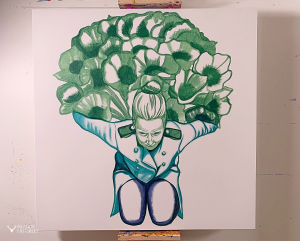 Next, I begin to colour block and lay down big swathes of reds and oranges, using vigorous brushstrokes.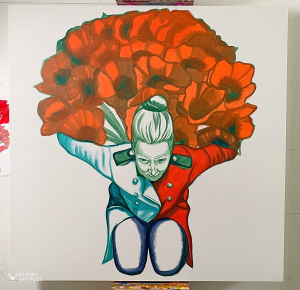 I continue adding layers of colour from background to foreground, repeating the process with more care each time. This part of the process adds depth, fine textures and various tones and shades. I am creating dimension as the piece begins to come to life and pop off the canvas. I also add the flesh tones to the face so that I can assess the overall tonal balance of my palette and within the piece.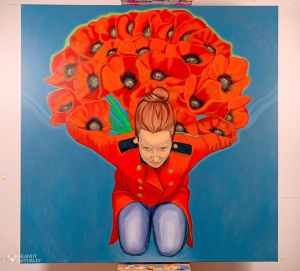 I continue to repaint the entire painting, until the desired tonality is reached and definition is achieved. Then I go into the painting with a finer brush and lighter touch and work on the details, linework, and highlights. In this case metallic and interference paints have been added to bring reflective elements to the piece, adding to the overall 'glow'.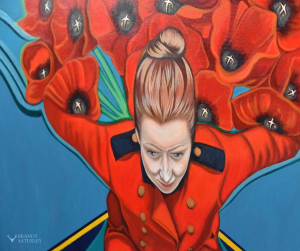 Time for the final review: which has become known as my 'chair of contemplation' moments. The time when I stare for a long period of time as my eyes roll back and forth across the canvas and in differing lights, until I am satisfied that the piece is complete.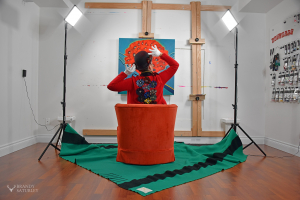 It has been said that Picasso created 50,000 works in his lifetime, and is known for about 100 of these. Not every painting is a masterpiece, and you must put in the time and make a lot of bad paintings to reach the masterpieces.
I am very happy with how this piece has evolved, and I hope you will enjoy it as well.
I'll Carry That Weight (Spirit of Remembrance) Original acrylic painting on canvas honouring Remembrance Day 2020 – by Canadian Artist Brandy Saturley. The painting measures 36×36 inches, and is made with acrylic paints on the finest cotton canvas.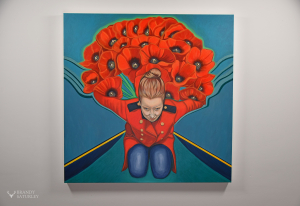 You can see more paintings celebrating Canada on my website.
Sincerely Yours,
https://www.brandysaturley.com/wp-content/uploads/2020/10/addingdetails_brandysaturley-scaled.jpg
2140
2560
Brandy Saturley
https://www.brandysaturley.com/wp-content/uploads/2020/10/brandysaturley_logo.png
Brandy Saturley
2020-10-28 16:35:58
2022-10-20 10:37:45
Remembrance Day Painting 2020