10 Remembrance Day Paintings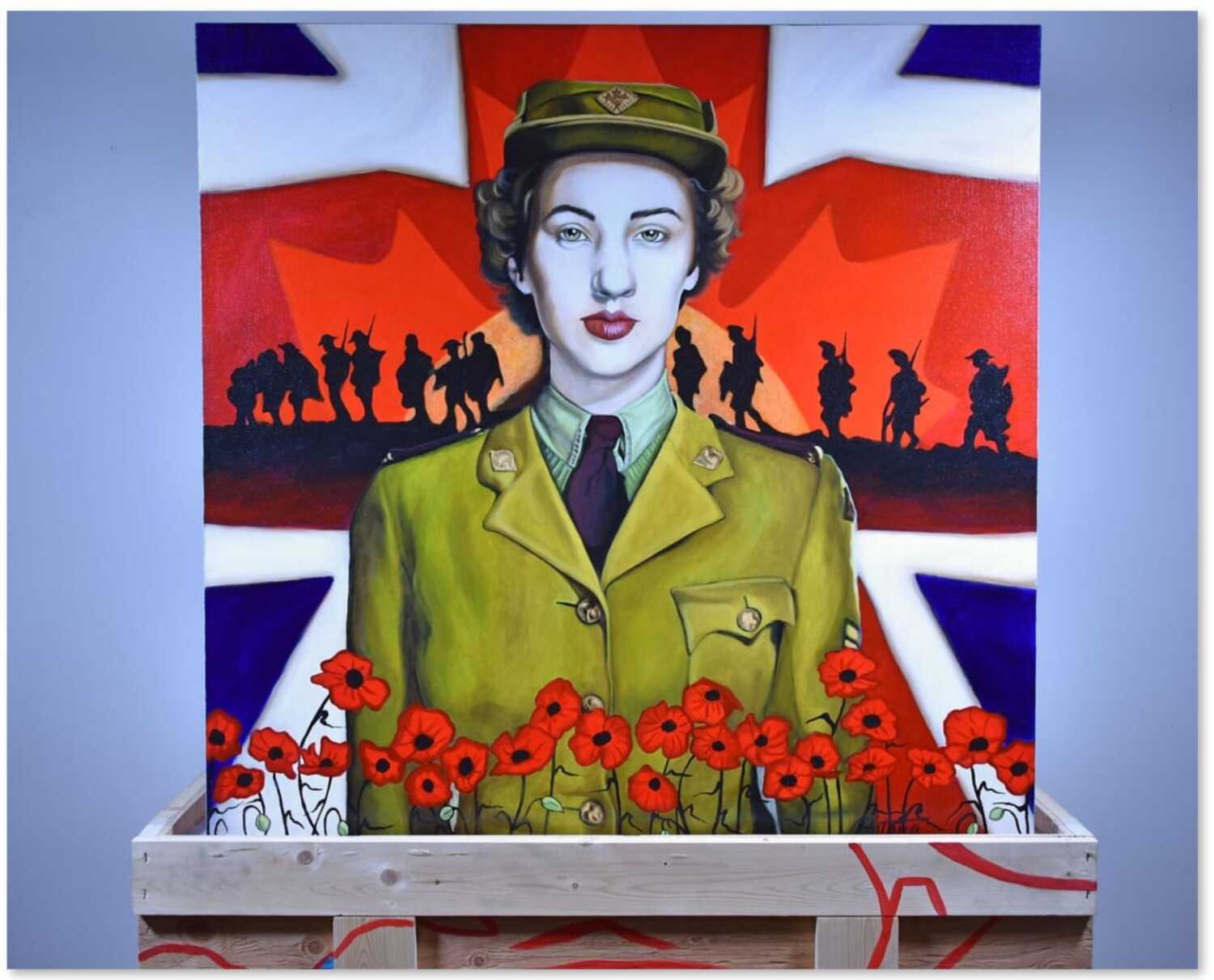 10 Remembrance Day Paintings: Honouring Canada's Role in the Wars
Every year on November 11th a somber mood blankets Canada, as a Canadian artist this national day of Remembrance has bled into my artwork. Some Canadian artists' express their thoughts through poetry, music and even film. My chosen mediums are painting and photography and I have used these mediums to honour the day in many different ways. When thinking about 10 Remembrance Day paintings, I think of world history.
When I was younger my first encounter with 'Canadian wartime art' was through the eyes of painter Alex Colville. A celebrated Canadian painter, illustrator and lieutenant in the Royal Canadian Navy, Colville's work from the fields of war and beyond, touched my soul and captured my attention. In fact, he was the first Canadian artist to which I could relate at the age of 12, perhaps this was because I came from a family, like many of my generation in Canada, that had grandparents and even parents active in Canada's military. His paintings appeared 'simplistic' and 'designed' these paintings edited out what was necessary and focused on a central 'tone' thorough muted palettes. At closer look, his technique was incredibly detailed and rigorous, not unlike that of regimented life in the military.
Over the years I have come to express my thoughts on Remembrance Day, influenced by the poetry of Lieutenant-Colonel John McCrae, with his iconic poem, "In Flanders Fields". A poem heard annually on November 11th, since the day I was born. He was inspired to write it on May 3, 1915, after presiding over the funeral of friend and fellow soldier Lieutenant Alexis Helmer, who died in the Second Battle of Ypres. According to legend, fellow soldiers retrieved the poem after McCrae, initially dissatisfied with his work, discarded it. "In Flanders Fields" was first published on December 8 of that year in the London magazine Punch.
So much art created out of war, and we are thankful for all the expressions, giving us a unique window into the souls of the artists who experienced it first-hand and perhaps into the souls and minds of those on the battlefields. Many of these great works cataloged in the Canadian War Museum, a journey into the past, one that we hope not to repeat in the future.
Remembrance Day, was first marked in Canada on Nov. 11, 1919. That date marked the one-year anniversary of the signing of the armistice that ended the First World War. This Sunday marks the 100-year anniversary of the end of the war.
To celebrate the 100-yr celebrations of Remembrance Day, and that crimson red poppy which signifies the day and honours those who have served and are serving in the Canadian Military. Remembrance Day Art created between 2011-2018 honouring 'Poppy Day' and our Canadian military.
Spirit of Remembrance – I'll carry that weight…a vivid and dynamic modern painting capturing my feelings about Remembrance Day in Canada.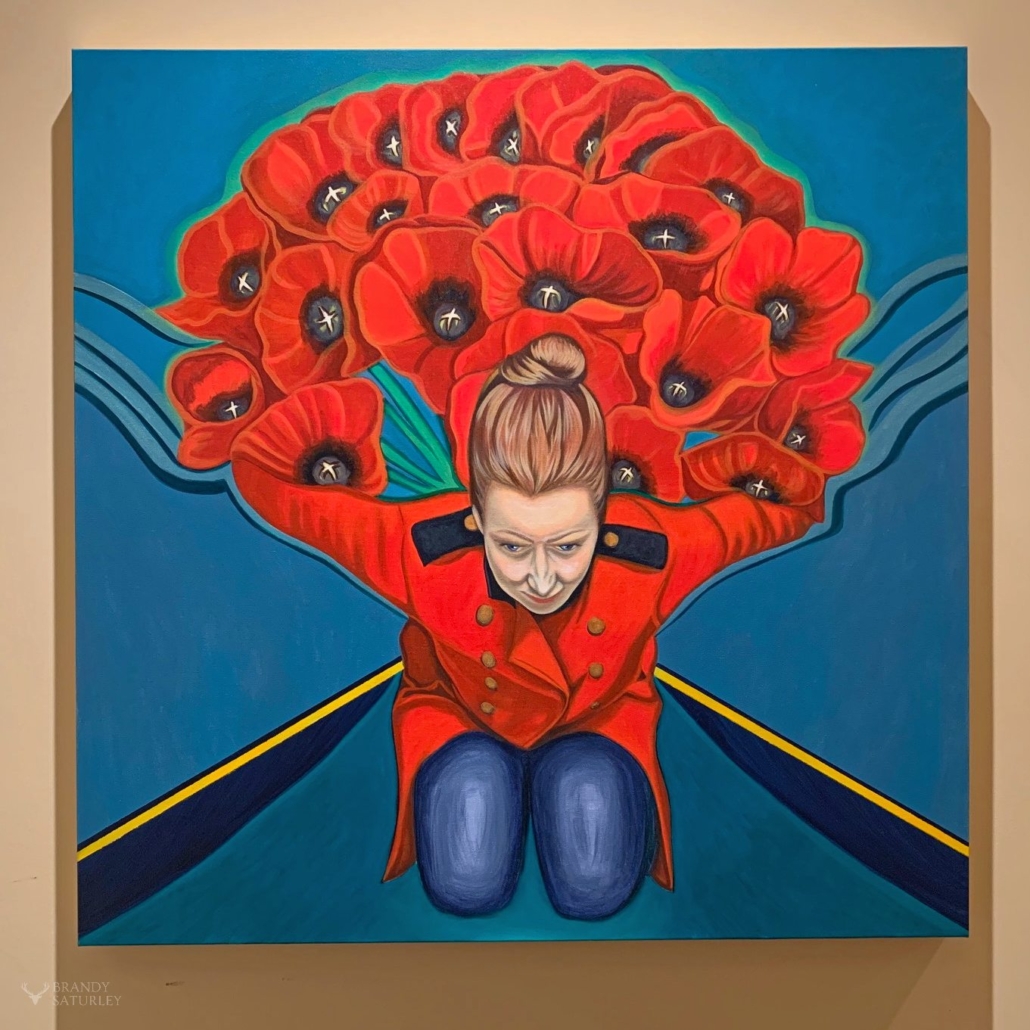 Remember Us – a symbolic painting honoring the Canadian Women's Army Corps and their roles in the military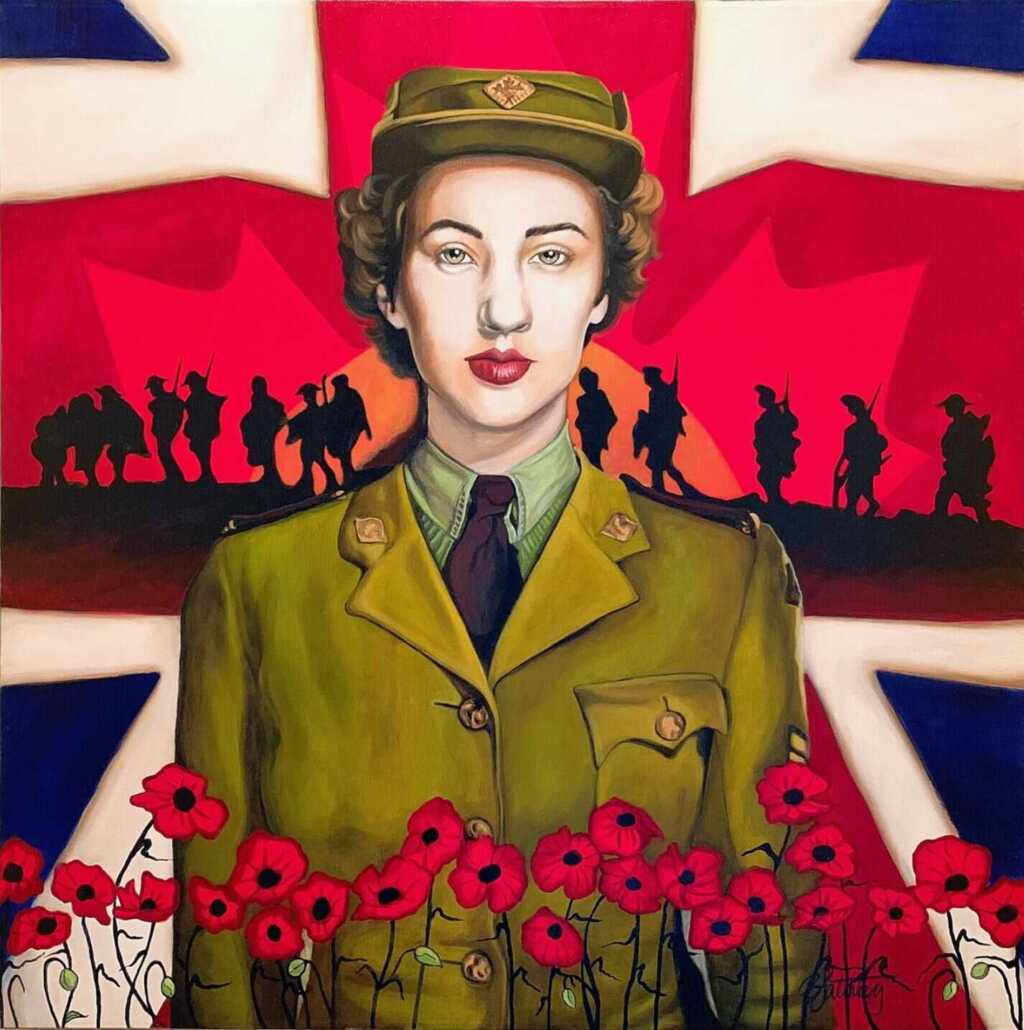 Poppies For Louise – a symbolic painting with Canadian flag imposed on the horizon and red poppies in the foreground, symbolizing remembrance and freedom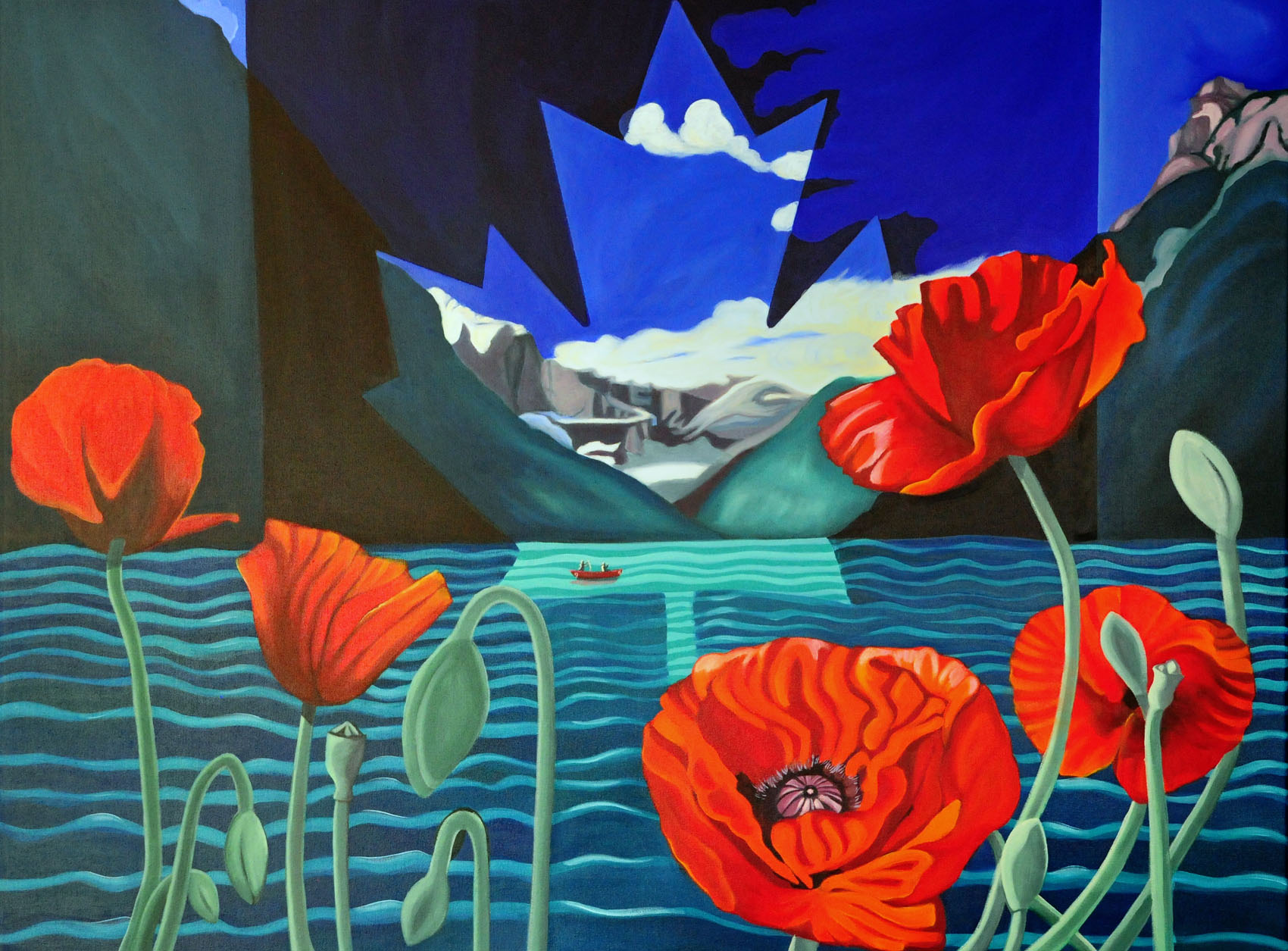 Golden Ram – a somber landscape painting with Big Horn sheep and red poppies against the Rocky Mountains of Golden, BC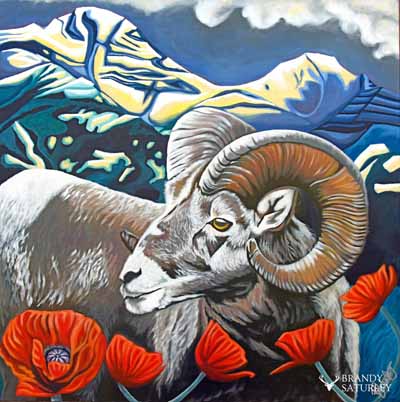 Freedom Canoe With Poppies – Freedom canoe is a green canoe filled with red poppies referencing Remembrance Day in Canada.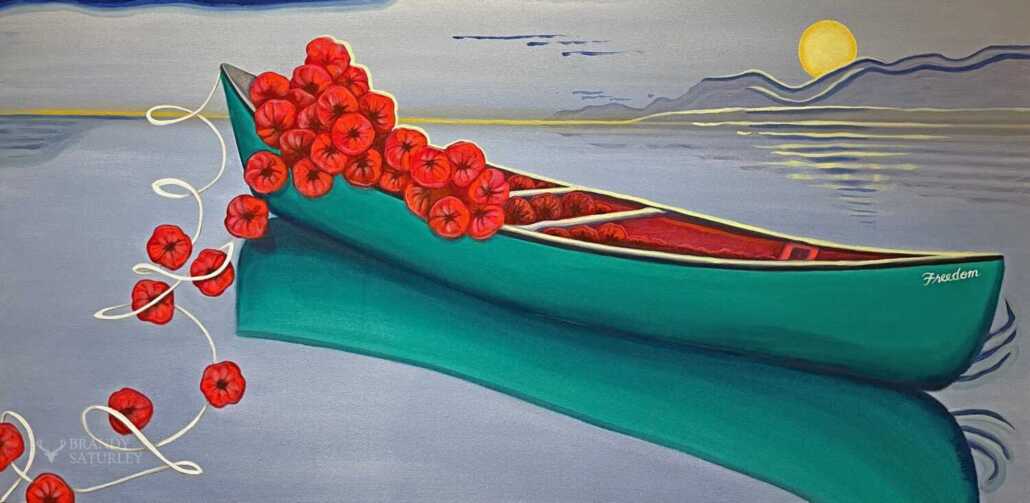 THE 100 POPPIES PROJECT – Photography from 2017 Remembrance Day project which honoured the 100th anniversary of Vimy, in which a donation was made to the the Veterans in exchange for 100 poppies as photographed in the project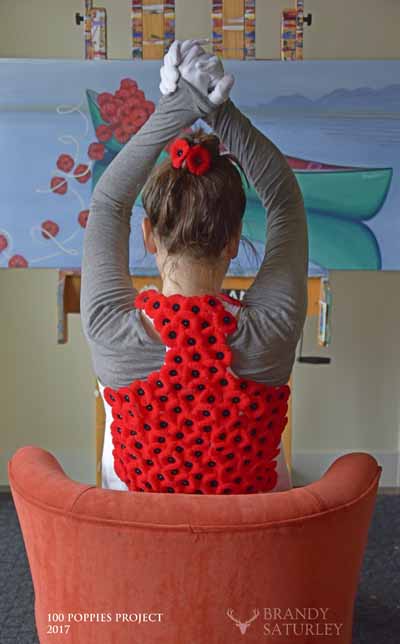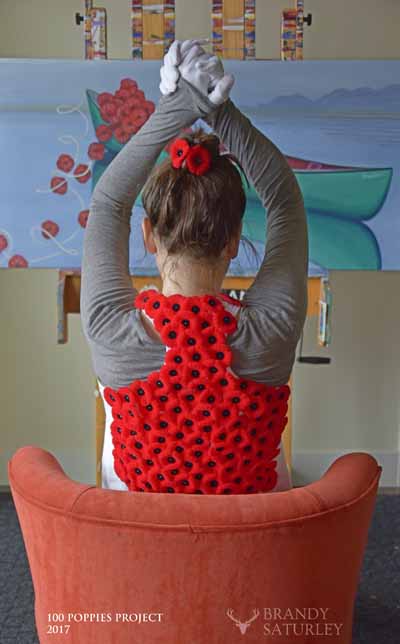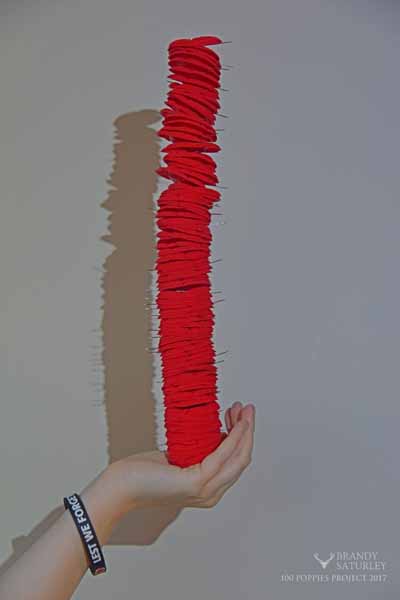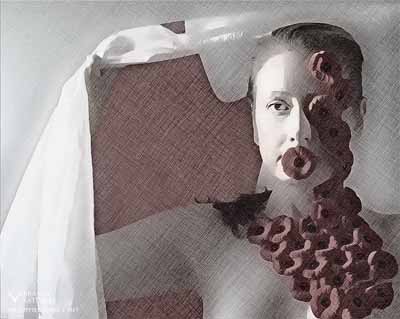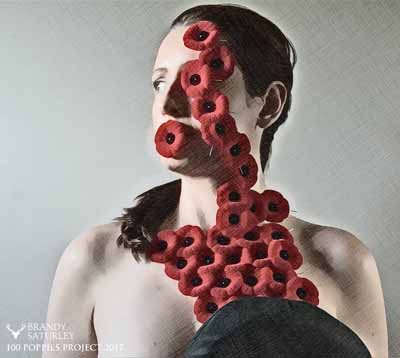 The People of Canada Portrait Project – a crowd-sourcing portrait project between myself and Canadians across the country, in which Canadians send in photos and I paint their portrait and a background based on my interview with the subjects. Currently 20 portraits have been completed, as we head into Remembrance Day 2022. Below are portraits, 'Vimy Jam' honouring a meeting at the 100th anniversary Vimy celebrations in Vimy France.
There we are, 10 artworks for Remembrance Day – some painted on canvas and some photographic. On this Remembrance Day my hope is that we continue to come together as we work towards tearing down borders on a course to becoming one world. Honoring the past, on a course set for the future.
See more paintings with red poppies here.
https://www.brandysaturley.com/wp-content/uploads/2021/01/sixmostexpensivepaintings_remembrance.jpg
1211
1500
am-330
https://www.brandysaturley.com/wp-content/uploads/2020/10/brandysaturley_logo.png
am-330
2018-11-08 12:11:26
2022-10-20 10:39:54
10 Remembrance Day Paintings