Aurora Stories Virtual Exhibition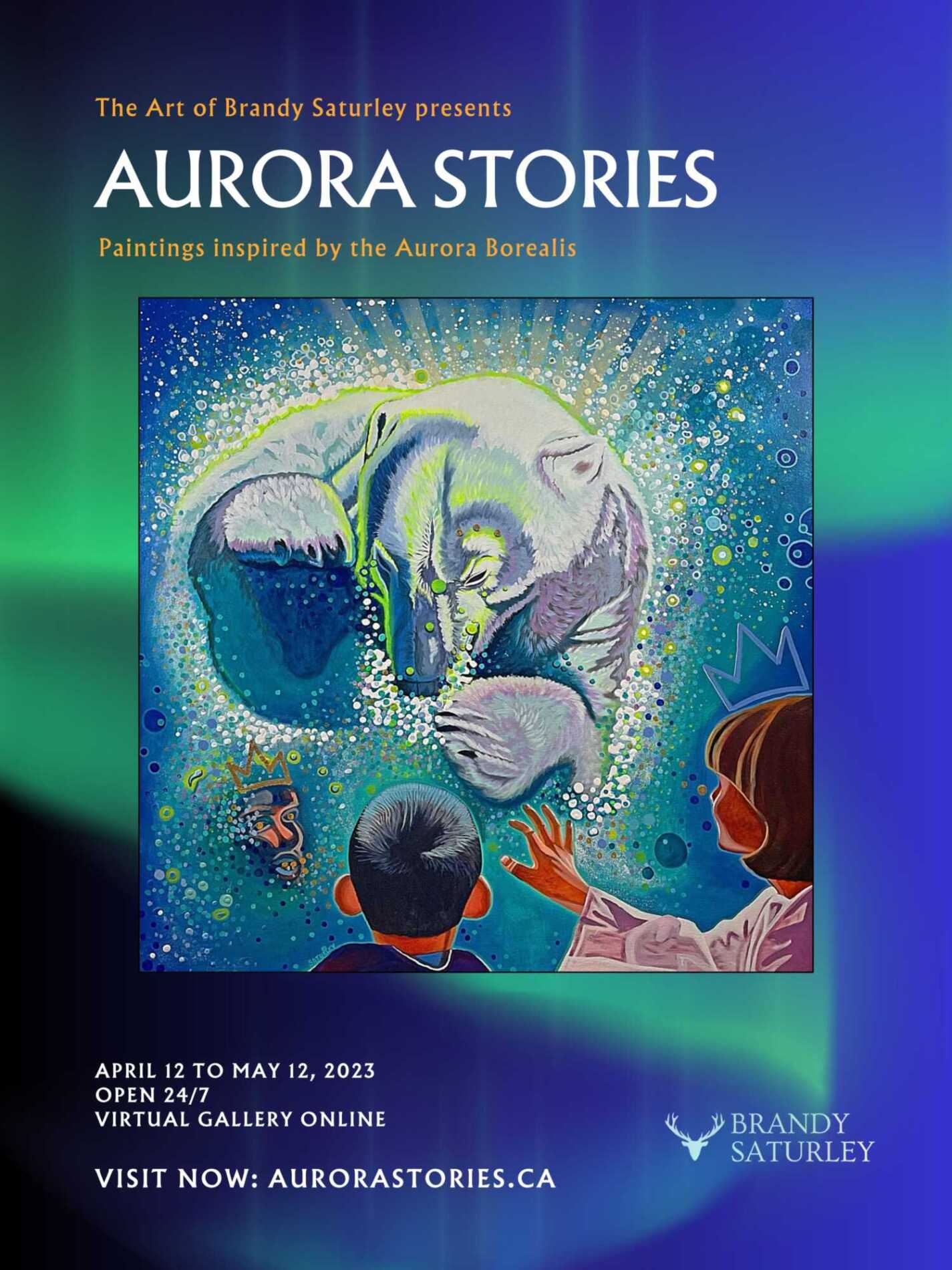 Virtual Art Exhibition – Aurora Stories by Brandy Saturley
Aurora Stories is now open, this virtual art exhibition is accessible worldwide and runs 24 hours daily until May 12, 2023. Featuring over 25 paintings from the artist's oeuvre created over the past 17 years, that reference the Aurora Borealis.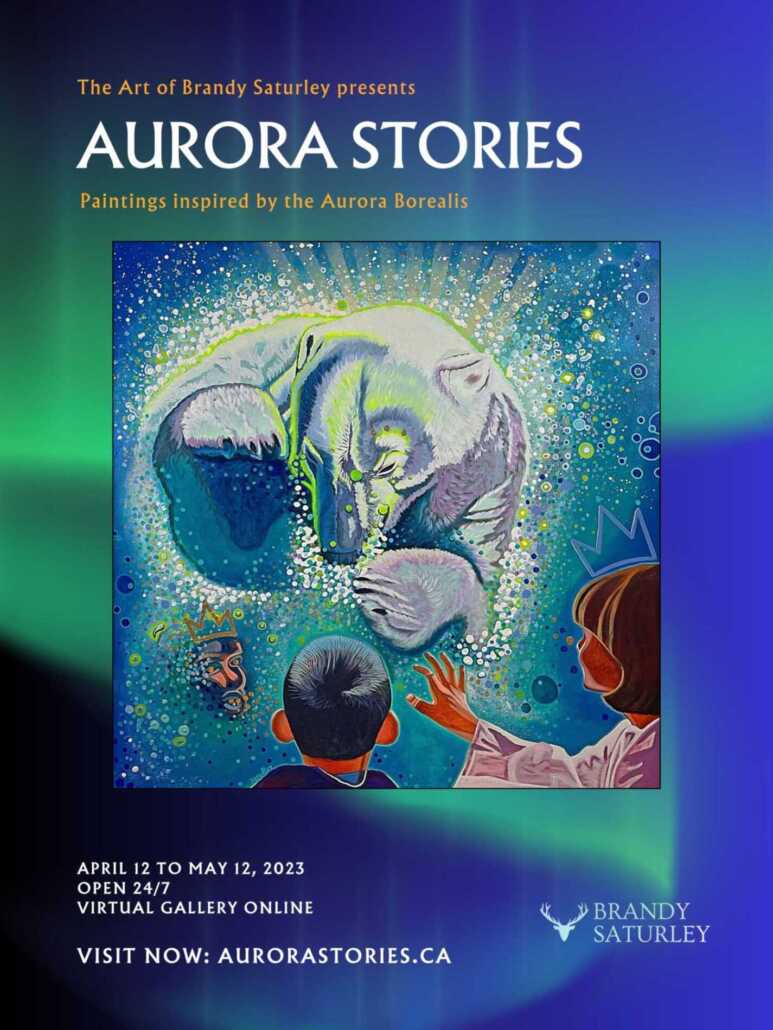 Aurora Borealis, also known as the Northern Lights, is a natural phenomenon that has captivated human beings for centuries. This stunning light show is caused by the interaction between the Earth's magnetic field and solar winds, resulting in shimmering curtains of green, pink, purple, and blue light in the night sky. The Aurora Borealis holds immense cultural significance for many indigenous communities around the world, including the Sami people of Scandinavia, the Inuit of Canada, and the Yupik of Alaska. For these cultures, the Northern Lights are considered a spiritual and mystical experience, representing the presence of ancestors and spirits.
The aurora is rich with spiritual traditions, with most involving the spirits of the departed. The Canadian Inuit believe that souls of the dead dance in the aurora. Sometimes the spirits are carrying torches to guide those still in this world. The Inuit call the aurora 'aksarnirq'.
Over the last 17 years of traveling Canada and making art influenced by these travels, I have found myself exploring stories of the mystical Aurora in my paintings many times. These are otherworldly, spiritual, and symbolic paintings executed with a 'collage-like' style of placing objects and figures in settings where they exist in the same landscape. These visual stories incorporate northern animals such polar bear and elk, and scenes of humans playing hockey under the dancing colours and light. In one painting your see a portrait that features a metamorphosis and shape-shifting between women, in others you see humans enjoying celebrations of this magical event. These paintings offer surreal stories that are magical and transcendent.
This is my first virtual exhibition for 2023, something I began experimenting with well before the pandemic and something that served my art practice well during the pandemic as it allows people all over the world the opportunity to enjoy an art exhibition, from wherever they live, all that is required is an Internet connection.
You are invited to view 'Aurora Stories' now.
See more paintings by Brandy Saturley.
BIO: Brandy Saturley is an acclaimed Canadian contemporary painter and multidisciplinary visual artist known for her striking and colorful depictions of Canadian landscapes, cultural icons, peoples, wildlife, and sports figures. An internationally exhibited Canadian Artist, Brandy Saturley's paintings have garnered the Victoria, BC born painter notoriety as 'the Voice of Canadian Pop Art'.
https://www.brandysaturley.com/wp-content/uploads/2023/04/aurorastoriesinvitesmall.jpg
1900
1425
Brandy Saturley
https://www.brandysaturley.com/wp-content/uploads/2020/10/brandysaturley_logo.png
Brandy Saturley
2023-04-25 09:56:58
2023-04-25 09:59:11
Aurora Stories Virtual Exhibition