Buy Art Online from A Canadian Artist
Whether you are looking to decorate your home, for inspiration, or to build an art collection; you can browse and buy art by Brandy Saturley effortlessly online. For many Canadians here and abroad, supporting a Canadian Artist is important, some are looking to invest in Art for the future, or give as gifts to family, friends, and clients. For the philanthropist, the purchase of original Art makes for a wonderful donation to an institution, or gift to a valued client. Whatever the reason, we can provide guidance.
Whether you are interested in buying an original painting, a commissioned work of art, or buying an image license, the artist is happy to discuss your Art wants, needs and dreams.
A Self Representing Artist
By supporting the artist directly, you support the artist and establish a relationship with the artist moving forward (which comes with added benefits). In the past, artists had to find gallery representation to sell their art or nobody would ever see it. With the internet, social media and websites, opportunities for artist's to represent their art direct became possible. Of course, in order to self-represent the work, the artist needed to become comfortable with so much more than just painting. After more than 15 years of self-representing the Art of Brandy Saturley, we are proud of all that has been accomplished and the relationships developed. Brandy and her husband Robert work together to provide collectors the work directly which means you support the artist fully, not employees, commercial locations, art agents, art dealers, art galleries and more that can take up to 90% of the income before the artist receives a share. The artist studio is located in the capital of British Columbia; Victoria or more specifically North Saanich on Vancouver Island. Minutes from the Victoria International Airport, BC Ferries and Washington State Ferries. Nothing beats seeing art in person but the connection to a work of art can happen from a photo online. We work hard to present the work in multiple settings and love to work directly with collectors to schedule Zoom or FaceTime meetings to view the art in real-time video to improve the sense of the work.  We would also love to work together with you and provide mockups of how the art will appear on your walls as part of the selection process. We would love the opportunity to earn your business and improve your view for many years to come!
As well as presenting the art directly, Brandy has currently selected only two galleries to present her work. Adele Campbell Fine Art gallery located in the Westin Hotel in Whistler BC, Canada and Willock and Sax Gallery located in Banff, Alberta.
Whether purchasing from the gallery or Brandy Saturley directly you can rest assured, knowing you are buying only original art created by the hand of Brandy herself. The Artist, Adele Campbell Fine Art and Willock and Sax Gallery representing the artworks of Brandy Saturley, ship worldwide.
General Price Range for Original Paintings
Pricing for paintings by Canadian Artist Brandy Saturley, is based on artwork size and complexity. Median value for artwork by Brandy Saturley currently sits between $5500 to $7500. With small works starting at $900 and high value artworks priced upwards of $15,000. Works under the ICONIC collection which have received repeated media attention or awards recognition carry a higher price. All available artworks on this website show current pricing, however there are price increases annually. 
The Details: shipping, financing, licensing, and art commissions.
Art Shipping: All artwork is shipped using custom-made art crates built to order by VEVEX crates in Vancouver, Canada. Each crate is fully enclosed, foam lined and certified, allowing access to virtually any nation on earth.
Fine Art Financing: is available to collectors through Art Lease Canada. Giving you low-interest financing on your fine art purchases of 1 to 5 year term programs. These are designed to assist our clients in building high quality collections, and make acquiring works of fine art accessible with manageable monthly payments. Canadian art purchases can be claimed as business expenses.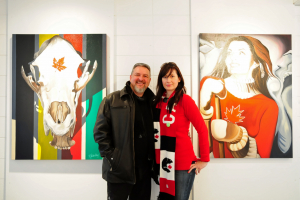 Tax Deductions – Corporate Art Purchases of Original Art
Did you know that the purchase of original art in Canada, is tax deductible? The Canadian government recognizes the importance of encouraging the purchase of original Canadian art. Investing in the Canadian art market and its creators offers many benefits to Canadian businesses large and small. The Canadian Government has implemented tax incentives intended to promote the purchase of Canadian artwork and encourage donations to museums and public institutions. Buying Canadian artwork, paintings, etchings, sculptures, drawings, photographs, etc. is considered as an amortization expense for corporations or individuals who operate a business. It qualifies as a tax deduction provided that certain criteria are met. The Canadian tax law allows business owners to purchase and write-off Original Canadian Art in its entirety.  The acquisition of Original Canadian Art is included in the Capital Cost Allowance for all Canadian businesses, so long as the Artist was a Canadian Citizen when creating the work and the work of art is an original worth a minimum of $200. Please consult your own accountant for most current information on Art acquisitions and tax benefits.
Corporate commissions: quoted by project after consultation with the artist.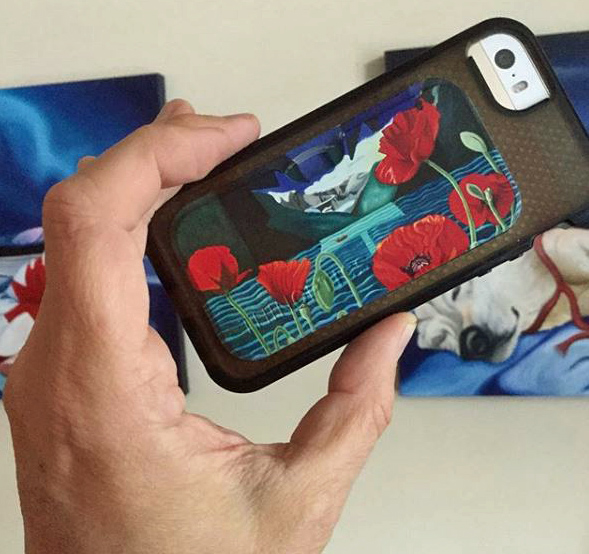 Image licensing: is available and quoted on a case-by-case basis. Saturley has licensed her work to a select group of corporations, non-profits, publishers and luxury retailers including; METColors, ThinOptics Inc., Vancouver Symphony, Music In The Morning Vancouver, BC Children's Hospital, Island Art Publishers, Blossom Spice Fine Chocolatiers, Lethbridge Symphony, the University of New Brunswick, Canadian Tire, Blue Ant Media, Reader's Digest. Products featuring The Art of Brandy Saturley include; fine chocolate, magazine covers, t-shirt design, brochures, programs, menu covers, greeting cards, calendars. Other products of interest; billboards, large format art mural installation, fine liquors, wine, Canadian luxury products, Canadian designers and other unique items and venues, worldwide.
Canadian Dealers:
Representing The Art of Brandy Saturley in the Whistler, Sea-to-Sky region, Vancouver BC.
Adele Campbell Fine Art Gallery
PROUDLY REPRESENTING CANADA'S FINEST TALENTS SINCE 1993
Adele Campbell Fine Art is dedicated to showcasing the best of contemporary Canadian art.
Situated in the heart of Whistler Village at the base of world-famous Whistler Mountain, you are welcome to visit in your ski or bike gear, hiking boots, or your best-dressed. Proudly serving international visitors and regional collectors for over 25 years.
Representing The Art of Brandy Saturley in Banff, Alberta
Established in 1998, co-founders Tom Willock and Susan-Sax Willock relocated their gallery to Bear Street in Banff National Park, a UNESCO World Heritage Site and Canada's flagship and oldest national park.  Originally from Southern Alberta's Waterton Lakes National Park, the gallery has an impressive and well curated selection of work encompassing many different media and genres by a strong roster of fine Western Canadian artists.   Willock & Sax represents emerging and established artists. It is dedicated to furthering the legacy of historical artists.
Why Buy Original Canadian Art? Because you love it.
Simply put, you should buy original Canadian Art because you love it. After that I can give you many reasons why you should buy original Canadian art, but the number one reason (for me) is because I fell in love with it and have to own it. An original piece of art is a passionate creation reflecting the soul of the artist and in turn your soul, in choosing the piece. An original piece of art can provide inspiration, escape, beauty and encourage conversation. Buying original art from an artist begins a unique and personal relationship that will last lifetimes. It is an investment that you can enjoy, visually You are the owner of an original artwork, the only one of its kind. You are investing in our heritage and your investment ensures this heritage will continue to live on, evolve and inspire the next generation. The value of an original piece of Canadian art continues to grow, the value of a print in today's digital world, is less likely to increase in value – where the signature of the artist on the print becomes more valuable than the print.