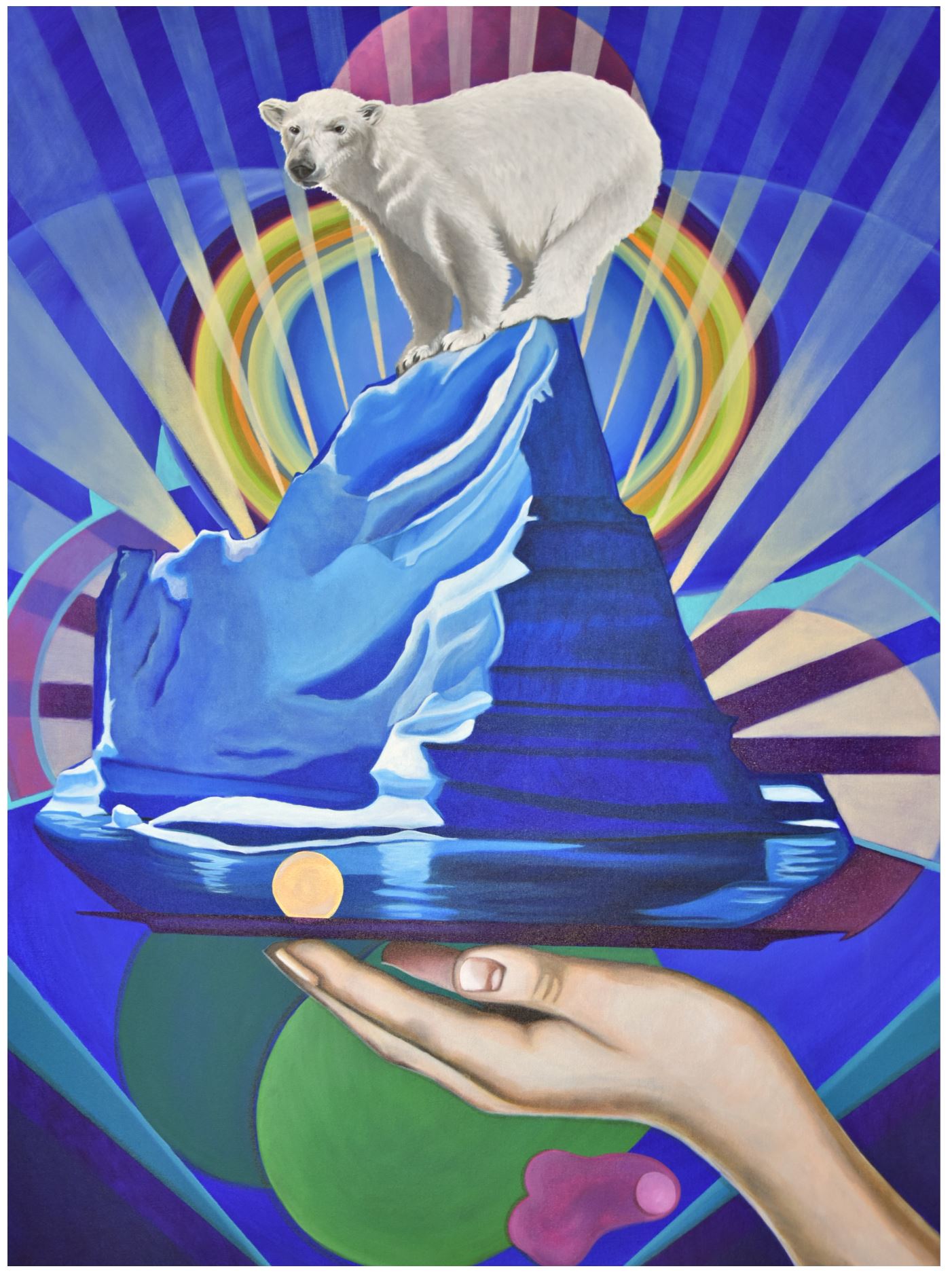 Top 10 Paintings, by Brandy Saturley
When you are in love with the artwork of a specific artist, it can be hard to choose. This is something I hear all the time from collectors and art buyers looking to collect my original paintings. My role as the Artist and creator of the artwork, is to make it. I can suggest pieces based on loves, colour, size, and theme; beyond that it is about what you LOVE and what you CONNECT with in my work. What you connect with could be influenced by your tastes, memories, places or subjects. It really comes down to you loving the piece so much, that you absolutely must have it. Now there are some collectors who buy based on price or value, some collectors want the most expensive painting, and that is as good a reason as any. I am not here to 'push' something on you, I am here to facilitate your need to own an original and unique piece of art, created from the soul.
For me, these are the Top 10 paintings from my oeuvre of the past decade, along with reasons why these Canadian paintings by Brandy Saturley, are icons of Canadian Art.
Painting #1
Title: Saint Kanata – 48×36 inches acrylic painting on canvas $15,750.00
Why is this painting iconic? this was the second painting created under my 'Pop Canadianisms' series of work, it came right after the most famous painting in the series (the goalie's mask painting) I have always loved this piece as it is painted in a style that would become my signature, pop realism esthetic. The piece contains many fine details from the Canadian Geese in the sky, to the mother polar bear reaching down to lift her cub. The shapes in the mountains create an underlying story, like clouds in the sky, you can see something different in this piece every time you look at it. I have been touring this piece, and looking at it for 9 years now. I never tire of this view and the enthusiasm radiating from the piece, it makes me feel good about being Canadian every time it reaches my gaze.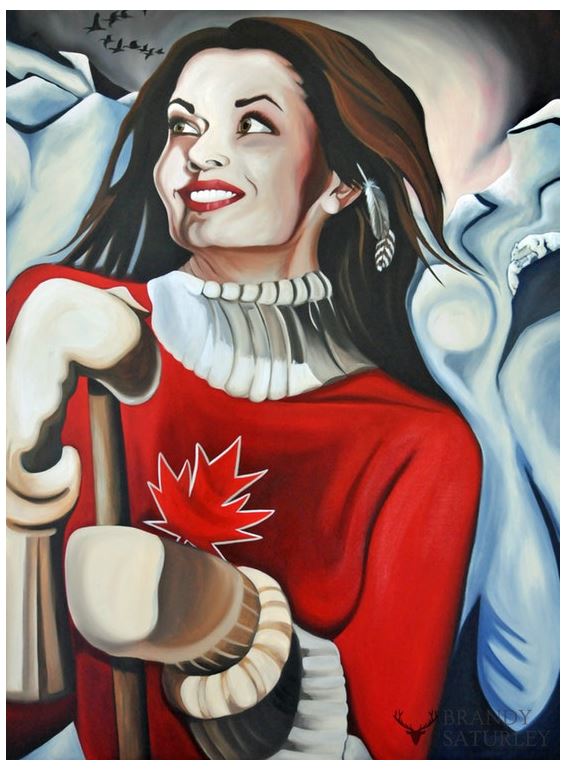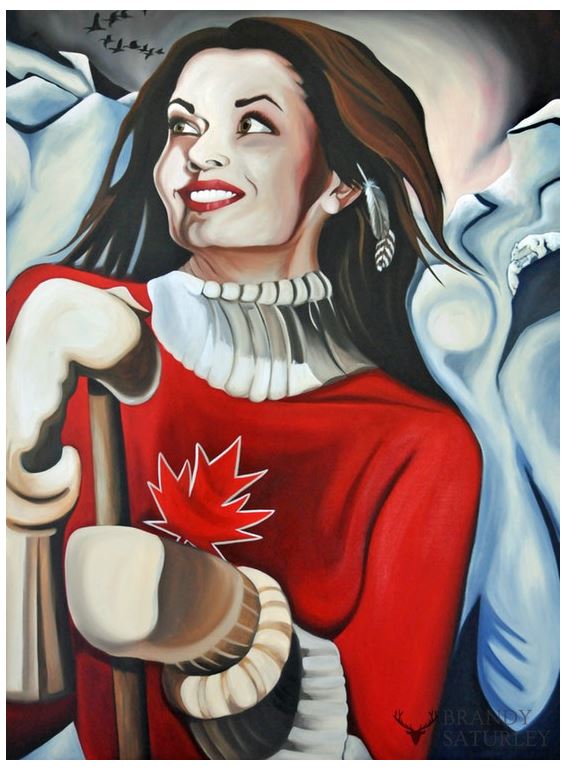 Painting #2
Title: Poppies for Louise – 36×48 inches acrylic painting on canvas $7000.00
Why is this painting iconic? this painting is based on the composition of the Canadian flag, and features a maple leaf centre on the glacier at Lake Louise. The red canoe in the distance carries the number 9, the most star worn number by hockey players in the NHL. The red poppies in the foreground, symbolic of this area in spring. It is a stunning and vivid piece with a modern art vibe, the blues radiate against the bold red in the foreground, you can't help but feel warm all over and proud to be Canadian when you see this painting on the wall. The piece has appeared in numerous shows and venues over the years as well as being licensed by many groups including Music in the Morning concert series Vancouver and ThinOptics Inc in California.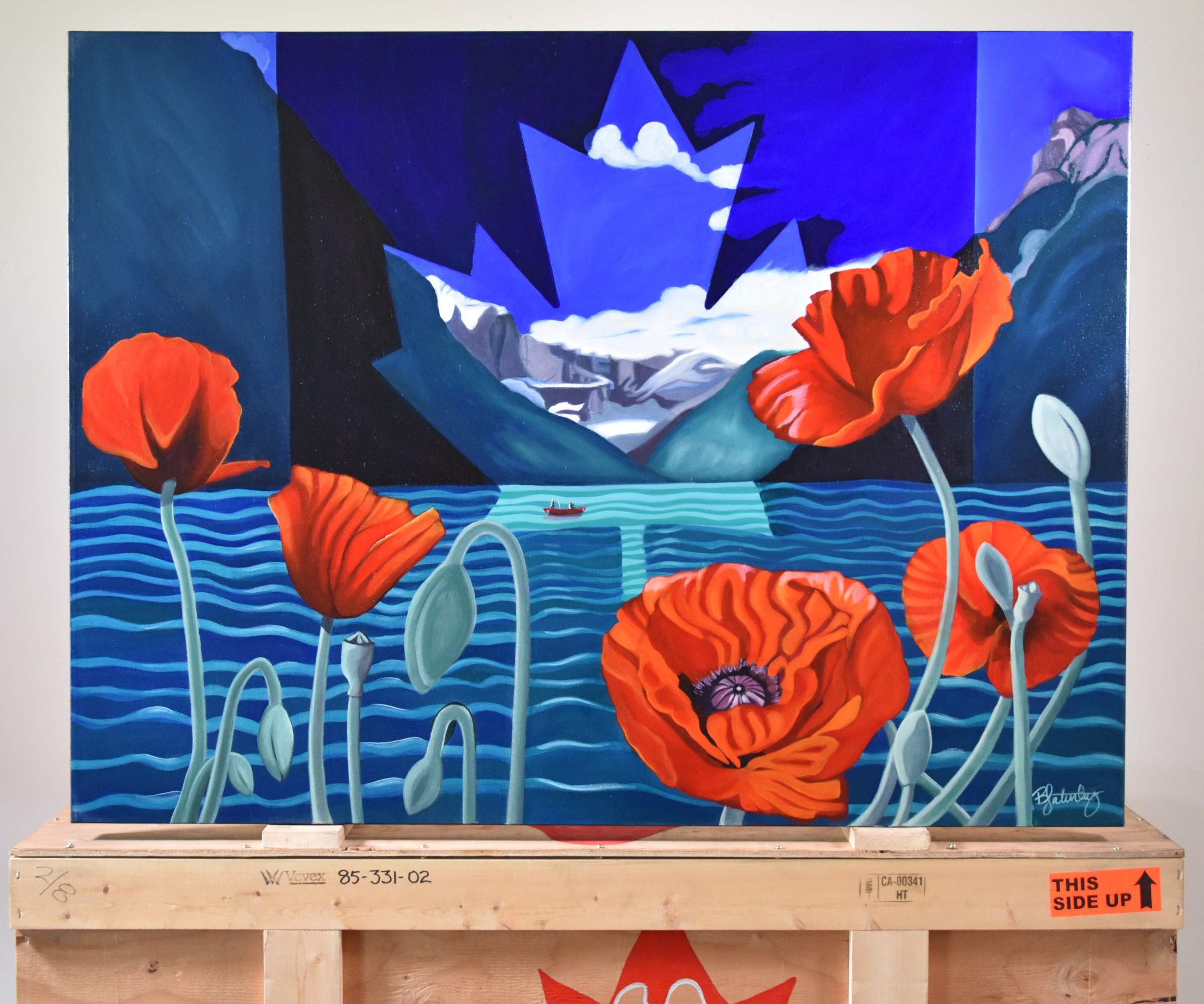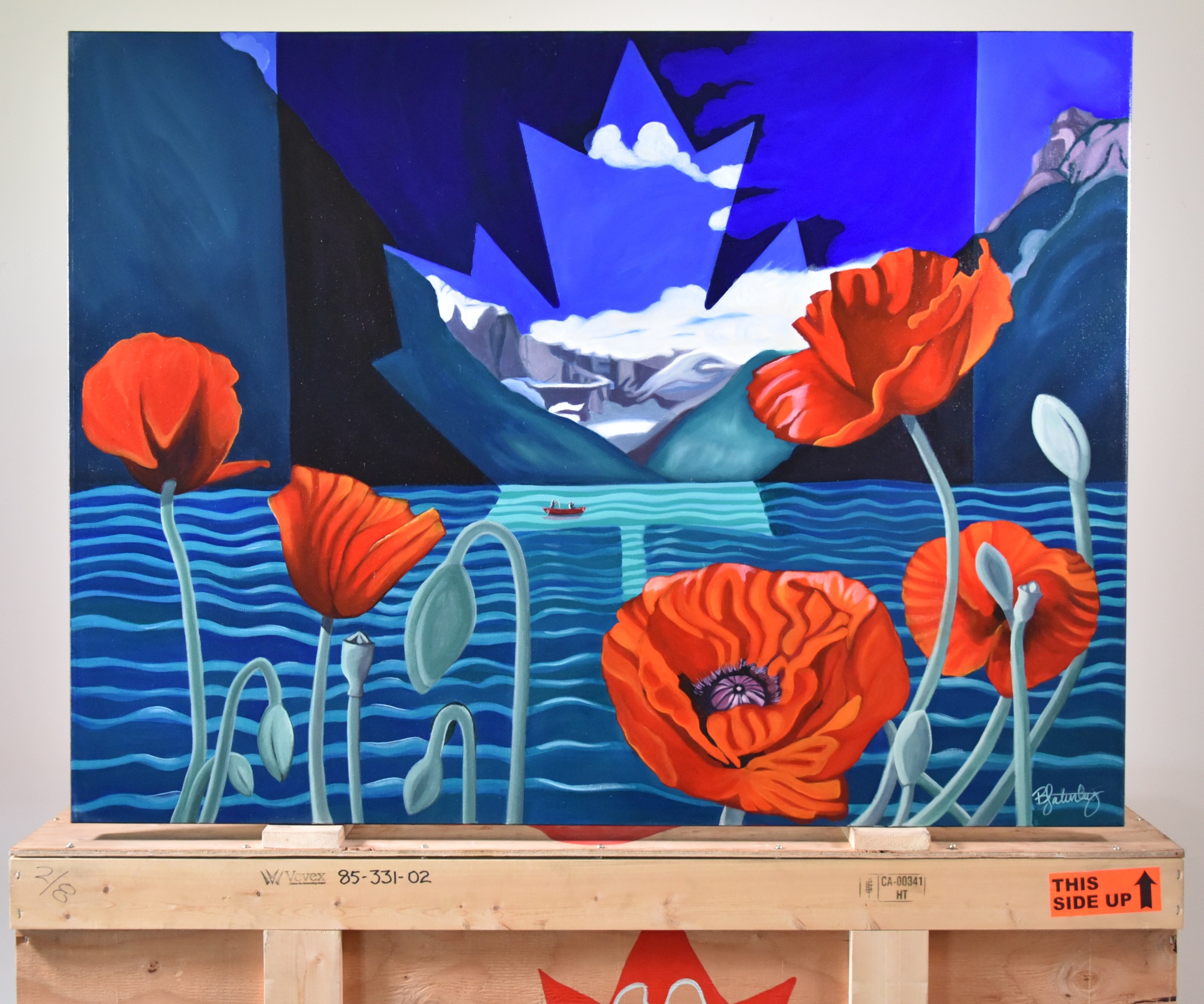 Number 3
Let Your Backbone Rise – 36×36 inches acrylic painting on canvas – SOLD
Why is this painting iconic? this painting is an homage to Group of Seven founder and luminary, Lawren Harris. Set against details of one of his iconic paintings, the piece shows a woman in a military style red coat, wearing white gloves, with exposed backbone painted on the exterior of the coat. This piece features a female Canadian artist contemplating the landscapes created by famous male painters, injecting herself into the conversation about art in Canada. This piece was purchased shortly after it was painted, joining a private art collection in Mont-Royal, Quebec.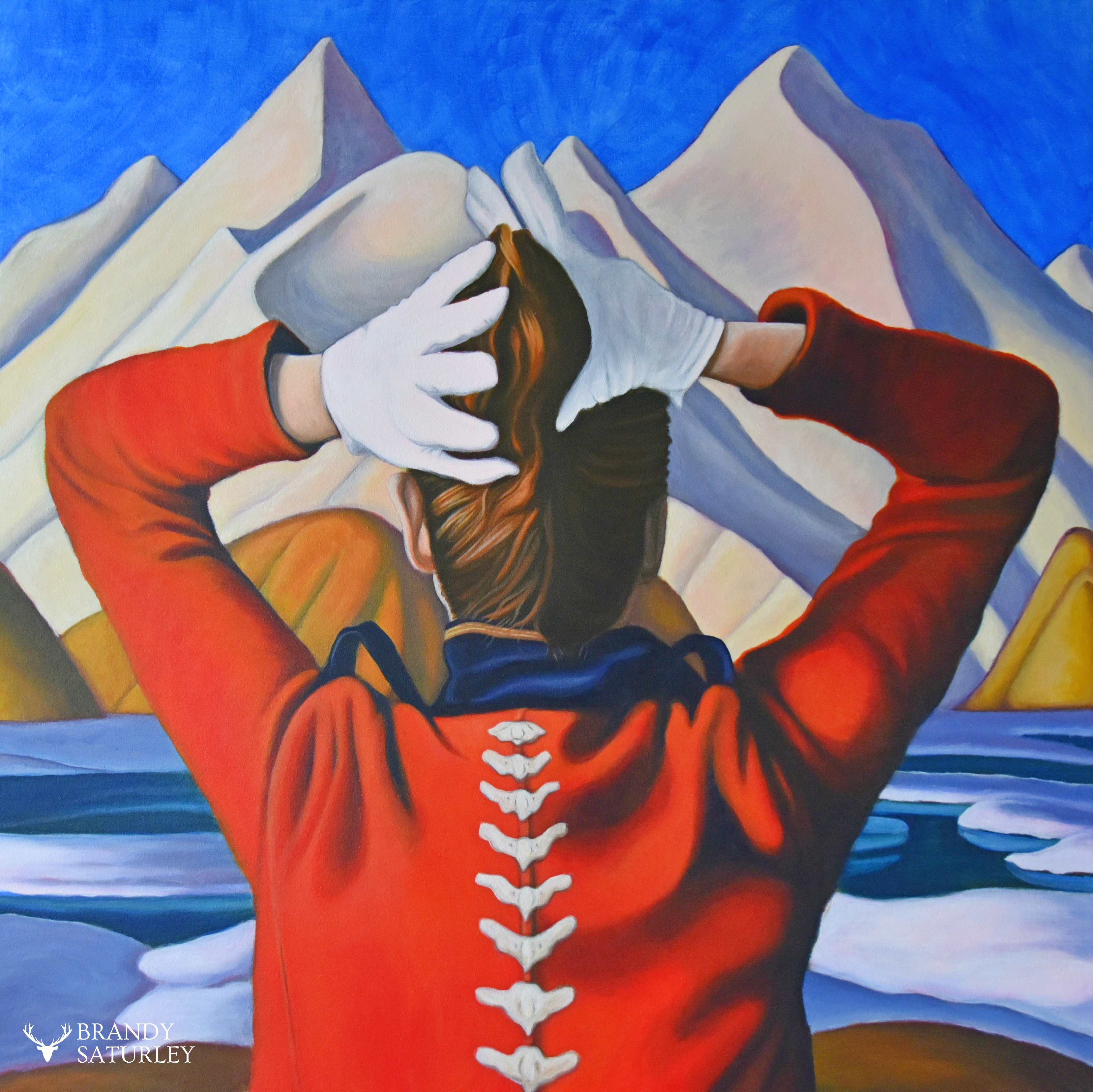 Number 4
In My Splendorous Kingdom – 36×36 inches acrylic and collage on canvas $5500.00
Why is this painting iconic? this painting is unusual, quirky and symbolic and includes some collage elements affixed to the painted canvas surface. Upon returning for my solo exhibition in Edmonton, Alberta in 2013, I tossed my signature red wool sweater into the laundry and it became mixed in with the wrong load. Subsequently the sweater I retrieved from the washing machine, had shrunk to a size fit for the child version of me, I have never been good at laundry. I decided to use the sweater in a piece about returning home to BC, my home province known as 'Beautiful British Columbia'. I painted the sweater with rubberized paint and marked it with my hand prints over the breast area. On the sweater tag is printed, 'Splendour Sine Ocassu' the motto for BC which literally means the sun never setting. The sweater off my back, worn at my art opening, forever part of a unique original painting, celebrating British Columbia.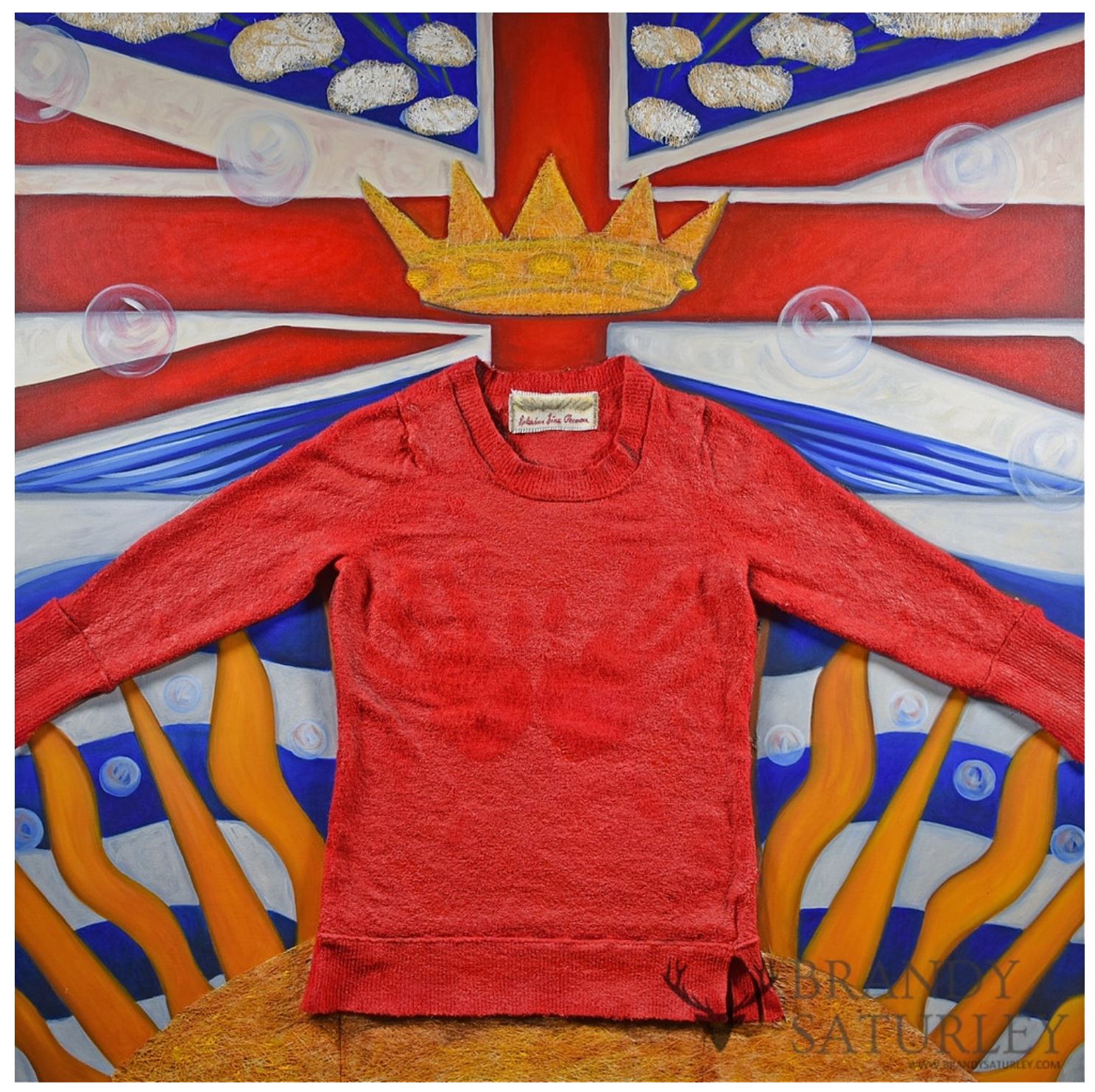 Number 5
Tribe Called CAN – 60×48 inches acrylic on canvas – $12,250.00
Why is this painting iconic?  Underneath the surface of many an historical painting, both famous and mysterious, is another hidden painting.  More often, they are revealed by restoration processes, x-rays, and careful investigation by art historians and preservation specialists. This is one of those paintings, as the entire underpainting of the piece is another painting, from another time. This piece features an iconic goal tender's mask known as the 'target mask', the background of the piece features symbolic lines and shapes hinting at a yellow maple leaf and a goal tenders net. The collar below the mask features graphically painted feathers, simply painted with bold colours. There are tribal influences here, this is a powerful and symbolic piece best suited for a darkly lit restaurant, or a big bright space requiring a statement piece, like the head offices of the Montreal Canadiens hockey organization.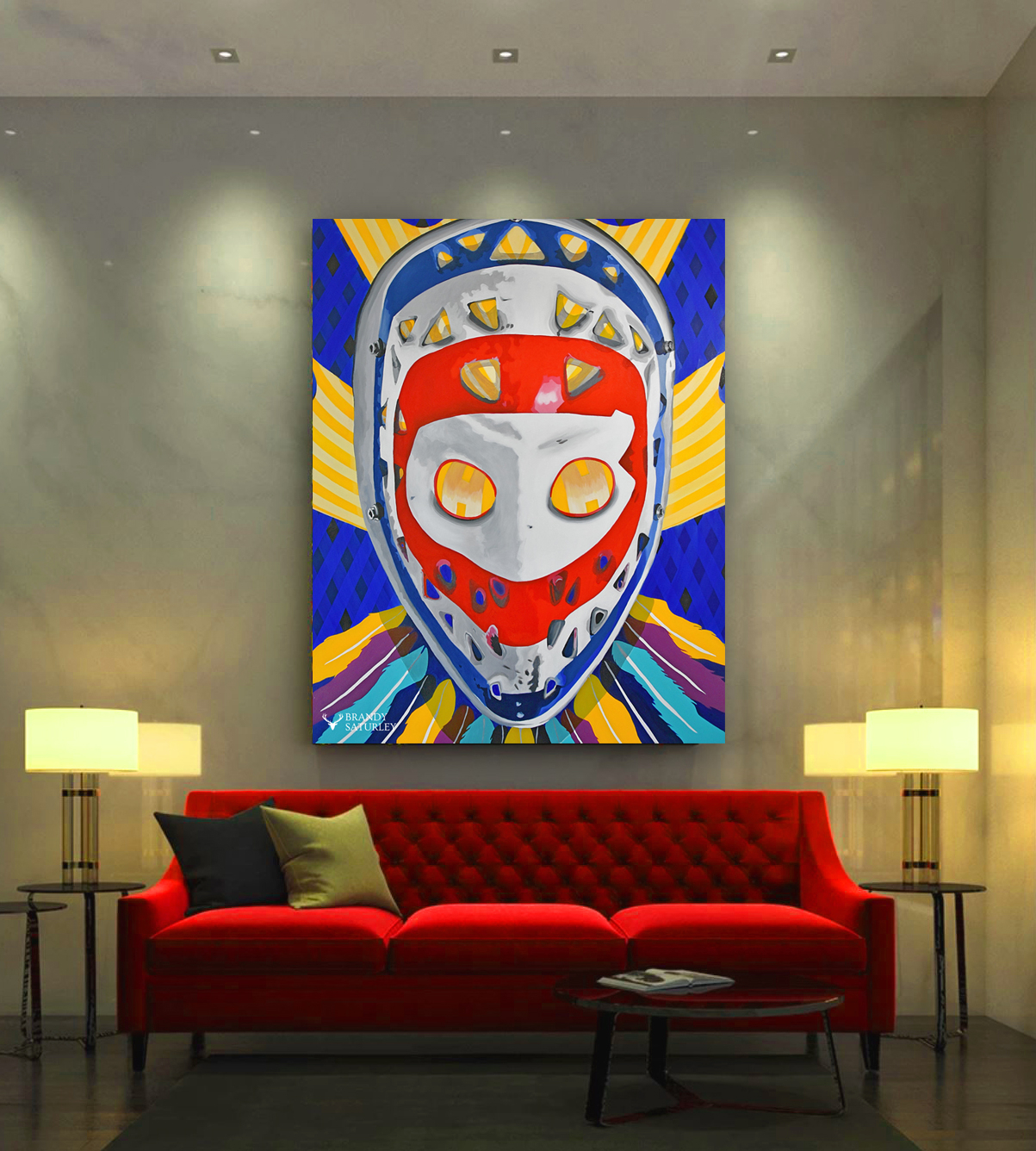 Number 6
Death of A Rookie – 36×36 inches acrylic on canvas – collection of the artist
Why is this painting iconic?  This painting references two things; a famous classical painting that every artist learns about when attending first year art history and an infamous moment in Canadian hockey history. As I began using widely recognized Canadian figures, symbols and moments in my work, I wanted to find a way to interject historically important works, into Canadian moments. Based on the painting, Death of Marat by Jacques-Louis David, this piece tells the tale of Edmonton Oilers rookie Steve Smith and an iconic game played against their rival, Calgary Flames. It is a humorous piece, most who know hockey will get a chuckle out of it, and those who know art will be intrigued. Those who know hockey and art history, will appreciate the underlying narratives of the piece.
Number 7
HBC Skull – 48×36 inches acrylic on canvas – $15750.00
Why is this painting iconic?  because it is a stunning realistic painting of a black bear skull on the iconic Hudson's Bay Company point blanket stripes. The skull was gift to me from a local hunter, the bear was aging and unhealthy, the hunter legally hunted the bear bringing the skull and a claw to my studio for me to use in future work. The red maple leaf on the frontal lobe of the bear's skull speaks to thoughts on culture, nature and respect. The piece has been exhibited widely and is one of my favorite pieces that I have painted in the last decade. It is a striking piece, realistic and modern, with pop art sensibilities. There is almost a Japanese feel to the minimalist design of the piece.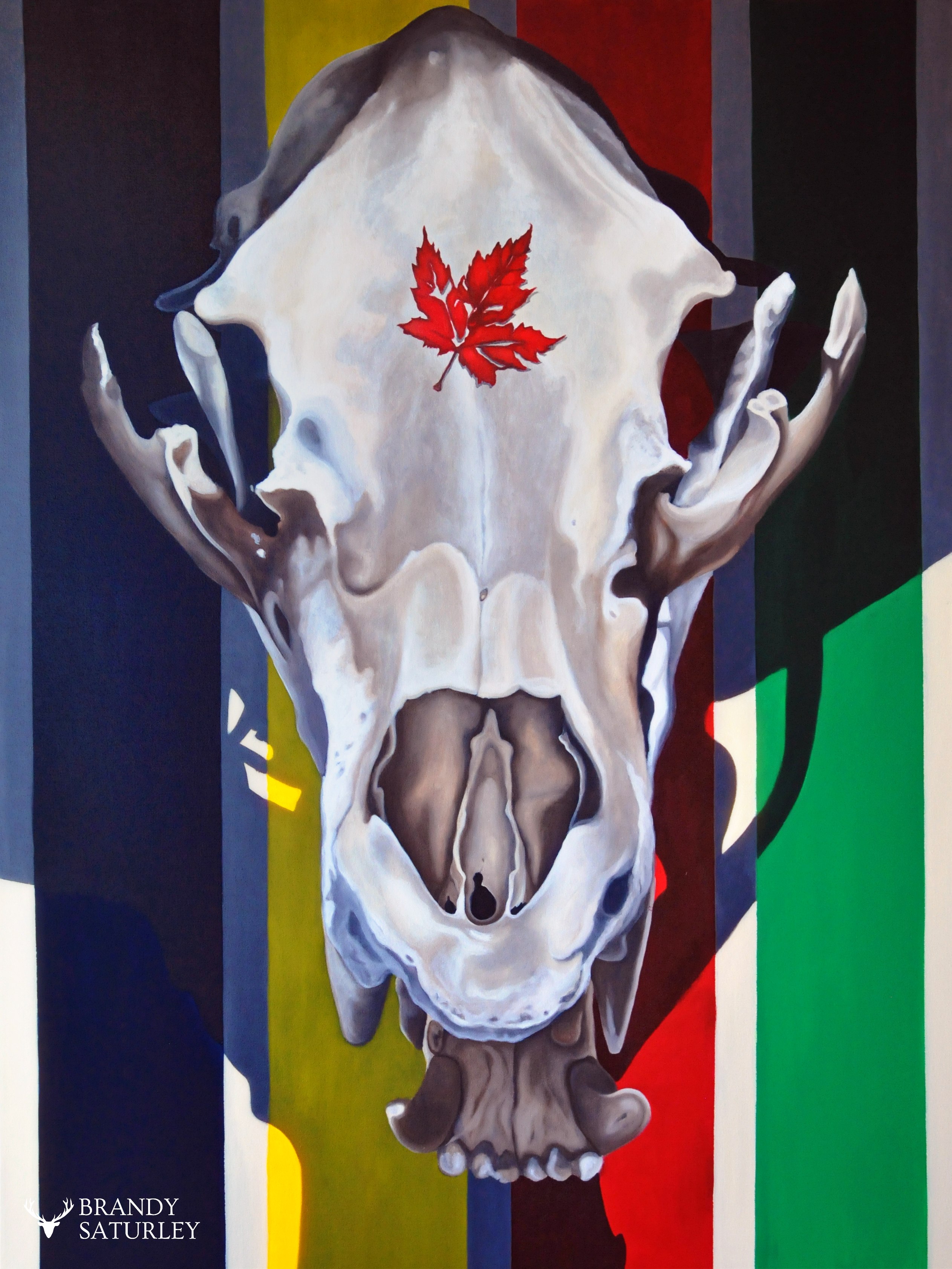 Number 8
With Hearts on Our Sleeves – 40×30 inches acrylic on canvas – SOLD
Why is this painting iconic?  simply put, because it is a self-portrait of the artist wearing an HBC toque set against a cropped detail from an iconic Lawren Harris painting – putting myself into the landscape of Canadian Art. This piece was collected by a private client in Mississauga, Ontario.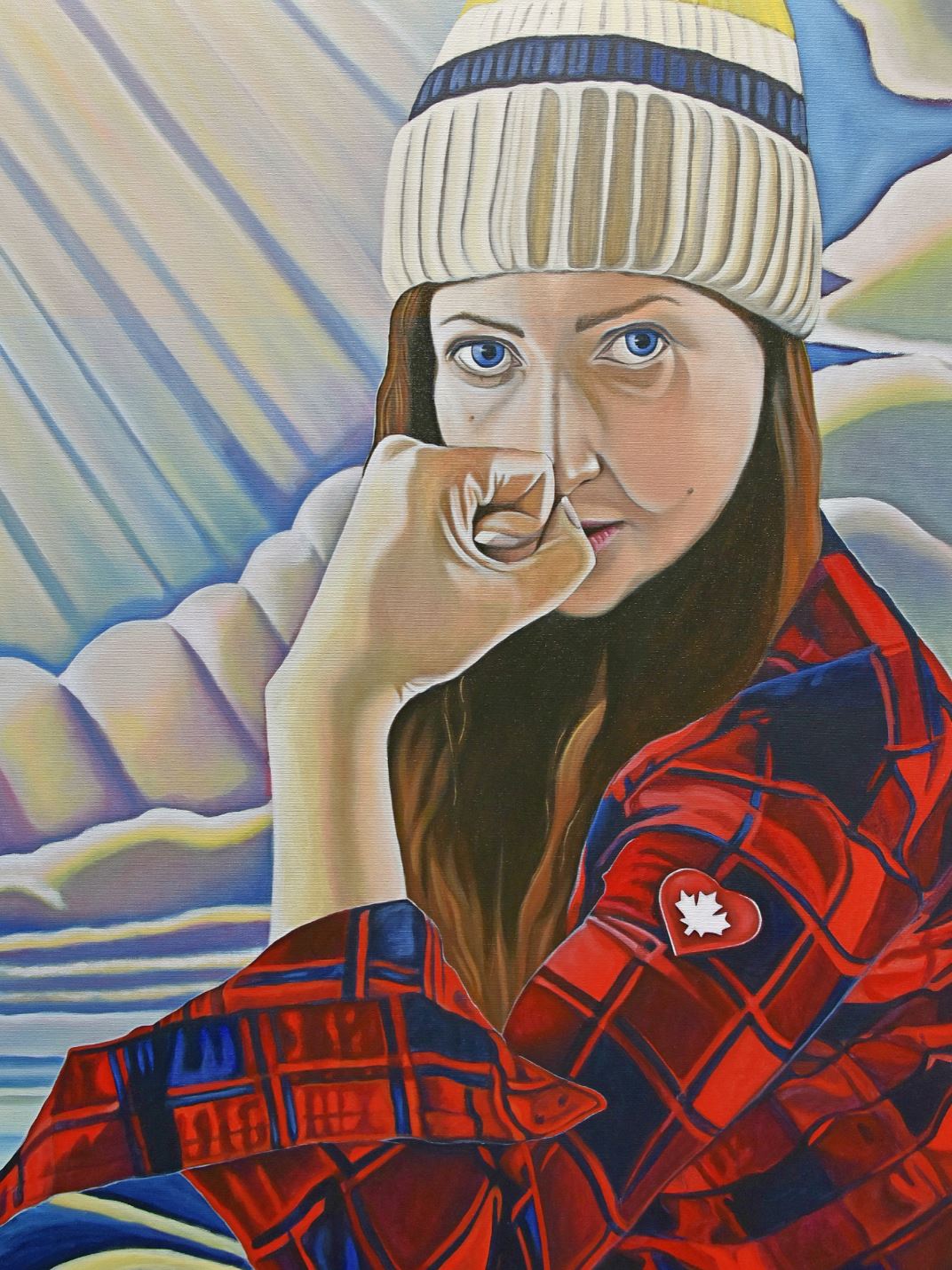 Number 9
Balance – 48×36 inches acrylic on canvas – $7000.00
Why is this painting iconic?  a symbolic painting that comments on our responsibility and connection with nature, in this piece you see a human hand uplifting a silver platter on which an iceberg and a precariously perched polar bear are held preserved. The sky radiates with the colours of the Northern Lights and the whole piece brings a sense of calm and discussion to the room in which it hangs. 'Balance' made the cover of the show catalogue for the SCA. After 50 years of the show, this is the first year an exhibition catalogue was published. The SCA 50th International Open Juried Exhibition Catalogue, Library and Archives Canada Cataloguing in Publication ISBN / ISMN 978-1-7750038-3-0 is published by the Society of Canadian Artists, designed by DEL ART and printed by Nova Printing.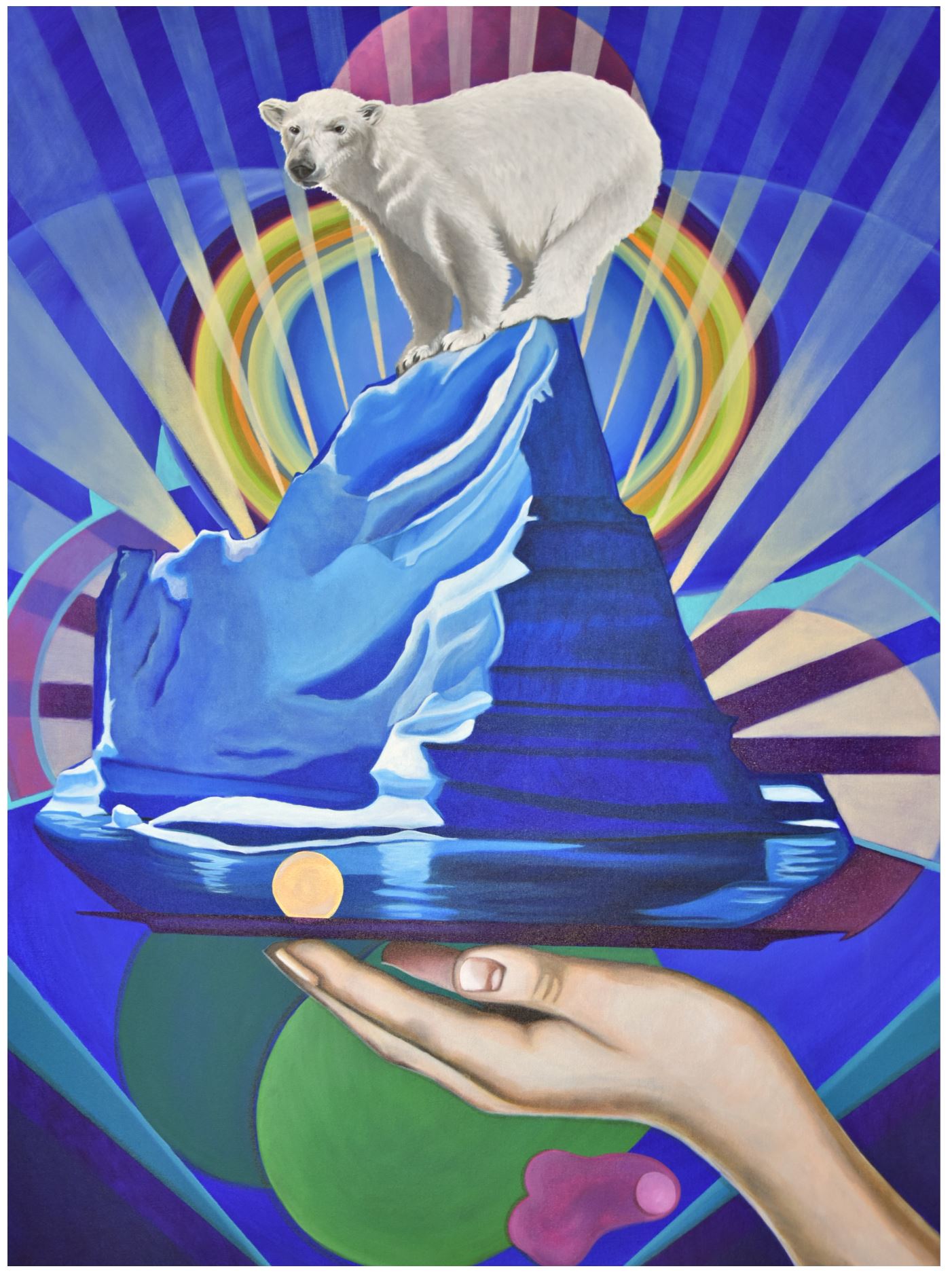 Number 10
Like a Phoenix  – 30×48 inches acrylic on canvas – $5500.00
Why is this painting iconic?  it is an emotional painting, it makes you feel and it was inspired by iconic Canadian rock legend, Gord Downie. A young girl wearing a purple hat and Jaws t-shirt rises like a phoenix from the wheat fields of the Canadian prairies. Painted in October 2020, during the COVID-19 year on Earth.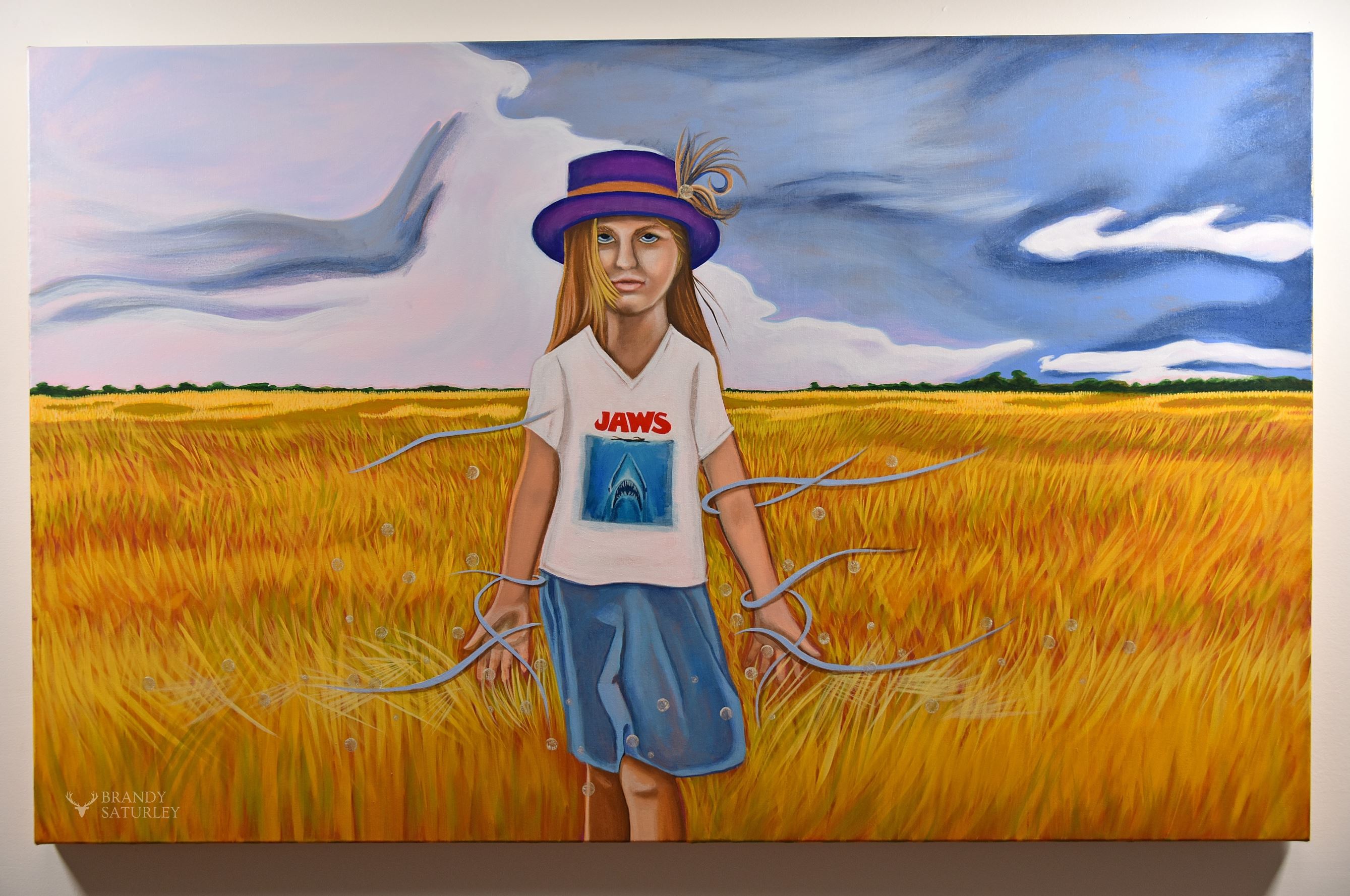 There you have it, my Top 10 paintings, it was hard to chose 10. Some are available and some already collected. These 10 are important paintings in Canadian Art, whether you agree or not. These paintings are investment pieces, for those who love my work.
Sincerely Yours,
https://www.brandysaturley.com/wp-content/uploads/2020/10/balance.jpg
1875
1402
am-330
https://www.brandysaturley.com/wp-content/uploads/2020/10/brandysaturley_logo.png
am-330
2020-10-05 16:41:08
2020-12-04 14:28:09
Top 10 Paintings