Norval Morisseau, and the importance of the Artist in documenting their own artwork in the digital age.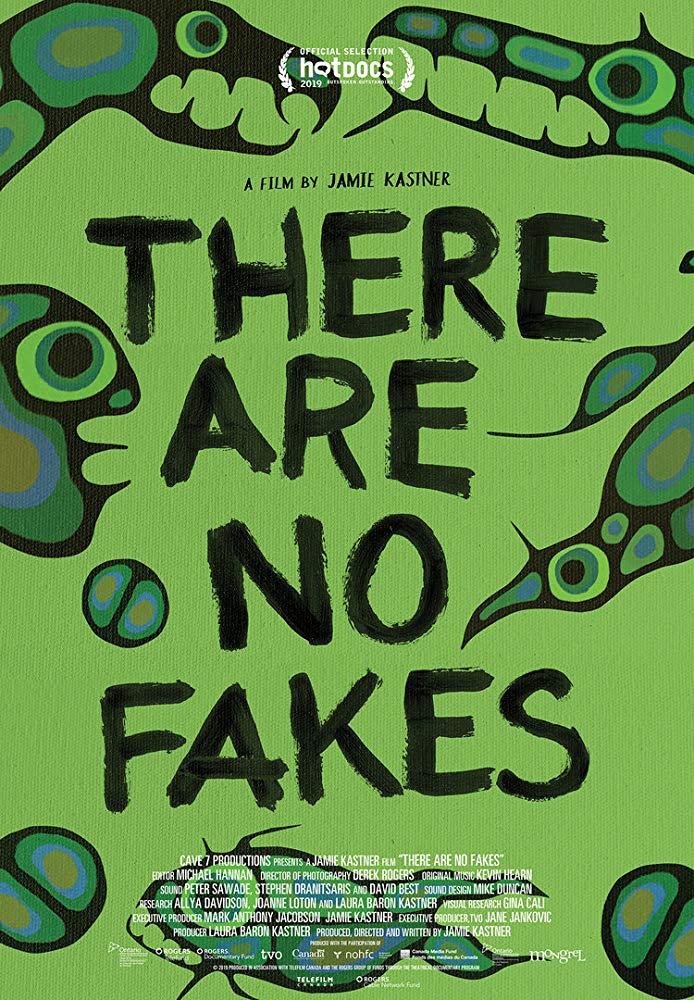 Last night I watched a Canadian documentary film, a long time in the making. The film titled, 'There Are No Fakes', follows a deep dark story into the origins of an original Norval Morisseau painting, purchased by Kevin Hearn, a member of Canadian rock group, The Barenaked Ladies.
As a Canadian Artist and painter I was drawn to the story for two reasons; the work of Morisseau is one of the most widely recognized in Canada and loved my many, and I love the music of The Barenaked Ladies, in fact my husband proposed to me at one of their concerts in Vancouver, BC.
The impetus for making the film came after Hearn purchased an original Norval Morisseau painting from a reputable Canadian art dealer.  Summarized by the director; 'A painting, thought to be the work of an iconic Indigenous artist, leads the rock star who buys it into the tragic and brutal world of an art forgery ring in Canada's north.'
The film uncovers many uncomfortable stories far beyond the business of art, which are extremely heart wrenching and painful. In the end the film points to something that is felt in many industries where money and greed attract those who seek to control and take advantage. As an Artist I understand this, as my job entails ripping open my chest so that my tender heart is bared to the world through my Art. It is a job that also requires me to wear an armour as strong as kevlar so as to protect myself from those who seek to take advantage, reject and criticize. My job is to stay the course and make my Art heard, in the most pure way possible.
What strikes me as the most important issue facing professional artists in a digital world is having control over their work and how it is used, presented, and sold; on and offline. In today's world you must have a website, a virtual portfolio showing your work. You also need an Instagram account, maybe a Facebook page for your business, and a Twitter account to get the word out. Your work may appear on your website, but it is also likely on social media. If your work is on social media it is likely to be shared and even copied in various forms. As a successful and well known self-representing Canadian artist, the Internet and its tools are crucial in furthering my reach as an artist. The Internet has allowed me to grow my career beyond my hometown of Victoria, BC. With a lifetime of making Art, and over 30 years of showing and selling my work in some capacity (the past 13 years as a full-time profession). I have gained a great deal of knowledge and experience about the business of Art in Canada.
In recent years I have been educated on the importance of controlling the authoritative and provenance of a work. Much like buying a used car, the provenance of an artwork outlines the chain of ownership, and the sales price of a work as it moves through the market. What this film uncovers is that provenance can be faked, and this sometimes happens, even with the most reputable dealers.
About three years ago I began using a new art cataloging service created by the son of a reputable art dealer in the Winnipeg area of Canada. ArtMoi describes itself as "an initiative to simplify the process of documenting art. The vision of ArtMoi spurred from the observation that we can track the movement of goods around the world, but visual artists have very limited abilities to protect their creations or have real influence on how their artwork is used once it leaves their hands."
After watching the documentary, 'There Are No Fakes', I am reminded about the importance of accurate art documentation and that in the digital age, it is more important than ever as cameras record and share private and public moments constantly. With ArtMoi, the artist controls the initial documentation and the artist controls the authoritative of their artwork. Imagine if this was the case in Morisseau's time? or even Picasso's?
The film also got me thinking about 'fake art' not unlike, 'fake news'. We all know they are out there, not only does the Art market make money on fakes or 'knock-offs' every retail industry on the planet plays the appropriation game. From high end watches like Rolex, to Lululemon yoga pants; if  something is popular and selling in the luxury market, there are sure to be those taking advantage in producing knock-off brands in the mid to low end of the market. I also began thinking about the most successful artists on the planet worth 90+million; Jeff Koons, Damien Hirst, Takeshi Murakami and even Canadian artist Kent Monkman – artists that employ a staff of hundreds who take their vision and create the work for them, a mass production line cranking out amazing work, on a schedule that a lone artist making their own work could never attain. When I worked for a short time in the film industry the saying went, "if you have the idea for a script, count on at least 10 others having the same idea, you have to be first to launch, and if you are late to the game it has to be better than what came before…"
Another thought that springs to mind, did you buy the painting because you love the work? or did you buy it because it was painted by a famous name? Does knowing that the piece was painted by someone other than Morisseau, perhaps even someone related to him, make the work less appealing to you? Or was it the circumstances under which these knock-offs were created? the painful advantageous and abusive story behind the paintings, and how they forever altered the lives of those involved?
Ultimately, this documentary is about more than fake art, and it does raise numerous questions down many paths, but I digress.
My number one takeaway as a professional Artist is, make sure you are documenting your work, in as detailed a way as possible. Documenting your work not only protects YOU as the maker, it protects your collectors! Protect your work now, and your legacy moving forward. Take control of your business as an artist. Piece of mind for you, and piece of mind for your dealers and collectors. Protecting the legacy of Art History.
Sincerely Yours,
Brandy Saturley – #ICONICCANUCK