Sooke Fine Arts Show 2022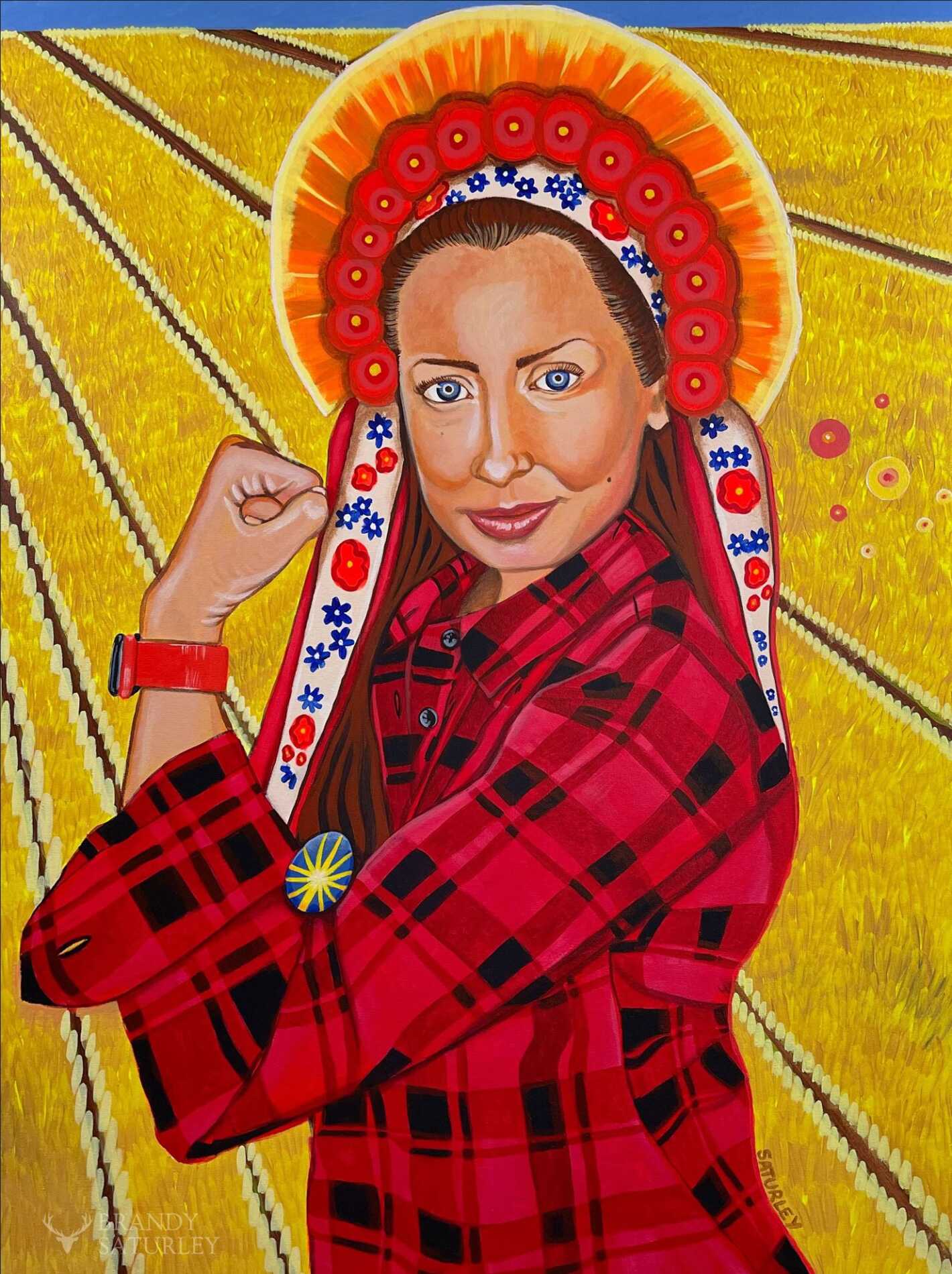 Sooke Fine Arts Show 2022 – features painting Ukraine Strong
A native of the Sooke area, it is always a pleasure to show work with the Sooke Fine Arts Show. It is Vancouver Island's premier adjudicated art exhibition, celebrating it's 36th year. The show always surprises and engages while providing the opportunity for the finest artists from Vancouver Island and BC's coastal islands to showcase and sell their work. Brandy Saturley spent the first 17 years of her life as a resident of Sooke and will always hold this place near and dear. Growing up she would always look forward to the annual show which began when she was just 14 years old. Years later she has exhibited and sold her work worldwide, but never forgets where it all began. She has exhibited with the show a number of times over the years including one year where she exhibited alongside her mother.
For this year's edition she will be exhibiting a new painting inspired by her Ukrainian heritage and honoring the people of Ukraine and immigrants to Canada. The piece titled, Ukraine Strong, is a self-portrait of the artist wearing Canadian plaid shirt of red and black, a Ukrainian headdress and arm bent with fist showing, reminiscent of Rosie the Riveter. In the crook of her bent arm, pressed between forearm and bicep, a Ukrainian Easter (pysanka) egg decorated in the colours of the Ukrainian flag of yellow and blue. In the background a field of wheat and blue sky horizon.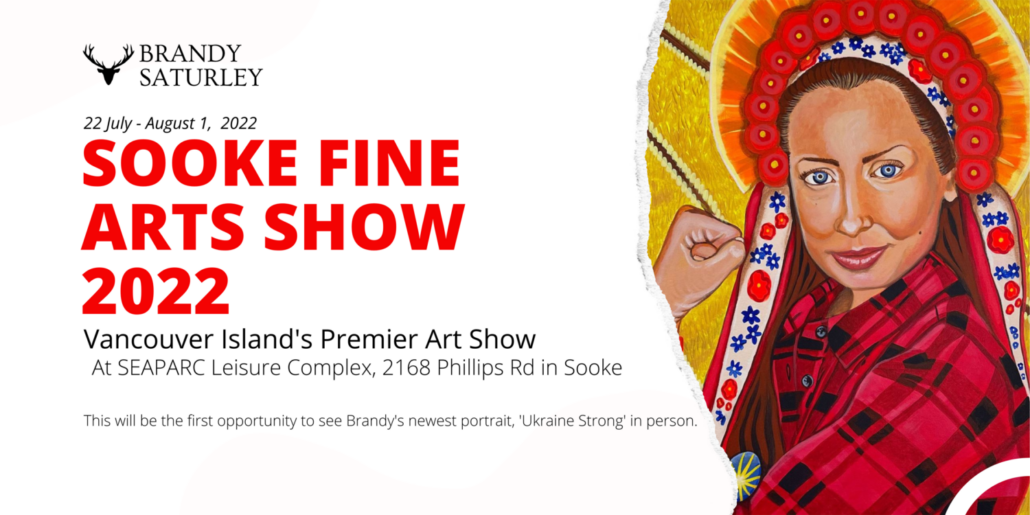 The 2022 LIVE Sooke Fine Arts Show takes place at the SEAPARC Leisure Complex, 2168 Phillips Rd in Sooke July 22-Aug 1, 2022. The show runs daily from 10am to 7pm. Be one of the first of 9,000+ guests to lay eyes on hundreds of original works of fine art! The 2022 show kicks off with an exciting Purchasers' Preview event on Thursday, July 21 @ 7:00pm – an exclusive, ticketed event that allows early access to the 2022 artworks before the show opens to the public the next day. The Sooke Fine Arts Society respectfully acknowledges the traditional territory of the T'Sou-ke First Nation, upon whose land we gather in celebration of the arts.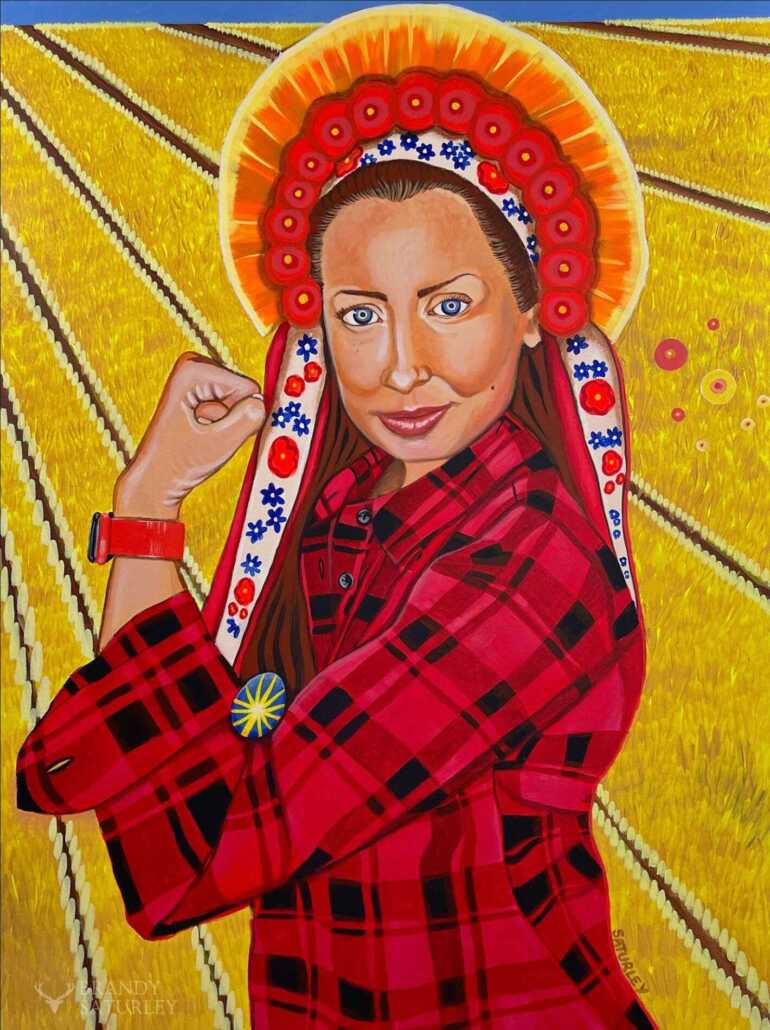 https://www.brandysaturley.com/wp-content/uploads/2022/07/brandysaturley_sookefinearts.jpg
1900
1420
Brandy Saturley
https://www.brandysaturley.com/wp-content/uploads/2020/10/brandysaturley_logo.png
Brandy Saturley
2022-07-06 10:21:14
2022-07-27 11:13:31
Sooke Fine Arts Show 2022