Don Cherry and the role of the artist in a politically correct world.
Art often tackles the tougher subjects, those we aren't supposed to engage in while at a dinner party with friends. Whether it be politics, religion or society; art exposes what is really going on in a society at any given time. Art is a creative way to make us look at ourselves through a different lens. Art that stands the test of time and causes a shift in society, causes us to look hard at who we are, as individuals.
I am not a politician; I am an artist. I tend to live in the grey areas, art is not black and white. Sociopolitical art is a protest, it is the conceptual expression of an idea. When you make art that is closer to a philosophy rather than an artistic genre, such as landscape painting, it is defined as sociopolitical.
I grew up a sensitive artist, I grew up having to watch hockey games and Don Cherry rants from the lap of my father who is a passionate hockey fan. I grew up knowing hockey was something I had to watch, not something I wanted to watch.
Over the weekend, long time host of Coach's Corner on the CBC and Hockey Night in Canada on Sportsnet, Don Cherry was fired from his iconic helm. At 85 years of age Cherry enjoyed a long career in hockey, a lifelong team player. He is an iconic Canadian persona, character, and passionate comedian. He speaks his mind and was paid well to do so for his entire career. His nickname of 'Grapes' was fitting with his outspoken persona. He was hired for his 'entertainment value'. Cherry put on a great show and was a bold and polarizing character that poked the bear on many occasions, he was bringing in the ratings and the network was happy to keep his persona alive. During the broadcast, which happened just before Remembrance Day, Cherry referred to immigrants as 'you people' asking them to step up and buy a poppy for Remembrance Day.
Roll back to June 2018 and an article on CBC Sports, where Sportsnet president Scott Moore took a memorable road trip with Don Cherry driving from Winnipeg to Kenora, for a Hockey Day in Canada event. In the article he is quoted as saying, "If people knew the Don Cherry behind Coach's Corner, they'd have an even greater appreciation for what an incredible guy he is."
Yesterday a female personality on a popular Canadian daytime show took offense to Cherry's statements and responded with her own rant. The response of Jess Allen has sparked outrage on the other side of the spectrum, a polarizing topic indeed. In her response to Cherry and his statements Allen referred to hockey fans as "white boys" and "bullies". Further commenting Allen said that while she has been "told (Cherry) is a Canadian icon and a symbol of the great sport of hockey," she personally does not "worship at the altar of hockey." The reason she gave was "a certain type of person in my mind, and in my experience, who does" and "they all tended to be white boys who weren't, let's say, not very nice."
A polarizing and lively discussion, that has offended a nation. No Canadian left alone. At a time when we are talking about a 'nation divided' over the recent federal election and the 'climate crisis', while people are living in the streets and succumbing to the opioid crisis, these are times of change, and change is hard.
But I am not a politician or a media personality, philosopher or political scientist, I am a professional Artist. As a Canadian artist who grew up with a 'hockey loving father' and an 'artist mother' I have always been privy to both views, maybe this is where the grey comes in. I grew up watching hockey and listening to Billie Holiday. I preferred baseball and drawing portraits in my rose wallpaper covered bedroom.
You see I didn't come around to loving hockey until recent years, beginning in 2010 during the Vancouver Winter Olympic Games. That experience set me on a journey of expressing my thoughts on hockey and 'stereotypes' in Canada. Part of this journey was exploring icons of hockey, and I truly wanted to understand why hockey was so important to many in my country, but at the core I have realized what I was really trying to do was understand my father, and in turn help my father to understand who I am.
I began with painting a hockey goalie mask on the Canadian flag, inspired by a composition by renowned American painter, Georgia O'Keeffe. For me it made perfect sense and was reflecting the collective consciousness of the country. I continued from this piece with more paintings inspired by hockey moments, related through famous works of art. In one such painting I expressed the rivalry between Montreal Canadiens fans and Toronto Maple Leaf fans. Through an homage to a painting by Belgian artist René Magritte, where two people with sheets over their heads, hiding their identities, are embraced in a passionate kiss.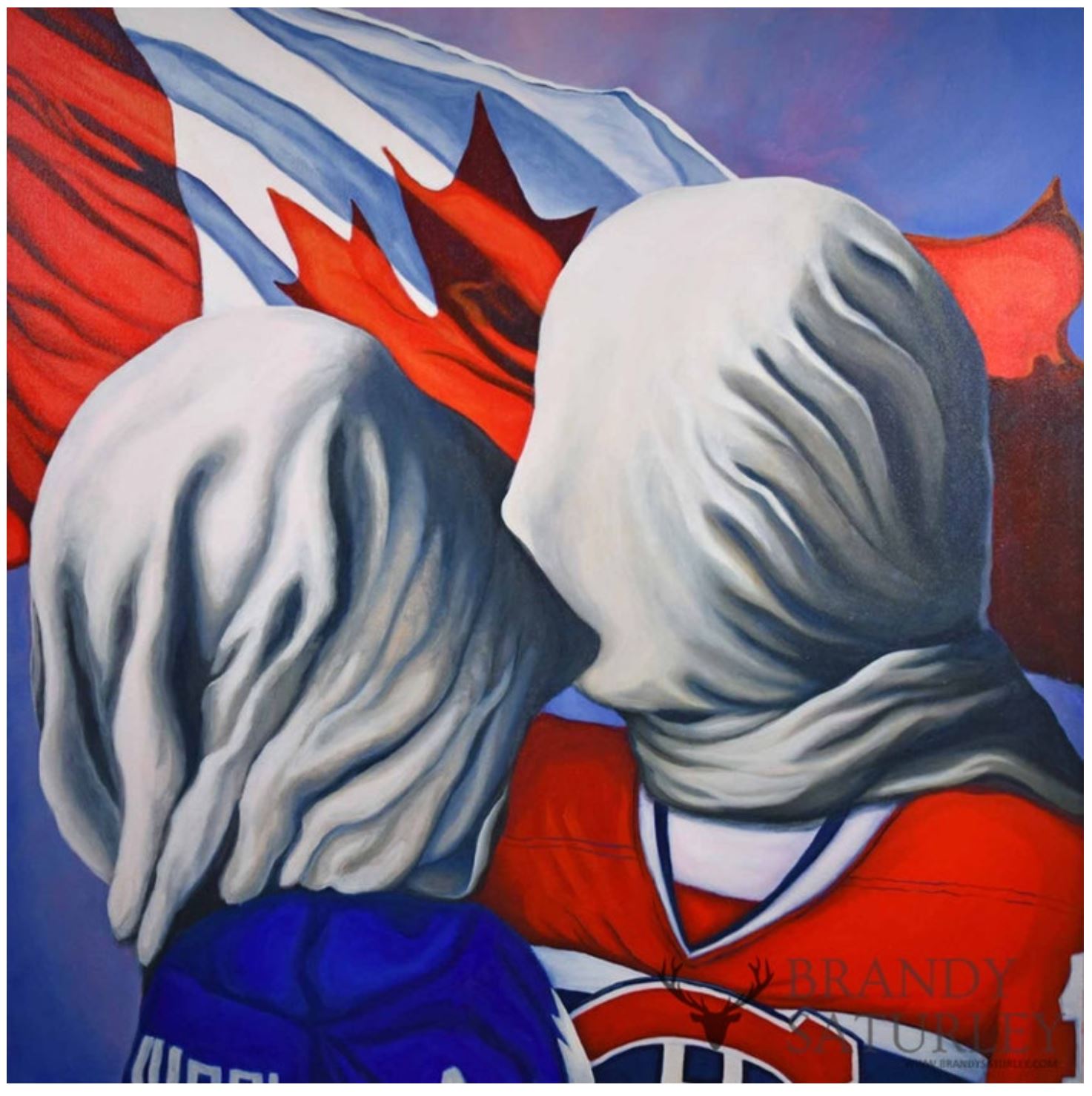 When I began showing the work across Canada, I found that it wasn't just my father I was reaching, it was the collective consciousness.
Fast-forward to today, and the comments of Jess Allen on The Social. I get where she is coming from and I get where Cherry is coming from, and neither is right or wrong. They are both speaking from their learned experiences, much like I am with my art. What it reveals is something that we are all facing more of these days, a cold hard look at who it is we are at the core. When Cherry used the term, 'you people' he was revealing a deeper issue in Canada, that of racism. When Allen used the term, 'a certain type of person, white boys' she was also speaking in generalities, much like we all have many times.
There is a teachable moment here, it does not come in firing either host, but in coming together to discuss the root of these 'generalities'. As an artist I feel that I have the need to respond in my work, through painting. Beginning with this blog post, I am working things out in my head. I have been reminded many times recently that while the last time I painted a piece about hockey was in 2015, the first painting I created in 2010, is now even more relevant.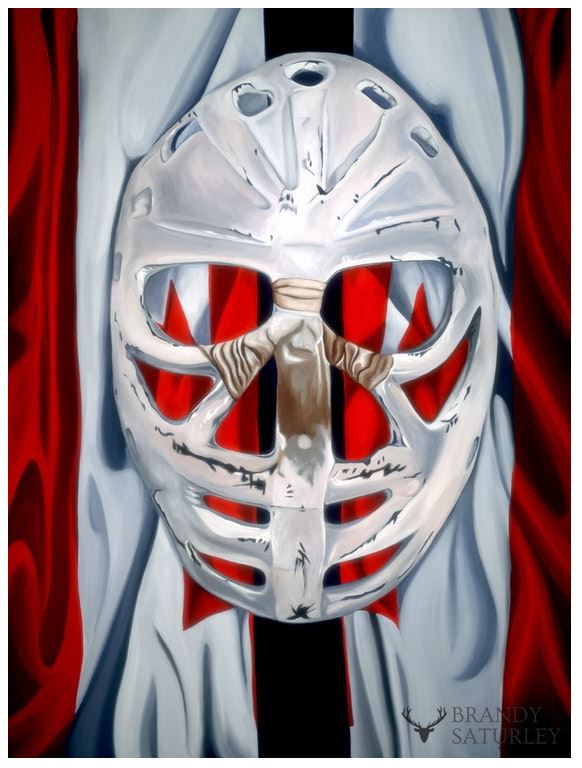 The goalie's mask painting with a beaten mask hovering over a Canadian flag, separated by a blue line. A Canada divided, but why? Are we really divided or are we allowing mainstream media, politics and the environment divide us? Is it race, religion or sexual orientation? Whatever the fuel, how do we maintain our identities as a multicultural nation? How do we evolve not only as a nation, but as humans? I see this as the core struggle and erasing the past without making it a teachable moment, is madness.
To be continued…on canvas.
Sincerely Yours,
Brandy Saturley
To see all the paintings in the 'Canadianisms' series, click here.