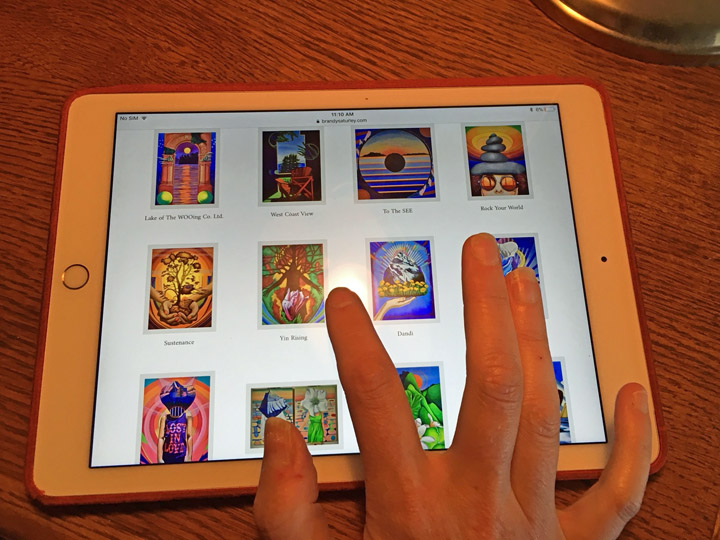 Is it better to buy art from a gallery or directly from the artist?
Over the past two decades, I have spent a considerable amount of time setting myself up as an independent self-representing artist. I would argue that I have done more homework and legwork than most dealers or advisers do in their entire careers. The reasoning behind this was wanting to understand the industry in which I was creating product for, though art is more than product, it is a very special one of a kind creation and the industry that sells and promotes art, must be understood in order to decide whether or not I needed a dealer to represent my work.
Perhaps my curiosity came from my work experience of the past years, you know the work you do full-time to pay the bills while you are making art in your downtime and trying to find ways to integrate creativity into your 'job' so that you can survive the 9-5 world. I worked in many industries and had many job titles before I found a way to make art full-time and not starve. I worked in sales and communications positions in the industries of; film & TV, interior design, Internet (web design and website hosting), trade shows, publishing (print and online), to name a few. These jobs helped pay my bills, but more importantly they gave me so much relevant experience that I never knew I would need, and they keep on paying dividends. I am currently heading into my 13th year as a full-time self-representing artist.
What I have learned about private and commercial art galleries and the 'art business' in Canada is, they care very little about artists. I know, I am shooting myself in the foot to a degree in stating this on the world wide web, but it is painfully true and most artists are too afraid to talk about it on a public forum, let alone in private conversation.
I have spent time talking to artists, gallery owners, dealers and agents over the past two decades. I have spent time visiting public, private, artist-run and self-representing artists studios and I have learned a great deal about the state of the art business in Canada.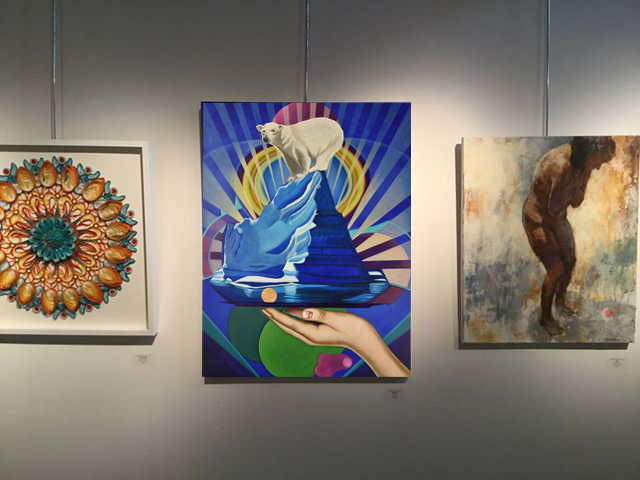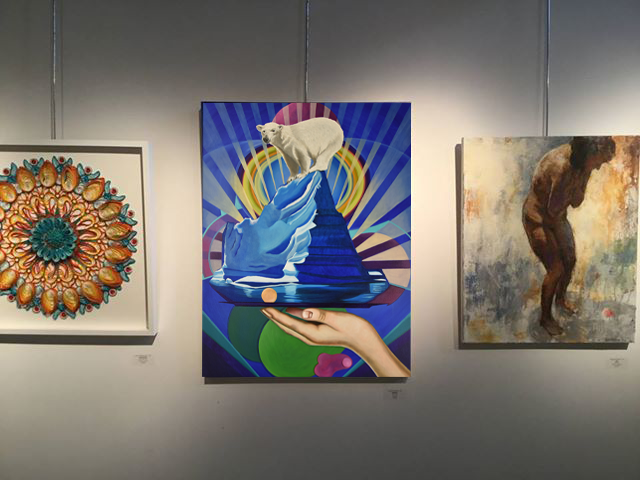 The truth about gallery representation:
most artists with gallery representation in Canada sell less than $14,000 per year in art, and the gallery takes 50% of that
many galleries prefer to deal with art agents – agents typically take 90% from the artist
most galleries consign the artwork, meaning the artist does not get paid until the work sells and 90% of the time the artist waits up to a year to get paid for a sale, and sometimes not at all
galleries prefer not to compete with the artist, meaning if you are represented by a gallery, the gallery does not want you selling or promoting your work on the side – many artists hide the fact they are selling or taking commissions on the side from their galleries
some galleries require exclusivity, meaning you can only sell through them and no other galleries
galleries sell/trade work with other galleries, meaning the dealer who sells a work to another gallery takes a commission on the sale
most galleries close their doors within the first two years after they have reached saturation point – you can only sell so many paintings to your friends
many galleries represent the work of friends, colleagues, art collectors family members
while a gallery may have a roster of 40 artists, you will rarely see most of their work on the gallery walls or being promoted – they show and promote what sells
most galleries do not want to invest time in promoting or growing an individual artists career, they prefer an art agent handles these tasks, which costs the artist
So, let's look at a piece of art being sold at a gallery;
An original painting by Jane Doe, a contemporary Canadian painter known in her local market of Vancouver. Price of the painting is $5000.00 and it is being sold at the biggest gallery on South Granville. Maybe Jane has five paintings for sale with this dealer. If Jane doesn't have an agent, or her work is not in demand, the paintings are likely being stored in the backroom. The paintings have been there since January. One painting sells in May, and another painting gets loaned to a collector for a dinner party in their home. In August, the gallery calls Jane and tells her a painting sold and Jane gets paid 50% of the sale price three months after her painting sold. How fantastic for Jane.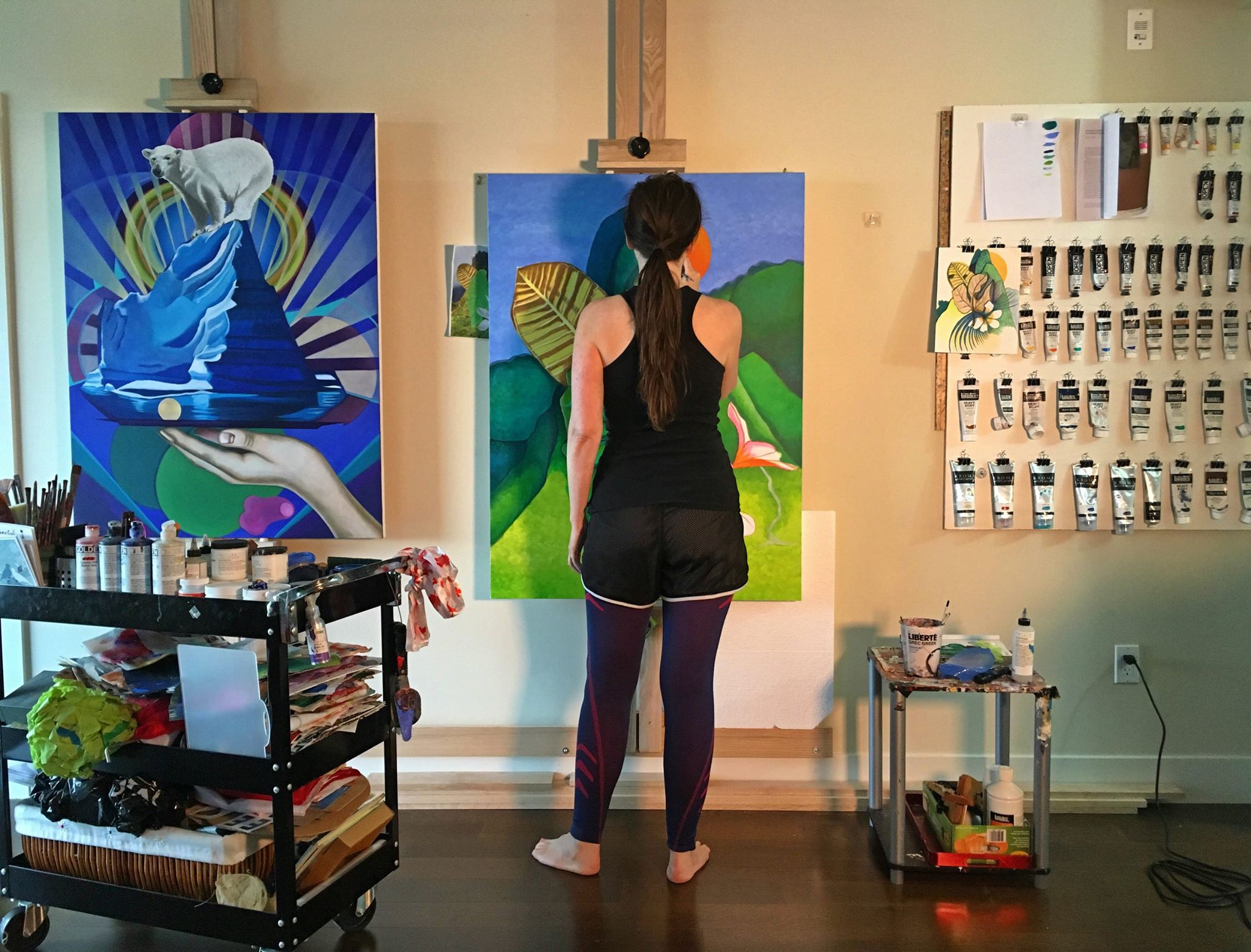 Now let's look at things from Jane's perspective;
Jane painted five paintings, this took her 3 months. Jane spent countless hours prior to painting these pieces photographing, sketching and developing the back work, the framework for what would result in five paintings. Jane bought canvas, paint, wire, frames, etc. Jane delivered the paintings to the gallery. So for about two years of work Jane just made $2500. If Jane is bound by exclusivity to this one gallery, her life sucks. If Jane has an art agent and has to give 90% to her agent, life REALLY sucks. Jane is starving.
So let's look at things from the galleries perspective;
overhead: brick and mortar business means rent, insurance, hydro, staffing, art opening with wine and food, invitations, promotion – but the solo show was for another artist, not Jane
no time to promote Jane, gallery is trying to keep up with the day to day
gallery sometimes relies on volunteers to help at openings and during some open hours
gallery is not motivated to do any extra work that does not bring in money
most galleries in Canada are single person owned and run – they can barley keep their heads above water
So what if Jane represents herself? Assuming Jane has some business skills or ambition down this path and she is able to do this full-time
Jane works out of her home based studio, so no overhead etc.
Jane makes the art, photographs the art, promotes the art, creates opportunities to show and sell the art, builds a clientele, builds a mailing list, writes a newsletter, manages her clients, answers the emails, engages on and offline, shows the work, writes the proposals to venues and corporate clients, writes a blog, handles the shipping, invoicing and AR, handles the bookkeeping, maintains her website
when Jane sells a painting she keeps the whole sale
Jane is not limited by exclusivity and is pretty free to manage her business however she pleases, though she keeps her pricing in line with the gallery system and is a member of CARFAC Canadian Artists Representation who believe that artists, like professionals in other fields, should be paid for their work and share equitably in profits from their work.
Jane takes on some art related jobs on the side to supplement income and stay connected to the arts community at large through writing for arts-related websites and for other arts professionals
As a self-representing artist Jane makes more than double the average income of gallery represented artists
Jane is not starving
Does Gallery Representation legitimize the artist and their work? Will gallery representation ensure the legacy of the artist or level of fame achieved?
Simply put, NO. (from a well known Canadian art dealer)
When a self representing artist creates enough demand in the market – legitimacy and historical importance will be reached and the galleries and auction houses will get in line. Hopefully before they die, and thanks to the Internet and global reach, there is more opportunity than ever.
Are there caveats to buying directly from an artist?
Absolutely. Many artists are not good at handling the business side of art, artists that like to eat and make a living from their art will answer your calls and emails in a timely manner.
My point in writing this blog post was to open the eyes of art lovers and collectors. I don't know any other business where you don't have to buy the product you are going to mark-up and sell in your store. I don't know of any other business where you can get away with not paying your supplier for months at a time and sometimes not at all.
Not all art galleries and art dealers  are created equal. If you love art and you love artists and truly want to help support and preserve their work, think about buying from them directly. Visit and support the museums that preserve the work, visit the artist-run centers and arts collective galleries. Don't be afraid to buy direct and buy online. Ask the questions and most importantly, collect original art.
https://www.brandysaturley.com/wp-content/uploads/2018/05/IMG_2722.jpg
540
720
am-330
https://www.brandysaturley.com/wp-content/uploads/2020/10/brandysaturley_logo.png
am-330
2019-05-02 16:57:14
2020-11-13 16:23:34
Buying Original Art: Gallery or Direct from Artist?