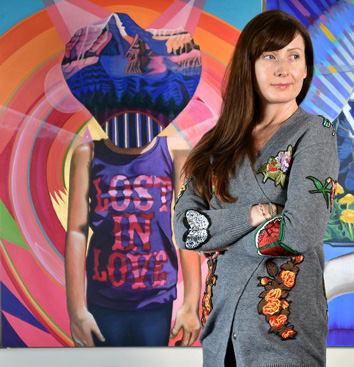 10 Years, 10 Lessons: Celebrating A Decade As a Full-Time Professional Visual Artist
This is not your average top-ten list, and this is not your average career. Succeeding and surviving as a full-time, professional visual artist for a decade requires hard-work and flexibility, it is more than a job, a career, or a profession, and it is all consuming. Prior to working full-time at it I spent many years working a side job, while making art. After ten years working at my art full-time I have come to realize there is no longer a division between art and life, it is one in the same and it is not something you can turn off, you are always working, whether doing the research that creates the backstory, making art, or handling business, it is a 24/7/365 adventure that traverses the right and left brain. It is a unique balance that requires the ability to leave all that is real behind and live in a self-created world, while popping up and grabbing a breath of reality when required. I have learned a great deal these last ten years about the business of art and about making art. At Seven years, I blogged about 7 lessons learned and it is fascinating to go back and read what I was thinking in 2014. As I celebrate these ten years I spent last night reflecting on what I have learned, and came up with a top ten list of lessons.
10 YEARS, 10 LESSONS FOR THE ARTIST
WORK HARD – CREATE DAILY
GET OUT OF THE STUDIO
TEACH & SHARE YOUR EXPERTISE
TAKE RISKS – IN AND OUT OF THE STUDIO
COLLABORATE WITH OTHERS
HAVE A 'FLUID' PLAN
TAKE TIME FOR CREATIVE PLAY
LEARN TO SAY NO
NEVER SELL YOURSELF SHORT
INSPIRE THE AUDIENCE, DON'T PLAY TO THEM
I would like to add that taking care of my health is still very important to my success, as without it, I wouldn't be enjoying this life quite so much.
I have moved through several bodies of work during this time, often inspired by my travels. I have created more than 300 paintings, and captured hundreds of thousands of photos on my travels. Here are a few of my favourite paintings from the past decade…
https://www.brandysaturley.com/wp-content/uploads/2017/10/BrandySaturley_CanadianArtist.jpg
367
354
am-330
https://www.brandysaturley.com/wp-content/uploads/2020/10/brandysaturley_logo.png
am-330
2017-11-02 21:50:41
2017-11-02 21:50:41
10 Years, 10 Lessons.